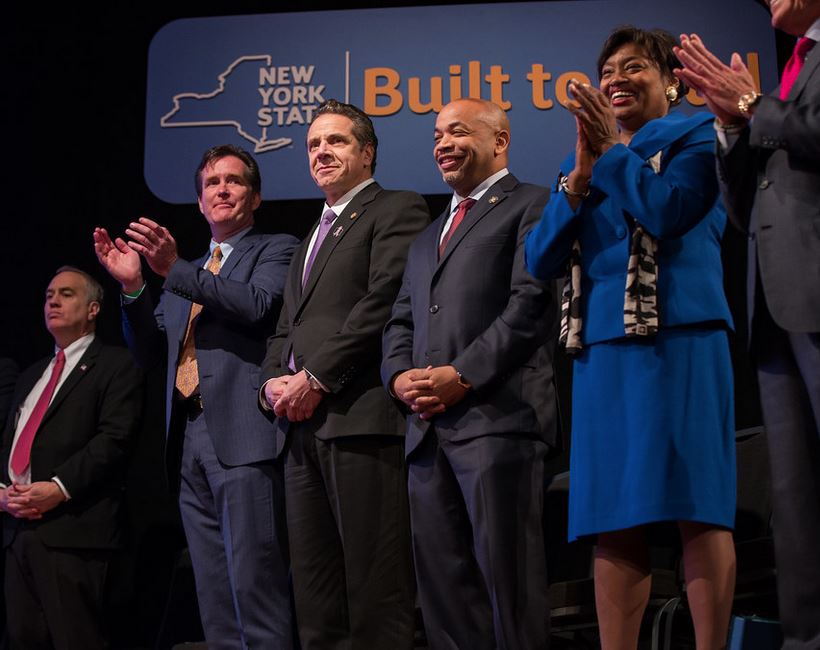 (photo: the governor's office)
---
Just after it ended, Governor Andrew Cuomo deemed 2019's "the most productive legislative session in modern history" at a news conference on Friday in Albany.
The Democrat in the first year of his third term went through only a partial list of the many laws and investments he and state legislators had made between January and June, in what was the first period of full and functional Demcratic control of state government in decades.
Though the session included a good deal of sparring between Cuomo and legislators, especially with the governor repeatedly attacking or needling Senate Democrats, a pattern that intensified after the demise of the deal to bring an Amazon campus to Queens, almost all of the priorities laid out by the governor and the legislative majorities were accomplished in some form.
"Six months ago we laid out our 2019 Justice Agenda - an aggressive blueprint to move New York forward - and today I'm proud to say we got it done," Cuomo said on Friday, adding, "...this was the most progressively productive legislative session in modern history. The product was extraordinary, and we maintained our two pillars - fiscal responsibility and economic growth paired with social progress on an unprecedented and nation-leading scale."
As the Legislature wrapped up its work, similar boasts came from the two majority leaders -- Carl Heastie in the Assembly and Andrea Stewart-Cousins in the Senate -- as well as many other Democratic state lawmakers, advocates and activists, and like-minded officials from around New York, including Mayor Bill de Blasio and City Council Speaker Corey Johnson.
"This session we've chosen to stand up with the people over special interests," Stewart-Cousins said in her closing remarks as the Senate completed its session. "We've chosen to invest in the future over the failed policies of the past. We've chosen science over rhetoric. We've chosen equality over divisiveness. This is the most historic and productive legislation session in New York State history, period."
"We haven't seen a session this daring, productive and progressive in decades," de Blasio said in a long, celebratory Friday statement about the session. The mayor highlighted many of the bills that were passed, from stronger rent regulations to congestion pricing, criminal justice and voting reforms to driver's licenses for undocumented immigrants, and more.
In many ways it was a historic session, with Democrats following through on much of what they promised during last year's campaigns, when Cuomo easily won a third term and the party took a commanding new majority in the Senate to couple with long-standing control of the Assembly. There were roughly 800 bills passed by both the Senate and Assembly, according to Stewart-Cousins.
But Republicans also believe the session provides them with significant new ammo to flip Senate seats back next year and begin to line up the pieces to eventually retake the chamber and win their first statewide office come 2022, when Cuomo has said he'll seek a fourth term.
Much of life for New Yorkers will be altered by what Democrats in Albany decided this year, with impacts -- social, economic, environmental, and political -- for many years to come. The party in power is certain it has produced for New Yorkers who will benefit in many ways. The results will start to be seen soon.

Here's a look at what got done this session in Albany:

JANUARY
>Election Reform
Lawmakers started off the session passing legislation aimed at reforming voting and elections in New York. The Legislature passed a series of bills to establish early voting and no-excuse absentee voting, expand voter registration, impose limits on LLC campaign contributions, and extend primary election voting hours.

>LGBTQ and Women's Issues
They also passed the Gender Expression Non-Discrimination Act (GENDA), which prohibits discrimination based on gender identity or expression. This act also added transgender people to those protected under New York's Hate Crimes Law, which defines a hate crime and specifies mechanisms for punishing those who commit hate crimes.

Also in an effort to protect members of the LGBTQ community, lawmakers banned conversion therapy for minors.

They also codified Roe v. Wade abortion protections into state law through the Reproductive Health Act. The RHA legalized abortion past 24 weeks of pregnancy if the woman's health or life is at risk, or if the fetus is not viable.

The Legislature also passed the Comprehensive Contraception Coverage Act, which requires health insurance companies to cover all FDA-approved contraceptive options, and the Boss Bill, which ensures that employees are able to make reproductive healthcare decisions without fearing adverse employment consequences.

>Children, Immigrants, and Survivors
The Legislature passed the Jose Peralta New York State DREAM Act, which would allow undocumented students in New York to qualify for state aid for higher education and create a Dream Fund for college scholarship opportunities for these students. It was named after the late Senator Jose Peralta, who had championed the bill in the past.

They also passed the Child Victims Act, which reformed the state's statute of limitations for child sexual abuse. The legislation provides that the statute of limitations doesn't start until someone turns 23 years old, where it previously started when a child turned 18. It also allowed a temporary look-back window to allow individuals to file civil claims for long-ago incidents.

>Gun Control
Lawmakers also passed a gun control bill package that bans bump-stocks, creates regulations for gun buybacks, extends the background check period for people trying to purchase a gun, and institutes the "red flag" law to allow teachers and others to petition judges to order removal of firearms from a troubled student's home.
FEBRUARY
After an onslaught of legislation in January that opened the floodgates after years in which Democrats saw their agenda items often stall in the state Senate, February was slower. This was in part due to the fact that there are often fewer session days in February due to the annual school vacation-aligned break.

Legislators did pass a bill that criminalizes "revenge porn," or the distribution of intimate images with the intent to cause harm to another person.

MARCH
The Legislature passed additional gun and voting reforms in March just ahead of the budget deal that came together at the end of the month: a bill that creates stronger regulations for gun storage, aiming to prevent unintentional gun violence, and the Voter Friendly Ballot Act, which aims to create a more readable ballot layout.

>Budget
As usual, the state budget was perhaps the most consequential piece of legislation to pass during the month of March. Along with spending decisions adding up to about $175 billion, it included sweeping legislative changes.
Lawmakers and Cuomo reformed the criminal justice system, the electoral system, health care, and public transportation. From bail and discovery reform to a plastic bag ban and congestion pricing and the expansion of speed cameras allowed in New York City, the budget was home to many major changes for the state and city.
It also increased funding for education through local school aid and grants across the state. And, they made the property tax cap, which prevents annual increases in property taxes from exceeding 2% of the previous assessment or rate of inflation, into permanent law (it applies everywhere outside New York City).
The budget passed a compromise on campaign finance reform, creating a commission to propose a public campaign finance system, with recommendations due before the end of this year.
The budget agreement came together in the final days and hours of March, and was given final passage on April 1, the day of the start of the new fiscal year.

APRIL
As is often the case in Albany, the post-budget months of April and May were relatively quiet times between the big budget push in late March and the end of session flurry in June.
But, just after the budget, in April, lawmakers raised the age to purchase tobacco products in the state from 18 to 21. This legislation includes cigarettes, chewing tobacco, and vape products.

The Legislature also passed a bill package aimed at promoting environmental protection and conservation. Among the provisions of this bill package is a ban on harmful pesticides and the establishment of a constitutional right to water and life and strict regulations on the toxic chemicals in children's toys.

MAY
In May, the Legislature passed a series of bills aimed at protecting victims and survivors of domestic violence. These bills varied from special ballots for victims of domestic violence to requiring companies to allow victims of domestic violence to cancel contracts.

Among the domestic violence protection bills, the Legislature also passed a bill banning the manufacturing and selling of undetectable or "ghost" guns, such as 3D printed guns. It makes it illegal for anyone to knowingly possess, manufacture, sell, transport, or possess undetectable firearms.

They also created protections for disabled New Yorkers through a bill package that: creates an advocacy office for those living with disabilities, expands Medicaid coverage for people with autism, and provides housing for New Yorkers with therapy animals.

JUNE
Things in Albany got very busy again in June, especially toward the end of the legislative session and at its very end, with movement on a variety of bills, though Democrats did not find compromise on some professed priorities.
>Rent Regulations
Expiring rent regulations that apply to roughly 1 million New York City apartments was the marquee issue of the end of session. After a great deal of debate, advocacy, negotiation and consternation -- including some conflict between the governor and Senate -- the Legislature passed and the governor signed the Housing Stability and Tenant Protection Act of 2019, which was called the strongest tenant protection bill in state history.
The legislation makes the rent regulations permanent, with no sunset clause as had been the precedent, repeals two key elements that had led to many thousands of units leaving regulation over decades, vacancy decontrol and the "vacancy bonus," drastically reduces what landlords can recoup in rent for "major capital investments" into buildings, and more.
The legislation also allows other areas of the state to opt into the regulations if they have a housing emergency based on a lower than 5% vacancy rate and the local legislature votes to adopt them.
>Fighting Climate Change
During the last month of session, there was increased pressure from lawmakers and activists on passing the Climate and Community Protection Act, an effort to reduce greenhouse gas emissions and move New York toward renewable energy and a cleaner economy. The legislation, which had fairly aggressive timelines and requirements, as well as mandates around environmental and economic justice to ensure investments in communities hardest hit by climate change and pollution, was opposed by Gov. Andrew Cuomo, who said in a June 7 interview with WAMC radio that "it actually doesn't do, in my opinion, any of the main goals or initiatives."

Despite Cuomo's repeated criticism and opposition, a compromise was reached with lawmakers that included elements of the CCPA into a bill more aligned with Cuomo's related bill, with the new law known as the Climate Leadership and Community Protection Act. The legislation that was passed has New York transitioning to 70 percent renewable energy by 2030 and 85 percent greenhouse gas emissions reductions by 2050.

Part of the reason for Cuomo's opposition related to the redistribution of funding to communities most vulnerable to climate change and hurt by pollution. The agreed-upon bill has between 35 and 40 percent of the funds allocated by transition requirements going to impacted communities. It also creates wage and labor standards for state-supported green jobs.

>"Green Light"
Undocumented immigrants now have access to driver's licenses in the state with passage of the Driver's License Access and Privacy Act (known as "Green Light NY" as termed by supporters). This legislation was a priority for many progressive organizations, and it repeals a 20-year-ban enacted after the terror attacks of September 11, 2001 on undocumented immigrants obtaining driver's licenses.
>Farmworkers' Rights
Another of several major pieces of legislative to move in the final week of the session, the legislature also passed the Farm Laborers Fair Labor Practices Act. The legislation is aimed at addressing the standards of working conditions for farm workers across New York. It grants collective bargaining rights, workers' compensation, unemployment benefits to farm laborers, as well as bringing them in line with other workers in terms of mandatory overtime and time off, where they had been carved out of labor law decades ago.

"We are correcting a historic injustice, a remnant of Jim Crow era laws, to affirm that those farmworkers must be granted rights just as any other worker in New York," Senator Jessica Ramos, a Democrat and the bill's sponsor, said in a statement.

Some lawmakers and farm owners who would be affected by the bill were opposed to it, saying that the legislation disregarded the interests of Upstate New Yorkers.

"The new One Party Rule continued to steamroll over Upstate interests, this time targeting our farmers," Republican Senator Fred Akshar said in a statement.
>Sexual Harassment and Rape Law Udpates
The Legislature moved and Governor Cuomo supported significant changes to the state's sexual harassment and rape laws, lowering what was called an exceedingly high bar to proving sexual harassment in the workplace and extending the statue of limitations on rape in the second and third degrees from five to at least 10 years, with specifications at times allowing more than that.
"Sexual abuse is a far too widespread and pervasive stain on our society, and the five-year statutes of limitations for rape in the second and third degrees has been an abject dereliction ofjustice," Cuomo said in a June 19 statement. "By providing victims more time to bring claims in court, we are honoring those who suffered pain, endured humiliation, and had the courage to come forward."

>E-scooters and E-bikes
The legislature also passed a bill to legalize e-scooters and e-bikes, but would allow localities to determine implementation and regulation. But unlike most other high-profile measures passed by the Legislature, this bill does not necessarily have Cuomo's blessing.
"That's a bill that's going to I think need more review and discussion," Cuomo said in his end of session news conference when asked if he'd sign it.
Not Passed
The most high-profile measure not to pass this year despite widespread expressions of support for it from Democratic leaders is the legalization of adult-use marijuana. It was a priority for many Democratic legislators and activists, and was listed on the governor's early 2019 agenda and top ten end-of-session priorities when he put forth that list after the budget.
The Marijuana Regulation and Taxation Act, which would have legalized marijuana use for people at least 21 years of age, came close to passing but ran out of time, according to its lead sponsor in the Senate, Senator Liz Krueger, a Democrat.

"It is clear now that MRTA is not going to pass this session," Krueger said in a statement just before the end of session. "This is not the end of the road, it is only a delay. Unfortunately, that delay means countless more New Yorkers will have their lives up-ended by unnecessary and racially disparate enforcement measures before we inevitably legalize."

Although the MRTA didn't pass, lawmakers did pass legislation to decriminalize small amounts of marijuana and establish procedures for record expungements for past and future convictions. Cuomo said marijuana legalization efforts should have been included in the budget, as he initially recommended, but indicated he would sign the decriminalization measures.

Lawmakers also failed to pass the Human Alternatives to Long-Term Solitary Confinement (HALT) Act, which according to the bill "limit[s] the amount of time an inmate can spend in segregated confinement, end the segregated confinement of vulnerable people, restrict the criteria that can result in such confinement, improve conditions of confinement, and create more human and effective alternatives to such confinement."
The governor, Stewart-Cousins, and Heastie did, however, form a joint agreement on addressing some of the goals of the legislation administratively, to be executed by Cuomo's administration in the prisons.
"While we are disappointed that HALT legislation could not be passed this year, we have reached an agreement to dramatically reduce the use of solitary confinement in correctional facilities," reads a joint statement released by the three parties. "These new steps build on this year's landmark reforms and will further help to correct inequities and end inhumane practices in our criminal justice system."

Lawmakers were also unable to pass bills on automatic voter registration (though legislative leaders promised to move it in 2020), the legalization of paid surrogacy, and an expansion of the prevailing wage requirement for building projects that receive state subsidies. And though it was much-discussed in last year's elections, the New York Health Act to institute single-payer health care in the state did not come to a vote.
What the Session Means
This session marked the first time in about a decade that Democrats have been the majority party in both houses of the Legislature, and the first time in well beyond that where they had a functional majority in both houses. For party members and progressive activists, this session proved that the party is capable of accomplishing big things.

"We demonstrated beyond a shadow of a doubt that not only we can govern, but we can govern like gangbusters," Democratic Senator Gustavo Rivera said, with reference to the questions facing the Senate Democrats as they took power with remnants of 2009-2010 dysfunction and chaos hanging over them.
The session included a good deal of infighting between Cuomo and legislators, especially in the Senate, with Cuomo repeatedly questioning the Senate's ability to find consensus, focus on policy over politics, and move controversial legislation -- most of which was proven unfounded in the end, Rivera and others note.

"Across the board, I think we've had an incredibly successful year, which I put right at the feet of our leader," said Rivera, who has repeatedly criticized Cuomo on multiple fronts, in part in defense of Stewart-Cousins. "And she has been very ably dealing with all the difficulties like of us figuring out how to be a majority conference which has its own idiosyncrasies, and the fact that we have been fighting somebody downstairs on the second floor [where the governor's offices are], who would not like us to be successful, everything that we've been able to achieve has not been because of the governor, it's been in spite of him."
Republican Assembly Minority Leader Brian Kolb disagreed on the session's successes and called it a six-month parade of irresponsible progressivism.
"One-party rule in Albany is an unmitigated disaster," Kolb said in an end-of-session statement. "The best part about the 2019 Legislative Session is that for now, the damage is over. What we saw during the last six months was unchecked liberal extremism too eager to show what could be done, without giving any consideration to what should be done."
The results of what Democrats passed are yet to be seen: much of the legislation doesn't go into effect right away, and even after it does, only time will tell.
"We still have a long laundry list of things that we need to pass, because our communities have been under resourced and over criminalized for so long that we have to undo those harms," Javier Valdes, co-executive director of Make the Road New York, an immigrant advocacy organization, told Gotham Gazette. "So this is a long term process. But the thing this session has shown us that we're building momentum, even better things to come."
And there's another session before the next state legislative elections in 2020, when the entirety of both chambers will again be on the ballot.

"All of those things speak to the energy that's got us here, and that's the same energy is going to carry us next year," Rivera said of Democrats' long list of 2019 achievements and the 2020 elections.
Ben Max contributed to this story.