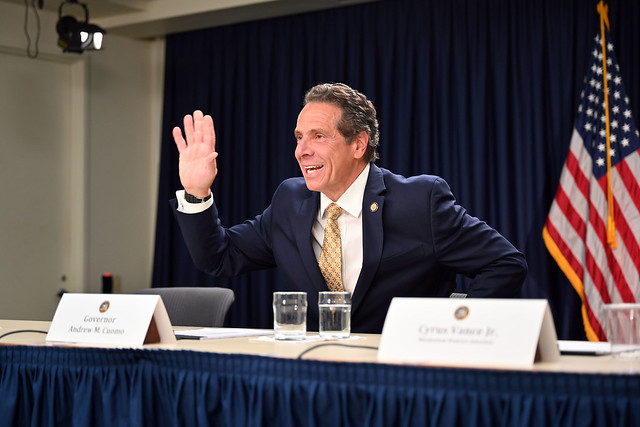 Gov. Cuomo (photo: Kevin P. Coughlin/Governor's Office)
---
Governor Andrew Cuomo celebrated the achievements of 2019 on Friday, calling the legislative session an "overwhelming success" at a wrap-up news conference in the Capitol. During the January to June session, Cuomo and the state Legislature, with its two Democratic majorities for the first time in a decade, moved legislation dealing with a long list of issues, from combating climate change to expanding voting and reproductive rights, new gun regulations to a cap on annual property tax increases, and much much more.
However, while Cuomo did achieve most of what he outlined for 2019 in speeches delivered late last year and early this year, he said on Friday that three big issues remained unresolved: the Legislature did not pass bills to legalize adult-use marijuana or paid gestational surrogacy, nor to expand prevailing wage requirements that govern how union workers are paid on projects that receive public dollars.
When asked about what did not get done and would thus form the basis for his 2020 agenda, Cuomo first joked about the question and said that almost everything he wanted to get done was achieved -- "Are you kidding me?" the governor half-joked, "you want to go through what we didn't do?"
"We did 99.9%," Cuomo said. "It was an overwhelming success." With a smile, he held up a glass about half-filled with water and said that, usually, that's representative of a session and it can be debated whether it is half-full or half-empty. He then filled the glass almost to the top, to represent his view of the session's success rate based on the goals.
"What didn't get done?," Cuomo continued, getting serious, "I'm disappointed that surrogacy did not get done, and I will continue to fight for that. Legalization of marijuana. Prevailing wage. Those are really the issues that did not get done, and I will revisit all of them next year."
While he identified those three issues, there were several other items he hoped to accomplish -- like raising the cap on charter schools in New York City -- also left off the final, very lengthy tally of what did get done.
A look at the three issues Cuomo named to set the table for the future:
Marijuana
After calling it a "gateway drug" not long ago, Cuomo began moving on marijuana legalization in 2018 and indicated support for its legalization during his successful campaign for a third term, though he didn't run on the issue. He then introduced adult-use legalization in his beginning-of-the-year budget proposal, but said that the two houses of the Legislature did not have the "political support" to pass the budget with marijuana legalization as the April 1 deal came together.
Legalization efforts continued in fits and starts, with some sniping between lawmakers and the governor, but ultimately the votes were not there in the Senate, there wasn't significant momentum in the Assembly, and Cuomo did not appear to make a big push for a policy he had called particularly important as both a social justice issue and revenue-raiser for the state.
"It was clear they didn't have the votes for legalization, then we went to decriminalization," Cuomo said at the Friday press conference looking back on the session.
A decriminalization deal was reached in the final days of the session, creating a system of fines for possession of "small amounts" of marijuana, "reducing the penalty for unlawful possession of marijuana to a violation," according to a press release from the Senate Democratic majority. It removes criminal penalties for possession of under two ounces of marijuana, and adds a penalty of $50 for possession under one ounce and $200 for between one and two ounces.
It also creates a program to automatically expunge past and future convictions. And, it adds "marijuana to the definition of "smoking" under the Public Health Law so that smoking marijuana will be prohibited in any circumstances where smoking tobacco is prohibited by law."
"This monumental legislation will decriminalize small amounts of marijuana and establish procedures for record expungements for both past and future convictions," according to a press release from the Senate Democratic majority.
Cuomo has pushed for marijuana reform since 2012. In that time, he has twice proposed legislation to categorize possession of small amounts of marijuana as a violation rather than a misdemeanor. The legislature did not pass either proposal. In 2014, Cuomo and the Legislature made medical marijuana legal across the state.
In 2018, Cuomo began pushing for marijuana legalization. He ordered a Department of Health study on regulated marijauna legislation, which determined that legalization of recreational use would have positive ramifications across the board, including reducing racial disparities in criminalization and incarceration rates. The report found that there have been more than 800,000 arrests for possession of small amounts of cannabis in New York, with the majority of those arrested people of color.
Surrogacy
The Legislature also failed to pass a bill legalizing paid gestational surrogacy. The bill would have allowed gay or infertile couples to contract with a woman to serve as a surrogate.
Paid gestational surrogacy is legal in 47 states, but not New York, where it was banned under Governor Mario Cuomo in 1992. Current state laws also fail to define who the legal parents are when a child is conceived with a gestational surrogate.
"Before the end of the legislative session, we need to fix these two violations that are repugnant to what we believe and who we are and an injustice to the LGBTQ community," Cuomo said in May, speaking on gestational surrogacy and the 'gay and trans panic defense' that was ultimately banned before the end of session.
Cuomo called legalizing surrogacy the next logical step after he helped pass marriage equality in the state in 2011, allowing LGBT couples to marry and to have children through a surrogate if they so choose. But, there were significant concerns from some lawmakers, especially in the Assembly, about protections for potential surrogates and the notion that surrogacy can be viewed as taking advantage of women from lower socioeconomic backgrounds.
Cuomo and others disputed those concerns, touting the legal protections for surrogates in the proposed legislation and pointing to the idea of letting women decided what to do with their bodies, but his advocacy did not prevail.
Prevailing Wage
Discussing the prevailing wage bill before the end of the legislative session, Cuomo decried the Democrat-controlled state Assembly, claiming its members didn't want the bill to pass.
"The Assembly does not want to pass because it has no immediate effect on New York City," Cuomo said Thursday on WAMC radio's The Roundtable, referring to the fact that an updated prevailing wage bill had carved New York City building projects out, giving in to a call from real estate industry leaders and some affordable housing developers who said that an expanded prevailing wage could really hurt housing production.
The prevailing wage is a state-set wage that says if a project gets government subsidies and support, then its developers must pay workers a wage set by the state. It is primarily applicable to construction projects, and is especially prevalent in New York City, where construction abounds. Cuomo has been especially close to the building trades union, though he also has close ties to the real estate industry.
Cuomo's favored bill would have changed the prevailing wage on Long Island and upstate, but not in New York City. "And the Assembly then basically said why should we pass it, you don't have any interest if it does anything immediate in New York City that's it," Cuomo said on WAMC Thursday. The bill at hand at the end of the session would have mandated a study on New York City to potentially expand the wage there in the future.
Cuomo promised to return to each of the issues next year.
"I'm going to get on with the other part of my job, which is actually doing things," Cuomo said at the press conference. "This has probably been the most successful legislative session," he said.