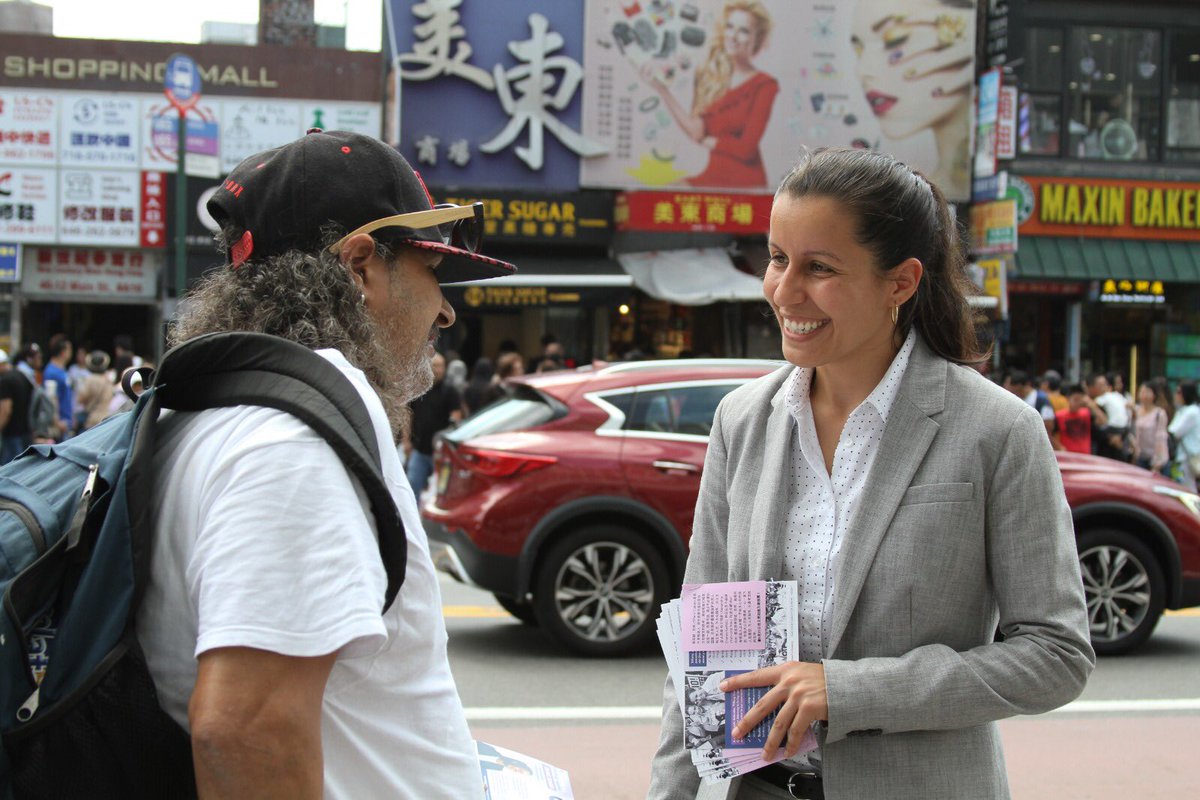 (photo: @CabanForQueens)
---
Tiffany Cabán, a 31-year-old public defender, made national headlines and shocked the New York political world on Tuesday evening, taking a commanding lead and declaring victory in the crowded Democratic primary for Queens District Attorney. Her closest rival, Queens Borough President Melinda Katz, did not concede, however, and said she wants to see every vote counted, and perhaps recounted.
A primary win would set Cabán up toward victory in November -- something she indicated in her remarks she believes is a given -- in the overwhelmingly Democratic borough and become the first newly-elected Queens District Attorney in almost 30 years.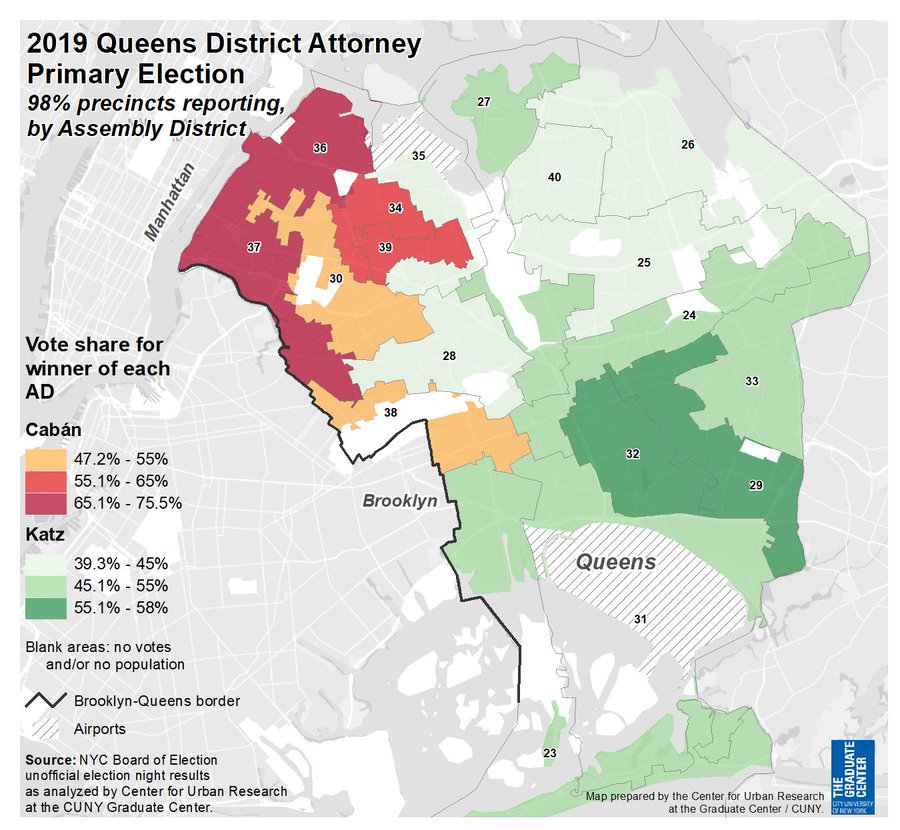 With 98.58 of election precints reporting, Cabán had 33,814 votes, or 39.57% of the total, outpacing Katz, who had 32.724 votes, or 38.3%. Cabán did especially well in western Queens, including areas such as Astoria and Long Island City (see map to the left, created by Steven Romalewski of the Center for Urban Research at the City University of New York Graduate Center).
Coming in third was Greg Lasak, with about 14.5%, followed by Mina Malik with 3.9%, City Council Member Rory Lancman, who dropped from the race on Friday to back Katz, with 1.4%; Jose Nieves with 1.3%, and Betty Lugo with 1%. The total number of votes in the primary stood at 85,447 at that point, roughly 12% of Queens' 766,117 active registered Democrats (as of February 1, according to the state Board of Elections).
The New York City Board of Elections will be responsible for counting outstanding absentee, military, and affidavit ballots, and reviewing the election results before certifying them. It is unclear if Katz will reevaluate her stance and concede -- she spoke Tuesday night before Cabán declared victory.
Cabán ran on a radical platform of a "decarceral state," pledging to keep as many people out of jail as possible by investing in communities, never seeking cash bail, not prosecuting a host of lower-level offenses, and other campaign promises that made her the candidate of New York's ascendent left wing.
"[T]hey said we couldn't win, but we did it, y'all," Cabán declared on Tuesday evening to a raucous crowd of supporters at La Boom in Queens.
She pledged to overhaul the Queens criminal justice system toward fairness, and investment in communities rather than more punitive prosecutorial measures. But, she stressed, "Nothing is more important to me than the safety of all people who call this borough home." She promised to build relationships across the borough and in its various communities, to work with those who did not vote for her, and to create an equitable justice system not "at the cost of safety - that is the source of safety."
The race is for an open seat after long-time Queens DA Richard Brown passed away in May; he had already declared that he would not be running for reelection, prompting the first competitive primary in several decades.
Cabán, a Latina who identifies as queer, was the insurgent, far-left progressive in the race, running a grassroots campaign built on the strength of hundreds of volunteers and thousands of small donors, as well as big ones, from inside Queens and across the country.
Having served as a public defender in Manhattan for seven years, she became the poster child for opposing the calcified tough-on-crime policies of the Queens DA's office, which Brown had led since 1991, though all the other candidates also ran on progressive platforms.
Cabán was the only candidate in the primary who has neither been a prosecutor nor an elected official. But her candidacy inspired criminal justice reformers and like-minded elected officials who have fought for policies of decarceration. She drew comparisons with the dynamic and groundbreaking Democratic Congressional Rep. Alexandria Ocasio-Cortez, who endorsed Cabán and lent her campaign a surge of energy. That soon followed with endorsements from presidential candidates Senators Elizabeth Warren of Massachusetts and Bernie Sanders of Vermont.
Cabán was backed by a somewhat surprising number of local elected officials, including Queens electeds such as State Senators Michael Gianaris, Jessica Ramos, and James Sanders, Assemblymember Ron Kim, City Council Member Jimmy Van Bramer; as well as city Comptroller Scott Stringer, and others. She received endorsements from recent progressive hero candidates Cynthia Nixon and Zephyr Teachout, as well as activist groups who represent people who've been in the criminal justice system, immigrants, and others. She made special mention of The Working Families Party and the Democratic Socialists of America during her victory speech.
The New York Times editorial board, not known for supporting new-into-politics revolutionary candidates, endorsed Cabán as well, saying she would come into office "unencumbered by ties to the borough power structure and free to pursue her commitment to serve the community by doing more than just winning convictions. Her seven years as a public defender have given her insight into how the system works, and how it ought to be changed."
Her lack of prosecutorial and managerial experience was often used as criticism by her opponents, who said she did not seem interested in law and order, raising concerns that crime would rise under her tenure. But her supporters argued that that is what makes her uniquely qualified to usher in a paradigm shift in the Queens DA's office, which other recently elected DAs across the country have attempted including Larry Krasner in Philadelphia and Rachael Rollins in Boston, both of whom endorsed Cabán.
In overwhelmingly Democratic Queens, Cabán is almost sure to win the November 5 general election, assuming her apparent primary win holds. She would face a nominal opponent in Republican candidate Daniel Kogan, an attorney in private practice (there was no Republican primary), but the ballot is not yet set and it is unclear if Republicans may try to field another candidate given a Cabán victory, or if any other efforts to defeat her could emerge.