(photo: @NewYorkGOP)
---
The number of registered Republican voters in New York has been in decline, but that's not news to the New York Republican State Committee, or its new leader. Neither is the fact that Republicans haven't won a statewide election in New York since 2002, and in 2018 the party lost its last stronghold of state-level power when the state Senate was flipped by Democrats.
As the New York GOP held its annual convention in Albany on July 1 and ushered in a new state party chair, Nicholas Langworthy of Erie County, Langworthy and other Republican leaders pledged "the comeback starts now."
One plank of Langworthy's plan, which he outlined as he sought to win the state chair position from Ed Cox over the past several months, was to increase Republican voter registration across the state, in part by redeveloping a party infrastructure in all 62 counties.
But the task in front of Langworthy is especially large, brought into stark relief not only by the statewide drought and the fact that Democrats didn't simply take the state Senate, but control 40 of the chamber's 63 seats, but also by the realities of the voter registration numbers in New York.
As of February 1, among total registered voters in New York, the state Board of Elections shows that there were 6,396,223 registered Democrats and 2,826,284 registered Republicans, along with 738,747 voters registered with any of the other parties in the state (Green, Working Families, Conservative, Independence, etc.), plus 2,734,508 "unaffiliated" voters who are registered to vote, but not with a political party. (All numbers reflect both active and inactive registered voters.)
A look at how the state got to this point, starting about 20 years ago when Republican Governor George Pataki was beginning his second of three terms, shows the task in front of Langworthy and other New York Republican leaders. Pataki is the last Republican to win statewide in New York, winning his third term in 2002 -- but even then, Republicans were well behind Democrats in terms of voter enrollment in New York.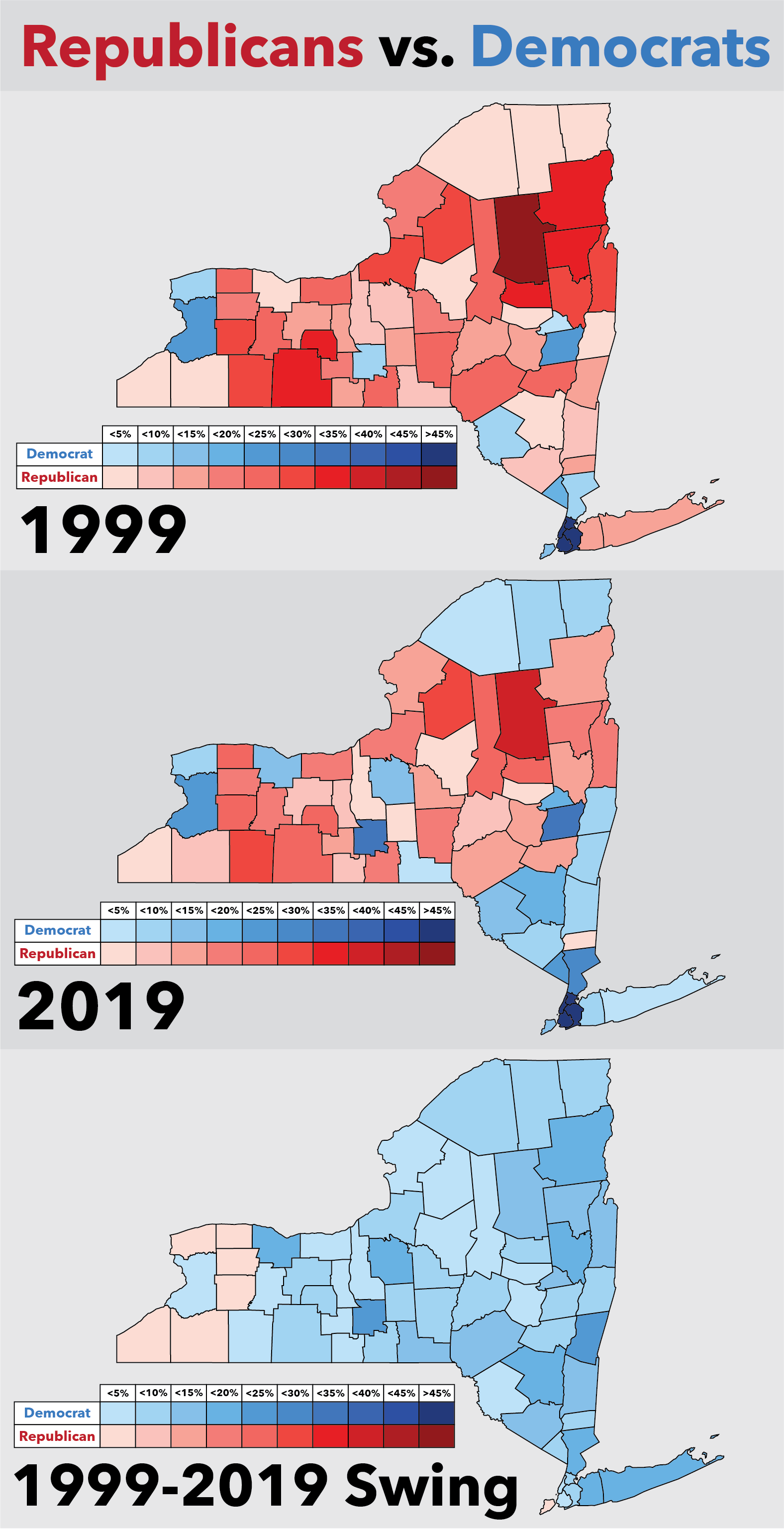 Since 1999, the percentage of Republicans among New York's registered voters has declined from 29 percent to 22 percent. Meanwhile, the percentage of registered Democrats has increased from 47 percent to 50 percent.
According to state Board of Elections numbers from April 1999, Democrats outnumbered Republicans 4,999,541 to 3,078,574.
At that point, Republicans outnumbered unaffiliated voters by nearly 1 million; 3,078,574 to 2,138,100.
Twenty years later, as of February 1 of this year, nearly as many voters are registered as unaffiliated as there are Republicans; with 2,734,508 unaffiliateds and 2,826,284 Republicans.
And if combined with the 485,037 voters registered with the Independence Party – a fringe party often mistaken by those registering to vote who want to be "independent" or unaffiliated with a party – unaffiliated voters outnumbered Republicans in New York as of February.
Over the last two decades, New York state's voter rolls have increased by over 2 million, even as the state's population has only increased by around 600,000. But despite this influx of new voters, the Republican Party has lost a net 250,000 members, while Democrats have gained 1,396,682 voters and there are 596,408 more unaffiliateds.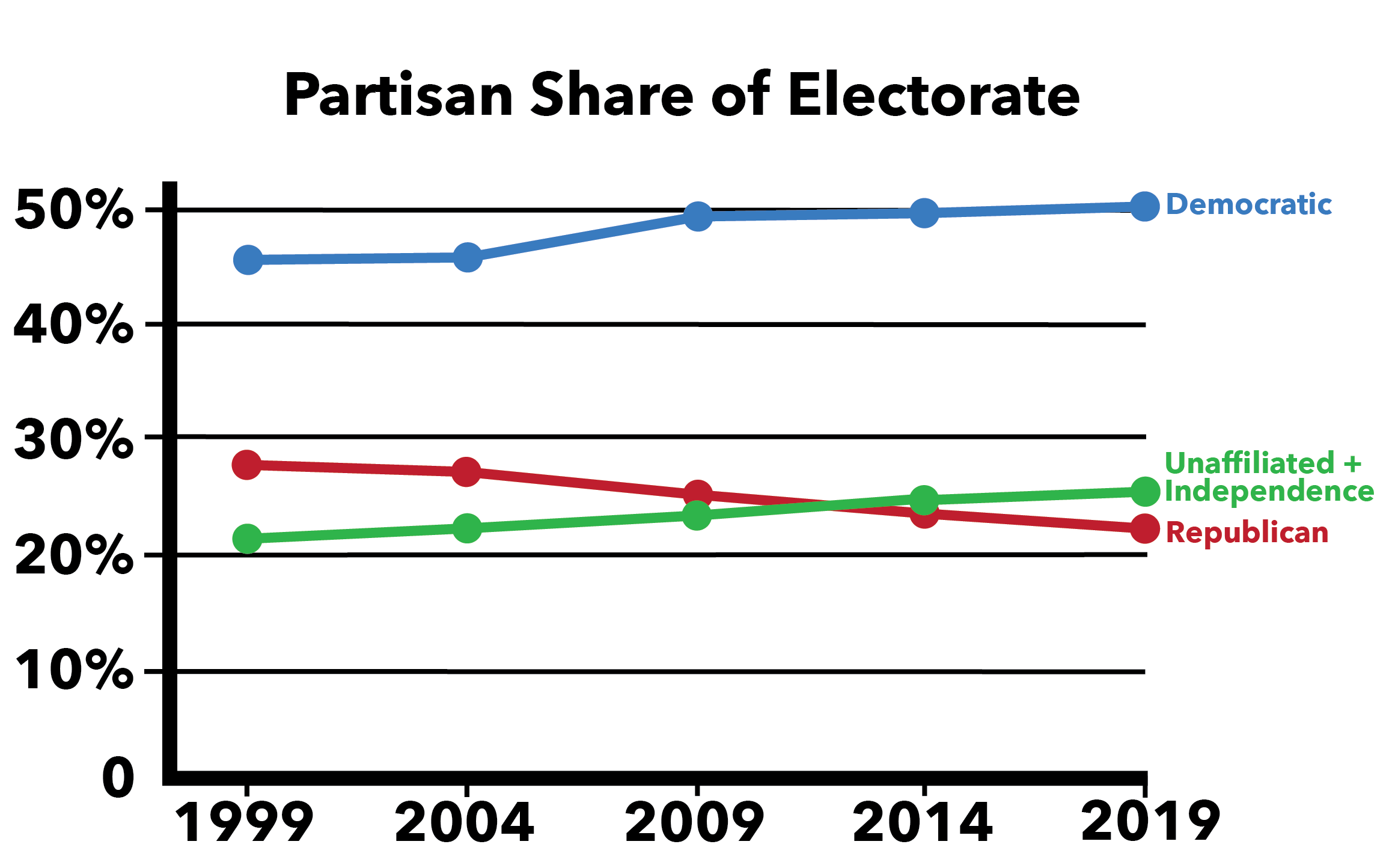 Langworthy, the committee's incoming chair, said enrollment is the party's greatest challenge. Stopping the decline and shrinking the gap with Democrats is one of his top goals as chair.
"We are going to go across this country and find the best practices on voter registration and bring them to this state of New York," he said during a GOP news conference in Albany on May 21, when it was formally announced he would be the next chair of the party. "It has to be done. We're going to close this gap. It's something that's going to take everyone's help to do."
Langworthy didn't specify what practices the party would use to close the gap, but he did mention the importance of reaching out to different groups of voters, especially communities of color, as a means for increasing membership.
"I will personally along with members of our party, staff, and membership will go out there and recruit," Langworthy told Gotham Gazette following a June 18 news conference calling on the resignation of Mayor Bill de Blasio due to his focus on his presidential campaign. "We're going to do heavy outreach in Latino organizations and Asian-American organizations and African-American organizations, bringing all of our coalition groups to let them know that they are welcome in the doors of the Republican Party."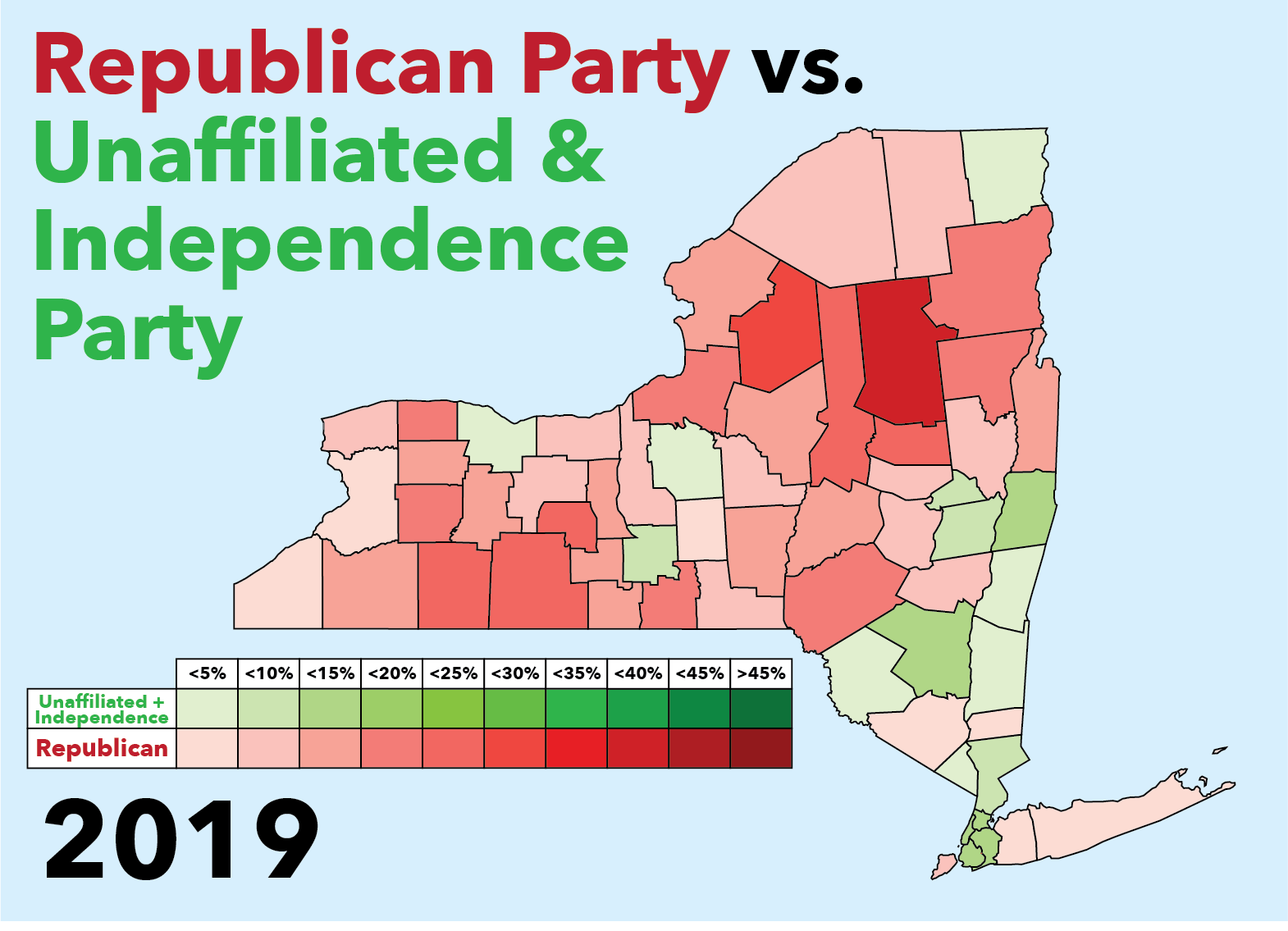 He added that his larger mission is for Republicans to start winning again, namely through the 2022 gubernatorial election, when Governor Andrew Cuomo, a Democrat, plans to seek a fourth term.
"My mission and goal is to get us to the point where a Republican occupies the second floor of the state Capitol," Langworthy said at the May news conference, referring to the location of the gubernatorial offices. "And that will be our mission critical to put the infrastructure in place across this state in order to win a statewide election and put the Republican Party back in the win column there for the first time since 2002."
Langworthy's predecessor, Cox, announced in a press release on May 20 that he would join President Donald Trump's 2020 re-election campaign as part of the finance team, and congratulated Langworthy on becoming the next chair after the two had a hard-fought battle for county leader votes.
Cox echoed Langworthy's vision for Republicans to become the winning party and said Trump can make that happen.
"I think this president can bring in those Democratic voters and realign the party system where the Republican Party will be the majority party in the United States," Cox said at the May press conference.
***
by Caitlyn Rosen & Joey Fox