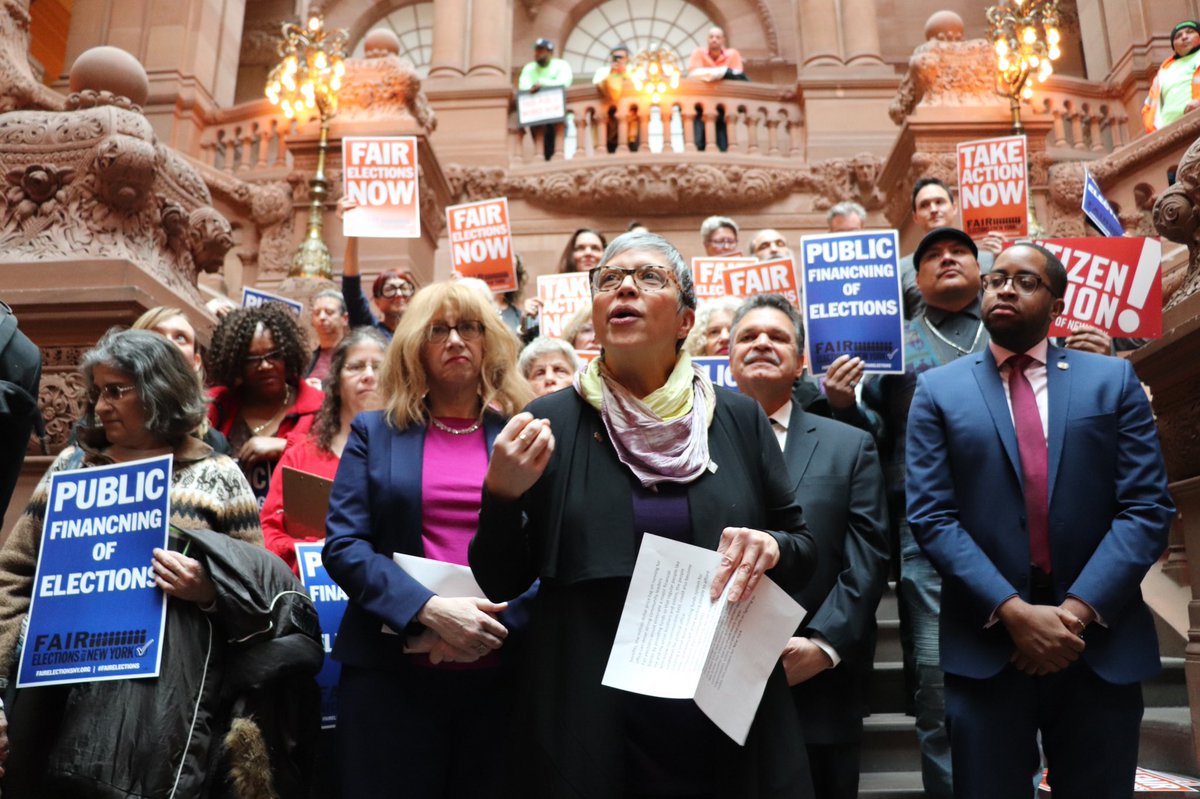 (photo: @FairElectionsNY)
---
As New Yorkers geared up for the holiday weekend last week, state government leaders announced appointments to a new commission with the lofty task of establishing a statewide public campaign financing system.
The body is seen by many as an opportunity to reduce the influence of wealthy donors on state politics by creating a small-dollar matching program that would amplify the impact of contributions made by average residents, in the vein of what exists in New York City.
Established during budget negotiations earlier this year, the Public Campaign Finance Commission is mandated to create a voluntary system for statewide and state legislative candidates to receive public matching funds in exchange for meeting certain fundraising and spending criteria.
The commission is responsible for issuing a report with recommendations by December 1 and holding a public hearing on its findings. The recommendations become binding if lawmakers, who will be out of session, don't act to modify them within 20 days of their release.
On July 3, the governor and legislative leaders revealed their appointees to the nine-member commission, which set off fanfare and a measure of caution from advocates, three months after it was created by law.
"The law charges the commissioners named today with a historic task: design a public financing system that incentivizes candidates to seek more small donations. If they do it right, their system they create will give New Yorkers a stronger voice in Albany," wrote Larry Norden, director of the Election Reform Program at the Brennan Center for Justice, in a statement after the announcement. "If the commissioners do it wrong, their system will fail, and Albany's status quo will remain."
Doing it "right," according to Norden and the Brennan Center, as well as many other advocates, means having a large public match in both primary and general elections, low qualifying thresholds, and low contribution limits for individuals, all of which they believe encourages candidates to rely on many small contributions rather than a few large ones.
A Brennan Center analysis released in December found that 100 individual donors contributed more to state candidates than all of the roughly 137,000 small donors combined in the 2018 election cycle. Reformers view this outsized impact as a threat to democratic processes.
"New York's electoral system is in desperate need of reform. Dark money routinely pours in to control public opinion, misinform voters, and benefit special interests," Senate Majority Leader Andrea Stewart-Cousins, a Democrat, wrote in a statement accompanying appointments to the commission, which also cited related accomplishments from earlier this year, like "closing the LLC loophole" and confidence that the commission will design a system to make New York elections "fairer."
The creation of a commission to study and establish public campaign financing in New York State is part of a concerted effort by reformers, both inside and outside government, to limit the role of money in politics. That push took on new meaning after the U.S. Supreme Court authorized virtually unlimited political spending under the First Amendment in the 2010 Citizens United decision, which unleashed the Super PAC era.
The effort gained new steam this year when Democrats took control of the state Senate and thus both houses of the state Legislature under a Democratic governor who has publicly supported state-level campaign financing for years.
When the commission was first announced in April, advocates called for appointments to be independent of the powers that choose them and representative of the state's diverse constituencies, upstate and downstate.
A majority of the commission's appointments come from Albany's Democratic leadership with Governor Andrew Cuomo, Assembly Speaker Carl Heastie, and Stewart-Cousins each choosing two commissioners, with another appointed jointly by all three. The remaining two commissioners are appointed by minority leaders of the legislative houses.
Last Wednesday, Cuomo appointed Mylan Denerstein, his former counsel who is now a partner at Gibson, Dunn and Cutcher, and state Democratic Party Chair Jay Jacobs of Long Island; Heastie appointed Rosanna Vargas, a former elections commissioner in the city Board of Elections, and Crystal Rodriguez, former chief diversity officer for the City of Buffalo, who is now chief of staff in the Buffalo State College president's office; and Stewart-Cousins appointed DeNora Getachew, executive director of Generation Citizen in New York City and former legislative counsel to Brennan Center's Democracy Program, and Westchester County Attorney John Nonna. The at-large, joint appointment by the three Democratic leaders went to veteran election lawyer Henry Berger.
Senate Minority Leader John Flanagan chose David Previtte, former chief counsel to the previous Republican state Senate majority, to serve on the commission; and Assembly Minority Leader Brian Kolb appointed Kimberly Galvin, his former chief of staff and current co-director of the state Board of Elections' Campaign Finance Compliance Unit.
In a statement and at a press conference Monday, newly-elected state Republican Party Chair Nick Langworthy of Erie County criticized the governor for using one of two direct appointments to place Jacobs on the commission. "This is an egregious conflict of interest that is another attempt to legalize rigged elections and elect Democrats, not root out corruption," Langworthy said. Neither Republican minority leader selected Langworthy to join the commission, though Langworthy reportedly said that if asked he would not have accepted.
The legislation establishing the commission authorizes the state to disperse up to $100 million annually in public funds. Public matching funds programs encourage candidates to seek small contributions by matching each contribution below a certain amount. In order to receive public funds, candidates must voluntarily adhere to limits on political fundraising and campaign spending, and are generally subject to stricter reporting requirements and auditing.
Municipalities around the country have implemented public matching programs with varying matches and limits. New York City has one of the oldest and most generous programs in the country, with the city matching small contributions at eight to one (in November, voters chose to expand the city's program via ballot referendum). In March, the Democratic-led U.S. House of Representatives passed the For the People Act, an omnibus election reform bill that included a federal small-dollar public financing system. The bill has been introduced in the Republican-controlled Senate, but has not advanced.
All eyes are now on New York's commission, which advocates hope will take advantage of the opportunity to implement real, long-sought reforms.
"If the Commission listens to the experts who have looked at this issue over the decades, they will implement a robust matching system that offers at least six dollars in matching funds for every small dollar raised in primaries and general elections, lowers contribution limits and restores New Yorkers faith in democracy," the Fair Elections for New York coalition, made up of dozens of advocacy groups and labor unions, wrote in a statement after last week's announcement. "If the Commission does not listen to these experts, the Legislature must step in and use its power to 'amend or abrogate' the Commission's recommendations."
Eleven states have some form of public financing, according to the National Conference of State Legislators website, but none as big as New York. In a blog post published on its website on July 3, the Brennan Center wrote that creating a small donor public financing system in New York "would mark the most significant campaign finance reform in the United States since the 2010 Citizens United ruling."