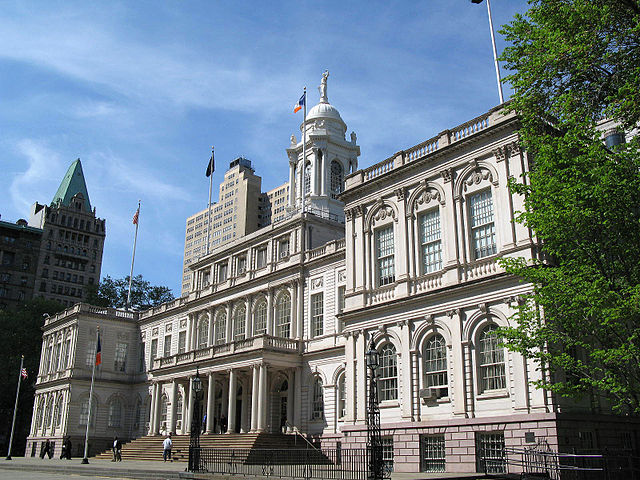 New York City Hall
---
What to watch for this week in New York politics:
This week begins with New York's labor and political communities mourning the unexpected death of 32BJ SEIU President Héctor Figueroa, who passed suddently on Thursday night at 57 years old. Figueroa was widely respected as a champion for workers' rights and his compassion, honesty, transparency, and more.
The counting in the Queens District Attorney Democratic primary recount is set to begin on Monday. Based on the counting done to this point, Queens Borough President Melinda Katz was up by 16 votes on public defender Tiffany Cabán, who has been pushing to have many affidavit ballots counted. The recount will include more than 90,000 ballots, including some that voters filled out but were not read by machine scanners for whatever reason. There remains the question of more than 100 affidavit ballots that the Board of Elections initially threw out, but the Cabán campaign has sued to reinstate. A judge decided to hold off on ruling in the matter until later in the recount process given that the manual recount was about to begin. The recount is expected to take between one and three weeks.
Also as the week begins, it is unclear if there will be much, if any, additional fallout from the blackout that hit parts of Manhattan for several hours on Saturday and how it spotlighted Mayor Bill de Blasio's out of town travel for his presidential campaign. Con Edison restored the power relatively quickly, though many peope were without air conditioning for hours on a hot summer day, some were trapped in elevators, and other hardships were endured. The mayor cut short his campaign swing through Iowa (after he spoke in Wisconsin on Friday he had a full day of events in Iowa on Saturday, with more planned for Sunday), returning home on Sunday to further examine what had gone wrong and brief the public during a press conference on Sunday afternoon.
De Blasio was also facing scrutiny for leaving town amid announced raids by federal immigration officials (ICE) that, at least through Sunday evening, appeared far less sweeping than expected. The mayor's immigrant affairs commissioner and other city officials held a press conference on Saturday to help warn New Yorkers about the raids and publicize "know your rights" materials and advice for how immigrant families should handle interactions with ICE. In both the blackout reaction and ICE preparation, City Council Speaker Corey Johnson took far more public leadership than de Blasio, provoking additional comments that Johnson is the city's de facto leader as de Blasio runs for president. Governor Andrew Cuomo also jumped into action, and raised questions about de Blasio's absence from the city.
Speaking of de Blasio's presidential bid, the mayor's first fundraising numbers for the effort are expected to be posted by law this week. It will be the first insight into how de Blasio's fundraising is going since entering the campaign a couple of months ago. Beyond the raw numbers, many will be watching for how much of de Blasio's funding is coming from those with interest in city business, and who exactly is giving to the mayor's national campaign. The fundraising numbers will in part dictate whether de Blasio makes the second primary debate, which is scheduled over two nights on July 30 and 31 in Detroit.
In the background of that campaign is also the issue of police reform, a topic de Blasio has again thrust to the forefront of his electoral efforts, but where questions remain. The NYPD administrative trial for Officer Daniel Pantaleo in the 2014 death of Eric Garner ended a couple of weeks ago, and many are waiting to see the outcome of the case -- what the judge has ruled and recommended for punishment (if anything), and how Commissioner James O'Neill, who holds final say over discipline matters in such trials, will handle the situation. The outcome will have significant implications for de Blasio's mayoralty and possibly for his presidential campaign. Wednesday is the fifth anniversary of Garner's July 17, 2014 death.
Also this week, we're watching for further discussion and developments related to the MTA, NYCHA, and the plan to close Rikers Island jails and replace some of its jail capacity with new or rehabbed facilities in the four boroughs other than Staten Island. The land-use review process for the city's plan is well underway, with the City Planning Commission holding a public hearing last week. As for the MTA: late in the day on Friday, the transit authority released "a preliminary report of its transformation plan as part of widespread reforms passed in the State Budget in April. The recommendations for this historic reorganization – the first in the MTA's 51-year history – were made following an extensive evaluation process conducted by AlixPartners, and will prepare the agency to dramatically improve service, end project delays and cost overruns, and finally establish the modern system customers deserve." Evaluations of that plan from advocates and elected officials are expected this week.
There are a variety of events to be aware of this week -- see our day-by-day rundown below.
***Do you have events or topics for us to include in an upcoming Week Ahead in New York Politics?
e-mail Gotham Gazette editor Ben Max: This email address is being protected from spambots. You need JavaScript enabled to view it.***
The run of the week in detail:
Monday
Mayor de Blasio's lone public event scheduled for Monday is his weekly appearance on NY1's Inside City Hall with host Errol Louis, in the 7 and 11 p.m. hours.
Beginning at 9 a.m. Monday in Albany, the New York State Board of Regents will hold a meeting.
The Queens District Attorney Democratic primary recount will begin in earnest on Monday, and is expected to take at least a week, probably closer to two or more. Queens Borough President Melinda Katz holds a 16 vote lead over public defender Tiffany Cabán as ballots are set to be recounted, with some newly-counted ballots added to the mix.
On Monday at 9:30 a.m. outside the ballot review site in Middle Village, Queens, "elected officials will host a press conference prior to the start of the ballot count in the county District Attorney race. Joined by Cabán campaign attorney Jerry Goldfeder, elected officials will explain the recount process and highlight the need to count every ballot cast by eligible and legitimate Queens Democratic voters." Along with Goldfeder, expected or possible speakers include Cabán supporters Comptroller Scott Stringer; Senators James Sanders, Jessica Ramos, and Mike Gianaris; Assemblymember Ron Kim; City Council Members Antonio Reynoso and Jimmy Van Bramer.
On Monday at 9:30 a.m. at Ground Zero in Manhattan, "Congresswoman Carolyn B. Maloney (D-NY) will join with New York Senator Chuck Schumer, Congressman Jerrold Nadler (D-NY), and 9/11 first responders and health and compensation advocates to celebrate overwhelming House passage of H.R. 1327: Never Forget the Heroes: James Zadroga, Ray Pfeifer, and Luis Alvarez Permanent Authorization of the September 11th Victim Compensation Fund Act and call on the Senate and Leader McConnell to pass this bill as quickly as possible. The final vote on the bill was 402-12."
At noon Monday, "Amazon Prime Day, a large coalition of community, immigration, and labor groups will go to Jeff Bezos' new $80 million dollar Manhattan home at 212 Fifth Avenue to deliver more than 250,000 petitions calling on Amazon to cut ties with ICE and end abusive working conditions in its warehouses. The New York City petition delivery and protest are part of a national day of action against Amazon on Prime Day, with protests over Amazon's ties to ICE and mistreatment of workers happening around the country Monday. These events come amid growing outrage over Amazon's role in providing essential technological infrastructure to ICE as the Trump administration continues to threaten mass deportations and put children in cages and concentration camps. Amazon also faces mounting public pressure to improve how it treats its warehouse workers. The online retail giant is set to testify before the U.S. House Anti-Trust Committee on Tuesday." A long list of activist groups are leading the protest.
At 5 p.m. Monday, City Council Member Chaim Deutsch and NYPD Commissioner James O'Neill will hold a street co-naming ceremony for slain police officer Leon Fox, killed on duty in 1941.
At 6:30 p.m. on Monday, Queens Borough President Melinda Katz will host a Dominican Heritage celebration at Queens Borough Hall.
Tuesday, July 16
At the City Council on Tuesday:
-At 9:30 a.m., the Subcommittee on Zoning and Franchises will meet to discuss four land use applications from Queens, Brooklyn, and Manhattan.
-At 1 p.m., the Subcommittee on Landmarks, Public Siting and Maritime Uses will meet to discuss two land use applications on landmarks in the Bronx and Manhattan.
At 8 a.m. Tuesday, the New York State Board of Regents will meet for an executive session.
At 9 a.m. Tuesday, the New York City Industrial Development Agency will hold a Board of Directors meeting.
At 10 a.m. Tuesday, the New York City Board of Standards and Appeals will hold a public hearing relating to developments in all five boroughs.
At 6:30 p.m. Tuesday at the Museum of Jewish Heritage, City & State NY will host its 2019 Manhattan Power 100 celebrating Manhattan power players, "gathering top brass from government relations, media, business and beyond for a networking opportunity you do not want to miss." Speakers will include Borough President Gale Brewer; former City Council Speaker Christine Quinn, now CEO of WIN; and Sheena Wright, President and CEO of United Way of New York City.
Wednesday, July 17
At 11 a.m. Wednesday outside of Grand Central Terminal, Riders Alliance and state legislators will hold a rally to demand that the next MTA five-year capital plan include funding for subway signals, train cars, and station elevators.
At 12 p.m. Wednesday, the New York Building Congress will host a committee meeting on energy and sustainability, featuring state Senator Kevin Parker (event is invite-only).
At 5 p.m. Wednesday, this week's Max & Murphy show will air on WBAI radio, 99.5FM and wbai.org, featuring Riders Alliance founder and executive director John Raskin on key transit issues facing New Yorkers and a separate discussion of how the de Blasio administration is handling manufacturing and industrial space in the city.
At 6 p.m. Wednesday, Manhattan Borough President Gale Brewer is hosting a public hearing on the East Side Coastal Resiliency Project aimed at "fortifying Manhattan's coastline between Montgomery and 25th Streets from coastal flooding while making the waterfront more accessible to the public." The plan will be presented by the NYC Department of Design and Construction, and will be followed by an opportunity for public testimony. The event will take place at Mt. Sinai Beth Israel.
Also at 6 p.m. on Wednesday, Reboot Democracy will host a discussion on the "development of tools that will strengthen our democratic system."
Thursday, July 18
At the City Council on Thursday:
-At 10:30 a.m., the Subcommittee on Zoning and Franchises will meet to discuss the Kissena Center Rezoning in Queens.
-At 11 a.m., the Committee on Land Use will meet.
-At 1 p.m., the Committee on Rules, Privileges and Elections will hold an appointment hearing on Jeffrey Roth, the newly-nominated head of the Taxi & Limousine Commission.
At 10 a.m.,, the NYC Campaign Finance Board will hold a board meeting.
Friday, July 19
At 10 a.m. on Friday, Mayor Bill de Blasio may make his weekly appearance on WNYC's The Brian Lehrer Show.
***
Have events or topics for us to include in an upcoming Week Ahead in New York Politics? E-mail Gotham Gazette executive editor Ben Max any time: This email address is being protected from spambots. You need JavaScript enabled to view it. (please use "For Week Ahead" as email subject).
***
by Joey Fox and Ben Max
@GothamGazette