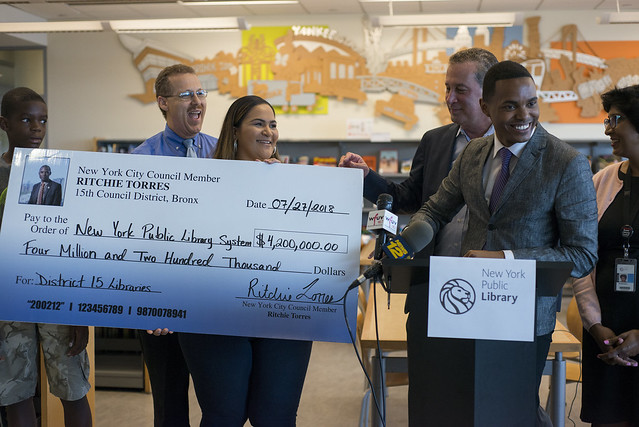 Council Member Ritchie Torres (photo: Jeff Reed/City Council)
---
Bronx City Council Member Ritchie Torres is touting $3 million in city funding he secured for a residential complex that falls outside the Council district he represents, but within the Congressional district where he's seeking votes.
The money will go to Concourse Village, Inc., a nearly 1,900-unit housing cooperative located in the south Bronx, over a mile away from the border of Torres' district. The second-term Democratic Council member is running for Congress in the primary that will be held in June of next year.
Torres sent a campaign text message announcing the "great news," using the funding allocation he secured as a member of the City Council to advance his congressional campaign, apparently targeting voters in Concourse Village.
"This is Council Member Ritchie Torres, running to be your next Congressman," read a text message shared with Gotham Gazette. "GREAT NEWS: In the latest NYC budget, I secured $3 MILLION for Concourse Village." The message went on to tell the recipient not to hesitate to reach out to Torres, providing a phone number, and concluded, "You can always count on me to fight for the Bronx. - Ritchie".
The youngest member of the City Council and the first openly gay elected official from the Bronx, Torres officially announced his candidacy for Congress on Monday, though he has been exploring a run for months. He joins several other Democrats vying for the seat opened by incumbent Representative José E. Serrano, who announced in March he would not seek reelection because of health concerns related to Parkinson's disease. Representing the district in Congress since 1990, Serrano's current term will end at the end of next year. Torres, who has been representing the 15th Council District since 2014, is not eligible to run for reelection in 2021 because of two-term limits. (Serrano's Congressional district also happens to be the 15th.)
Others in the race include City Council Member Ruben Diaz, Sr. and Assemblymember Michael Blake.
Taking advantage of the authority and influence of elected office to secure popular measures that can later be used as campaign fodder is commonplace in New York, where local politics is often a stepping stone to higher office. But the grey area around promoting public interest and political aspirations becomes less ambiguous when the sway of an elected office goes to benefit another district entirely, with electoral goals at play.
"How do you rationalize using campaign funds to communicate with people outside your district to tell them that you got them money blatantly for the purpose of trying to curry political favor?" said Blake, whose district includes Concourse Village.
Torres says the budget allocation for what he calls the largest concentration of cooperative housing in the South Bronx is consistent with his focus on affordable housing, especially for African-Americans. So is the political campaigning that followed.
"I have been an advocate for affordable housing not only in my district but throughout the city," Torres told Gotham Gazette. Concourse Village "has an outsized presence in the housing stock of the South Bronx, which is keeping with my record and reputation for advocating for affordable housing."
"I think of cooperative housing like Concourse Village as the bedrock of the African-American middle class, you know, whether it's Co-op City in the East Bronx or Concourse Village in the South Bronx," Torres, who is black and Latino, said. Black voters in the 15th Congressional District are expected to be an important part of the primary vote. Blake is African-American and Torres is African-American and Latino.
Concourse Village, Inc. is subsidized under the Mitchell-Lama housing program, which offers income-restricted rentals and below-market value buy-in for co-ops, a boon for affordable housing.
The neighborhoods comprising the South Bronx are home to some of the worst poverty in the country and also have some of the highest rates of rent burden in the city. In the community district that includes Concourse Village, more than half of households are rent burdened, meaning they spend more than 35 percent of income on rent, according to the Department of City Planning.
Torres, who grew up in NYCHA public housing and chaired the Committee on Public Housing during his first term, has made the living conditions of the city's most underserved residents a signature priority.
He notes the $3 million allocation did not come from the capital funding dedicated to his Council district, but from the city-wide pool controlled by Speaker Corey Johnson. Torres told Gotham Gazette, "if it had come from the Council District 15 pot then there is cause for controversy, but there is nothing unusual about funding for Concourse Village from a city-wide pot."
"And since I had a role in securing the funds, it's natural for me to take credit," he added.
Each fiscal year the City Council is given a capital budget from which Council members may apply to allocate funds, according to Jonathan Rosenberg of the Independent Budget Office. Individual members can apply for district-specific projects, and borough delegations can sponsor projects that span multiple districts. The Council speaker ultimately decides how that money is disbursed and can also allocate it to city-wide projects.
In recent years, speakers have designated an equal amount of capital funding, $5 million, to each of the 51 Council members with the remainder of the now $655 million capital budget going to a city fund. City-wide allocations are controlled by the speaker and might go toward large or expansive projects like street reconstruction, according to Rosenberg, and members are able to put in requests.
"This money was funded by the City Council Speaker at the request of Council Member Torres," said a Council spokesperson. The spokesperson said it's not unprecedented for members to seek funding for a project outside their district, adding that the money is from the city capital funding, not the money set aside for Torres' Council District 15.
Torres has also secured funding for cooperative housing in his district using the money designated specifically for that purpose by the Council leadership. This year, he put roughly $1 million of the $5 million towards renovationing a Mitchell-Lama co-op, known as Dennis Lane Apartments, in the heart of District 15.
Concourse Village is located south of Torres' district off of Morris Ave. within the borders of Council District 16, represented by Vanessa Gibson. Gibson, a Democrat, is not listed among the sponsors of the $3 million Concourse Village, Inc. allocation, despite the project falling into her district. "I actually was not even made aware of this allocation until the day of adoption," she said in a phone interview.
"I did not have the opportunity to work with the speaker nor Ritchie on this. It was something that Ritchie had done on his own, but I am grateful for the attention Concourse Village is getting in the budget," she said.
"I get the strategic way that Ritchie is obviously looking at the future. This was a development that came up among the priorities within the district, and I truly believe that that was the logic behind it," she added.
But Blake called foul on that strategic approach. "It is difficult to say that you want to be a fresh voice in Congress when you are directly trying to communicate to people that you want to pay for their vote," he said.
"I'm proud of the role that I played in securing the funds. Concourse Village is one of the most important housing developments in the Bronx and in the city," Torres said. "And it's been a stabilizing force for communities of color, for middle-class communities of color. That's why I felt so strongly about it."