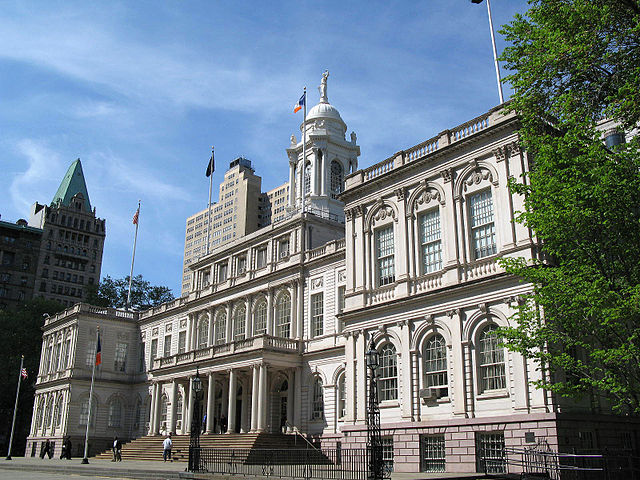 New York City Hall
---
What to watch for this week in New York politics:
This week starts with Mayor Bill de Blasio and others reacting to a shooting that occured at a large annual block party in Brownsville, Brooklyn on Saturday night. De Blasio met with community leaders in Brownsville on Sunday, while other local officials including Brooklyn Borough President Eric Adams also addressed the shooting, which killed at least one person and injured several others. While murders have been trending down again this year compared to last, shooting incidents have been up, particularly in certain pockets of the city that often see the most gun violence, though the number of shootings is still far below what it was years ago.
There was also news of another suicide among NYPD officers this weekend, the latest in a recent wave of such incidences (five in the last two months) that has many in the city on high alarm and officials from the mayor to NYPD Commissioner James O'Neill and many others encouraging any NYPD personnel struggling with mental health or other issues to seek help. "Tonight our city mourns at the news that we've lost another NYPD officer to suicide," de Blasio said in a Saturday statement. These tragedies cannot continue. We cannot lose any more of our officers...If you or a loved one is in need: ask. Your whole city stands in support of you ready to answer the call." His office also noted several outreach channels: NYPD Employee Assistance Unit 646-610-6730; NYPD Chaplains Unit 212-473-2363; POPPA (Police Organization Providing Peer Assistance) 888-267-7267; NYPD Crisis Text Line Text BLUE to 741741; NYC WELL 1-888-NYC-WELL.
De Blasio was in the city this weekend as opposed to the presidential campaign trail, apparently to prepare for this week's Democratic primary debate -- he'll appear during night two of the two-night debate from Detroit. De Blasio's wife and son, Chirlane McCray and Dante de Blasio, were campaigning for the mayor in South Carolina this weekend. Like many of the other 20-plus candidates in the Democratic field, de Blasio is in the midst of a push to make the third debate, set for September, which has significantly tougher qualifying criteria. There are about 10 candidates who appear set to make that debate, while more than 10 others including de Blasio are scrambling to reach the donor and polling thresholds.
For his part, Governor Andrew Cuomo was in Utah on Friday to attend a meeting of the Democratic Governors Association, at which he was named vice chair and he delivered public remarks about the inaction in Washington, D.C. and how governors must and do respond.
There are fewer political events on the calendar this week than many others, which is typical for this time of year. The City Council has no hearings this week, for example. But there are several events to be aware of -- see the day-by-day rundown below. And, the New York political world will continue discussing, among other things, the recently-passed MTA reorganization plan.
A high-profile issue on the table to kick off the week: the results of the Queens District Attorney Democratic primary are expected to be certified by the Board of Elections on Monday, with Borough President Melinda Katz being declared the winner by 60 votes over public defender Tiffany Cabán. But, it's not over yet -- Cabán already has a court date on Wednesday (moved up from August 6) to challenge over 100 affidavit ballots invalidated by the BOE that her campaign belives should be counted. While Katz is declaring victory and the BOE is likely to certify the results Monday, this race will continue for at least another week or so.
***Do you have events or topics for us to include in an upcoming Week Ahead in New York Politics?
e-mail Gotham Gazette editor Ben Max: This email address is being protected from spambots. You need JavaScript enabled to view it.***
The run of the week in detail:
Monday, July 29
Mayor de Blasio is in New York City with no public events scheduled for Monday; Governor Cuomo is in Albany with no public events scheduled for Monday.
At 1 p.m. Monday, New York City Board of Elections officials will meet in Manhattan to certify the results of the Queens District Attorney Democratic primary, though a court challenge to affidavit ballots will be heard on Wednesday.
At 1 p.m. Monday, the City Planning Commission will hold a review session.
At 6 p.m. Monday, State Senator Zellnor Myrie, Council Member Laurie Cumbo, and Assembly Members Walter Mosley and Diana Richardson will host a "Help for Homeowners" town hall in Brooklyn.
Also at 6 p.m. Monday, Assembly Member Yuh-Line Niou will hold a separate Housing and Rent Law town hall to discuss laws recently passed by the state legislature and "learn more about these changes from our housing lawyers and advocates."
Also at 6 p.m. Monday, City Council Members Robert Cornegy, Jr. and Mark Levine, and state Senator Liz Krueger will participate in a discussion about how elected officials influence "the makeup of public buildings and infrastructure in New York City. Every process of building a public project is shaped by our elected representatives: funding, political support, design, procurement, and construction. This program allows audience members to hear directly from both City and State elected officials about their experiences with the construction of public buildings. Speakers will discuss specific examples in their legislative districts, as well as general trends throughout the City on a variety of different public building and infrastructure typologies." The event is hosted by Center for Architecture and AIANY.
Also at 6 p.m. Monday, the Manhattan Institute will host its Young Leaders Circle with retired General Stanley McChrystal. "At a time when escalating tensions in the Persian Gulf, especially between the U.S. and Iran, threaten to disrupt peace and commerce in the region—and the world—McChrystal brings both a business and a military perspective to a dangerous situation. What should be the next move for the U.S. in dealing with Iran?"
Comptroller Scott Stringer will appear on Monday evening's Inside City Hall on NY1, during the 7 and 11 p.m. hours.
Tuesday, July 30
On Tuesday at 3:30 p.m. at Boys & Girls Club of Metro Queens, "Assemblyman David I. Weprin and the Zero Abuse Project will host a free seminar entitled "Courageous Conversations, Critical Choices: What New York's Child Victims Act Means for Queens" to inform community members about the changes to the statute of limitations requirements for child sexual abuse in New York under the recently enacted Child Victims Act (CVA)."
At 6 p.m. Tuesday, New York Lawyers for the Public Interest will host a panel discussion on the lack of adequate health care for those detained in immigration facilities. "Panelists – including Laura Redman, director or NYLPI's health justice program, medical professionals Dr. Chanelle Diaz and Dr. Jasdeep Mangat, and an individual previously held in detention – will discuss this ongoing human rights crisis and efforts to address it. The panel is in conjunction with NYLPI's social justice-focused pop-up art exhibit, All Access."
Tuesday night will be the first night of the two-night second Democratic presidential primary debate, airing on CNN from Detroit and again including 20 candidates in total. The first night will include Senators Bernie Sanders and Elizabeth Warren, among others.
Wednesday, July 31
At 8:30 a.m. Wednesday, the Queens Chamber of Commerce will host "How NYC Building Owners Will Cash In on the New Environmental Standards," an event discussing the positive impacts for property owners and managers of Local Law 97. Speakers will include City Council Member Costa Constantinides and Queens Chamber President Thomas Grech.
There will be a court hearing on Wednesday at the Tiffany Cabán campaign attempts to have "more than a hundred" affidavit ballots counted in the Queens District Attorney Democratic primary.
From 9 a.m. to 4 p.m. on Wednesday, City & State will host its 2019 Protecting New York Summit, offering "industry executives, public sector leaders and academics the opportunity to discuss all aspects of New York's security strategy, from securing infrastructure, to cybersecurity and disaster management." Speakers will include Police Commissioner James O'Neill, Assembly Member Jaime Williams, and City Council Members Joe Borelli, Justin Brannan, and Donovan Richards, among many others. (Gotham Gazette editor Ben Max will moderate a panel on the media, the internet, security, and free speech with Council Member Richards, the chair of the public safety committee, and NYPD Deputy Commissioner of Intelligence and Counterterrorism John Miller.)
At 10 a.m. on Wednesday, the City Planning Commission will hold a public meeting.
On Wednesday from 5-6 p.m., this week's Max & Murphy show on WBAI radio -- listen at 99.5 FM or wbai.org -- will include a discussion with City Council Member Brad Lander about school and neighborhood segregation in New York City, among other topics.
At 6 p.m. on Wednesday, the New York City Panel for Educational Policy will hold its monthly meeting, discussing topics including culturally responsive-sustaining education and negotiations with custodial unions, before opening for general public comment.
Wednesday night is the second of the two-night second Democratic presidential debate on CNN. The second night will feature Mayor de Blasio, Senators Kirsten Gillibrand, Cory Booker, and Kamala Harris, former Vice President Joe Biden, former HUD Secretary Julian Castro, and others.
Thursday, August 1
At 8 a.m. on Thursday, the New York Building Congress will meet for a construction industry breakfast, with keynote speaker Vicki Been, Deputy Mayor for Housing and Development.
At 6 p.m. on Thursday, Manhattan Borough President Gale Brewer will host a Dominican Day Parade 2019 launch reception.
At 6:30 p.m. on Thursday, BetaNYC will host a meetup on cycling and data collection. Included in the discussion will be "tools to analyze your ride, how to document your ride, how to best provide government better data on safety / infrastructure, cycling with cameras, & which laws are applicable in NYC vs NY State."
Friday, August 2
Mayor de Blasio may make his weekly appearance on WNYC's The Brian Lehrer Show Friday at 10 a.m.
***
Have events or topics for us to include in an upcoming Week Ahead in New York Politics? E-mail Gotham Gazette executive editor Ben Max any time: This email address is being protected from spambots. You need JavaScript enabled to view it. (please use "For Week Ahead" as email subject).
***
by Joey Fox and Ben Max
@GothamGazette