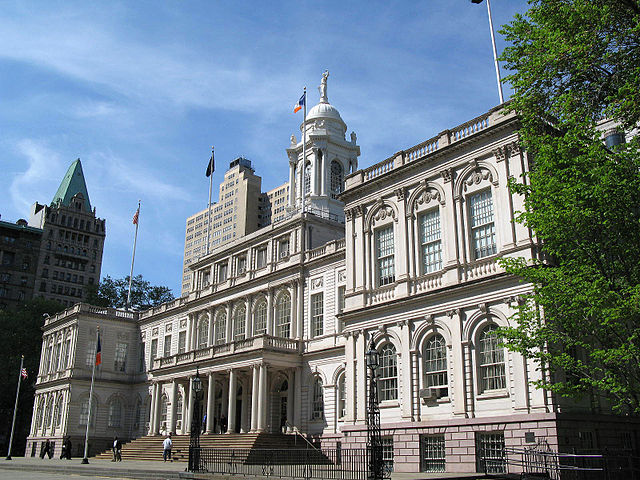 New York City Hall
---
What to watch for this week in New York politics:
New York and the country begin the weekend dealing with the devastating mass shootings over the weekend in El Paso, Texas and Dayton, Ohio, which came after mass shootings the weekend before in Gilroy, California and here in Brownsville, Brooklyn. There was a vigil on Saturday in Brownsville to mark one week since that incident, and there will be a vigil Monday night at Grand Army Plaza in Brooklyn to pay respects to the victims of all four shootings and to call for change.
The week also begins with the city continuing to respond to the Friday news that an NYPD administrative judge has recommended to NYPD Commissioner James O'Neill that Offier Daniel Pantaleo, whose chokehold led to the 2014 death of Eric Garner on Staten Island, be fired from the police force. It will still take some time before O'Neill can issue his decision based on the judge's recommendation. After receiving a great deal of criticism over the course of recent days and weeks (and years), Mayor Bill de Blasio on Friday called the news a step toward justice. He did not explicitly indicate that he supports the recommendation for Pantaleo to be fired, still apparently trying to toe the line where he does not 'interfere' with due process for a city employee. Pantaleo and his attorney, with the support of his union, appear set to challenge his dismissal if O'Neill follows the judge's recommendation.
De Blasio was on the presidential campaign trail throughout the weekend and into Monday -- he was in Nevada, California, and Washington, D.C. -- and is scheduled to return to the city from D.C. on Monday.
Tuesday evening will be the annual National Night Out Against Crime, where local NYPD precincts coordinate with community groups and elected officials to put on neighborhood events, denounce crime, improve public safety, and increase goodwill between police officers and residents. National Night Out comes not only just after developments in the Pantaleo/Garner matter, but also after recent incidences where New Yorkers threw water on NYPD officers, which raised questions about police-community relations.
As is often the case this time of year, there are fewer events on the political calendar as the week begins than there often are throughout the rest of the year, but there are some to be aware of -- see our day-by-day rundown below -- as well as other issues to watch, such as how the mayor and others continue to deal with recent news about the prevalence of lead paint in city schools, transitions at NYCHA and the MTA, and more. And, we're still waiting for the final word on the Queens District Attorney Democratic primary, where Melinda Katz has been certified as the winner of the recount by 60 votes, but the Tiffany Cabán campaign is challenging the dismissal of more than 100 affidavit ballots. A judge will begin looking at about 30 of those ballots on Tuesday in Queens.
***Do you have events or topics for us to include in an upcoming Week Ahead in New York Politics?
e-mail Gotham Gazette editor Ben Max: This email address is being protected from spambots. You need JavaScript enabled to view it.***
The run of the week in detail:
Monday, August 5
At about 7:45 a.m. Monday, "Governor Cuomo is a Guest on Long Island News Radio with Jay Oliver."
Mayor de Blasio will be on NY1's Inside City Hall in the 7 and 11 p.m. hours on Monday evening.
On Monday at 9 a.m. in Manhattan, "U.S. Senator Kirsten Gillibrand will deliver brief remarks and participate in a roundtable discussion hosted by Community Voices Heard (CVH) about Follow Black Women: A Survey for the Frontlines, a recent survey conducted by CVH which highlights the issues thousands of Black women across New York State care about most, including affordable housing, education, and criminal justice reform. Senator Gillibrand will be joined at the event by CVH Executive Director Afua Atta-Mensah, members of Community Voices Heard, Black women survey participants, and advocates."
At 10 a.m. Monday at Rockefeller Center, "Lieutenant Governor Kathy Hochul Visits AT&T's Girls Who Code Camp Highlighting Importance of Closing Gender and Diversity Gaps in STEM Education and Workforce." At 2 p.m., "Hochul Visits AT&T and East Flatbush Inc's STEAM Intensive Camp Highlighting Importance of Closing Gender and Diversity Gaps in STEM Education and Workforce" in Brooklyn.
At 11 a.m. Monday, Manhattan Borough President Gale Brewer will be among those who speak at the "groundbreaking for the 14th Street Tech Training Center."
At 6 p.m. Monday, the Brooklyn Chamber of Commerce will host the 2019 Building Brooklyn Awards, recognizing "new construction and renovation projects that enrich Brooklyn's neighborhoods, and honor[ing] individuals who have made significant contributions that enhance business conditions and the economic climate of our borough."
At 7 p.m. Monday in Grand Army Plaza in Brooklyn, there will be a vigil for the victims of the recent mass shootings in Gilroy, California, Brownsville, Brooklyn, El Paso, Texas, and Dayton, Ohio. Brooklyn Borough President Eric Adams and Public Advocate Jumaane Williams will be among those who participate, along with civil rights attorney Norman Siegel, New Yorkers Against Gun Violence, Youth Over Guns, Gays Against Guns, clergy leaders, and others.
At 8 p.m. Monday in Central Park, City Council Speaker Corey Johnson will deliver remarks at Shakespeare in the Park Performance of "Coriolanus."
Tuesday, August 6
Tuesday is the annual National Night Out Against Crime, "an annual community-building campaign that promotes police-community partnerships to help make our neighborhoods safer, more caring places to live." There will be local events around the city and state, with members of law enforcement, many elected officials, and community members enjoying activities, music, food, and remarks about reducing crime.
On Tuesday in Queens, a judge will begin examining some uncounted affidavit ballots from the recount of the Queens District Attorney Democratic primary election.
At 10 a.m. Tuesday, the NYC Board of Standards and Appeals will hold a review session to discuss appeals and hearings from all five boroughs.
At 1 p.m. Tuesday at the City Council, the Subcommittee on Landmarks, Public Siting and Maritime Uses will meet to discuss three land use applications in Queens, Brooklyn, and Manhattan.
Wednesday, August 7
On Wednesday and Thursday, City Council Member Ydanis Rodriguez, chair of the Council transportation committee, and Council Speaker Corey Johnson are hosting "the Third Annual Riders Respond Transit Tour...Throughout the tour, volunteers and elected officials will ride the subway from 6:00am. - 6:00pm! Each day we will be surveying riders and discussing concerns about the status of the stations and the rideability."
At 11 a.m. on Wednesday, Assembly Member Latoya Joyner and Bronx Legal Services will hold a hope & healing town hall on "how Bronx schools can address childhood trauma."
On Wednesday afternoon, the Financial Control Board will meet in New York City. State Comptroller Tom DiNapoli is among those who will attend.
At 5 p.m. Wednesday, this week's Max & Murphy show will air on WBAI radio, 99.5 FM or wbai.org, and will feature discussion of Mayor de Blasio's presidential campaign, his record as mayor, and more.
Thursday, August 8
At the City Council on Thursday:
-At 10:45 a.m., the Subcommittee on Zoning and Franchises will meet to discuss two land use applications in Brooklyn.
-At 11 a.m., the Committee on Land Use will meet.
At 12 p.m. Thursday, the Staten Island Chamber of Commerce and the Staten Island Advance will jointly host the 2019 Police Officer of the Year Luncheon, with keynote speaker Police Commissioner James O'Neill.
At 6 p.m. Thursday, U.S. Representative Carolyn Maloney will hold a live telephone town hall.
Also at 6 p.m. Thursday, Queens Borough President Melinda Katz will host a Pakistan Independence Day celebration at Queens Borough Hall.
At 6:30 p.m. Thursday, the Brooklyn Historical Society will host Nappy Roots: A History of Black Hair, an event "weaving the tousled history, politics and culture of black hair in America."
At 6:45 p.m. Thursday, Be Social Change will host Public Advocate Jumaane Williams for a fireside chat to discuss "his work as the Public Advocate and how you too can leverage this unique public office to have your voice heard."
Friday, August 9 & the weekend
Mayor de Blasio may make his weekly appearance on WNYC's The Brian Lehrer Show on Friday at 10 a.m.
At 10 a.m. on Friday, the New York State Senate Joint Senate Task Force on Opioids, Addiction and Overdose Prevention will hold a public hearing "to hear from stakeholders on strategies for reducing overdoses, improving individual and community health, and addressing the harmful consequences of drug use."
***
Have events or topics for us to include in an upcoming Week Ahead in New York Politics? E-mail Gotham Gazette executive editor Ben Max any time: This email address is being protected from spambots. You need JavaScript enabled to view it. (please use "For Week Ahead" as email subject).
***
by Joey Fox and Ben Max
@GothamGazette