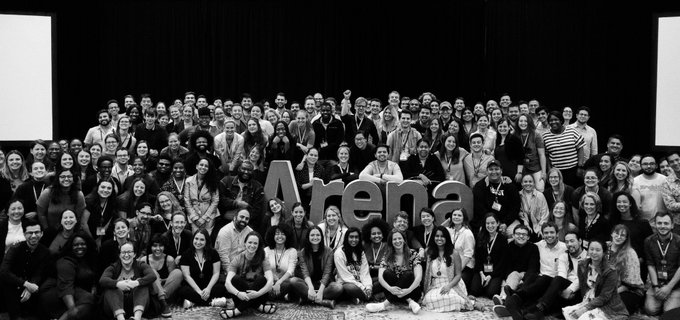 (photo: @arenasummit)
---
In last year's state elections, several progressive first-time candidates emerged as Democratic primary challengers to members of the State Senate's Independent Democratic Conference, an erstwhile bloc of more moderate Democrats who had long been seen as a roadblock to reform on many fronts. Most of the IDC challengers were successful and some of their campaigns were aided in part by Arena, a group that launched after the 2016 presidential election and now aims to train the next generation of Democratic campaign staff.
For three days this week, Arena -- a national group launched by veterans of the Barack Obama and Hillary Clinton campaigns, among others -- will bring its training academy to New York City to impart lessons on everything from campaign management and communications to finance and candidate preparation. A sign of Arena's growing clout and the value of the training it is offering, the session is drawing several likely mayoral candidates and other high-profile political figures.
"Arena was started right after Trump was elected, and our mission is to lower the barriers to entry in politics," said Ravi Gupta, co-founder and managing partner. "So we want to make politics accessible for everyday people to get involved, whether that's running for office or working on campaigns or volunteering."
Starting on Thursday, Arena will hold three days of training sessions in campaign management and communication at Convene, an event space in Downtown Manhattan.
The event will be headlined by former Secretary of State and Democratic Presidential nominee Hillary Clinton, and attended by at least three likely 2021 mayoral candidates – Comptroller Scott Stringer, City Council Speaker Corey Johnson, and Brooklyn Borough President Eric Adams. Arena has been talking with all three campaigns about possibly hiring its academy graduates and expects to send staffers to other potential mayoral contenders as well, not to mention campaigns for a variety of other races in the 2020 and 2021 election cycles.
Also in attendance on Thursday will be Emily's List Vice President Christina Reynolds, Manhattan District Attorney candidate Alvin Bragg, recent Queens District Attorney candidate Tiffany Cabán, and VoteMama Founder and former NY-2 congressional candidate Liuba Grechen Shirley.
The organization, which is a 501c(4) and makes electoral endorsements, is also launching a New York-focused project called "Five Borough Future," which aims to promote government reform and city autonomy through advocacy, grassroots movements, and electoral campaigns. The academy is one part of the initiative, along with a policy platform and a six-month fellowship program for activists, non-profit leaders and potential candidates. Arena has a slew of prominent Democratic operatives and former officials on its board, including veterans of the Obama, Clinton and Sanders campaigns, but also former Maryland Governor Martin O' Malley, former Congressional candidate Suraj Patel, and DNC director of states Allison Zelman.
In 2018, the organization supported 37 candidates across the country – all but one were first-time contenders. Of those, 35 won their primaries and 21 won in the general election, according to Arena.
In New York, the group worked on nine campaigns, seven of which were successful, including the campaigns of now Congressional Reps. Antonio Delgado and Max Rose, State Assemblymember Catalina Cruz, and State Senators Alessandra Biaggi, Jessica Ramos, and Zellnor Myrie, all of whom defeated former IDC Senators. "We helped lead that coordinated effort with the Working Families Party, as well as we helped recruit some of them into the race like Alessandra Biaggi, for example," Gupta said.
"At the end of 2018, we were encouraged by the results," he continued, "But we also wanted to make sure we knew what obstacles our candidates face, whether they won or lost. And so we did a big debrief and found out that the vast majority of candidates, winning and losing, that we worked with named some form of talent issue as their number one challenge."
That prompted Arena to launch an effort to recruit, train, and support campaign staffers through the Arena Academy. The group aims to train at least 1,000 people in 2019, and will target another 5,000 with the launch of its online academy at the end of the year. They've already held training sessions in Iowa and South Carolina and nearly 500 people participated between the two events, they said.
The latest one in New York will train around 70 people to work on campaigns, followed by an event in Houston, Texas and another at a location to be determined. In total, the entire effort is expected to cost around $4.4 million, Gupta said. The funds come from both the group's membership, roughly 2,244 as of May, private donations, and an affiliated political action committee, The Arena PAC. They also launched a joint fundraising effort with Swing Left and Run for Something, groups with similar missions.
"There have been training programs out there in the Democratic Party over the years, I think what makes us different is that, number one, we make it very accessible. The majority of people will come to our trainings are people of color and women," Gupta said. The group provides scholarships, waives attendance fees for underrepresented individuals, and also pays for flights and hotel rooms for applicants to attend its seminars, he said.
"If there's like a bunch of boot camps out there for progressives, we're more like the West Point," he added, noting that Arena looks to train staffers for leadership positions, like campaign manager, deputy campaign manager, communications director, and so on. This week's training in New York City is geared mainly toward upper level positions in campaign management and communications, and will feature the two tracks, with sessions on emerging trends in media, the role of a communications director, effective delegation, budget and cashflow, and more.
The group also intends to work around the traditional gatekeeping in campaigns which, Gupta insists, doesn't make being in progressive politics an appealing career option.
"There's no transparency in the hiring processes. So it's usually word of mouth, ad hoc, which is bad for campaigns, because it takes a lot of time and they don't get a breadth of applications and applicants in diversity," he said. "There's not a quick process and a standard process for hiring people, there's very low-quality training, and almost no ongoing mentorship. And then when people come off campaigns, there's no place for them to go or system for them to connect to, to find the next job. And so our academy solves some of those problems."
Besides training, Arena will also launch a career platform on August 12 to connect staffers with campaigns, simultaneously lowering costs for campaigns to hire from a broader set of applicants. They've already placed staffers in campaigns for many of the 2020 Democratic presidential candidates, Gupta said.
"We would view this as a failure if we just closed up after this election, whether we won or lost our critical races in 2020," he said. "Because one of the problems we're trying to solve is building institutional memory, building a long term system so that people who roll off these campaigns in 2020 find taking campaign work appealing and transparent and predictable."
Note - this article has been updated to note that Arena's career platform will launch on August 12. It has not been launched already.
Note- this article has been updated to note an appearance by Hillary Clinton at the first day of the event.