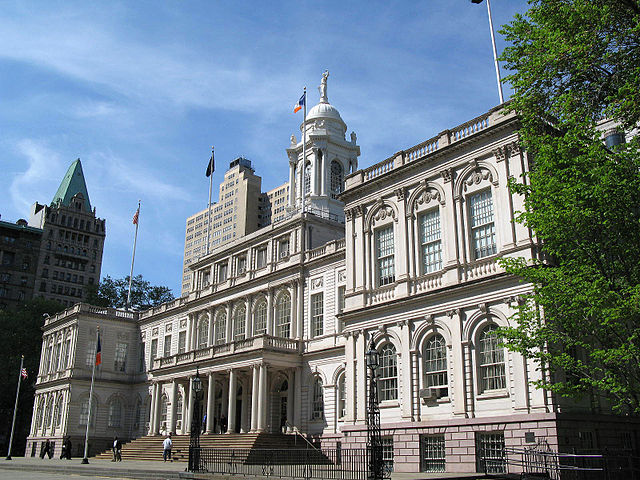 New York City Hall
---
What to watch for this week in New York politics:
Mayor Bill de Blasio returned to the city on Sunday evening after spending two days campaigning in New Hampshire. The mayor continues to struggle to drum up support for his presidential campaign and has yet to meet the donor threshold for the next Democratic primary debate, which will be held in September. But he may receive a much-needed boost when he appears at a CNN town hall to discuss his campaign on Sunday, August 25.
As is usual in August, things are slow at the New York City Council, which has no more committee hearings or votes scheduled for the rest of the month. Last week, the Council passed several bills, including a massive package of reforms to the city's public benefit system.
On Wednesday, the New York State Public Campaign Financing Commission will hold its first meeting. The commission was created during the state budget negotiations earlier this year and is expected to craft a plan for publicly financed state elections, similar to the system currently used New York City's municipal elections. The nine members of the commission were named by Governor Andrew Cuomo and state legislative leaders last month.
In the city, we continue to wait for NYPD Commissioner James O'Neill's decision regarding Officer Daniel Pantaleo, whose use of a banned chokehold led to the death of Eric Garner five years ago. Pantaleo has been suspended without pay since an NYPD administrative trial judge ruled that he should be removed from the force. On Sunday, the New York Times reported that the judge had found Pantaleo to be "untruthful" in his explanations to investigators about Garner's death. Commisioner O'Neill has said he will arrive at his decision before the end of the month.
There are several events to be aware of - see our day-by-day rundown below.
***Do you have events or topics for us to include in an upcoming Week Ahead in New York Politics?
e-mail Gotham Gazette editor Ben Max: This email address is being protected from spambots. You need JavaScript enabled to view it.***
The run of the week in detail:
Monday
Governor Cuomo is in Albany and New York City with no public events scheduled.
Mayor de Blasio appear on NY1's Inside City Hall during the 7 and 11 p.m. hours.
Tuesday
At 1:30 p.m. Tuesday, the NYC Board of Elections will hold a commissioners meeting.
At 2 p.m. Tuesday, the Real Estate Board of New York will host "The New Rent Laws - What We Know AND What We Don't Know with Rose & Rose Law."
At 7 p.m. Tuesday, CannaGather will host a "Congressional Update & Cannabis for Autism" event with U.S. Representative Carolyn Maloney.
Wednesday
At 9 a.m. Wednesday, the Urban Land Institute will lead a tour of the East Side Access Project, "one of the largest transportation infrastructure projects currently underway in the United States. East Side Access provides new, direct Long Island Rail Road (LIRR) service into a new concourse below Grand Central Terminal on Manhattan's East Side, reducing commutes into Manhattan by up to 40 minutes."
At 9:30 a.m. Wednesday, IDNYC will hold a hearing on proposed changes to the IDNYC program, at which members of the public can share their feedback. The proposed amendments "provide for a streamlined card renewal process. Among other things, these amendments also allow existing cardholders to update their address, including at renewal, without requiring them to present original residency documents."
At 1 p.m. on Wednesday, the New York State Public Campaign Financing CommissionPublic Campaign Financing Commission will hold its first meeting at the CUNY Graduate Center.
At 2 p.m. Wednesday, the NYC Department of Transportation will hold a public hearing.
At 5 p.m. Wednesday, this week's Max & Murphy show on WBAI will focus on the 30th anniversary of David Dinkins' election as mayor in 1989, and include an interview with Dinkins and another with journalist Tom Robbins, who covered Dinkins in the '80s and '90s. Tune in at 99.5FM or wbai.org.
At 6:30 p.m. Wednesday, City & State NY will host its 2019 Brooklyn Power 100 reception, "gathering top brass from government, advocacy, academia, media, business and beyond for a networking opportunity you do not want to miss." Speakers will include Brooklyn Borough President Eric Adams and U.S. Representative Hakeem Jeffries.
Thursday
At 6 p.m. Thursday, TransitCenter will host Can Riders Trust the MTA Reorganization?, "a discussion of the MTA reorganization plan and what New York can learn from comparable transit agency restructurings in London, with insights from former Transport for London executive Leon Daniels, PCAC Executive Director Lisa Daglian, and Reinvent Albany Senior Analyst Rachel Fauss. If you want to understand what's in the MTA reorganization plan and what it means for NYC's transit system, you won't want to miss it."
At 6:30 p.m. Thursday, the American Planning Association New York Metro Chapter will host The Political and Social Cost of Advancing Equity, an event providing "a space to discuss the emotional, physical, and professional stresses people of color and other professionals from underrepresented groups face when advancing equity." Speakers will include Hafizah Omar, senior associate at Living Cities; Justin Garrett Moore, executive director of the Public Design Commission; and Naim Brown, director of place-based investment at Urbane Development.
At 7 p.m. Thursday, the Manhattan Young Democrats will host its 11th Annual Young Gets It Done event "where you can party with 300+ young professionals, recognize incredible young progressive honorees, and meet your elected representatives!" Among the honorees are state Senator Alessandra Biaggi, managing partner of Arena Ravi Gupta, and others.
Friday and the weekend
At 10 a.m. Friday, Mayor de Blasio may make his weekly appearance on WNYC's The Brian Lehrer Show. On Sunday at 7p.m., the mayor will appear at a CNN town hall to discuss his presidential campaign.
***
Have events or topics for us to include in an upcoming Week Ahead in New York Politics? E-mail Gotham Gazette executive editor Ben Max any time: This email address is being protected from spambots. You need JavaScript enabled to view it. (please use "For Week Ahead" as email subject).
***
by Joey Fox and Samar Khurshid
@GothamGazette