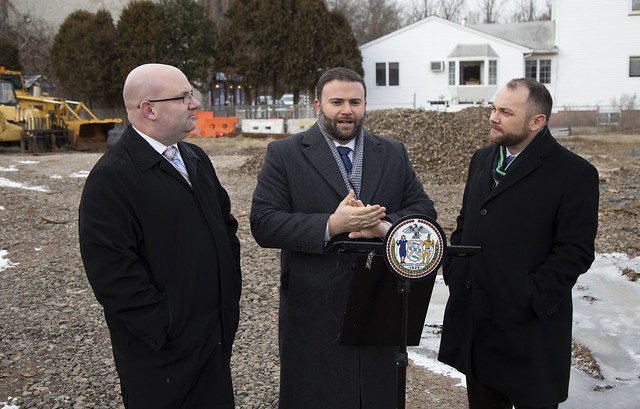 Joe Borelli, center (photo: John McCarten/City Council)
---
Joe Borelli, the Republican City Council Member from Staten Island's South Shore, has made a name for himself as one of the most vociferous pro-Donald Trump supporters in the president's home city. But, Borelli is a realist and knows that Trump is unpopular in very-Democratic New York, and that the Republican Party has a lot of work to do to regain a foothold in city or state government after several disappointing elections.
During a wide-ranging interview on the Max and Murphy podcast, Borelli said the New York GOP, now under new leadership, must focus on rebuilding locally around the state and looked ahead to the party's chances in the 2020 state and federal elections, the 2021 New York City mayoral race, and the 2022 state elections that will include the next race for governor. He also touched on his own admittedly quixotic campaign for New York City Public Advocate, where he's running this year in a special election to unseat incumbent Jumaane Williams, what the party's message should be, and how the New York GOP should approach Trump's long shadow.
"The new chairman, Nick Langworthy, would do a better job by focusing on the county executive races, the county legislative races, where we can dominate," Borelli said of the new state chair, when asked about the next race for governor. "Having those competitive races upstate, with good candidates, has an effect on the gubernatorial race."
For governor, "The Republican Party needs someone in the batter's box, someone who can hit home runs," Borelli said, meaning someone with star power who can overcome the daunting voter registration odds that are better for the GOP statewide than in New York City, but still create a steep uphill battle for the first Republican statewide win since Governor George Pataki won a third term in 2002.
The party needs to keep building a bench, but also needs to find candidates for governor and mayor that can far outperform the baseline numbers, Borelli acknowledges. Many point to recapturing control of the state Senate as a pressing need, while Langworthy has said his top goal is winning the 2022 governor's race.
It's certainly not only upstate that should matter to New York Republicans, for if they only dominate there, they will still be out of power when it comes to the governor's office or even the state Senate, which had been the GOP's last statewide stronghold until last November's elections swung it to Democrats by a fairly wide margin.
Citing the special election that will likely be called early next year to replace current Queens Borough President Melinda Katz, who is in line to become Queens District Attorney, Borelli said that it's "a seat where Republicans have not ran credibly in the past. I think identifying those seats where we can run a good race, where it's worth it to have a Republican on the ballot, is one of the things that we could certainly do."
Queens City Council Member Eric Ulrich, who along with Borelli and Staten Island's Steven Matteo make up the Council's only three Republicans in 51 seats, is expected to run in the special election. Ulrich is significantly more moderate than Borelli and has been highly critical of Trump, but many Republicans acknowledge they must embrace candidates like Ulrich to have a chance in urban and suburban areas.
"Giving each locality or region of the state the autonomy to make these kind of party direction decisions is something Nick Langworthy has to do," Borelli said.
Borelli believes Democrats in New York City have created an opening for moderate Republican candidates.
"If there are people who are disaffected with progressive activists, I'm not saying they're gonna be Republicans, but they might be New York City Republicans. They might entertain a Mike Bloomberg again. They're not gonna entertain me for mayor," he said, "and I don't expect them to. I don't think that's a realistic proposition. But they might entertain a moderate mayoral candidate at some point who is more back-to-basics."
Borelli said that he's seen some evidence that this is already happening, especially with voters of color. "The Republican Party has long talked about rebuilding and attracting new voters. I think that, not since we've had Mayor de Blasio has there been the actual opportunity to do so. The mayor is the most uniting mayor we've ever had – no matter where you go, people don't seem to like him…He has opened up opportunities for us to attract new groups."
The Republican Party should "look at [voters of color] as who they are outside of their ethnic identity, and try to find common ground where they care about," according to Borelli. He cited controversial local issues such as the SHSAT, school discipline, property taxes, and the minimum wage where Republicans could find common ground with Democratic voters, no matter whether those voters are "black, brown, or purple."
Most important to Borelli is simply reasserting the Republican Party as the main alternative to Democrats in New York.
"When you talk about opposition to Cuomo, most often, you in media, you're talking about his left flank, and you're talking about the Working Families [Party], and some labor unions," Borelli said. "The GOP under [former Chairman Ed] Cox, the failure was not to offer a viable alternative. Even if a lot of voters don't think that alternative is great, I think the bigger failure was not being the major opposition party in the state."
"Bringing the state GOP as the opposition group, so that disaffected people gravitate this way instead of that way, I think is more important than hedging our opinion on any issue," Borelli added. [LISTEN to the full interview]
A Race Borelli's "Not Gonna Win"
Amidst his many proposals for Republican revitalization, Borelli also spoke of his own upcoming November election against Williams, a Brooklyn Democrat, for Public Advocate -- a race about which Borelli has no delusions.
"I'm running in a race I'm not gonna win, let's be frank," Borelli said. "This is a really uphill fight, it's a 7:1 or 6½:1 Democratic enrollment, so I'm doing this because I enjoy doing it, and I enjoy beating a drum a little differently than the other guy."
The big difference, Borelli says, is that he would actually be a public advocate who holds the mayor accountable, whereas Williams is more aligned with de Blasio, even if Williams has been critical of the mayor at times.
Borelli wants to give what is currently a relatively powerless office far more influence. "The charter doesn't say much of must, the Public Advocate must, right? It doesn't give them the great seal of the exchequer, or something like that. It's no guidance. The Public Advocate may do this, should do that, could do that."
Among the changes Borelli has proposed are to give the office oversight of the Department of Investigations and a seat on several powerful boards, such the MTA's.
"If that doesn't happen" Borelli said, "then I would support…revising the office itself, and that would mean to eliminate it."
"The only function of the job is to be a bully pulpit and direct your bullseye...on the mayor," Borelli said. "And I think it's better to have someone who fundamentally disagrees with most stuff the mayor does."
"As the Public Advocate, I could do a pretty good job of treating [Mayor de Blasio] as my punching bag," he says, echoing a message Ulrich used in the February nonpartisan special election, that Williams won, where Ulrich came in second. The only merchandise that Borelli's website is currently selling is a series of t-shirts and stickers featuring de Blasio's face and a red line crossing it.
Borelli acknowledges that he's having a hard time raising significant funds for the campaign, or even asking for them, and that Republicans generally concentrate on mayoral races in New York City, at the expense of others like for public advocate or comptroller.
"I'm not always right. I'm OK admitting that," he said. "But I think someone should be addressing things from an alternate point of view and offering an alternative vision for the city."
Donald Trump's Long Shadow
Borelli, who was co-chair of Trump's campaign team in the 2016 New York primary, said that he's sticking by Trump despite his many controversies.
Asked about how he reconciles support for some of Trump's policies and judicial appointments, why he isn't among the conservatives who say they simply can't support Trump because of his morals, ethics, and behavior, Borelli said, "In my brain I can separate the two."
"When I've disagreed with the president on both policy and on personality, I'm not someone who toes the line," Borelli continued. "They have not asked me to be on the advisory board for 2020…probably because I don't toe the line all the time. I think you measure every president on the balance of whether they're doing good or bad."
He said Trump's policies are good for New York, especially economically. "On balance, a lot of us just can ignore the things we disagree with."
Is he OK telling kids Trump is the moral leader of the country and someone they should look up to, Borelli hedged, saying there's something about the office of the presidency to respect, and said "I'm not as offended as most people on most things," he said.
"We're sick of being called racists," he said of Trump supporters. "Do you know how many times a day I get called a racist? It's almost mind-numbing...It's almost entrenching on our side, when you get called deplorable, and a racist, and every -ism imaginable, because you have a difference of opinion. It almost entrenches you into that bubble."
After seeing 2018 Republican gubernatorial nominee Marc Molinaro hedge on his support for Trump, Borelli said he wishes people in his party would be more direct in their opinions on the President, whatever they may be.
"Just be pretty brutally honest about how you feel. If you don't like Trump, say it. If you like Trump, say it, and come what may." He added, "I'm not saying there wouldn't be an electoral cost to it."
Molinaro repeatedly stated throughout his campaign that he had not voted for Trump (he said he wrote in former New York Congressional Rep. Chris Gibson), but was mostly hesitant to explain why or criticize Trump during the campaign, and Cuomo repeatedly tied Molinaro to Trump.
In spite of his strong support for Trump, Borelli characterized himself as a "moderate." He clarified, "I think I would be billed as a conservative" by others. "Although, hey, I swing some ways on some issues."
2020, 2021 and Beyond
2018 represented a drubbing for New York Republicans, with the party losing three Congressional seats and eight state Senate seats (along with the majority in both chambers). But according to Borelli, 2020 gives the party a clear chance to rebound.
"Four [state] Senate seats -- I think that's a realistic goal," Borelli said of how many seats Republicans can and should recapture next year, when the entire Legislature is on the ballot, along with Trump. "I think it's a possibility. It still doesn't bring us to the promised land, but I think that's enough of a pendulum swinging back, and a check on sort of the movement of the far left, that it would build a better mousetrap for at least two years in the state."
"I think," he continued, "you'd have people like [Senate President] Andrea Stewart-Cousins saying, 'let's pump the brakes on some of the stuff that we're doing, because it's clearly not playing well in the Hudson Valley,' for example."
On the subject of Congress, Borelli's predictions were even more specific. He singled out Max Rose, his home borough's Democratic Congressman, as uniquely vulnerable.
"Yeah, 100%, [Max Rose is beatable]," Borelli said when asked if newcomer Rose could be defeated. "He's certainly beatable on the ground level, and he's certainly beatable in the metrics they consider in Washington. The resulting action of that is going to be a lot of money spent on each side. He's really doing an incredible job raising money, credit where credit is due. It will be tough for whoever the Republican nominee is to beat him, but there's a chance."
The leading Republican in that race is Staten Island Assemblymember Nicole Malliotakis, whom Borelli did not mention by name, though he briefly criticized her 2017 mayoral campaign, and whom he has not endorsed. Borelli had given some consideration to joining the congressional race, but opted against it and ran for public advocate instead.
Borelli also raised several Upstate congressional seats he thinks Republicans can hold or retake, and said that after a tough 2018, having Trump at the top of the ticket in 2020 is likely to help certain Republican candidates.
Looking even further into the future, Borelli said he could see Molinaro running for governor again in 2022, when Cuomo is planning to seek a fourth term, but he also mentioned Congressional Rep. Lee Zeldin, who is attempting to win what is likely a tough reelection campaign next year, as someone he'd like to see consider a run for governor.
And Borelli predicted that Republicans may have to wait another six years to have a shot at the New York City mayor's office. In 2021, he said, "there's going to be so much attention, so much public financing, on the five or six, or however many it ends up being, Democratic candidates that it will be very difficult for a Republican to win. I say that with the full knowledge that I'll be out there, probably supporting whoever we run, trying my best to get him or her elected, but it is an uphill race."
In 2025, however, "when you have an incumbent who's going to get beat up in a primary, and then you are the sole opposition person against them in the general, I think that's an easier race." He referenced Republicans beating Mayor David Dinkins in his bid for a second term in 1993, and said that in the future, the Republican pitch to voters in the city has to be about the cost of living and the cost of doing business.
"You can get very far when you have someone like Bill de Blasio, knocking Bill de Blasio," Borelli said when asked about the Republican vision and pitch. "But you're right; I think it always is going to be harder for conservatives to formulate a vision of the future, because in essence, conservatism is the preservation of the status quo. I don't mean that in any racial or whatever 'isms' you want to throw at me, I mean that that's the nature of the conservative mindset."
As for his own 2021 plans, Borelli has a bold plan in mind. "I'll say it right now: if I win for Public Advocate, I am running for mayor. Don't ask, just pack your bags and come on the ride with me. I'm going to Gracie. If we somehow eke out this incredible win, then put me on the list."
LISTEN to the full interview with Joe Borelli: Max & Murphy Podcast: The Future of the Republican Party in New York