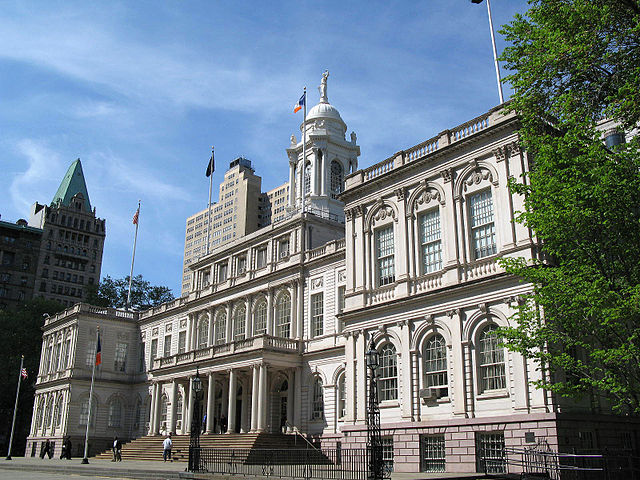 New York City Hall
---
What to watch for this week in New York politics:
This week, we'll find out whether Mayor Bill de Blasio and U.S. Senator Kirsten Gillibrand of New York will qualify for the next Democratic presidential primary debate scheduled for September 12 and 13. The debate qualification deadline is Wednesday, August 28, and both candidates have struggled to meet the dual donor and polling threshold – each must hit at least 2% in 4 DNC-approved polls and at least 130,000 unique donors, including from at least 400 unique donors in at least 20 states. De Blasio said at a news conference last week that he wasn't "halfway there" yet in terms of the number of donors. Gillibrand has said she has just over 110,000 donors so far. On Sunday, de Blasio appeared at a CNN town hall, which could give him a bump in donors if not polling.
Governor Andrew Cuomo on Sunday announced that the second span of the Kosciuszko Bridge would open to traffic on Thursday morning. Pedestrians and bikers will also be able to cross the bridge on Wednesday between noon and 6 p.m. The governor, who toured and surveyed the bridge on Sunday, will likely take a victory lap over the project as he touts its completion four years ahead of schedule and on budget. On Wednesday evening, the governor is hosting a cocktail reception to celberate the grand opening. "While the federal administration obsesses over building walls, in New York we are building bridges and other infrastructure critical to moving our 21st century economy forward," Cuomo said in a statement. "With the opening of the second span of the new Kosciuszko Bridge on Wednesday, we will once again demonstrate to the nation that it's possible to take on big projects and to get them done on time and on budget."
Overall, it's a relatively slow week in terms of events in New York politics, but there are some -- see our day-by-day rundown below.
***Do you have events or topics for us to include in an upcoming Week Ahead in New York Politics?
e-mail Gotham Gazette editor Ben Max: This email address is being protected from spambots. You need JavaScript enabled to view it.***
The run of the week in detail:
Monday
Governor Cuomo is in Albany without any public events scheduled.
At 11 a.m. Monday in the Madison County Board of Supervisors Chambers, the Joint Senate Task Force on Opioids, Addiction & Overdose Prevention will hold a roundtable that will "focus around challenges faced by rural communities."
At 11:30 a.m. Monday, the East Bronx History Forum will hold a street co-naming for WWII POW 2nd Lieutenant John Sekul, on Newbold Avenue between Castle Hill and Havemeyer Avenues.
At 1 p.m. Monday, the City Planning Commission will hold a review session, which will be livestreamed.
At 6 p.m. Monday, Schools Chancellor Richard Carranza will appear on a live interview on FOX 5.
Mayor de Blasio will make his weekly appearance on NY1's Inside City Hall on Monday in the 7 and 11 p.m. hours.
At 7:30 p.m. Monday, Comptroller Scott Stringer will deliver remarks at a Rockaway Point Association meeting. At 8:15 p.m, he'll speak at a Point Breeze Association meeting.
Tuesday
State Comptroller Tom DiNapoli is in Syracuse. At 11 a.m., he'll be speaking at a 9-11 memorial ceremony at the Horticulture Building at the New York State Fairgrounds. At 1:30 p.m., he'll connect local residents and businesses with lost money at an Unclaimed Funds Booth at the Center for Progress Building.
At 12 p.m. Tuesday, the Real Estate Board of New York will host "The New Rent Laws - What We Know AND What We Don't Know" - this event is for REBNY members only.
At 12:15 p.m. Tuesday, the NY Metropolitan Transportation Council will hold a program, finance and administration committee meeting.
At 6:45 p.m. Tuesday, Riders Alliance will hold a Bronx bus turnaround campaign meeting.
Wednesday
At 9 a.m. Wednesday, the NYS Business Council will hold an Energy Committee meeting "to discuss the PSC Resource Adequacy Review, Clean Energy Standard, Legislation, and other matters of interest to membership."
At 10 a.m. Wednesday, the City Planning Commission will hold a public meeting, which will be livestreamed.
At noon Wednesday in Albany, the New York State Board of Elections will hold a tentative commissioners meeting.
On Wednesday at 5 p.m., this week's Max & Murphy show will air on WBAI radio, 99.5FM and streaming at wbai.org.
Thursday
At 7 p.m. Thursday, U.S. Representative Alexandria Ocasio-Cortez will host a town hall "on public housing issues that impact our district and community" at NYCHA Boston Road Plaza in the Bronx.
Friday and the weekend
At 10 a.m. Friday, Mayor de Blasio may make his weekly appearance on WNYC's The Brian Lehrer Show.
***
Have events or topics for us to include in an upcoming Week Ahead in New York Politics? E-mail Gotham Gazette executive editor Ben Max any time: This email address is being protected from spambots. You need JavaScript enabled to view it. (please use "For Week Ahead" as email subject).
***
by Joey Fox and Samar Khurshid
@GothamGazette