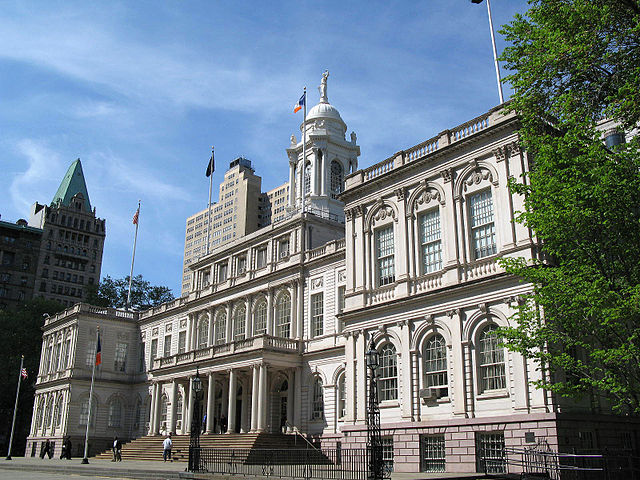 New York City Hall
---
What to watch for this week in New York politics:
Mayor de Blasio was back in the city to march in a wet West Indian Day parade in Brooklyn on Monday after Nevada and California presidential campaign stops (and a family trip to Connecticut). The mayor is continuing with his presidential bid even as several others, such as New York Senator Kirsten Gillibrand, have dropped out recently. Neither de Blasio nor Gillibrand qualified for the Democratic primary debate set for September 12, which 10 candidates will take part in. (It is worth noting that the mayor entered the race in May whereas Gillibrand declared her candidacy in January.)
De Blasio is hoping to make the October debate, which has the same polling and fundraising thresholds as the September debate, while also saying that the debates are not as significant as other parts of the campaign. But de Blasio has been stagnant in the polls since entering the race and does not appear to be raising much money from many donors. He insists it's still early, he's still getting his message out, and he can break through by the time the first votes are cast in Iowa in February.
There's a lot going for de Blasio to address back in the five boroughs: he must wrestle with major education recommendations put forth last week by his School Diversity Advisory Group; deal with increases in anti-Semitic hate crimes, NYPD officer suicides, and byciclist and pedestrian fatalities. It's also the first week of school. And more (NYCHA, homelessness, and so on).
Under pressure from City Council members given recent anti-Semitic attacks in the city, de Blasio's office has said it would open the new Office of Hate Crime Prevention earlier than mandated by law, and that it has gotten the ball rolling just ahead of an announcement set for Tuesday of this week.
There are also two very important hearings scheduled for this week in the process to close the Rikers Island jail complex and open or enlarge a jail in each of the boroughs other than Staten Island. The City Planning Commission is holding a meeting for its vote on the proposal on Tuesday and the City Council is holding an open public hearing on Thursday.
One of those hearings is that the City Planning Commission, the other at the City Council, which has a busy week after the usual end-of-August break.
There's a lot happening this week -- see our day-by-day rundown below.
***Do you have events or topics for us to include in an upcoming Week Ahead in New York Politics?
e-mail Gotham Gazette editor Ben Max: This email address is being protected from spambots. You need JavaScript enabled to view it.***
The run of the week in detail:
Monday, September 2
Monday is Labor Day as well as the annual J'Ouvert celebration and West Indian Day Parade. Many elected officials, including Mayor de Blasio, Governor Andrew Cuomo, State Comptroller Tom DiNapoli, City Comptroller Scott Stringer, Public Advocate Jumaane Williams, City Council Speaker Corey Johnson, Brooklyn Borough President Eric Adams, and others are participating.
Tuesday, September 3
Mayor de Blasio and City Council Members including Mark Levine, Donovan Richards, Chaim Deutsch, and others appear set to announce the early opening of the city's Office of Hate Crime Prevention.
On Tuesday at 10 a.m. in Manhattan, there will be a joint state legislative hearing on "Electric Power System Reliability," held by the Senate and Assembly committees on energy and authorities.
School Chancellor Richard Carranza will appear on WNYC's The Brian Lehrer Show on Tuesday morning.
At noon Tuesday, "The City Planning Commission (CPC) will hold a Special Meeting and vote on the New York City Borough-Based Jail System application. This session will be livestreamed."
At 1 p.m. Tuesday the City Council Committee on Immigration will meet at City Hall to discuss several bills.
At 1 p.m. Tuesday, "elected officials, celebrities and supporters will hold a 'server for an hour'" events at local restaurants in downtown Brooklyn "to call for an end to the subminimum wage for tipped workers. The event will also call on Gov. Andrew Cuomo to enact One Fair Wage, a policy that would increase the minimum wage to $15 an hour for hundreds of thousands of tipped workers in New York. Rep. Hakeem Jeffries...will serve food and drinks to customers in support of One Fair Wage in New York and the Raise the Wage Act, which was historically passed in the United States House of Representatives on July 18, 2019, and is now waiting to bring the bill to a vote in the Senate. Elected officials—including NY Assemblymembers Michael Blake, Ellen Jaffe and Walter T. Mosley—as well as actress Erika Alexander, and Heather McGee will also join the "server for an hour" event. Dozens of restaurant workers and owners, community groups and labor allies, and other elected officials will address members of the press to ensure tipped workers will earn living wages to improve their lives, help professionalize the restaurant industry, support the many immigrant women and people of color workers, and boost the economy of New York City and the state."
At 2 p.m. Tuesday in Flushing, "Council Member Peter Koo and the Glow Community Center will announce an upcoming free high school admissions seminar in Flushing. Students and parents will have the opportunity to learn about the admissions process, important deadlines, and what to know about recent proposals regarding the SHSAT. Participating organizations include InsideSchools and the Scholastic Merit Fund."
At 5 p.m. Tuesday, the Schwartz Center for Economic Policy Analysis will host Climate Disasters and the Green New Deal at the New School, a discussion of climate change and the "great challenge for society, academics, and policy makers," featuring Professors Stephanie Kelton; Claudia Kemfert; Bob Kopp; and Stefan Mittnik.
At 5:30 p.m. Tuesday, Brooklyn Borough President Eric Adams will will host a community discussion on "placard abuse and related issues" at Brooklyn Borough Hall.
NYCHA Chair and CEO Gregory Russ will appear on NY1's Inside City Hall on Tuesday evening.
Wednesday, September 4
At the City Council on Wednesday:
-At 9:30 a.m. the Subcommittee on Zoning and Franchises will meet.
-At 10 a.m. the Committees on Public Housing and on Mental Health, Disabilities, and Addiction will hold a joint oversight hearing on "Accessibility in Public Housing."
-At 10 a.m., the Committees on Environmental Protection, on Resiliency and Waterfronts, and on Consumer Protection will hold a joint oversight hearing on "Consolidated Edison Summer 2019 Service Outages."
At 5 p.m. Wednesday, this week's Max & Murphy show will air on WBAI radio, 99.5FM or wbai.org, and feature a discussion about education policy and city schools. Specifically, the show will examine recently-released recommendations from the School Diversity Advisory Group, assembled by Mayor de Blasio in late 2017, to desegregate city schools and improve the overall education system. Guests will include DSAG member Matt Gonzales and City Council Member Mark Treyger, who chairs the Council's education committee.
At 6 p.m. Wednesday, the Manhattan Institute will host the 2019 James Q. Wilson Lecture: The Entrenched Vs. The Newcomers, given by Harvard professor of economics Edward Glaeser. "Glaeser will address the conflict between entrenched interests and newcomers in its economic, political, geographic, and generational dimensions. The question for policymakers is whether they enhance the gains that flourish from the proximity and openness that cities offer, or double-down on the advantages secured by exclusion and anti-competitive behavior."
At 6:30 p.m. Wednesday, City & State NY will host its 2019 Labor Power 100 reception, spotlighting "distinguished public officials, labor organizers, activists, academics, industry leaders, and others, as they come together for a unique networking opportunity." State Senator Andrew Gounardes will be among the speakers.
Thursday, September 5
Thursday is the first day of school for most New York City public school students. Expect a busy day for Chancellor Richard Carranza and Mayor de Blasio.
At 8:15 a.m. Thursday, the Center for New York City Law at New York Law School will host a CityLaw breakfast with Dr. Oxiris Barbot, commissioner of the New York City Department of Health and Mental Hygiene, on "Measles: NYC Policy and Thoughts on Anti-Vaccine Movement."
At 10 a.m. Thursday, the City Council Subcommittee on Landmarks, Public Siting and Maritime Uses will hold a public hearing on the borough-based jail system plan.
At 12:45 p.m. Thursday, New York Law School will hold Privacy Talks: Regulation and Innovation with Zachary Hecht, who is the current policy director for Tech:NYC and former policy director for City Council Member Ritchie Torres.
At 6 p.m. Thursday, the Vera Institute of Justice will host Incapacitated, Indigent, and Alone: A Conversation on New York State's Guardianship System. "With guardianship such a challenging role, involving the coordination of complex legal, health care, case management, and property issues, it is more important than ever that NYS develop a coherent plan to support qualified guardians." Speakers will include City Council Member Rory Lancman, Richmond County Supreme Court Justice Richard Troia, and others.
Friday, September 6
Mayor de Blasio may make his weekly appearance on WNYC's The Brian Lehrer Show at 10 a.m.
At 10 a.m. Friday in Manhattan, two Assembly committees will hold a joint hearing on "Robocalls, spoofing and nuisance calls."
***
Have events or topics for us to include in an upcoming Week Ahead in New York Politics? E-mail Gotham Gazette executive editor Ben Max any time: This email address is being protected from spambots. You need JavaScript enabled to view it. (please use "For Week Ahead" as email subject).
***
by Ben Max
@GothamGazette