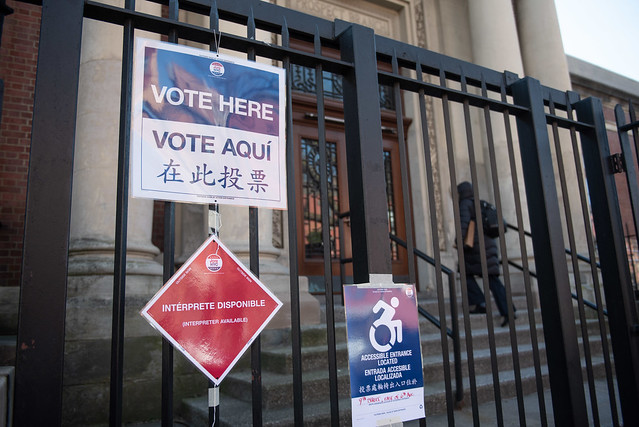 (photo: Michael Appleton/Mayoral Photography Office)
---
One out of every four years, there are few elections on the ballot in New York City, with almost no competitive races at the city or state level. Such is the case in 2019, the year after congressional, state legislative, and statewide races, and the year before the presidential, congressional, and state legislative races.
But New Yorkers will this fall have the opportunity to vote on several ballot proposals that could make fundamental changes to the City Charter, the document that governs central powers and functions of elected offices, city agencies, and local elections. And, there is also the culmination of the high-profile race to become the next Queens District Attorney, multiple special elections, and the first test-run of early voting and electronic poll books, both passed in Albany earlier this year. There would be two other district attorney races, but both the top prosecutors in the Bronx and Staten Island have gone unchallenged this year.
There are also important deadlines that voters must heed ahead of November 5, Election Day, which could affect their ability to participate in next year's presidential and other primary elections. The presidential primary in New York is set to take place April 28 (Governor Andrew Cuomo had proposed moving the state and congressional primaries, currently scheduled for June, to the same date but the state Legislature rejected the idea).
It's also noteworthy that this election will mark the halfway point between New York City mayoral elections, meaning it is exactly two years until the next mayor is selected.
Deadlines
Election day is November 5 this year, but there are also nine days of early voting, which is launching in New York for the first time.
Friday, October 11 is the last day to register to vote in the 2019 general election. Registration applications must be delivered in person to the New York City Board of Elections or mailed with an October 11 postmark (it must be received by October 16 to be processed). The Department of Motor Vehicles also processes online voter registration applications for individuals with a valid state driver's license, permit or non-driver ID, and social security number.
October 29 is the last day for voters to postmark an application to receive an absentee ballot, while November 4 is the last day that voters can apply in person for an absentee ballot.
November 4 is also the last day when absentee ballots must be postmarked and mailed in order to be counted. The ballot must reach the BOE by November 12 at the latest. Voters can also have their absentee ballot delivered by another person to the BOE by election day.
The BOE offers voter registration forms in five languages and the Mayor's Office of Immigrant Affairs supplements those with forms in 11 additional languages.
Governor Andrew Cuomo also signed an executive order last year that grants conditional pardons on a case-by-case basis allowing parolees under post-release community supervision to vote.
Separately, if a voter changes their address on their registration by October 16, the BOE must process it by the general election.
New York will also roll out nine days of early voting for the November general election, after it was approved by the state Legislature and signed by Cuomo earlier this year. From October 26 to November 3, polling sites will open for varying hours across the five boroughs. There are 61 sites in total – 18 in Brooklyn, 14 in Queens, 11 in the Bronx, 9 each in Manhattan and Staten Island. (There will be no early voting on November 4, the day before Election Day.) Voters are assigned to specific early voting sites, which they can fine here along with poll site hours.
To facilitate early voting, the BOE will for the first time utilize electronic poll books, which were also approved by the Legislature and Cuomo this year.
On Election day, all poll sites statewide will be open from 6 a.m. to 9 p.m. Voters can find their poll sites here (it always makes sense to double check in the days before heading out to vote).
Governor Cuomo has also signed a bill passed by both houses of the Legislature that significantly shifts New York's deadline by which voters must change their political party enrollment to be able to vote in the next primary election. Previously, for a registered voter to switch party affiliation – from unaffiliated (aka "independent") to Democrat or Republican, for example – to vote in next year's presidential primary in April or the federal and state primaries scheduled for June, they had to deliver their application to the BOE by October 11 of this year. But the bill signed by Cuomo moved that deadline to February 14, 2020.
What's On The Ballot
In New York City, there are two special elections, one citywide and one City Council, taking place in the general election, as well as the general election for Queens District Attorney, and a variety of judicial elections. (District Attorneys Darcel Clark of the Bronx and Michael McMahon of Staten Island will both get another term by uncontested elections.)
Public Advocate Jumaane Williams, a Democrat who was elected in a special election in February, must defend his seat this year in order to serve the remainder of the term that runs through 2021. His opponents include City Council Member Joe Borelli, a Staten Island Republican, who has acknowledged his extremely slim chances of victory in a city where Democrats overwhelmingly outnumber Republicans, and Libertarian candidate Devin Balkind. Borelli has also said he's running in part to discuss the powers of the office and make it clear that the public advocate should hold the mayor accountable.
Williams' election kicked off a nonpartisan special election in May for his City Council seat, in Brooklyn's District 45 which covers Flatbush, East Flatbush, Midwood, Marine Park, Flatlands and Kensington. The seat was won by Farah Louis, who previously served as Williams' deputy chief of staff. Williams had, however, endorsed her opponent, Monique Chandler-Waterman, a non-profit leader.
Chandler-Waterman attempted to challenge Louis in the June 26 primary but was unsuccessful yet again. Louis faces only one active challenger, Anthony Beckford, in the general election, but she is expected to win easily and serve out the remainder of the term through 2021.
In Queens, Borough President Melinda Katz eventually won a recounted and drama-filled Democratic primary over her closest competitor, public defender Tiffany Cabán, and is expected to win easily in the general election over Republican nominee Joe Murray, a defense attorney and former NYPD officer (Murray is a registered Democrat but received a Wilson-Pakula certificate from the Queens Republican Party in order to appear on their ballot line).
In July, the 2019 Charter Revision Commission approved five overarching questions to place on the ballot, containing 19 proposals in all that cover issues such as elections and redistricting, government ethics, police accountability, the city budget, and land use policy. Voters throughout the five boroughs can cast a "yes" or "no" vote for each of the five questions, and they each need a simple majority of votes cast to be approved.
Read all about them here: Charter Revision Commission Gives Final Approval to 19 Proposals in 5 Questions to Appear on November Ballot
Note - this article has been updated.