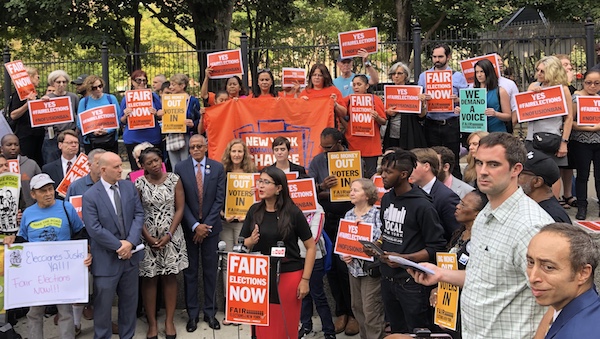 (photo: Samar Khurshid)
---
The New York State Public Campaign Financing Commission heard many hours of testimony on Tuesday from experts, government reform advocates, elected officials, and others on creating a new statewide system of electoral campaign financing that would encourage small contributions and curb the effects of wealthy donors.
At what was its first public hearing of several planned for the next few weeks, the commission also explored questions around how fusion voting -- where more than one political party can nominate the same candidate for an elected office -- interplays with such a system and whether it could legally be eliminated under the commission's mandate.
The nine-member commission was created earlier this year when the state Legislature and Governor Andrew Cuomo failed to come to an agreement over a public campaign financing system for state legislative and statewide races. Its recommendations are due by December 1 and become law unless the state Legislature holds a special session within three weeks thereafter to pass a different system. Members of the commission include two appointees each by the governor, Senate Majority Leader Andrea Stewart-Cousins, Assembly Speaker Carl Heastie, and one each for Republican minority leaders Senator John Flanagan and Assembly Member Brian Kolb. Cuomo, Stewart-Cousins and Heastie jointly appointed one member. The commission does not have a chair.
Tuesday saw two phases of testimony before the commission and a raucous rally outside Borough of Manhattan Community College in between as activists and elected officials called on the commission not to touch fusion voting, largely as a show of support for the Working Families Party, which often cross-endorses Democratic candidates.
During the first portion, 17 invited experts and advocates weighed in over the course of nearly six hours on the commission's agenda, suggesting best practices for setting up a system that would overhaul how New York State conducts elections, fielding questions about how such a system should be structured or current models like that of New York City, and warning against doing away with fusion voting.
There were few areas of disagreement, at least among those who testified before the commission. The advocates generally agreed that a state system should be modelled after New York City's program, which matches small dollar donations with public funds at a 6-to-1 or 8-to-1 ratio and includes fundraising and donor thresholds that candidates must meet to show grassroots support before accessing public funds. It also has low individual contribution limits, which the experts and advocates for good government said must be decreased across the board to encourage participation and reduce the appearance and reality of pay-to-play politics, particularly considering current state limits are among the highest in the nation.
They said the program must encourage viable candidates, avoid paying public funds to those running in noncompetitive races, and be timely and efficient to make it attractive to potential candidates. And they concurred that any campaign finance program should be administered and overseen by a new independent, nonpartisan agency separate from the state Board of Elections, which has a lacklustre history of enforcing campaign finance laws.
The ostensible goal of a public financing program is to limit the type of pay-to-play politics that has typified New York state elections and led to many scandals. Advocates noted that small donor matching programs not only encourage candidates to spend more time campaigning in communities but also boost diverse candidates. At the same time, they expand a candidate's donor base along both racial and economic lines.
Richard Briffault, professor of legislation at Columbia Law School, said three aspects are necessary for a successful program: "That the program be attractive to viable candidates, that it promote electoral competition and that it operate at a reasonable cost."
Some also said that additional reforms were necessary to ensure an effective program. Laura Ladd Bierman, executive director of the League of Women Voters of New York State, urged the commission to also reduce or eliminate contributions from lobbyists and contractors doing or seeking to do business with the state, to establish reasonable limits on party housekeeping accounts (which currently have no limits), and to add new disclosure requirements for "bundlers" who cobble together contributions from multiple donors for a single campaign.
"New York cannot build a functional campaign finance system on top of the broken enforcement structure and sky-high contribution limits" of the current system, she said.
But commission members seemed skeptical of many of the recommendations made before them. Some raised concerns about the potential costs of an expansive statewide program, whether it would encourage a glut of candidates seeking third party lines, whether a separate agency to oversee it was appropriate, whether New York City's program is as effective as advocates say, and even whether it should be uniformly applied across the state.
Ayirini Fonseca-Sabune, New York City's chief democracy officer, sought to defend the city's program, noting that it has recently been strengthened through a charter revision process and subsequent legislation. She pointed out that in 2017, 92% of candidates on the ballot in the city's election were participants in the program; and in the recent public advocate special election, the most common donation was $10, compared to $100 in the previous public advocate race.
"I think it's not perfect," she said of the city's program, when pressed by Commissioner Mylan Denerstein on how it could be better. "There's always room to improve but I think it is a leader in the system."
A crucial question was whether participation in the program would mean higher costs to the taxpayer. The legislation creating the commission authorized up to $100 million each year to fund a public financing program, but Michael Malbin, former professor of political science at Rockefeller College, University at Albany, estimated it would only cost about $240 million for every four-year election cycle, or $60 million annually. He did say, however, that it would only work that way if the qualifying thresholds proposed by the governor were lowered. "It needs minor tweaks but not in my view a major overhaul," he said.
Even before beginning its work, the commission came under criticism for having included fusion voting on its agenda. There are already two separate lawsuits filed against it, by the Working Families Party and the Conservative Party, who believe the governor is out to eliminate fusion voting, which allows them a level of clout in New York politics.
At Tuesday's hearing, several experts cautioned the commission to avoid being distracted by the issue of fusion voting and to focus solely on campaign finance reform. Representatives from the WFP made an impassioned plea as well. "Disenfranchising anybody is a serious offense against democracy," said Alex Rabb, an election lawyer, noting that fusion voting had repeatedly been upheld in New York top courts and eliminating it would be unconstitutional. He and others also argued that the legislation authorizing the commission made no mention of fusion voting.
Heather McGhee, a volunteer on the WFP national committee, said fusion voting is an "essential element of a healthy democracy" as third parties give voters a home when they are disenchanted with the two major political parties. Scrapping fusion voting would also limit voter choice, they argued.
Commissioner Jay Jacobs, chair of the state Democratic Party and appointed to the commission by Cuomo, seemed particularly intent on critiquing fusion voting and insisted, along with Commissioner Henry Berger, that it was within the commission's authority to consider ending the system because it would affect how public financing would work. Jacobs said fusion voting already limits voter choice, since one candidate can run on multiple ballot lines, and that if public funds were made available, potential candidates in suburban and upstate counties may flood the ballot in attempting to run on third party lines. That, in turn, would be cost prohibitive and could blow past the $100 million funding cap, he speculated. "We would see a proliferation of primaries, opportunities to ballot, that would have a cost impact," he said. "That's why I think we have to look at it."
Jacob's criticism, to those who support fusion voting, is somewhat unfounded since public funds are given to individual candidates regardless of how many ballot lines they may pursue.
Republican appointees David Previte and Kimberly Galvin showed somewhat different opinions. Previte conjectured that ending fusion voting might actually lead to more candidates running, adding strain and cost to the system. And Galvin argued that it was not within the commission's mandate.
Much like New York City's public financing program is administered by the nonpartisan Campaign Finance Board, experts argued that any state program must similarly be managed by an agency with a strong culture of independence, ideally by virtue of its structure and composition. Evan Davis, manager of the Committee to Reform the State Constitution, proposed an agency comprised of members appointed by the judiciary, legislature, and executive, pointing out that the bipartisan Board of Elections does not have a reputation for independence.
Though Davis conceded that no agency could be perfectly independent, he said, "You have the ability to really move the ball forward."
Commissioners Previte and Galvin took issue with that recommendation (as they did with many of the ideas put forward on Tuesday). Galvin, who is co-counsel and co-director of the state BOE's campaign finance compliance unit, said Davis' proposal would effectively set up another version of the BOE but without the institutional knowledge and experience to handle campaign finance matters.
Jacobs raised other concerns as well, about how limiting spending might encourage independent expenditure campaigns and whether candidates in districts with lower median incomes should get higher matching funds.
Experts pushed back against both arguments.
Susan Lerner, executive director of Common Cause New York, said a public matching funds program is "the only effective counter" against independent expenditures, particularly if it is bolstered with strong disclosure requirements. Rick Schaffer, chair of the New York City Campaign Finance Board, noted, "The uniform approach has worked and can work." Establishing different matching ratios for different regions would be a complex system to manage, he said. Chisun Lee, senior counsel, and Joanna Zdanys, counsel, of the Brennan Center for Justice, said that could also raise legal issues.
The Brennan Center also released a new report on Monday that analyzed how small donor public financing affects constituent engagement, showing that candidates who participate in such a program receive more donations from donors in their district and raise a larger amount of funds from small donors.
Citizens Union's Rachel Bloom reiterated the demand for greater restrictions on party housekeeping accounts and on donations from those who do business with the state. "Keeping track of those doing business with government and limiting their contributions will not only help to lower the potential for 'pay-to-play', but will also allow the public, the press, and watchdogs to monitor possible conflicts of interests, and demand accountability from their elected officials when needed," she said, in her written testimony.
Other experts and advocates who testified before the commission Tuesday included representatives from Reinvent Albany, the New York City Bar Association, and Fordham Law School professor Zephyr Teachout, who has in recent election cycles run for governor, congress, and attorney general.
Shortly after the expert testimony portion, Fair Elections for New York, a coalition of advocacy and community-based organizations that pushed for state public campaign financing, held a rally outside the hearing, calling for a strong public matching program and the preservation of fusion voting. Organizations such as Make the Road Action, Citizen Action, and New York Communities for Change were joined by several elected officials including Public Advocate Jumaane Williams, City Council Speaker Corey Johnson, State Senators Robert Jackson and Jessica Ramos, and Assemblymembers Yuh-Line Niou, Robert Carroll, Diana Richardson, Harvey Epstein, and Linda Rosenthal.
Later, the microphone at the commission hearing was opened to members of the public. Dozens spoke, including city elected officials, state legislators, and people representing party organizations and advocacy groups. The testimonies were largely in favor of creating a strong public matching funds program modelled on the city's and preserving fusion voting.
New York City Comptroller Scott Stringer was among the many elected officials who implored the commission to decouple the issues of public campaign financing and fusion voting. "The commission needs to examine how to expand publicly financed campaigns because that is a problem in need of a solution," he said. "But the proper time and place for debating fusion voting is not before this commission, it's in the state legislature."
Public Advocate Williams criticized what he and many others viewed as a cynical attempt by Cuomo to harm the Working Families Party. "I really think it's an atrocious overreach to combine these two issue," said Williams, who had the WFP's support in his attempt to unseat Lieutenant Governor Kathy Hochul in the 2018 Democratic primary. "We are all watching right now, in real time, while a bully follows through with a threat, with nothing to do with the initial reason this commission was put together."
Ethan Geringer-Sameth contributed to this story.
Note: Gotham Gazette is an independent publication of Citizens Union Foundation, sister organization of Citizens Union.
Note - this article has been updated.