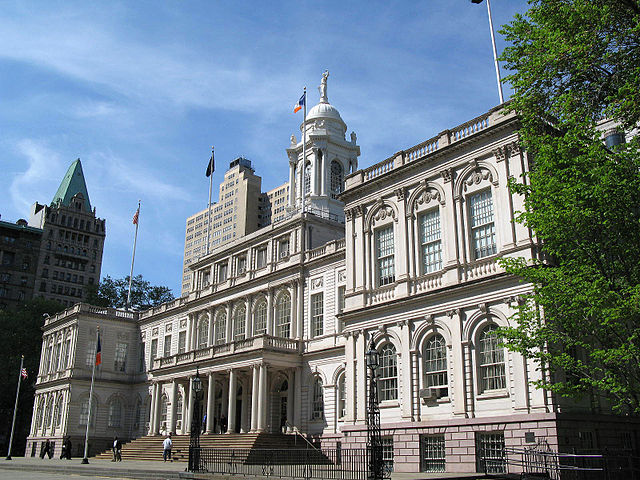 New York City Hall
---
What to watch for this week in New York politics:
As is often the case this time of year, it is a somewhat quieter Rosh Hashanah week in the city, but there are a number of events to be aware of and several overarching issues to watch.
Those include the continued response to the killing of NYPD Officer Brian Mulkeen, who was killed during an attempted arrest and altercation late Saturday night in the Bronx. Details of the incident are still emerging. "This is a very, very sad day for our city," Mayor de Blasio said from Jacobi Medical Center late Saturday night. "We lost a hero – by every measure, we lost a hero this evening. Police Officer Brian Mulkeen – six years on the job, working in Anti-Crime in the 4-7 Precinct here in the Bronx – this is a young man who made the choice to join the NYPD, to put his life on the line to protect others."
The MTA continues to be in the spotlight as the new $52 billion, five-year capital plan was just passed by the MTA Board and now needs one other approbal from the Capital Program Review Board, which consists of representatives of the Governor, the Mayor of New York City, the Assembly Speaker, and the Senate President, as well as a more firm funding agreement among the state, the city, and the MTA.
In other MTA news: on Sunday Governor Andrew Cuomo "announced the first phase of the L Project tunnel rehabilitation is complete ahead of schedule and on budget. With work on the first tube concluding after only five months, the entire Canarsie Tunnel Rehabilitation is now scheduled to be completed on budget in April 2020 - bringing construction to a close a full three months ahead of the 15- to 18-month projections. Governor Cuomo and senior MTA leadership toured the completed Manhattan-bound tube on Sunday, reviewing the new construction methods used to avoid a complete shutdown and maintain regular train service for 90 percent of L customers."
There are a number of political events to be aware of this week -- see our day-by-day rundown below.
***Do you have events or topics for us to include in an upcoming Week Ahead in New York Politics?
e-mail Gotham Gazette editor Ben Max: This email address is being protected from spambots. You need JavaScript enabled to view it.***
The run of the week in detail:
Monday, September 30 & Tuesday, October 1
Monday and Tuesday will be fairly quiet political days and schools are closed due to Rosh Hashanah. But there are some things happening:
On Monday at 9:30 a.m. near City Hall, "transportation, labor and environmental justice advocates will gather in Manhattan with State Senator Julia Salazar...to demand the passage of three landmark bills currently in front of City Council: Speaker Corey Johnson's Streets Master Plan bill (Intro 1557), Council Member Antonio Reynoso's Commercial Exclusive Waste Zone Reform bill (Intro 1574), and Council Member Brad Lander's Reckless Driver Accountability Act (Intro 971)." Along with Salazar, participants will include: "Transportation Alternatives, Families for Safe Streets, Vision Zero Youth Council, ALIGN, Teamsters Local 813, New York Lawyers for the Public Interest, Center for Independence of the Disabled-New York, Democratic Socialists of America Ecosocialist Working Group, Bike New York, StreetsPAC, Union for Concerned Scientists, other elected officials invited." The problem they want addressed: "To date in 2019, 156 New Yorkers have lost their lives in traffic."
At 6:30 p.m. Monday in Brooklyn, Public Advocate Jumaane Williams will attend "'Bridging the Gap,' a unification celebration honoring humanitarian labor."
Mayor de Blasio will make his weekly appearance on NY1's Inside City Hall with anchor Errol Louis on Monday in the 7 and 11 p.m. hours.
Wednesday, October 2
At 8:30 a.m. Wednesday, Crain's New York Business will host a breakfast forum titled "Turning the Tide on Housing" and featuring Louise Carroll, Commissioner, Department of Housing Preservation and Development, City of New York; State Senator Brian Kavanagh; City Council Member Rafael Salamanca Jr.; and James Whelan, President, Real Estate Board of New York; and moderated by Dan Geiger of Crain's.
At the City Council on Wednesday:
--At 10 a.m., the Committee on Criminal Justice and the Committee on General Welfare will jointly meet on several bills related to incarcerated individuals and provisions provided to them.
--At 1 p.m., the Committee on Immigration will meet to discuss legislation to prohibit a smart banking chip from being added to New York City identification card.
At 12 p.m. Wednesday, the commissioners of the New York State Board of Elections will meet.
At 5 p.m. Wednesday, this week's Max & Murphy show will air on WBAI radio, heard at 99.5 FM and wbai.org.
At 6 p.m. Wednesday, Borough President Eric Adams will convene a Brooklyn Borough Board meeting at Borough Hall.
Thursday, October 3
Beginning at 9 a.m. Thursday, City & State NY will host its 2019 Health Innovation Summit. Speakers will include Mitchell Katz, President of NYC Health + Hospitals; Richard Gottfried, Chairman of the Assembly Health Committee; Mark Levine, Chairman, NYC Council Committee on Health; Annie Fine, Medical Director, Reportable Disease, Data Informatics & Analysis Unit, NYC Dept. of Health & Mental Hygiene; Joshua Breitbart, Deputy CTO, New York City Mayor's Office of the CTO; Gary Belkin, Chief, Strategy and Policy, Office of ThriveNYC; and John Shegerian, Co-Founder and Executive Chairman, ERI.
At the City Council on Thursday:
--At 9:30 a.m., the Subcommittee on Zoning and Franchises will meet.
--At 10 a.m., the Committee on Consumer Affairs and Business Licensing will meet to discuss a bill related to prohibiting street vendors on certain streets in Dyker Heights in Brooklyn from Thanksgiving Day until New Year's Day.
--At 1 p.m., the Subcommittee on Landmarks, Public Sightings and Dispositions will meet.
At 10 a.m. Thursday, the New York City Board of Standards and Appeals will hold its next public hearing.
The State Senate Task Force on Opioids, Addiction and Overdose Prevention will hold a public hearing to hear from stakeholders on strategies for reducing overdoses and improving community health from 1 p.m. to 5 p.m. Thursday in Carmel.
The Queens Chamber of Commerce will host its 2019 Building Awards for architects, builders, engineers, lenders, interior designers and owners of building projects in Queens from 9 a.m. to 5 p.m. Thursday at TWA hotel in JFK airport.
Friday, October 4
At 8:15 a.m. Friday, New York Law School will host the latest CityLaw breakfast featuring Marisa Lago, Chair of the New York City Planning Commision.
At 8:30 a.m. Friday, State Comptroller Tom DiNapoli will be the keynote speaker at the Delaware County Chamber of Commerce breakfast.
At 10 a.m. Friday, Mayor de Blasio may make his weekly appearance on WNYC's The Brian Lehrer Show.
The New York Law School Racial Justice Project & the NYLS American Constitution Society will together host a discussion titled "Policing the Police: Enforcing Transparency and Accountability," related to the legal options available to hold police officers and police departments accountable for misconduct from 12 p.m. to 1:15 p.m. on Friday. Panelists include Monifa Bandele of MomsRising.org and Communities United for Police Reform; Alvin Bragg of New York Law School; Jonathan Darche of the New York City Civilian Complaint Review Board; Christopher Dunn of New York Civil Liberties Union; and others.
Senator Chuck Schumer and Congressional Rep. Adriano Eapaillat will hold a joint press conference at 2 p.m. Friday at the Alianza Dominicana Cultural Center in Manhattan to discuss the tourism challenges and opportunities for the Dominican Republic and ongoing efforts to strengthen U.S. – Dominican Republic relations and economic cooperation.
***
Have events or topics for us to include in an upcoming Week Ahead in New York Politics? E-mail Gotham Gazette executive editor Ben Max any time: This email address is being protected from spambots. You need JavaScript enabled to view it. (please use "For Week Ahead" as email subject).
***
by Ben Max
@GothamGazette