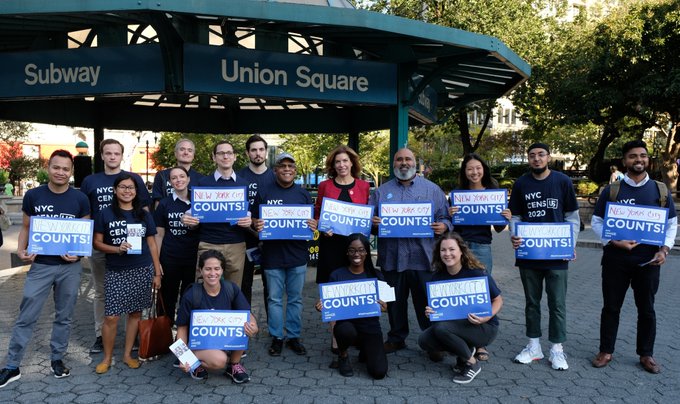 (photo: @NYCImmigrants)
---
New York City is moving full steam ahead with its effort to ensure that the 2020 Census counts each and every resident of the five boroughs, with millions of dollars in funding and a four-pillar strategy for outreach to hard-to-count communities. But New York State's effort seems to have stalled and there is little indication that state authorities are moving with urgency despite the many billions of dollars in federal funding and congressional representation at stake.
In the 2010 Census, New York City residents' self-response rate to the Census was an abysmal 62%, well below the national average of 76%. The city is home to many hard-to-count populations – among which self-response rates are relatively low – including children, seniors, immigrants, predominantly black communities, and residents of public housing. An undercount of these populations can affect everything from federal funding levels for programs like the Supplemental Nutrition Assistance Program and Section 8 housing vouchers to business investment in the city and the state's seats in the House of Representatives.
Increasing the rate of self-response also means requiring fewer census enumerators, the individuals who go door-to-door to count residents who have not responded. Officials have been working for years at the city and state levels to make sure that the Census Bureau has a complete list of addresses for New York residents.
The 2020 Census is plagued with many new and particular problems that have raised concerns that New York could see an even lower self-response rate – as low as 58%, according to U.S. Census Bureau estimates. The Census Bureau is being underfunded by the federal government, with fewer enumerators being hired to hit the ground; the Trump administration sought unsuccessfully to place a citizenship question on the Census form, worrying and potentially discouraging responses from immigrants; and the count is being conducted digitally for the first time, which could affect response among those who lack access to the internet and particularly among older residents.
Between Mayor Bill de Blasio's administration and the New York City Council, the city has budgeted $40 million towards Census outreach, the most funding ever put towards this effort. The city is pursuing a multi-faceted strategy that includes a massive field effort, grants for community-based organizations, a mass media campaign, and partnerships between city agencies.
Last week, Mayor Bill de Blasio and NYC Census Director Julie Menin launched the city's Neighborhood Organizing Census Committees (NOCCs), which are meant to enlist 2,500 volunteers that will aid in census outreach across 245 neighborhoods. The launch came one day after the city announced the $19-million New York City Complete Count Fund, which will give out grants ranging from $25,000 to $250,000 to qualifying community-based organizations.
The city accepting applications till October 18 and is expected to award the funds by December. The actual Census count will begin April 1.
The $19 million allocation follows an initial $4 million to CBOs by the City Council in August to begin Census work.
The remaining $17 million of the $40 million has yet to be distributed. Those funds are expected to cover the mass media campaign, which will launch in 2020, and the overall field campaign through the NOCCs.
"The idea behind the NOCCs is that we believe very strongly...that people really want to be involved in the future of their neighborhood," Menin said in a phone interview. "The best kind of outreach that we can have is neighbor-to-neighbor contact."
The 245 committees will train volunteers about the importance of the census, how it works and how best to organize locally. "This is really a train-the-trainer model that is very much proven to work," Menin said.
Additionally, the 2,500 volunteers will act as "census ambassadors" and the city will provide them with printed materials, talking points and a digital tool kit on the census. The NOCCs will also organize phone banks and text banks to conduct outreach, and will also partner with CBOs that receive grants from the city. These CBOs and neighborhood volunteers are particularly essential in immigrant communities for whom English is not a first language or who may have limited English proficiency.
The city has also reached an agreement with the U.S. Census Bureau to receive real-time data on self-response rates, to monitor neighborhoods where residents may not be filling out census forms in the initial phase of the count. "So all the volunteers and really anyone living in those neighborhoods will be able to see exactly how their community is doing each day," Menin said.
New York state government, on the other hand, has been silent on how it will spend the $20 million allocated in the state budget earlier this year for the 2020 Census. That funding (only half of what advocates had called for) is meant to be distributed based on a report by the New York State Complete Count Commission, which held its last hearing to receive public input on July 31. The report is far past its due date and won't be out for another few weeks, according to a state official.
"The Complete Count Commission has heard testimony and received comments from local governments, grassroots organizations and the general public across New York State, and we are awaiting the Commission's recommendations on how best to leverage the up to $20 million made available in the State Budget, existing state resources, and our partnerships with organizations on the ground so that we can maximize outreach efforts and get every New Yorker counted," said Mercedes Padilla, a spokesperson for New York's Department of State, in a statement to Gotham Gazette.
Padilla said the recommendations would be made in the next few weeks, but did not provide specifics. The co-chairs of the commission are New York's Secretary of State Rossana Rosado and Jim Malatras, president of the Rockefeller Institute of Government and formerly a top aide to Governor Cuomo.
On September 24, nearly three dozen local, state, and federal elected officials representing Brooklyn wrote a letter to Governor Cuomo, calling for at least $4 million from the $20-million pot to be sent to census efforts in the borough. With more than 2.6 million residents, Brooklyn is the most populous of New York State's 62 counties, and the letter notes that 80% of Brooklynites live in hard-to-count communities.
"An undercount in Brooklyn would be an unmitigated disaster not only for the people we represent, but the entire state," the letter reads. "Billions of dollars in federal aid programs could be lost. While Brooklynites already face a lack of resources for many of their immediate needs, an undercount would only make this worse."
Brooklyn State Senator Zellnor Myrie expressed frustration that the state is sitting on its hands while the city has allocated and released funds. "We have seen the city step up to the plate...and here [at the state level], we have a situation in which we had money allocated in April, we had a commission that went around the state to solicit feedback on how the census outreach should look, and we have neither the report nor the money."
Myrie and other elected officials have, in the meantime, begun their own efforts to educate their constituents about the census, hosting information sessions in their districts. Others like Manhattan Borough President Gale Brewer, Bronx Borough President Ruben Diaz Jr., Brooklyn Borough President Eric Adams, and Queens Borough President Melinda Katz have created their own Complete Count Committees with discretionary funds to aid in an accurate count.
"I think we're really putting ourselves at risk of repeating a failed history of counting our community," Myrie said.
Menin also said that the state had provided no answers yet to city officials on how state funds will be distributed. Though some amount of state money will clearly be spent in the city, Menin said that state officials have indicated that it's unlikely that funds would be funnelled through the city government. It's also unclear whether a majority of those funds will go to community organizations and nonprofits, as advocates from the statewide New York Counts 2020 coalition have been pushing.
United Neighborhood Houses, a nonprofit based in New York City and a member of that coalition, is among the CBOs that have received discretionary funds from the New York City Council for census organizing efforts. "We're really strong believers in the fact that community-based organizations are key partners in census outreach," said Nora Moran, UNH's director of policy and advocacy, in a phone interview.
Moran noted, as have others, that there is little time until the census begins in earnest. The first mailers from the Census Bureau will be sent out in March. "We know that there's a lot at stake, and there's hard-to-count communities upstate as well as downstate," she said. "And we really hope that the governor's office releases...that funding that they allocated towards census outreach...sooner rather than later."
Last month, the New York Counts coalition similarly sent a letter to the governor to press their demands. "We are losing valuable time. While many local governments, libraries and community-based organizations (CBOs) have begun their outreach and organizing activities, the effectiveness and depth of these efforts is dependent on additional funding," the coalition wrote.
"I think there's just a clear evidence of what needs to be done," said Myrie, "and what is unclear is why there is a delay."
Note - this article has been updated for clarification.