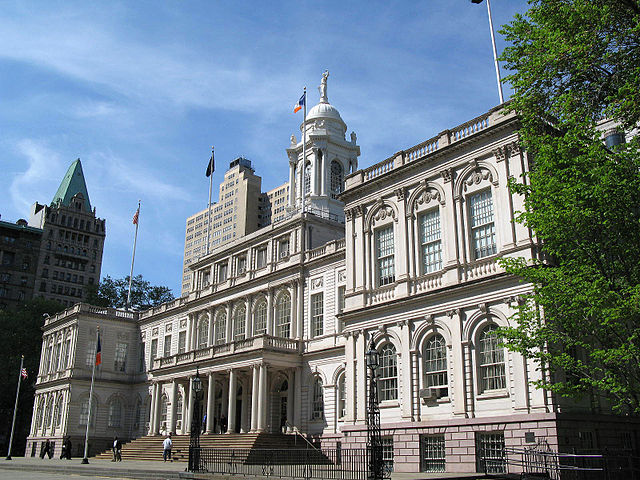 New York City Hall
---
What to watch for this week in New York politics:
As the week begins New York City is reeling from two tragic weekend events: attacks on apparently homeless men in Manhattan by an alleged suspect, also apparently homeless, who killed four and cricially injured a fifth person; and the killing of a 10-year-old Brooklyn boy riding his bike by an apparently unlicensed driver of an SUV. Many government officials, advocates, and others are expressing their remorse while some are also calling for new action to provide services and housing to homeless people and to make the city's streets safer for pedestrians and bikers. Such reactions and calls for action will continue into Monday and beyond.
There are a variety of events to be aware of this week -- see our day-by-day rundown below.
***Do you have events or topics for us to include in an upcoming Week Ahead in New York Politics?
e-mail Gotham Gazette editor Ben Max: This email address is being protected from spambots. You need JavaScript enabled to view it.***
The run of the week in detail:
Monday, October 7
Mayor de Blasio will make his weekly appearance on NY1's Inside City Hall on Monday evening.
The New York Board of Regents will meet Monday and Tuesday in Albany.
At 10 a.m. Monday in Kimlau Square, there will be a community vigil in response to the weekend murders in Chinatown. Assemblymember Yuh-Line Niou is among those who've organized the event. Comptroller Scott Stringer will be among those participating.
At the City Council on Monday: at 10 a.m., the Committee on Technology, the Committee on Housing and Buildings, and the Committee on Consumer Affairs and Business Licensing will meet jointly to discuss multiple bills related to facial recognition technology and biometric data collection in businesses and residences.
At 10 a.m. Monday, "Brooklyn Borough President Eric L. Adams and The New York Academy of Medicine (NYAM) President Judith A. Salerno, MD, MS will unveil the results of a borough-wide survey of nearly 2,000 older Brooklynites and recommendations to improve their quality of life, as part of their "Age-friendly Brooklyn" joint initiative to ensure that people of all ages and abilities can enjoy and contribute to the borough. They will announce the report's key findings during Active Aging Week, a weeklong campaign created by the International Council on Active Aging that promotes healthy lifestyles for seniors. It will take place at Saint John's Recreation Center in Crown Heights." Also participating will be "NYAM President Judith A. Salerno, Age-friendly Bedford-Stuyvesant and Crown Heights ambassadors, Brooklyn Public Library President Linda Johnson, New York City Department for the Aging, AARP New York, Brooklyn Community Foundation, Brooklyn-wide Interagency Council on Aging, Assembly Member Tremaine Wright, Council Member Robert Cornegy, Jr., Bay Ridge Center, Fort Greene Council, Myrtle Avenue Aging Improvement District, NY Statewide Senior Action Council, JCC of Greater Coney Island, Catholic Charities, RAICES, local seniors."
At 11 a.m. Monday, The Straphangers Campaign, Tri-State Transportation Campaign, and TransitCenter will release their first-annual "Cozy Awards" at the B54 Eastbound bus stop on Myrtle Avenue and Vanderbilt, highlighting bus stops along bus routes in New York City that are spaced less than a block apart.
At 11:30 a.m. Monday, "Lieutenant Governor Kathy Hochul Highlights National Disability Employment Awareness Month at Seeing Impaired Employer Alphapointe Manufacturing Plant" in Queens. At 1 p.m., "Hochul Marks Statewide Breast Cancer Awareness Month" at Staten Island University Hospital. At 7:15 p.m. "Hochul Delivers Remarks at Waterfront Alliance's Heroes of the Harbor Award Dinner and Boat Parade" at Chelsea Piers in Manhattan. At 8:30 p.m. "Hochul Addresses Senate Majority Leader Andrea Stewart-Cousins and Senator Shelley Mayer's Hispanic Heritage Month Reception" at United Community Center of Westchester.
At noon Monday, New York Republican Party Chairman Nick Langworthy, Staten Island GOP Chairman Brendan Lantry, and other Staten Islanders will hold a "Stop the Madness!" anti-impeachment event targeting Rep. Max Rose outside Rose's district office on New Dorp Lane. "This event is part of a nationwide effort to hold vulnerable Democrats like Rep. Max Rose accountable for their extreme and politically-motivated actions. The New York "Stop the Madness" campaign is kicking off in NY-11 and will feature several events in district across New York State."
At 1 p.m. Monday, Representatives Carolyn B. Maloney (NY-12), Jerrold Nadler (NY-10), and Nydia Velazquez (NY-07), will join numerous local elected officials and community groups at the City Hall steps to announce the introduction of their Improving Helicopter Safety Act of 2019. Manhattan Borough President Gale Brewer will also be among those participating. This event was cancelled.
At 2:30 p.m. Monday, Manhattan Borough President Gale A. Brewer, Public Advocate Jumaane Williams, Assemblymember O'Donnell, and Councilmember Mark Levine will join advocates at 237 West 107th Street to call on the Department of Homeless Services and the de Blasio administration to immediately halt the plan to transition a 107th Street shelter from women-only to men-only.
Tuesday, October 8
Crain's New York Business will host the 2019 Renewable Energy Forum from 8 a.m. to 11:30 a.m. Tuesday at the NYC Seminar and Conference Center. Speakers will include Chris Cavanagh, Director, National Grid; Eileen Cifone, Manager, National Grid; Rafael L. Espinal Jr., Council Member for District 37, New York City Council; Scott Frank, Managing Partner, Jaros, Baum & Bolles; John J. Gilbert, Executive Vice President and Chief Operating Officer, Rudin Management Co.; Zachary Schechter-Steinberg, Vice President of Policy, REBNY; Neil Skidell, Managing Director Green Solutions, The PAR Group; Robert Wilson, Vice President, Special Projects, Northeast Gas Association.
At the City Council on Tuesday:
--At 10 a.m., the Committee on Youth Services meet to discuss legislation to establish a universal youth employment program.
-- At 1 p.m., the Committee on Civil and Human Rights and the Committee on Aging will jointly meet to discuss multiple bills to combat age discrimination in the workforce. At 11:30 a.m., Council Member Margaret Chin and age justice advocates and older working New Yorkers will hold a rally at City Hall before Chin chairs the joint Council hearing on her package of legislation regarding age discrimination.
--At 1 p.m., the Committee on Immigration and the Committee on Mental Health, Disabilities and Addiction will jointly hold an oversight hearing to address mental health needs of immigrants in New York City.
At 1:30 p.m. Tuesday, the commissioners of the New York City Board of Elections will meet at 42 Broadway in Manhattan.
Brooklyn Borough President Eric Adams will host an info session on The Extended Use Hardship Pilot Program from 6 p.m. to 8 p.m. Tuesday at Borough Hall.
Wednesday October 9
Wednesday is Yom Kippur (which begins Tuesday evening). Few if any political events are expected.
Thursday, October 10
New York City Deputy Mayor for Housing and Economic Development Vicki Been will appear at a Citizens Budget Commission Trustee Breakfast on Thursday at 8 a.m.
On Thursday and Friday, Transportation Alternatives will bring together leading industry and policy experts, advocates, and elected officials for the fifth annual Vision Zero Cities Conference, taking place at Columbia University's Alfred Lerner Hall. Speakers include city Department of Transportation Commissioner Polly Trottenberg and City Council Speaker Corey Johnson, both on Thursday.
At the City Council on Thursday: the Committee on Land Use will hear multiple land use applications at 11 a.m.
On 10 a.m. Thursday in Rochester, the State Senate Standing Committee on Health and the Assembly Standing Committee on Health will jointly hold a public hearing on The New York Health Act.
At 4 p.m. Thursday, the Civilian Complaint Review Board will meet in Manhattan.
Brooklyn State Senator Andrew Gounardes will host a Community Property Tax Forum on lowering property taxes from 6:30 p.m. to 8:30 p.m. on Thursday at the JCC/JCH on Bay Parkway. He'll be joined by Manhattan State Senator Brian Benjamin and others.
Friday, Oct 11
Friday is the last day to register to vote in this fall's elections, which in New York City includes charter revision ballot proposal questions, a special election for Public Advocate, the Queens District Attorney election, and more. Early voting begins October 26. Election Day is November 5.
At 10 a.m. Friday, Mayor de Blasio may make his weekly appearance on WNYC's The Brian Lehrer Show.
The State Senate Standing Committee on Mental Health and Developmental Disabilities will hold a public meeting on domestic violence and its effects on the community from 11 a.m. to 1 p.m. Friday at Nyack Library, 59 South Broadway, Nyack, New York.
***
Have events or topics for us to include in an upcoming Week Ahead in New York Politics? E-mail Gotham Gazette executive editor Ben Max any time: This email address is being protected from spambots. You need JavaScript enabled to view it. (please use "For Week Ahead" as email subject).
***
by Ben Max
@GothamGazette