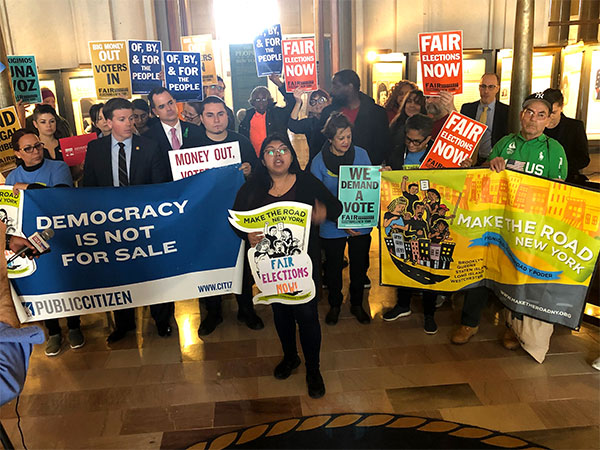 (photo: Make the Road New York)
---
With the January session of the Legislature around the corner, the state's largest immigrant services and advocacy organization is launching a broad platform of progressive legislative proposals and is preparing a major push for its passage.
On Tuesday, Make the Road New York, a statewide organization that boasts 24,000 members, is releasing its Respect and Dignity Platform for 2020, which proposes removing ICE from courthouses across the state, instituting a good cause eviction law, and ending discrimination in school disciplinary practices. The platform also includes decriminalizing sex work, strengthening worker protections across the board, and taxing the wealthy to help fund social services like housing, healthcare, and education programs, among other goals.
"Our communities' well-being is at risk when ICE is present at courthouses, when millions of tenants across the state lack basic protections, when harsh, punitive school discipline practices afflict our young people, and when trans immigrant sex workers are criminalized at every turn," said Make the Road co-executive director Javier Valdés in a statement.
Make the Road New York is a progressive, immigrant-led grassroots organization with members in New York City, Long Island, and Westchester, which provides community services and pushes for policy change at the local and state levels. During the last state legislative session, which saw for the first time in nearly a decade Democrats controlling both chambers of the Legislature, Make the Road was especially active in support of several successful legislative pushes.
Those victories were highlighted by the New York State Dream Act, which extends state scholarships to undocumented students, and the so-called "Green Light" law giving access to drivers licenses to people who are undocumented. Make the Road New York was also a strong supporter of expansive rent law reform aimed at protecting tenants in rent-stabilized apartments.
The 2020 platform announced Tuesday initiates the organization's next wave of advocacy efforts, many of which capture the goals of other progressive groups representing diverse constituencies and expand on those legislative achievements. The platform launch will be followed by a series of four town halls in New York City, Long Island, and Westchester throughout December leading up to the beginning of the 2020 legislative session in Albany, a representative for the organization explained.
"It's time to reclaim our economy and democracy from the billionaire class, by strengthening worker protections and increasing taxes on the wealthiest New Yorkers and large corporations to fund vital services like education for youth and adults, health care, and housing," Valdes said, urging Governor Andrew Cuomo and legislative leaders to prioritize the issues in the upcoming legislative session beginning in January.
Two planks of the platform are geared toward addressing federal policy, particularly under the Trump administration, that adversely target immigrants, especially those who are undocumented.

As part of the platform, the advocates are pushing state lawmakers to pass the Protect Our Courts Act, sponsored by Assembly Member Michaelle Solages, a Long Island Democrat, and Senator Brad Hoylman, a Manhattan Democrat. The bill would prevent Immigration and Customs Enforcement officials from making civil arrests and detentions inside or in the vicinity of New York State courthouses.
A second piece of legislation, billed as a response to recent federal immigration policy, is intended to improve healthcare access to New Yorkers regardless of immigration status. The bill would create a $532 million state funded insurance plan for New Yorkers with income up to twice the federal poverty level, irrespective of immigration documentation.
The platform also includes a bill to protect renters' rights in small buildings, helping close a gap in recently passed tenant protections. Good cause eviction legislation sponsored by Assembly Pamela Hunter, a Syracuse Democrat, and Senator Julia Salazar, a Brooklyn Democrat, would prevent landlords in small buildings from evicting or removing tenants without a legitimate justification based in the law like the failure to pay rent. Recent recent stabilization reforms apply only to buildings with six or more units, according to Make the Road New York, and the new legislation would bring those protections to tenants living in smaller buildings.
"In the apartment where we've lived for eight years, there's been a lot of mold on the walls, and I've had to cover it with plastic because the landlord won't fix it. We have nowhere else to go, but we don't have the protections to ensure we can remain in the apartment," said Norberta, a Make the Road New York member from Yonkers, in a press release from organization.
"I'm worried because I know that, if the landlord gets bothered by our complaints, he might try to raise the rent a lot or just try to kick me out," she added.
Several pieces of the group's new agenda fall under the heading "Reclaim our Democracy and Economy from Billionaires" in documents describing the platform. Among them is public campaign financing reform that includes a high 6-to-1 match on qualifying political donations, lower contribution limits, and enforcement other than by the State Board of Elections. The state's Public Campaign Financing Commission is set to outline by December 1 a new state-level public matching program, along with related regulations, which will take effect unless state lawmakers act to modify or reject it. The commission has been mired in controversy since its outset earlier this year, with many critics concerned that it may set contribution limits too high and squander its potential impact on big money in politics. (Perhaps more controversial has been efforts by some commissioners to eliminate fusion voting and raise the vote threshold for third parties to receive ballot lines.)
Make the Road New York is also pushing automatic voter registration and the full re-enfranchisement of people on parole. The group is also proposing new taxes on billionaires and multi-millionaires to raise up to $30 billion in state monies, as well as the EMPIRE Worker Protection Act intended to help enforce wage theft and equal pay laws, especially for immigrants who may be targeted by their employers.
"Workers in our community face wage theft and abuse every day," said Luis Wyler, member of Make the Road New York from Queens in the press release. "We need a fully resourced Department of Labor and the ability to take our employer to court despite forced arbitration. Millions of workers in our state will be empowered to end wage theft when we win the EMPIRE Act."
A number of points on the Respect and Dignity Platform deal with policing reforms intended to protect groups disproportionately impacted by the criminal legal system and other disciplinary regimes, like black and Latino residents, transgender people, and certain student communities. One bill, the "Solutions Not Suspensions Act," would limit out-of-school suspensions for minor offenses, and promote alternatives to suspensions that embrace elements of restorative justice.
Another bill would repeal a state statute known as Civil Rights Law, Section 50-a, which shields police disciplinary records from being made public. And another would create a special prosecutor within the state attorney general's office to investigate police killings of civilians.
Make the Road New York supports a bill that would remove vague language from state law that it says has enabled police to harrass and arrest transgender people, especially black and Latino trans women, under the guise of enforcing laws around sex work. Another piece of legislation in the group's platform would decriminalize sex work for consenting adults, while keeping in place anti-trafficking statutes.
"In our neighborhood we face harassment and abuse from police, yet there is no accountability for officers who abuse their power," said Keith Fuller, a member of Make the Road New York from Brooklyn. "For justice for all young people in New York we have to pass the Solutions Not Suspensions Act to end the school-to-prison pipeline and Repeal 50-A and pass the Special Prosecutor bill to make the police accountable for abuse."
The sex work and other policing-related bills, among other aspects of the platform, may test how far Democrats in Albany will be willing to go in the 2020 session, which is also an election year for the entire Legislature. On a few of the more progressive pieces of legislation passed earlier this year, some of the senators from more moderate but Democratic suburban districts, like on Long Island, voted in opposition. Activists from and aligned with Make the Road New York were helpful in winning some of those same seats in 2018 and hailed the historic progressive session, but are clearly looking for more in the year ahead.
Ben Max contributed to this story.