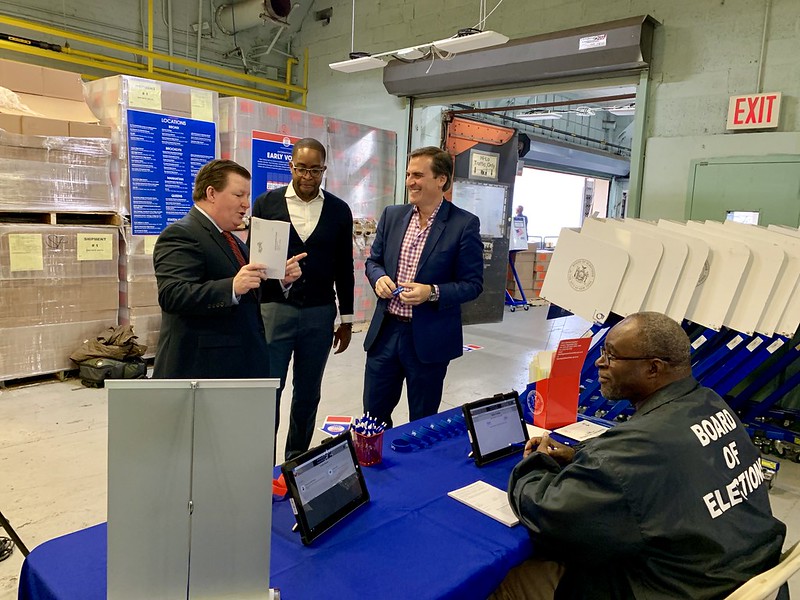 (photo: Senator Michael Gianaris)
---
At post-election oversight hearings in New York, where voting is perennially plagued by episodes of malfunction and inefficiency, it is not common to hear politicians praise election administrators. But praise for both the city and state boards of elections was one of the overriding themes of a Wednesday hearing held by state legislators, convened to examine the inaugural implementation of early voting in New York State.
As officials commended both bodies' efforts to adjust to a slew of new voting reforms in a short 10-month window, they also looked ahead to the 2020 election cycle with some concerns. Among them are how elections administrators plan to run the new and far more complicated early voting system during a year when turnout is expected to be very high given the presidential election, as well as congressional and state legislative races. The hearing also highlighted findings made during the state's first early voting period, which was largely seen as a test-run for future election cycles.
"The board has often been a punching bag for people upset about the administration of elections but in this case you deserve credit for doing it right and doing it well. This was a first time endeavor for a lot of folks," said Senator Michael Gianaris, a Queens Democrat, speaking to New York City Board of Elections Executive Director Michael Ryan at Wednesday's hearing in Manhattan, held jointly by the Senate and Assembly.
"That being said, we got through the pre-season...in one piece, but now next year is going to be the regular season, and we are going to have to anticipate a much larger turnout and a much larger demand," he added. The presidential primary will be in April, followed by congressional and state primaries in June, and the general election in November.
The State Legislature passed early voting this January as part of a host of election reforms that advocates had long pushed for with scant results when Republicans controlled the Senate, a longtime reign that ended after the 2018 elections. With Democrats in control of both houses and the executive chamber this year, Governor Andrew Cuomo signed the bills into law on January 24, officially starting the clock to implement early voting by the November general election.
Going forward, the statute requires early voting to be offered for nine days leading up to election day in primary, general, and special elections, including weekends and evening hours. Counties are required to establish at least one in-person early voting site for every 50,000 registered voters. The sites must be accessible and secure, and must have the capacity to store sensitive voting material and machinery for the entire period they are being used, a big ask for many public facilities.
According to unofficial results tallied by the State Board of Elections, 2.98 million ballots were cast statewide in this fall's elections, including 256,251 ballots cast during the early voting (many ballots including absentee and affidavits are still being counted).
In New York City, where five counties (the boroughs) fall under the city Board of Elections, total turnout was unofficially 737,918, of which just over 60,000 were cast early. The overall turnout was more than three times turnout in 2015, the last city election without a mayoral contest.
Ryan pointed out that over the nine day early voting period, poll sites were open a total of 74 hours, 14 more than was required by statute. A source of some controversy, city administrators selected 61 facilities to use as early voting sites, fewer than the number many advocates and elected officials wanted to see, but more than required. To staff them, 6,140 poll workers were hired and trained and an additional 31,238 were trained to work on Election Day.
To ensure early voting sites could accommodate a wider catchment of election districts and ballot layouts, and to help ensure that voters don't vote multiple times in the same election, state lawmakers authorized counties to purchase electronic poll books that could track a voter's ballot from an early voting site to an Election Day poll site.
New York City purchased 4,714 electronic poll book tablets from a St. Louis-based vendor whose technology was compatible with so-called "ballot-on-demand" printers, which could produce a voter's unique ballot on the spot, rather than requiring early voting sites to stock a prohibitively large range of pre-printed ballots.
The printers produce ballots that do not have perforated edges, one of the factors blamed for the high volume of ballot scanner jams in what many described as a disastrous 2018 election. That year, the city saw unprecedented (for recent times) turnout of roughly 39 percent of registered voters, compared to 14 percent this year. Yet, for an off-off-year election with few high-profile races, the turnout this year was relatively high. In 2015, just 6 percent of registered voters went to the polls. There were additional races and ballot proposals that helped drive turnout this year, including a special election for public advocate and charter revision questions, but many also point to a continued Trump era boom in voter participation.
Despite the turnout, the city BOE recorded only 77 instances of jammed scanners over the entire early voting and Election Day period, Ryan proudly reported.
The positive results discussed Wednesday were couched by the daunting prospect of having to repeat the process at least three more times in a presidential election year. That number could be greater in some jurisdictions, like Queens where Borough President Melinda Katz's election to district attorney will mean a special election is held in the first few months of the year.
Among the concerns raised by both elected officials and administrators is the fact that early voting sites will need to be open to the public for more than 30 days next year to meet the nine-day statutory requirement plus additional time to prepare a site. That can be a difficult task for schools, churches, and community centers, which the city used this fall to serve as centers where voters could cast ballots early.
At the same time, voting rights advocates and elected officials are pushing for more early voting sites to make the new system more accessible.
"The one site per 50,000 voters standard already permits counties to designate too few early voting sites to guarantee equitable access, but the provision that allows the state's most populous counties to provide far fewer sites per voter is unworkable," wrote Perry Grossman, a voting rights attorney with the New York Civil Liberties Union, in his testimony to the legislators.
"We did notice where there were more [early voting sites] there was an increased [voter turnout] percentage," said Robert Brehm, co-executive director of the State Board of Elections, earlier in hearing.
Another desire of the advocates is to have early voting sites that any voter can use, rather than having to be assigned to one, as was the case this fall. Only four local boards, including New York City's, had assigned early voting sites, but many of them, especially in rural counties, had only one site overall.
Educators and parents throughout the city raised a number of concerns this year about using schools as early voting sites including security and the length of time students would be without their gymnasium or cafeteria. Of the 61 early voting sites in New York City, 33 were in public schools, whereas only one other county in the state used a school for early voting, according to a recent report in Gothamist. The de Blasio administration is now urging the city BOE to designate sites other than schools, Gothamist reported.
But schools are an attractive choice for election administrators juggling a number of considerations including whether sites meet accessibility requirements under the Americans with Disabilities Act and whether they would cost the city additional funding to use.
Brehm says renting space is not something that has been widely done before but it may be an option boards of elections will consider in the future to meet the demands of a growing culture of early voting.
"We need broader authority from the State Legislature to designate locations, and some structure of what compensation should look like for these locations," Ryan, the city BOE executive director, told the lawmakers Wednesday.
Reacting to the idea after the hearing, Senator Gianaris told Gotham Gazette, "If we are going to do that we should not open it up to wide discretion, there should be set parameters for what the city is willing to pay so that you don't get into some extraneous negotiation where all of the sudden you're paying much more than is justified for this."
"The State Board recognizes that of any topic, poll site designation, will be in the forefront of conversation for many election cycles," reads the State Board of Elections report on early voting, which was presented Wednesday.
Funding was a general concern for Brehm and his colleague, Co-Executive Director Todd Valentine, who said counties were forced to deploy new resources to meet the demands of dozens of voting reforms passed in Albany this year, without additional money from the state. The funding could go towards communications, additional training, security, and a host of other needs still being evaluated in the post-election season.
Brem pointed out that using new technology, like electronic poll books, and the new early voting system in general has raised new questions about what communications and training local boards need to undertake.
One issue raised by a number of lawmakers was the scannable card mailed to voters, intended to streamline the check-in process at poll sites. The cards are not mandatory to vote but poll workers were instructed to ask for them, only as an option, to help move the lines. Many voters reported being confused by the question and believed they were being told the card was required in order to receive a ballot. Some voters believed they were being asked to show ID to vote.