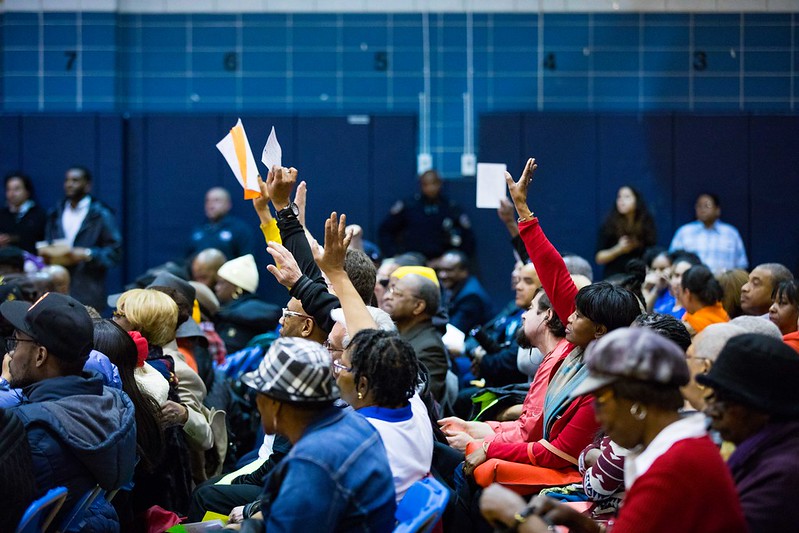 (photo: Mayoral Photography Office)
---
1. Will Donald Trump be removed from office? Will he win a second term as president? What will be the results of any known or unknown investigations into Trump world, from Congress to New York Attorney General Letitia James to the U.S. Attorney for the Southern District of New York or elsewhere?
2. How will Mike Bloomberg fare in the 2020 presidential race? What impact will he have on the race (even if he isn't the Democratic nominee)?
3. Who will key New York Democratic officials endorse for president? Who will win the April Democratic presidential primary in New York? Will that primary matter?
4. How will Chuck Schumer perform as Senate minority leader? Will the 2020 elections put him on a path to majority leader? Which other New Yorkers will play the most prominent roles in both government proceedings and the presidential campaign? What impact will AOC have in year two of her tenure and as a supporter of Bernie Sanders for president? What does Hakeem Jeffries' year have in store?
5. Can Max Rose keep his seat? How will other New York House races turn out? Will any incumbents fall in the primaries? Might the second time be the charm for Adem Bunkedekko against Yvette Clark, for example? Who will prevail in the crowded 'open' race for retiring Jose Serrano's seat? Will Democrats keep the House, and if so, will it be because of or in spite of key New York races like Rose's and others outside the city?
6. Could Andrew Cuomo or Bill de Blasio or Kirsten Gillibrand (or other prominent New Yorkers) wind up in the administration of a victorious Democratic presidential candidate?
7. How well will New York fill out the 2020 Census? Will city and state government efforts prove successful in encouraging stronger participation than in 2010? How many congressional seats will New York lose?
8. What will drive Governor Andrew Cuomo's 2020 agenda?
9. What will Cuomo and the Democratic majorities in the state Legislature do for an encore after their historic and highly-prolific 2019? Will the Carl Heastie-Andrea Stewart-Cousins bond continue to flourish or will the two legislative majorities diverge more than in 2019? How will Cuomo's relationship with the Legislature, and with each legislative majority, play out? How will the Senate Democratic conference hold up in year two if its new majority amid a legislative election year?
10. Will New York legalize adult use of marijuana? Will another go at e-bike and e-scooter legalization pan out? Will the state legalize paid gestational surrogacy? Will there be a compromise on a new prevailing wage law? New limits on solitary confinement? Any real movement on the New York Health Act for single-payer health care? Anything allowing 'safe injection sites' to open? New affordable housing laws? Additional voting and criminal justice reforms? Will the cap on charter schools in New York City be lifted? What other high-profile policies pass or fail?
11. Will state lawmakers tweak the new campaign finance and political party ballot access laws? How will the state's smaller parties fair under the new ballot line requirements, which are set to take effect for the presidential election? Will lawmakers pass legislation to institute legislative and executive pay raises and outside income limits that were struck down in court? Will there be any movement to reform or replace JCOPE?
12. How will Cuomo and legislators fill a $6.1 billion budget gap? Will there be any major changes to education aid, Medicaid reimbursements, economic development spending? Will there be tax increases? Significant spending cuts? How much will Cuomo try to raid from New York City?
13. How will implementation of key 2019 state accomplishments go? Will criminal justice reforms show positive results or will naysayers be proven right, or both? Will lawmakers change any of the new bail or discovery laws? How will initial implementation of the state's new environmental and energy policies go, including the plastic bag 'ban'?
14. Will there be any new steps by Comptroller Tom DiNapoli or the Legislature to move state pension money out of fossil fuel company investments? Will New York City's efforts on this front move ahead as planned by Comptroller Scott Stringer and Mayor de Blasio?
15. Will we see other State Senate Republicans decline to run for reelection? How strong is the new left-wing movement, including the Democratic Socialists of America? Will progressive candidates unseat incumbent Democratic state legislators in the June primaries? Can the Democrats keep and grow their State Senate majority in November? Will there be any demonstrable moderate and/or conservative backlash to the state's progressive swing?
16. Will the MTA's subway service continue to improve? Will the MTA and the de Blasio administration get the city's buses moving more quickly and reverse ridership declines? Will implementation of the new MTA capital plan move along as planned? Will the funding for it materialize as outlined?
17. Will Andy Byford remain at the MTA?
18. How will the MTA/NYPD crackdown on homelessness and fare evasion and other crimes in the subways go?
19. Will de Blasio announce any other busways? Will the city make any real dents in street congestion and traffic? Will there be any movement on curbing deliveries? Will the city do anything new about the way trash is collected from sidewalks?
20. What will the congestion pricing system look like?
21. Will there be any next steps from the City Council and Speaker Corey Johnson in efforts to "break the car culture"? Will the Council move to reduce on-street parking or create a resident parking permit system in certain neighborhoods? Will there be any demonstrable reduction in parking placard abuse?
22. Will the city improve on the 2019 setbacks to Vision Zero and reverse the increase in deaths among pedestrians and bike-riders?
23. Will there be any movement to decrease the per-ride subsidies in the city's ferry system? Will there be any progress in integrating the ferries with MTA payment for buses and subways?
24. Will there be any real movement on the BQX? What will the city decide to do about the BQE? Might Cuomo swoop in?
25. Can Mayor de Blasio reinvigorate his mayoralty and improve his standing among New Yorkers? How much time will de Blasio spend on national politics? Will he wind up as a prominent surrogate for whichever Democratic presidential candidate he endorses? What city issues will he focus on, what will he propose in his 2020 State of the City speech and preliminary fiscal year 2021 budget?
26. Can the mayor and Public Advocate Jumaane Williams get paid personal time legislation passed? What else will Williams focus on in 2020?
27. What will de Blasio do about school desegregation, which aspects of his task force's recommendations will he support? What will his new specialized high schools admissions reform plan look like? What will he do about property tax reform? What will the mayor's Albany agenda include on education, property taxes, and other items?
28. What will 2020 bring in the ongoing Bill de Blasio-Andrew Cuomo saga?
29. Can de Blasio make significant progress with regard to NYCHA, homelessness, and other major crises and challenges facing the city? How many, if any, NYCHA infill development plans will move ahead? Which, if any, neighborhoods will the city rezone? How will the Gowanus rezoning pan out? Bushwick? Industry City? Will the mayor further tweak his affordable housing plan as promised when he announced Vicki Been as Deputy Mayor for Housing and Economic Development?
30. What will be the big city budget battles of 2020? How will the City Council assert itself on the budget, legislatively, in its oversight capacity?
31. Can the mayor show progress with the city's most troubled schools? Will de Blasio move to close more underperforming schools? How will the first full wave of 70,000 pre-K students fair on 3rd grade state exams? What's next in the city's oversight of yeshivas?
32. What's next for ThriveNYC? Will the de Blasio administration's "mental health roadmap" run by First Lady Chirlane McCray begin to show stronger results? Will there be additional City Council clamor for a reduction in funds provided to the initiative? How will the city's recently-announced plans to better tackle problems associated with untreated serious mental illness pan out?
33. How will Dermot Shea perform in his first full year as NYPD Commissioner? Will he implement ongoing and promised reforms to key aspects of how the NYPD does business, including officer discipline and the special victims division, among others?
34. Will the 2019 uptick in murders be reversed? Will the increase in hate crimes, especially anti-Semitic ones, be reversed? Will the city stay on track in its plans to reduce the jail population, close Rikers Island jails, and build new jails? Will there be any indication of what's next for Rikers Island?
35. Will there be any change to section "50-a" of state civil rights law that has been re-interpreted by the de Blasio administration to shield NYPD personnel records?
36. Will anything be done to help distressed taxi driver-medallion owners in the city, especially with regard to their debt?
37. What high-profile departures from the de Blasio administration will we see?
38. How will Melinda Katz perform as Queens District Attorney?
39. What's next for Tiffany Cabán?
40. Who will succeed Katz as Queens Borough President? If that person is leaving a City Council post, who will then win that next special election?
41. How much of a role with the scuttled Amazon deal play in Queens and other elections, including for state legislative seats?
42. What will jockeying for the city's 2021 elections look like? What are the next steps in the early mayoral race? Who jumps into the race or at least flirts with it? How will the 'big four' expected Democratic candidates (Adams, Diaz Jr., Johnson, Stringer) seek to differentiate themselves? How will their fundraising go? Who will declare their candidacies for public advocate or comptroller, for the borough presidencies, for City Council seats? How will the early comptroller race play out? How will the looming city elections impact the City Council's government operations? How will looming implementation of ranked-choice voting impact campaigning?
43. What will early jockeying look like in the race to become the next City Council Speaker?
44. Will there be a definite answer about whether Chirlane McCray is running for elected office? If she is, which office?
45. Will Cy Vance run for reelection as Manhattan District Attorney? Either way, what will that early primary look like as 2020 progresses?
46. Will there be any shake-up or new leadership at the New York City Board of Elections?
47. How will implementation of all of New York's elections (special elections, April presidential primary, June congressional and state legislative primaries, November general election) go, especially with regard to early voting and voter roll accuracy?
48. Just how high will voter turnout climb?
What did I miss? Let me know: This email address is being protected from spambots. You need JavaScript enabled to view it. or @tweetBenMax (Yes, the headline says 50 questions, I'm leaving myself room to add two more.)