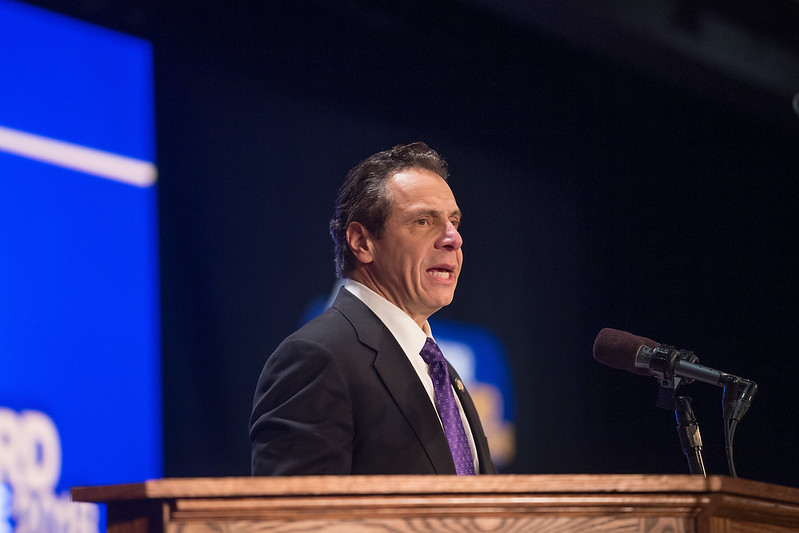 Gov. Cuomo (photo: Mike Groll/Governor's Office)
---
Having already released more than 30 proposals, Governor Andrew Cuomo will unveil his full 2020 agenda for this year's legislative session on Wednesday as he delivers his annual State of the State address in Albany. Unlike last year and several others during his prior nine years as governor, Cuomo's speech won't be accompanied with the release of his executive budget proposal, which is expected soon and must address a $6.1 billion projected deficit for the next fiscal year.
Cuomo's 2020 agenda will include several elements of unfinished business from last year that he's likely to revive with tweaks and modifications, including elements he was not able to get to the finish line with the Legislature, such as legalization of adult-use marijuana, or related to pieces of legislation he has vetoed in recent weeks but wants to find agreement on, such as legalization of e-bikes and e-scooters.
After what was a highly prolific and historic 2019, the first of Cuomo's tenure with both legislative houses controlled by fellow Democrats, the governor has made "making progress happen" his theme for this year. Last year, when he called it his "justice agenda," included a few scrapes between the governor and a Legislature, emboldened by new progressive members, that at times proceeded without Cuomo's full approval.
"Last year we laid out the most aggressive agenda in modern political history and we got it done," Cuomo said in a December 13 announcement of his annual State of the State. "This year we'll build on that record of accomplishment and continue restoring confidence in government as a force for good. We're going to set the bar even higher, making progress happen for the people of this great state and sending a signal to a weary country to follow New York as we lead the way upwards."
The proposals he has unveiled thus far include new gun control measures, bills to combat the opioid epidemic, modified election regulations, environmental protection bills, prescription drug price reductions, net neutrality protections, new rules for the debt collection industry, penalties for illegal cigarette sales, a ban on gender pricing differences called the "pink tax," transparency in health care costs, restrictions on vaping products and related advertisements, legalizing gestational surrogacy, studying high speed rail, regulating robo calls, passing the Equal Rights Amendment, and major infrastructure investments.
If Cuomo's agenda from prior years is any indication, his State of the State policy book will contain hundreds more proposals, only some of which make it into the governor's speech. It remains to be seen how ambitious Cuomo will be this year considering how much was done last year, the state budget gap, and that it's an election year with every state legislator on the ballot (the new June primary elections for state legislative seats, moved to match congressional primaries, will slightly truncate the post-budget session).
Several questions await answers during Cuomo's speech and release of his full policy book.
How does the state budget hole impact Cuomo's policy agenda, and vice versa?
Before he puts forth any big ideas, the governor must of course figure out if he can pay for them. Cuomo will soon have to explain how he plans to fill the worrying $6.1 billion budget gap the state faces for the next fiscal year, which begins April 1, that has gotten larger than previously projected because of an increase in Medicaid spending.
Many of the proposals Cuomo has already put forth will require no new spending, and Cuomo has indicated that he will not advance or support new and increased taxes, though Albany lawmakers have often found new fees and other revenue-raisers that are not income taxes.
Cuomo prides himself on passing on-time budgets and keeping state spending growth under 2% annual increases – though he has only accomplished this some years, while claiming it in others by using tricks and gimmicks, such as moving spending off the state budget to authorities or delaying it to the next fiscal year, practices that fiscal watchdogs have criticized.
Though he won't release detailed budget plans on Wednesday, the governor may give some indication of how the state will rein in spending or raise new funds. Following a speech before the Association for a Better New York on Monday, Cuomo said outright that he will not raise taxes and instead will look to control Medicaid costs. "The health costs have to be addressed structurally and a one-shot dose to the system of sugar to give us a short high with revenue is not the answer," he said in response to an audience question.
His budget director, Robert Mujica, has also tried to make assurances that the budget gap is not a cause for worry. "There is no doubt it will be a challenge, but it is a challenge that is manageable. The Governor has closed gaps much larger than this," Mujica wrote in a Medium post last month.
While the state faces a crunch, New York City on the other hand is expecting a surplus by the end of its own fiscal year in June, which might prompt Cuomo to propose cuts and cost shifts away from the state budget to the city as he has done several times in recent years. Mayor Bill de Blasio and his allies in the Legislature have been mostly successful in beating these efforts back but the city has nonetheless had to swallow several reductions in funding, unfunded mandates, and new costs imposed by the state. The mayor also said Monday during a press conference that he expects to see a similar attempt this year.
The New York Daily News reported Monday that several Democratic legislators are planning to introduce new tax measures and propose eliminating certain exemptions for the wealthy that could raise as much as $30 billion each year, which the governor is all but assured to declare dead on arrival.
How much of Cuomo's State of the State speech dwells on fiscal matters is an open question heading into Wednesday.
Will Cuomo outline his preferred changes to controversial new bail reforms? What will his larger criminal justice agenda be?
A transformative bail reform measure passed last year that eliminates cash bail for most misdemeanors and non-violent felonies has just taken effect across the state. But the reform has been met by widespread criticism and some fearmongering about public safety from prosecutors and other law enforcement leaders, Republican officials, and some Democrats.
Cuomo has not said exactly how he believes bail reform should be changed but has stated that it requires some modification. "[C]hanging the system, which we started to do, is complicated and then has a number of ramifications," he said on Monday, again when answering an audience question after his ABNY speech in Manhattan. "There's no doubt this is still a work in progress and there are other changes that have to be made."
Amid a rash of hate crimes, especially anti-Semitic ones, Cuomo's office has said the govenror supports adding hate crimes to the list of offenses subject to bail being set by judges, which has in the past functioned as a way to lock defendents up pre-trial, in lieu of the "dangerousness" assessments that many states allow but New York has not for decades. Cuomo and Mayor Bill de Blasio, among others, have favored allowing judges to use their discretion in pre-trial remand, but many Democratic legislators and advocates have opposed the change, arguing that it leads to bias against poor people and people of color, while feeding mass incarceration and the ill-effects of criminal legal system involvement.
Senate Majority Leader Andrea Stewart-Cousins has also indicated an openness to revisiting the bail laws, also citing concerns about the recent spike in hate crimes.
Cuomo hasn't signalled whether he will propose any further criminal justice reforms or if he supports several proposals being championed by advocates to reform solitary confinement procedures in prisons, to loosen rules for paroling elderly inmates or change what constitutes jailable parole violations, and to decriminalize sex work, to name a few.
Will he advance legislation for regulating the gig economy?
In his "first 100 days agenda" for 2019, the governor said he would pursue protections for workers in the on-demand or so-called gig economy, a fast growing sector in New York. According to Census data analyzed by freelance online platform Fiverr and Rockbridge Associates, New York City alone had more than 519,000 freelance workers in 2016 generating $23 billion in economic activity (projected to have grown to more than 559,000 by 2018), the most of any city across the country.
But Cuomo did not introduce any real legislation last year to back up his words, seemingly the only policy issue from his 100 days speech to receive that treatment. Since then, several state legislators have begun to raise the issue and introduce bills to regulate the gig economy, including protections for freelancers, particularly taking note of California's recent groundbreaking legislation to reclassify workers in the on-demand economy. Cuomo himself expressed similar sentiments, which could mean he may follow suit with new proposals of his own. New York City presented something of an initial possible model for the state a few years ago, with protections for some freelance workers, and has since added laws related to for-hire vehicle drivers in the five boroughs, including a minimum wage.
Will Cuomo revive vetoed bills?
Cuomo has signed 751 bills and vetoed 169 bills from the 2019 legislative session, while another 11 await his signature or rejection, as of Monday. Of the measures he struck down, many in recent weeks, were several that advocates and elected officials have continued to push and even included bills that the governor himself has said he supports but with modifications.
His speech on Wednesday provides him the opportunity to publicly present his revised versions of what many saw as progressive, common-sense measures approved by both Democratic legislative majorities.
Among those bills was the legalization of e-bikes and e-scooters, which the governor said he favored but refused to allow without additional safety rules, including a helmet requirement that transit advocates have opposed. He's pledged his own proposal again this year, though the details remain to be seen and it is unknown whether compromise with legislators can be found.
Cuomo has also promised to introduce a new version of the Securing Wages Earned Against Theft (SWEAT) Act, which he vetoed. The bill would have given workers the ability to place a lien on an employer's assets to ensure they are paid for their work. The governor raised technical concerns that would likely be addressed in the modified version.
While he has supported some new measures to reduce opioid addiction and overdose deaths, the governor also vetoed a bill that would have eased access to medication-assisted addiction treatment for Medicaid recipients. On the other hand, he signed a bill that did the same for those enrolled in private insurance plans, raising the ire of advocates. He also vetoed a bill that would have required insurance companies to provide expanded coverage for eating disorders.
Cuomo also vetoed legislation to impose new rules on Pharmacy Benefit Managers (PBMs), which was expected to reduce prescription drug prices, despite having called for such regulation in the past.
Citing the recent bail reform measure, Cuomo also nixed a bill that would have expanded charitable bail funds in the state, arguing that the move was redundant without first assessing the new system. "Any amendments involving charitable bail organizations that might be needed should be considered after this year's bail reforms have had an opportunity to be fully implemented and the specific needs are identified," he wrote in his veto message, according to New York Law Journal. The Journal noted that the veto was accompanied by another which struck down a bill to give public defenders easier access to their clients' criminal histories.
Through another veto, Cuomo halted plans for the redevelopment of Hudson River Park's Pier 40 into commercial office space and has instead said it should be preserved for community use. He may propose a project as a replacement; on Monday in Manhattan he said he would be introducing related legislation that would give the NYPD, which currently operates a tow pound on the pier, until the end of the year to vacate.
The governor also rejected a bill that would have mandated that state agencies, boards, and commissions gather certain demographic information on Asian-Americans, separating the data rather than lumping together communities from different countries of origin. Cuomo cited the costs the bill would impose on state agencies when he vetoed it, according to NBC News.
Will he address ethics and campaign finance reforms?
The state's campaign finance system is set to undergo an overhaul following a slate of new regulations made by a state-created commission that became law in December. The central reform the commission made is creating a public campaign finance matching program for statewide and state legislative election campaigns, a system that won't go into effect till after the next gubernatorial election in November 2022.
But other changes the commission made to party ballot qualification thresholds and petition signature requirements will be enforced this year beginning with the presidential election. To receive an automatic spot on the ballot, parties will have to obtain 2% or 130,000 votes (up from 50,000 votes), whichever is more, for their candidate in the presidential election. They will also need 45,000 ballot petition signatures for their candidate, up from 15,000.
Those new thresholds risk the status of minor parties in the state, including the Working Families, Conservative, Libertarian, Independence, and Green Parties. The WFP and Conservative Party have both filed lawsuits that could potentially see those regulations undone. Failing that, the Legislature does not seem likely to reexamine the regulations and the governor has expressed satisfaction with the final product.
What remains to be seen is if the governor will propose any other bills regarding the state's campaign finance system. Though in past rhetoric he has railed against the scourge of big money and wealthy donors in state elections, he has also largely benefited from them and has been less than strident in action about reforming the system. The campaign finance commission significantly lowered individual campaign contribution limits but they remain quite high; and it did not touch limits on donations to political party accounts, though its members have said those should be pursued by lawmakers this year, as well as limits on donations from those doing business with the state (commission counsel said the two issues were not part of its legal purview).
While the campaign finance system is changing amid some criticism of the commission's final product, the state's government ethics enforcement has also been the source of ongoing frustration for many.
The Joint Commission on Public Ethics (JCOPE) is less than a decade old and has largely failed to carry out its mandate of scrutinizing the behavior of elected officials and state employees. Its work is mired in secrecy and, to its critics, ineptitude. It has failed to catch repeated ethical and criminal violations by legislators, which are often revealed by the press or other law enforcement agencies. Some legislators, like State Senator Liz Krueger, a Manhattan Democrat, have suggested dissolving the agency and replacing it with a new, more independent ethics body.
It's unclear whether the governor will support any effort to revamp ethics enforcement in the state. Cuomo has repeatedly made a show of supporting ethics reforms but has often taken a step back when it comes time to push them across the finish line, or he has moved watered down reforms and ensured his office has a significant degree of control.
JCOPE's commissioners are appointed by the legislature and the governor, who also nominates the chair. To critics, that structure is fundamentally flawed and creates an obvious conflict for the agency's duties. This issue was particularly highlighted in recent months after reports from the Times Union on an alleged leak about a confidential vote by JCOPE to the governor and Assembly Speaker Carl Heastie.