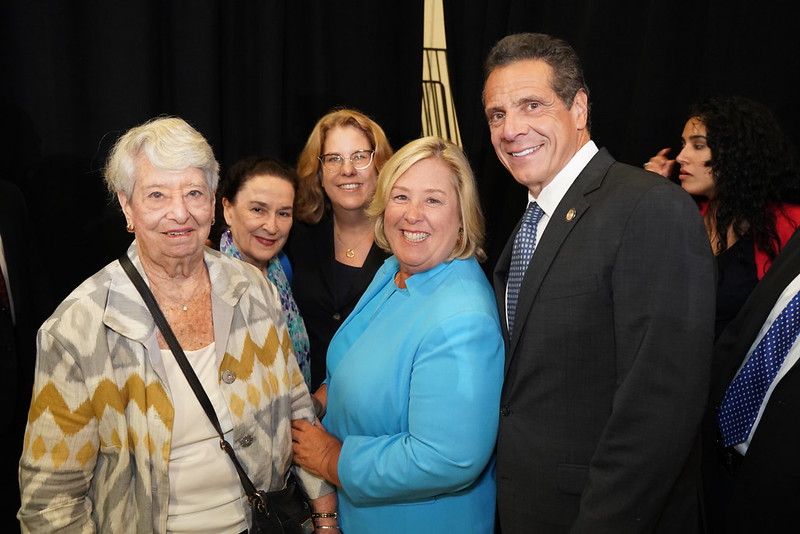 Gov. Cuomo with Assemblymember Seawright, center, & others (photo: Governor's Office)
---
Governor Andrew Cuomo is promoting a more expansive version of a New York State equal rights amendment than he did last year, tipping the balance between the discrepant Assembly and Senate bills in the direction of inclusivity, favored by the Senate.
Despite Cuomo's new support for a broader set of protections, the Assembly on Monday passed a narrower expansion for the second year in a row, renewing uncertainty about the amendment's future.
In 1938, New York adopted language to prohibit discrimination based on race, color, creed, and religion, a measure the governor now says "reflects an outdated conception of equality" and is in need of updating. In his State of the State policy book outlining his agenda for the 2020 legislative session, Cuomo calls for amending New York's constitution to include civil rights protections against not only sex-based discrimination, as some other states have done, but discrimination on the basis of a host of other categories from gender identity to national origin.
"In New York, we believe in full equality for every person—period," Cuomo said in a statement announcing the proposal. "But our federal and state constitutions don't protect against discrimination on the basis of sex, ethnicity, gender identity and other characteristics that make us so unique and our diversity so great. That ends this year."
Under the governor's proposal, the state's bill of rights would be amended to add to the list of protected categories sex, ethnicity, national origin, age, disability, sexual orientation, and gender identity. While state law in many areas addresses some of these forms of discrimination, supporters of the ERA say statutes are often context-specific and tend not to be as broadly applicable as a constitutionally protected right.
"Having a constitutional amendment will cover all of those groups, all of these protected categories, and you don't have to pass and change every law. It will apply to all the laws of the state," said Beverly Cooper Neufeld, president of the advocacy organization PowHer NY and a member of the city's Commission on Gender Equality.
This is not the first time Cuomo has proposed an ERA, and the governor is not the only lawmaker in Albany pushing for its adoption. Last year, Cuomo supported a narrower proposal that would have added sex as the only new protected category. That was the form that passed the Assembly in February 2019 and again Monday, but which was put aside in the Senate for a broader set of protections.
Cuomo's renewed proposal now more closely aligns with the equal rights amendment that passed the State Senate last June, which Neufeld says reflects a changing wind in Albany's progressive corridors. It is unclear why the Assembly did not pass an expanded version when it became evident that was the direction the Senate was moving in, or why it passed the narrower version again at the start of the 2020 legislative session.
"We've been taking a piecemeal approach to addressing equality, and even our concept of equality has changed and our concept of fairness and who should be covered," Neufeld said. Much of the changing attitudes towards civil rights protections has been reflected in statute like the New York State Human Rights Law, which she said "has step-by-step created stronger protections and looks and adds new categories."
"But really you can't go statute by statute. That process will take hundreds of years," she added.
Adopting an ERA will not be an overnight process either. Because it requires amending the state's constitution, it will need to be passed by two consecutive legislatures and then must to be approved by voters. The current session ends this year, meaning the earliest an ERA can be adopted is in late 2021. That timeline assumes the amendment passes both houses of the legislature this year and again next year, and then is ratified in a November 2021 statewide referendum.
But with multiple versions of the bill -- the narrow and the expansive -- floating in the legislature, and the recent history of dissonance between the legislative chambers, it is unclear what form conversations around the measure will take.
"It's not too soon to be talking about this. It's going to be at least a three-year campaign I would say, if not longer," Neufeld said.
Assembly Member Rebecca Seawright, a Manhattan Democrat, sponsors both versions of the ERA in her chamber. "I'm committed to an Equal Rights Amendment with language that is more inclusive. I will continue to work diligently with my colleagues in the Assembly and the Senate to pass ERA legislation in 2020," she wrote in an email this past Thursday.
Following the passage of the narrow ERA Monday, a spokesperson for Seawright told Gotham Gazette by email, "Assembly Member Seawright is committed to an Equal Rights Amendment that provides for the widest inclusion possible. Today's passage helps to build momentum as we continue to listen and work toward a successful outcome." The narrow amendment's sponsor in the Senate is Julia Salazar, a Brooklyn Democrat who often stakes out more progressive territory than other legislators.
A legislative staffer with knowledge of the bills and the legislative process told Gotham Gazette last week that it was too soon in the session to know which way the Assembly Democratic conference was leaning. Assembly Speaker Carl Heastie's office did not respond to multiple requests for comment. Likewise, Senate Majority Leader Andrea Stewart-Cousins' office did not respond to requests for comment on the ERA.
"Governor Cuomo is committed to having the most inclusive ERA in the nation and we are working closely with the legislature and coalition stakeholders to get it passed this year," said Caitlin Girouard, a spokesperson for the governor.
Both versions of the amendment are a step ahead of federal constitutional protections. Congress in 1972 passed a federal equal rights amendment that would have extended protections to women, but it was never ratified by the states. Eleven states have passed state-level ERAs that bar discrimination based on sex, but none go further in protecting LGBTQ rights or the rights of people with disabilities, according to Senator Liz Krueger, who sponsors the Senate's expansive ERA bill.
"Many New Yorkers are surprised when they discover that women or LGBTQ people, for example, are not protected by the equal rights language in our state constitution," Krueger, also a Manhattan Democrat, wrote in an email to Gotham Gazette.
While, in the final days of session last year, Cuomo urged the Senate to pass the narrower version of the bill rather than leaving Albany with no amendment at all, the governor is now resetting this year with the more aspirational call. Part of that thrust is in the face of the more limited progress nationwide. "We will pass an expanded, nation-leading Equal Rights Amendment so that no matter what happens at the federal level, all New Yorkers will be afforded the complete and unequivocal protections they deserve," Cuomo said in the statement.
"Last year we passed a real, inclusive ERA in the Senate. This year, with the Governor as a partner in the fight, there is no reason we can't have first passage of a fully inclusive ERA in both houses of the Legislature, and take our state one step closer to having a constitution that reflects and protects all New Yorkers," Krueger wrote.
"It will be meaningful to individuals but I think it will be meaningful in the statement that it makes. The governor bringing it up at this moment in time is very important," said Neufeld.
Note: This article has been updated with comment from a spokesperson for Assembly Member Seawright following the passage of an ERA bill in the Assembly Monday.