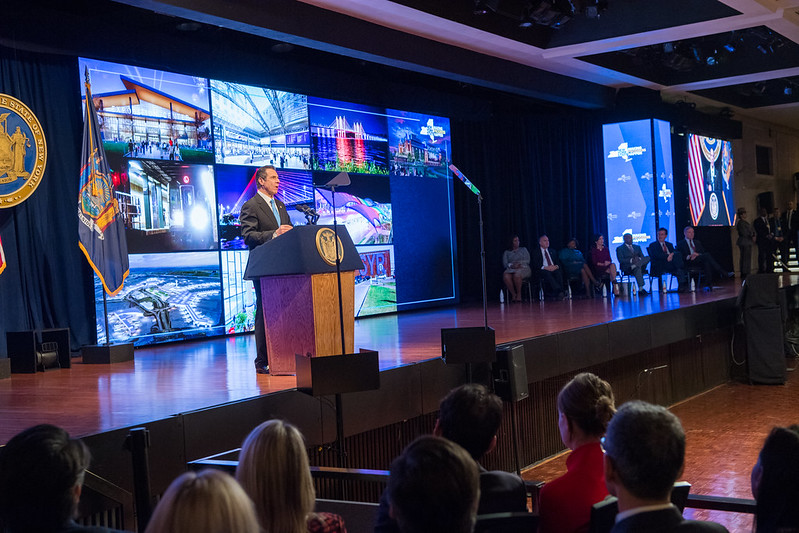 Gov. Cuomo and other state leaders (photo: Darren McGee, Governor's Office)
---
In the opening days of the 2020 state legislative session, debate continues to rage over whether to revisit major changes to the bail system made last year and key Albany policy-makers have been staking out initial positions in a reignited conversation that could lead to revising the reforms.
The three top decision-makers -- Governor Andrew Cuomo, Assembly Speaker Carl Heastie, and Senate Majority Leader Andrea Stewart-Cousins, all Democrats -- have each taken a different position on a criminal justice response to recent anti-Semitic and other hate-motivated crimes, in the process giving a glimpse of how far they may go in attempting to alter the newly reformed bail system in the coming months.
While Heastie has said it's too soon to judge the new system, which has only been fully in effect since January 1, Stewart-Cousins has said her conference is open to considering changes, and Cuomo has said he believes some adjustment is needed, while expressing support for adding hate crimes to the list of bailable offenses.
At question since the law was passed last year are which crimes are on that list, and whether judges are to be given the discretion to assess a suspect's potential dangerousness to society in a new process to determine who may be ordered jailed.
Last session, state lawmakers eliminated cash bail for all but the most serious and violent crimes. The changes were intended to bring a greater degree of fairness to the criminal legal system by removing ability to pay as a reason for pretrial incarceration in most cases, correcting an imbalance that had disproportionately imprisoned black and Hispanic suspects.
Supporters of the reforms noted not only that racism and classism are endemic to the old system and the fact that suspects are, by law, innocent until proven guilty, but also that many cases of all kinds are ultimately dismissed. Less than a week after a machete attack at a Hanukkah celebration in Monsey in which multiple people were hospitalized, Assembly Member Simcha Eichentsein, a Brooklyn Democrat who represents Orthodox Jewish communities, introduced legislation that would add hate crimes to the list of bail-eligible offenses.
While New York State law authorizes bail as a method to compel accused lawbreakers to return to court, judges have used it to remand people they believe would be a threat to public safety if released. Throughout 2019, many Republican and some Democratic officials, prosecutors, and members of law enforcement statewide sounded the alarm about the dangers of limiting judges' discretion, making it easier for people to avoid jail pre-trial, and not incentivizing court compliance via bail.
Since the law went into effect and in the wake of a spate of anti-Semitic attacks in the final weeks of last year, a number of them violent, opponents of the bail changes have renewed calls for expanding the list of bail-eligible offenses, perhaps most notably by adding hate crimes. Some have renewed calls for giving judges explicit discretion to consider public safety risks in determining whether a person can be released pre-trial.
Though he did sign off on the compromise reached with the two Democratic legislative majorities in last year's state budget deal, Cuomo has included judicial discretion for public safety in his bail reform proposals since 2016. He is now part of a group Democratic officials that also includes Mayor Bill de Blasio and moderates throughout the state, responding to recent hate crimes and other reported incidents with calls to revisit last year's bail changes. (De Blasio has backed bail reform including expanded judicial discretion since 2015.)
"Changing the system, as we started to do, is complicated and then has a number of ramifications," Cuomo said at during audience question-and-answer at a breakfast hosted by the Association for a Better New York on January 6, where he gave remarks just ahead of the start of the legislative session. "There's no doubt this is still a work in progress and there are other changes that have to be made."
"The legislature comes back...and we're going to work on it because there are consequences that we have to adjust for," he added, responding to a question connecting anti-Semitic hate crimes and bail reform, without going into specifics.
On Thursday in Albany, Stewart-Cousins said her conference was open to considering changes to the reforms, but would not respond to "fear-mongering."
"We're on day nine [of implementation]...We listen, we are interested in making the justice system just, and we are paying attention as it continues to see if there any necessary tweaks; but, again, we are not responding right now," she told reporters.
But Stewart-Cousins said, if her conference does decide tweaks are needed, especially with regard to reclassifying hate crimes, it will make them.
"Personally, I think that hate crimes sometimes strike at the core of entire communities, and so on, so I want to look at it to see if we are appropriately classifying this," she said.
A number of Senate Democrats from Long Island, some of whom represent districts recently held by Republicans, are carrying legislation that would expand the list of bail-eligible offenses and grant judicial discretion for public safety risks.
But for Heastie, who has made criminal justice reform a major focus in his years as Assembly speaker, conversations to revisit bail reform are a non-starter. He told reporters Thursday he did not have plans for his conference to reexamine the 2019 changes and urged letting the new system play out before discussing revamping it.
"It's day nine and I think we should let the law take effect," he said. "We want our communities to be safe but the conference believes in what we did."
Heastie staunchly defended the Legislature's steps to remove most cash bail without substituting judicial discretion, which he said contributes to inequities in the justice system.
"I think judges have had judicial discretion...When two people who are charged with the same crime end up with different bails that gives me pause on judicial discretion," he said. "Judicial discretion invites back in bias."
New York is the only state in the nation that does not allow judges to consider public safety when making custody decisions before trial, according to a report by the Vera Institute of Justice.
"We have no tolerance whatsoever for hate. But hate crimes have been on the rise for the past year, way before the bail bill was implemented," Heastie said.
Citing the likes of powerful media mogul Harvey Weinstein, who was able to post bail while awaiting trial on charges of on multiple counts of sexual assault, he added, "We have to get out of this idea that bail equates safety."
The governor appears adamant that changes should be explored. In an interview on NY1 Wednesday following Cuomo's State of the State speech, top aide Melissa DeRosa also warned against the dangers of fear-mongering but said, "At the same time, I think it is wholly legitimate -- and the Governor has said this -- that we look at the law. We have to make sure that public safety comes first. We look at the law, we look what it is that we enacted and ask ourselves and ask our partners in the Legislature, are there ways to improve upon that?...We are going to sit with them and have these conversations."
Attorney General Letitia James has also said she believes changes to the bail law are warranted, and that her office is studying what those should look like. In the meantime, she said during a Thursday interview on the Capitol Pressroom that judges should be given more discretion in hate crimes cases, and, generally, that "it's important we come up with an objective proposal so it does not result in racial disparities and that all individuals are treated fairly. But at the same time, at the end of the day, it's all about public safety. That should be their priority."
Many reformers, including elected officials like Public Advocate Jumaane Williams, public defenders, and decarceral activists have vigorously pushed back against the notion that changes are needed, holding various press conferences and rallies, and writing op-eds. A group of Jewish state legislators -- Assemblymembers Dan Quart, Harvey Epstein, and Linda Rosenthal, all Manhattan Democrats -- penned an op-ed in the Daily News Wednesday warning against using anti-Semitism as a reason for pulling back bail reform.
Republican leaders are seizing on the attacks and some reported cases of people re-offending while at-large awaiting trial to undo the changes completely.
"I can't think of an issue that is more germaine to the first day of this legislative session than criminal justice reform -- we are advocating for repeal," Senate Minority Leader John Flanagan of Long Island said on the Senate floor Thursday after describing the state as in "crisis."
"Every Democrat in this house voted for that legislation, and now a number of them are walking it back," Flanagan noted, in reference to the bail changes that were voted through April 1 as part of the massive budget deal.
"Let me be clear, we believe there are opportunities for reform done the right way, under the right circumstances, by listening to people who are hired and elected to protect us and the public," he said.
Newly-selected Assembly Minority Leader William Barclay, an upstate Republican, gave similar remarks in his opening floor statement of the Assembly's session. He listed a litany of recent violent or anti-Semitic crimes where the suspect was released without bail, and said to his colleagues, "This isn't fear-mongering, so don't take my word for it, I'm not trying to grind the political axe...we need to listen to the people out there. The professionals, the law enforcement officials, judges, district attorneys all have sounded the alarm."