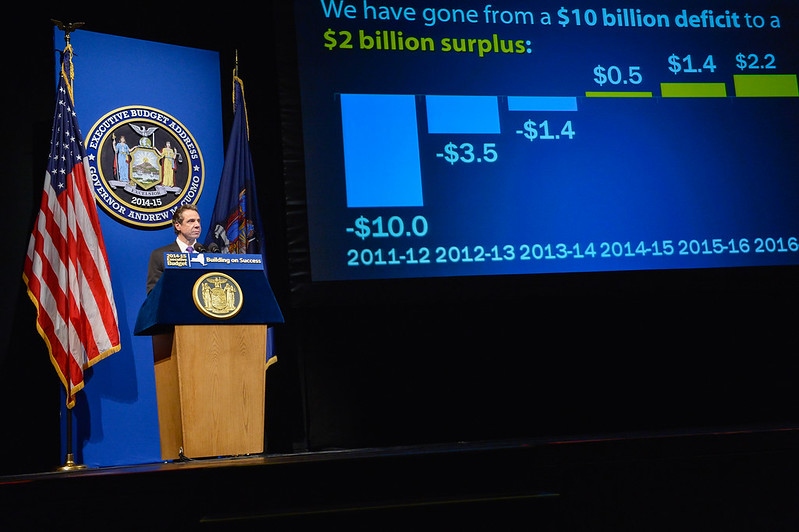 (photo: Governor's Office)
---
When Governor Andrew Cuomo took office in 2011, the state faced a $10 billion budget gap that necessitated massive cuts in spending for the next fiscal year. The state's Medicaid program was redesigned to cut $2.7 billion in spending. School aid was also cut by about $2.7 billion. There were cuts to state agency spending and redesigns that reduced another $1.5 billion. The rest was covered with new resources, revenue enhancements (though, no new taxes, the governor emphasized at the time), and one-time funding streams including debt management and reestimates of spending.
The governor received widespread praise at the time, including from leaders of both major political parties, for that budget and for leading the state through particularly challenging fiscal times.
Fast forward to 2020 and the state is yet again grappling with a huge projected gap for the coming fiscal year -- $6.1 billion -- and the governor has indicated he believes state education aid and Medicaid spending need to be revisited, and that he will not support raising taxes or creating new ones. It's the largest gap the governor has had to deal with since his first budget and, to the particular concern of fiscal watchdogs, comes amid a period of sustained economic growth rather than in the tumultuous years after a global recession like the last time around.
In other words, the state currently faces more of a spending problem than a revenue problem. And it also bodes ill that state reserves are far from robust, particularly relative to the $177 billion annual budget (of which, $102 billion is state operating funds), and that the governor continues to push spending down the line rather than dealing with it immediately.
Next week, Cuomo will present his executive budget for fiscal year 2021, which begins April 1, and he's expected to rely on some tried and true methods, some of which have been questioned as fiscal gimmickry, but he'll likely have to expand the toolkit given the size of the projected deficit.
Most of the gaps in past years have been far lower than $6.1 billion, requiring minimal maneuvering by the state. In fiscal year 2013, the gap was $3.5 billion; in FY 2014, it fell to $1.35 billion; in FY 2015, it was $1.7 billion; in FY 2016, $1.8 billion; in FY 2017, $1.78 billion; in FY 2018, however, it jumped to $3.5 billion; and in FY 2019, it hit $4.44 billion.
Cuomo Restrains Spending and Closes Budget Gaps, with Risks
After the 2011-2012 budget, the governor was successful in passing eight on-time, or nearly on-time, budgets that kept within, or close to within, his self-imposed cap of 2% annual growth in state spending. But he's used various maneuvers for which the governor has become infamous and which in part led to the budget problem the state must now contend with.
Year after year, the state has managed gaps through, among other measures, cutting hundreds of millions in projected costs of agency operations and reduced spending on aid to localities (including cuts to education, social services and housing, public health and mental hygiene services). That approach would have likely worked again for the 2021 fiscal year, for which the projected gap was expected to be about $3.9 billion when the current year's budget was enacted.
But, in the mid-year financial update published by the state Division of Budget in November, that number was modified to $6.1 billion, taking into account an additional $3 billion in increased Medicaid costs, driven by several factors, and setting off a flurry of concern and finger-pointing about the state's fiscal picture. The out-year budget gaps are projected to be even larger, given current trends, with a $9 billion gap in 2023 if nothing significant changes.
The state has taken at least one step to rein in the Medicaid cost uptick, cutting payments by 1% starting earlier this month – affecting hospitals, doctors, nursing homes, home care providers, and others – while also looking to find $1.8 billion in savings in the program.
Cuomo's budget director, Robert Mujica, has also stressed that the budget gap is nothing to worry about. "There is no doubt it will be a challenge, but it is a challenge that is manageable. The Governor has closed gaps much larger than this," he wrote in a Medium post in December.
The governor contended in his January 8 State of the State speech that the overall increase came from the state covering the costs of Medicaid that is capped for localities, which to some sounded as if he may call on municipalities to pay more. In a gaggle with reporters on Monday, however, he sought to provide reassurances that such a proposal was not forthcoming. "I've not yet proposed how we believe we should resolve it," he said of the budget gap. He added, "Nobody should worry. Life is good. Be optimistic."
That may be a stretch for budget monitors, who say that the budget gap is manageable but also preventable. They warn that the governor's budget tactics, though restrained, may be unsustainable and prove disastrous if a recession hits and urge him to look elsewhere for long-term savings and budget cuts, particularly areas such as economic development spending where the governor has been reluctant to pull back.
Closing the Gap: Dos and Don'ts and Surprises
"It's a gap that's closeable. Revenues are coming in at or above projections," said Dave Friedfel, director of state studies at nonprofit watchdog Citizens Budget Commission, in a phone interview. But he emphasized that the gap was one that the state should have expected and prepared for, particularly owing to deferred Medicaid payments.
The 2019 fiscal year pushed $1.7 billion in Medicaid payments to the 2020 fiscal year, and the current budget pushed another $2.2 billion in Medicaid payments to next fiscal year. The governor's mid-year budget update says that the Department of Budget plans to make such deferred payments "permanent," setting up what some watchdogs call a dangerous practice.
"Deferring that payment was really damaging because it pushed the costs from last year into this year, and it also undermined this year's financial plan because they didn't account for that," Friedfel said. Though in the short term, it may not affect the state's fiscal health, it would complicate the state's choices in a recession, where, according to CBC estimates, the state would face as much as a $35 billion shortfall over three years.
"It's never a good fiscal practice, but it's even worse when the revenues are coming in and the economy is doing well," Friedfel said. "This was completely preventable and it wasn't the result of any type of an outside shock. The federal government didn't suddenly change reimbursement rates. There was no surge in Medicaid enrollment...So this was definitely a preventable budget gap." (New York does have a significant population enrolled in Medicaid, about 6.27 million individuals, and the Cuomo-driven minimum wage increase to $15 has significantly increased costs for health care providers).
Friedfel has several prescriptions for state officials: cut economic development spending and find long-term savings in retiree health insurance benefits. He also said the state could save $800 million with a more focused approach to Foundation Aid, the supplemental funding given to schools to provide a "sound basic education" under a State Supreme Court ruling. He cautioned against any effort to force localities to absorb Medicaid costs.
"It really is a progressive thing that the state did, that Governor Cuomo did by capping out the local share [of Medicaid]," he said. "If you reverse that, you're saying to localities because you have a lot of poor people, people on Medicaid, that you therefore have to contribute more to the state which is the opposite of progressive. That would be regressive."
E.J. McMahon, founder and research director of the Empire Center for Public Policy, a nonprofit fiscal watchdog, is hoping against but expecting that the governor will use "cash flow timing maneuvers" again to balance the budget. "He's rescheduling a hunk of the payments to [Medicaid] providers and basically making his cash flow issue their cash flow issue," he said in a phone interview. "It's not the most prudent approach because it is basically meant to hide the problem rather than deal with it."
Based on past experience, McMahon said the governor may also tap reserve funds on a one-shot basis. "He can't possibly actually save $2 billion in what's left of the fiscal year so there will be a lot of gimmickry related to timing and reserve funds that will, I think, largely paper over the problem," he said.
The most striking part of the problem, he said, echoing Friedfel, is that the state has not seen in more than 40 years a budget deficit of this size at a time when the economy is expanding and revenues are on target. "Usually our problems occur when there's an economic downturn and our revenues fall short. This is purely, totally due to excess spending in a category [Cuomo] manages and has more control over than any previous governor has had," he said.
McMahon noted in a blog post on Wednesday, based on state tax receipts through December, there's an additional $1.3 billion above revenue projections at the state's disposal. But that does not solve what is an over-spending problem, he said.
He did give the governor some credit for his fiscal moderation in earlier years, however.
"If you adjust for the bookkeeping tricks that he's used to make it appear like 2% [annual growth rate]...still adjusting for inflation, his nine years as governor have been on the whole the most restrained nine years of any governor in modern history," McMahon said.
"Cuomo showed considerable fiscal discipline during his first years in office, especially in his first budget in 2011, and he still has considerable power to shape a budget that basically reboots his first-term approach and lowers the spending trend going forward," McMahon also said. He noted that the Legislature has little power to add spending other than separate line items which the governor could veto. To override those vetoes, the Legislature would need votes from the entire Senate Republican conference and from eight upstate Assembly Democrats, he said.
"Now, as recently as Pataki's last term, gubernatorial vetoes were repeatedly overridden by a Republican-controlled Senate in partnership with the Assembly's Democratic super-majority," he wrote. "But that could only happen now if Cuomo goes (further) out of his way to alienate Senate [Republicans], assuming he also can't retain the loyalty of suburban Senate Dems. In short, it's unlikely."
Both McMahon and Friedfel pointed to the pitiful amount of reserve funding the state has put aside, barely $2 billion relative to the more than $102 billion in state operating funds budgeted for this year. Cuomo has, McMahon pointed out, relied on $12 billion in monetary settlements from financial institutions following the recession as a stand in for reserves, of which about $6 to 8 billion has already gone out the door.
"His whole attitude with the now $12 billion windfall settlement is a classic have your cake and eat it too," he said. "The actual statutory reserves are puny by national standards...but he also gets the cite that money as part of his reserves...I'm not gonna be too speculative [but] he'll tap some of it and help solve his budget problem for next year in some fashion," McMahon said.
"Without wanting it to happen, I anticipate gimmicks," he said, "but we'll see."