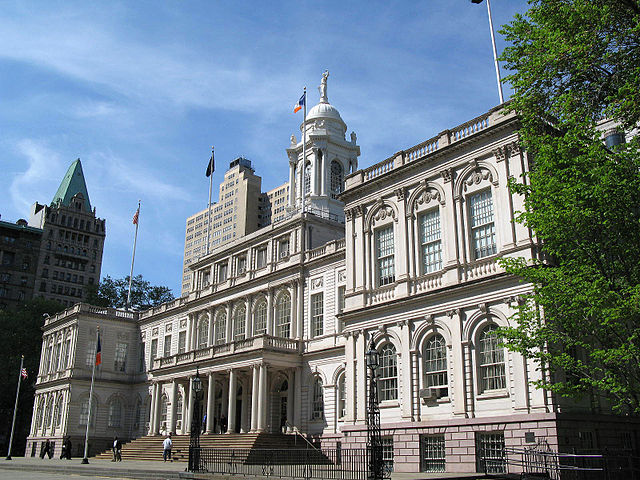 New York City Hall
---
What to watch for this week in New York politics:
As the week begins, the New York political world is reacting to the announcement by Bronx Borough President Ruben Diaz, Jr. that he will not be running for Mayor in 2021. First reported by the New York Times on Sunday, Diaz Jr. said he didn't feel that his heart was really in the early stages of the race and that he wants to spend more time with his family.
"I plan to retire from elected office at the end of 2021 and become a private citizen," Diaz, Jr. said in a statement Gotham Gazette received on Sunday. He later added: "I have decided to make this decision public well in advance of the 2021 election because I want to be fair to the people of this city. This decision is final, and no length of additional time will change that. Many New Yorkers have committed to support my future in numerous ways, and making this announcement now gives them enough time to make different plans. Additionally, once my campaign has finalized meeting its financial obligations, the remaining funds will be returned to all who generously stepped up to help."
Diaz, Jr.'s departure from the race about a year-and-a-half from the all-important June 2021 Democratic primary shakes up the early field and may give more reason for candidates to jump into the race. It's unclear where those likely to support Diaz, Jr., including many Bronxites and many Hispanic New Yorkers, may go instead.
Comptroller Scott Stringer, City Council Speaker Corey Johnson, and Brooklyn Borough President Eric Adams remain the major likely candidates in the race, while nonprofit executive Dianne Morales and former city veterans affairs commissioner Loree Sutton have both declared their candidacies and begun raising funds. Former City Council Speaker Christine Quinn and former Deputy Mayor Alicia Glen remain among other high-profile potential candidates who have said they aren't ruling out a run.
The fallout of Diaz, Jr.'s announcement will surely be dissected throughout the week and beyond.
Meanwhile, as the week begins Governor Andrew Cuomo is on his way to Poland on Sunday, where on Monday he will attend "the official commemoration of the 75th anniversary of the liberation of Nazi concentration and extermination camp Auschwitz-Birkenau." Cuomo is traveling with Empire State Development President & CEO Eric Gertler and Secretary to the Governor Melissa DeRosa. "Amid a rash of hate crimes in New York and across the country, including the brutal stabbing that took place during a Hannukah celebration in Monsey, this trip will reinforce the State's support for the Jewish community and raise cultural awareness about the horrors that the Jewish community have endured," Cuomo's office wrote in announcing the governor's trip.
The State Legislature is in session on Monday, Tuesday, and Wednesday this week in Albany, and kicks off its several weeks of joint budget hearings, evaluating Governor Cuomo's executive budget plan and considering other priorities from around the state (Mayor de Blasio's 2020 state budget testimony will be on February 10).
And we're watching as local leaders prepare for the Coronavirus that has been spreading in and from China. Mayor de Blasio discussed the city's preparedness on Friday. On Sunday, Governor Cuomo announced that while there have been "no confirmed cases in New York State," the U.S. Centers for Disease Control and Prevention has confirmed three cases in the United States. "New York State Department of Health has sent seven total cases to CDC for testing," Cuomo's office said in a press statement. "Three of those cases have been proven negative, while four results are still pending. Those four individuals remain in isolation as their cases are tested at CDC."
It's a busy week at the City Council and much more -- see below for the day-by-day rundown.
***Do you have events or topics for us to include in an upcoming Week Ahead in New York Politics?
e-mail Gotham Gazette editor Ben Max: This email address is being protected from spambots. You need JavaScript enabled to view it.***
The run of the week in detail:
Monday, January 27
"On Monday, Mayor de Blasio will deliver remarks at the Museum of Jewish Heritage's Commemoration of the 75th Anniversary of the Liberation of Auschwitz...In the evening, the Mayor will appear live on NY1's Inside City Hall with Errol Louis. Later, the Mayor will deliver remarks at the 2020 HOPE Survey kick off."
Governor Cuomo is in Poland on Monday, leading a New York delegation that is participating in "the official commemoration of the 75th anniversary of the liberation of Nazi concentration and extermination camp Auschwitz-Birkenau."
The State Legislature is in session on Monday in Albany. The Legislature will on Monday begin its weeks of joint budget hearings that follow the release of the governor's executive budget plan. At 11 a.m. it will hold its budget hearing on environmental conservation, with testimony scheduled "from New York State Department of Environmental Conservation Commissioner Basil Seggos; New York State Office of Parks, Recreation and Historic Preservation Commissioner Erik Kulleseid; and New York State Department of Agriculture and Markets Commissioner Richard A. Ball; as well as a number of others from inside and outside government.
At 10:30 a.m. Monday in Albany, "State Senator Monica R. Martinez announces her unwavering commitment to amending the newly enacted bail reform law. Last week, Senator Martinez introduced bill S.7156 which seeks to make imperative changes to the new law that took effect on January 1, 2020." Martinez will be joined by "members of law enforcement unions and victim advocacy groups" according to her office.
On Monday, the city's Fair Fares program that offers half-priced Metrocards to low-income New Yorkers will be fully phased-in, opening to all eligible applicants.
At the City Council Monday:
At 10 a.m., the Committee on Housing and Buildings will conduct an oversight hearing on Façade Inspections and updates to the Energy Conservation Code.
At 1 p.m., the Committee on Parks and Recreation will conduct an oversight hearing on the Parks Department Concessions Process.
On Monday, Manhattan Borough President Gale Brewer will be among those attending the United Nations Holocaust Remembrance program.
On Monday at 11 a.m. outside "Jeffrey Epstein's mansion," "the US Attorney for the Southern District of New York, Geoffrey Berman, will stand with survivors of childhood sexual abuse and Safe Horizon -- the largest victims services provider in the country -- to mark the one year anniversary of the Child Victims Act. The CVA includes a one year window that allows survivors of any age to file civil claims against their abusers or liable institutions, like the estate of the late Jeffrey Epstein, no matter how long ago the abuse happened. The window closes on August 13th, 2020. Since the one year window opened on August 14th, 2019 there have been over 1,400 claims filed across the state. There is currently a bill in the state legislature to extend the lookback window for another year to allow more victims more time to come forward."
At 12:30 p.m. Monday at Grand Central Terminal, "Metropolitan Transportation Authority (MTA) leaders will join with officials from the New York Transgender Advocacy Group and the Anti-Defamation League to make an announcement to combat hate crimes in our public transportation system." Participants will include MTA Chairman and CEO Patrick J. Foye; Metro-North Railroad President Catherine Rinaldi; New York City Transit Chief Customer Officer Sarah Meyer; Kiara St. James, Co-Founder & Executive Director, NY Transgender Advocacy Group; and Evan Bernstein, Vice President, Northeast Division, Anti-Defamation League.
At 6 p.m. Monday in Brooklyn, Green New Deal advisor Robert Hockett will lead a panel discussion in partnership with City Council Member Antonio Reynoso and the Brooklyn Solid Waste Advisory Board on solving the climate crisis locally. Guests can "learn about efforts that are being taken to fight climate change on a federal, state, and citywide level and how you can support these efforts in your own homes and communities." Speakers will include Hockett; Reynoso; Bridget Anderson, Deputy Commissioner for Recycling and Sustainability at the city's Department of Sanitation; Tok Michelle O. Oyewole, Ph.D., of the NYC Environmental Justice Alliance; and Kara Allen, Senior Policy Advisor at the New York State Energy Research and Development Authority (NYSERDA).
City & State NY will host its 50 Over Fifty awards event Monday evening, in conjunction with AARP. City Council Speaker Corey Johnson, Brooklyn Borough President Eric Adams, former Council Speaker Christine Quinn, and former Governor David Paterson will be among those delivering remarks.
At 8 p.m. Monday, the New Vision Democrats, Lesbian & Gay Democratic Club of Queens, and the JFK Democratic Club will sponsor a debate between candidates for Queens Borough President at the Jewish Center of Jackson Heights. Candidates include Costa Constantinides, Elizabeth Crowley, Anthony Miranda, Donovan Richards, and Jimmy Van Bramer.
From 10 p.m. Monday night to 4 a.m. Tuesday morning, the Department of Homeless Services "is asking New Yorkers to volunteer for its annual Homeless Outreach Population Estimate (HOPE) to assist the Agency and community partners in estimating the number of unsheltered individuals on the streets, in parks, subways, and other public spaces across the city." Those interested in volunteering should visit nyc.gov/HOPE to register.
Tuesday, January 28
The State Legislature is in session on Tuesday in Albany. There will be a joint legislative budget hearing on transportation beginning at 9:30 a.m.
At 10 a.m. Tuesday in Albany, the Legislative Commission for Rural Resources will hold a hearing to "examine the effectiveness of current flooding emergency and mitigation efforts, and to discuss the need for future assistance due to the increase in extreme weather events."
At 10:30 a.m. Tuesday in Albany, the Joint Commission on Public Ethics will hold its monthly meeting.
At the City Council Tuesday:
At 10 a.m., the Committee on Health will meet to consider a bill sponsored by committee Chair Mark Levine on restricting the sale of senna and saffron-based products to individuals 18 years of age or older.
The Committees on Civil Service and Labor and on Governmental Operations will jointly meet to consider two bills sponsored by Council Member Daniel Dromm dealing with nuclear weapons.
At 1 p.m., the Committee on Fire and Emergency Management will meet to consider two bills introduced by Council Member I. Daneek Miller, including one that would require the FDNY to report annually the number of EMS personnel who resign in a year.
At 8:30 a.m. Tuesday, "The Citizens Budget Commission (CBC) will welcome Chair and CEO of the New York City Housing Authority (NYCHA) Gregory Russ at its January Trustee Breakfast...At the breakfast, Gregory Russ will discuss solutions to address NYCHA's capital needs, strategies to transform operations, and working with the federal monitor."
At 10 a.m. Tuesday, the Board of Standards and Appeals will hold its monthly meeting.
At 6:30 p.m. Tuesday, the Brennan Center for Justice at New York University Law School will host Stop the Bleeding: Bold Plans to Prevent Violence. This panel will feature Harvard Kennedy School senior research fellow and adjunct professor Thomas Abt, corporate counsel of the City of New York James E. Johnson, Suffolk County deputy police commissioner Risco Mention-Lewis, and senior counsel at the Brennan Center Taryn A. Merkl. The panelists will discuss the misplacement of drugs, gangs, and guns on urban violence and will propose alternative methods of urban policing.
Wednesday, January 29
The State Legislature is in session Wednesday in Albany. There will be a joint legislative budget hearing on health at 9:30 a.m.
At the City Council Wednesday:
At 10 a.m., the Committee on Transportation will conduct an oversight hearing on street and vehicle safety.
At 10 a.m., the Committee on Health will hear a bill sponsored by Council Member Ben Kallos that will "prohibit city agencies from applying to any property owned or leased by the city any chemically based pesticide."
At 10 a.m., the task force on Minority and Women-Owned Business Enterprises (MWBEs) and the Committee on Contracts will meet jointly to discuss "building on successes, overcoming challenges, and expanding opportunities" for MWBEs in New York City.
At 1 p.m., the Committee on Governmental Operations and the Committee on Sanitation and Solid Waste Management will conduct a joint hearing on the maintenance of the NYC Unified Fleet.
At 1 p.m, the Committee on Justice System will conduct an oversight hearing on the technology gap between public defenders and district attorneys.
At 9:30 a.m. Wednesday, the CUNY Graduate School of Public Health and Health Policy will host an Urban Food Policy Forum titled "Muckraking Investigative, Impact and Local Journalism: New Directions for Media Reporting on Food," to explore the role of journalism in shaping food policy in New York and nationally and to critically analyze current trends in food journalism.
On Wednesday at 10 a.m. "New York City Comptroller Scott M. Stringer will deliver a major speech on housing across the five boroughs," at the YM & YWHA of Washington Heights & Inwood.
At 10 a.m. Wednesday, Acting Queens Borough President Sharon Lee "will hold a public hearing on the Mayor's Fiscal Year 2021 Preliminary Expense and Capital Budget" at Queens Borough Hall in order to "obtain the views and recommendations of Community Boards, community stakeholders and the residents of Queens regarding the proposals contained in the Mayor's FY21 Preliminary Budget. This input will be used to develop the Queens Borough Board's budget priorities for FY21."
At 5 p.m. Wednesday on WBAI radio, 99.5FM and wbai.org, this week's Max & Murphy program will air and focus on the New York City economy.
At 6 p.m. Wednesday, the city's Panel for Educational Policy will meet at Murry Bergtraum High School in Manhattan.
At 6 p.m. Wednesday, Brooklyn District Attorney Eric Gonzalez will host "an interfaith meeting for faith-based leaders and community members on how to prevent and respond to hate crimes against places of worship," at the Brooklyn Family Justice Center in Brooklyn Heights.
Thursday, January 30
Joint state legislative budget hearings continue in Albany on Thursday with human services at 10 a.m.
At the City Council Thursday:
At 10 a.m., the Committee on Resiliency and Waterfronts and the Subcommittee on Capital Budget will meet jointly to provide an "update on the expenditure and reimbursement of Superstorm Sandy federal funding."
At 10 a.m., the Subcommittee on Zoning and Franchises will meet.
At 10 am., the Committee on Civil Service and Employment and the Committee on Higher Education will conduct a joint oversight hearing on "adjunct faculty employment at the City University of New York."
At 10 a.m., the Subcommittee on Landmarks, Public Sittings, and Dispositions will meet.
At 9 a.m. Thursday, City & State NY will hold its New York in Transit Summit, which "brings together experts across sectors to assess the current state of New York's transportation systems, break down recent legislative actions, and look towards the future of all things coming and going in New York." Speakers include Department of Transportation Commissioner Polly Trottenberg, City Council Members Ydanis Rodriguez and Rafael Espinal Jr., Assemblymember Nily Rozic, State Senator Leroy Comrie, and others.
At 5 p.m. Thursday at Bayard Rustin Educational Complex in Manhattan, Teens Take Charge and the city Department of Education are hosting "a Student Forum on advancing integration in NYC high schools, featuring student testimony and town-hall-style Q&A with DOE officials. The DOE will be represented by Deputy Chancellor Josh Wallack, among others. Student leaders from Teens Take Charge will moderate and participate in the discussion."
At 6 p.m. Thursday, the Office of the Manhattan Borough President, the Schomburg Center for Research in Black Culture, the InterFaith Center of New York, and eMgage will jointly host "Census Townhall: Harlem's Diverse Faith Communities," aimed at educating the diverse faith communities in Harlem about the importance of filling out the Census and dispelling various Census myths. Speakers include author Mark Bittman; Joe Fassler, of The New Food Economy; and Kysha Harris of SCHOP! and the Amsterdam News. The panel will be moderated by Nicholas Freudenberg, professor of Public Health at the CUNY Graduate School of Public Health and Health Policy.
At 6:30 p.m. Thursday, state Senators Alessandria Biaggi, Gustavo Rivera, Jose Serrano, and Luis Selpulveda will host the second annual Bronx Senate Delegation Budget Forum, at Lehman College.
Friday, Jan 30, and the weekend
Mayor de Blasio may make his weekly appearance on WNYC's The Brian Lehrer Show at 10 a.m. Friday.
At 9 a.m. Saturday February 1, the New York Women's Foundation will host the Young Women Run New York Conference at the John Jay College of Criminal Justice. The conference will allow young women to "connect to elected leaders, become trained on strategies to mobilize for 2020, and build relationships with politically ambitious young women." Guests include Samantha Perlman, Councilor at Large, Marlborough City Council; Amanda Septimo, candidate for New York State Assembly; Tricia Shimamura, candidate for City Council; and Jessica Weaver, Newington Board of Education. Former senior advisor to Barack Obama Valerie B. Jarrett will serve as the keynote speaker.
At 9:30 a.m. Saturday, Hunter College, City & State NY, and One Day University will host Power & Politics, a conference on political power.
***
Have events or topics for us to include in an upcoming Week Ahead in New York Politics? E-mail Gotham Gazette executive editor Ben Max any time: This email address is being protected from spambots. You need JavaScript enabled to view it. (please use "For Week Ahead" as email subject).
***
by Ben Max and Claire Del Sorbo
@GothamGazette