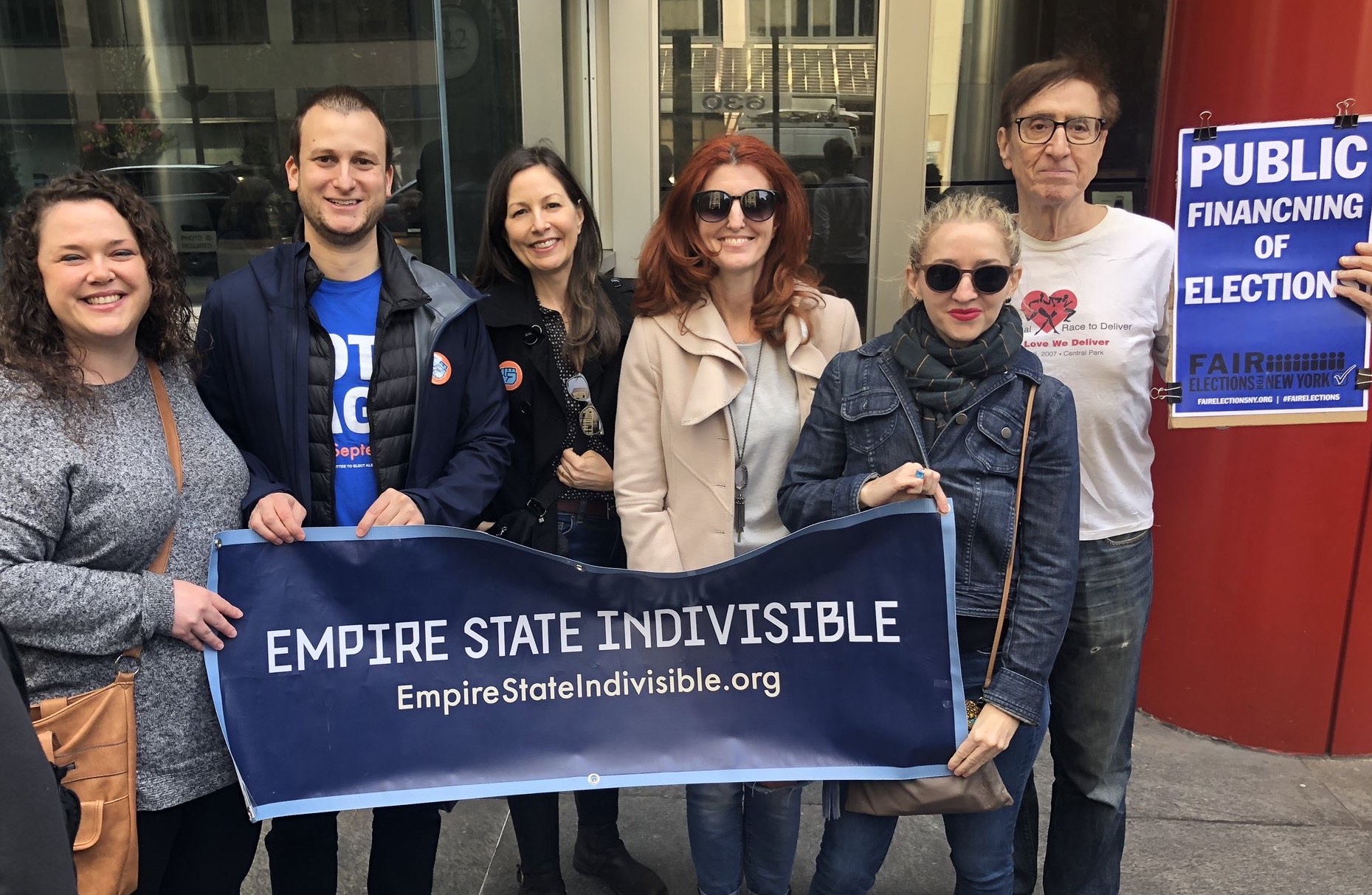 Empire State Indivisible activists
---
The 2018 elections saw a sweeping victory for Democrats, as they recaptured the House of Representatives, in part thanks to victories in New York, where the party also took full control of the state Legislature for the first time in nearly a decade. The state election saw several moderate Democrats, who had comfortably worked with Republicans for years, swept out of power and replaced with a new cohort of progressives buttressed with grassroot activist support, while several suburban swing districts went from red to blue.
This year, with all U.S. House and state legislative seats on the ballot, along with the presidential race, grassroots activists are seeking another round of wins to keep progressive legislators in power or move Democratic seats left, while also flipping Republican-held seats and electing a Democratic president.
Empire State Indivisible, part of a vast network created in the aftermath of Donald Trump's ascendancy to the White House, contributed significantly to those 2018 wins where New York congressional seats flipped and the State Senate went Democratic, and by a wide margin. Activists now want to replicate those results, endorsing young Democratic candidates seeking to challenge incumbent congressional representatives in the upcoming primaries, while ensuring that certain incumbents who face challenges themselves are able to survive.
Announcing its first wave of 2020 endorsements, Empire State Indivisible is backing three Democratic candidates in the June 23 primary – Manhattan Assemblymember Yuh-line Niou, who was first elected in 2018 and faces a well-funded primary challenger; Adem Bunkedekko, who is running against Democratic Rep. Yvette Clarke in Brooklyn's 9th congressional district for a second time after a narrow 2018 defeat; and Melanie D'Arrigo, who is challenging Democratic Rep. Tom Suozzi in Long Island's 3rd congressional district.
"The case we're making in this announcement is around the need to not just elect Democrats, but elect better Democrats," said Ricky Silver, co-lead organizer of Empire State Indivisible, in a phone interview, echoing much of the motivation behind 2018 efforts the group was involved with regarding the New York State Senate.
Empire State Indivisible was part of the True Blue NY coalition of organizations that rallied around progressive Democratic candidates who in 2018 successfully ousted members of the former Independent Democratic Conference (IDC), a rogue faction of state senators who shared power with Republicans and helped them hold the chamber. Though the eight-member IDC was dissolved in the months before the primary, the resentment they had engendered among activists and voters carried through to the election. Six of its members lost their seats and, with additional victories in Brooklyn and outside the five boroughs, Democrats regained control of the chamber. But the progressive movement was not limited to the state Legislature alone, of course. True Blue NY also endorsed Alexandria Ocasio-Cortez, who defeated the Democratic heavyweight Rep. Joe Crowley, and has since risen to national prominence. Meanwhile, other Indivisible chapters helped swing a number of state Senate and House seats in other parts of the state.
"I think the IDC was one of the most transparent ways an elected Democrat can support Republicans, in the fact that they literally caucused with the Republicans. But that certainly isn't the only way," Silver said, in a general critique of longtime elected officials who, in their quest for power, no longer seem to represent their constituents. "Democrats or elected officials in general focus on power dynamics and focus on the consolidation of power over the actual progressive causes that they run on."
Silver said Niou, Bunkedekko, and D'Arrigo are all progressive organizers who have shown they stand up for their communities. Empire State Indivisible plans to bolster each of the candidates' campaigns, sending volunteers to gather ballot petition signatures, canvass, and for get-out-the-vote efforts.
For Empire State Indivisible, Niou has been a crucial partner in advocating for campaign finance reform, enhanced tenant protections, and greater transparency in the workings of the state Legislature. Some of those efforts were especially fruitful given the Assembly's more progressive voices and the new Senate majority.
"New York leads the nation in income inequality, reminding us that we need outspoken advocates in Albany who are ready to fight for a government that works for all of us and not just some of us," said Kellie Leeson, co-lead organizer of Empire State Indivisible, in a statement. "Assemblymember Yuh-Line Niou understands the issues that matter and has proven during her short time in Albany that she is a fierce ally and is ready to stand up to support tenants, improve our schools and protect the most marginalized among us."
Niou welcomed Empire State Indivisible's support. "I'm proud to have them on my side as I keep building a people-powered movement in Lower Manhattan," she said in a statement.
Bunkedekko and D'Arrigo face a different set of challenges.
Bunkedekko is making a second attempt at unseating Rep. Clarke, a 14-year incumbent, after coming close in the 2018 primary – Clarke got 52% of the vote to Bunkedekko's 48%. Empire State Indivisible criticized Clarke for being far too "passive" in office, praising Bunkedekko as a good alternative.
"For us, it's all about getting out into our communities and doing the work to engage with people one-on-one, and that kind of commitment is what we look for in candidates," said Shannon Stagman, co-lead Organizer of Empire State Indivisible. "Adem focuses on the people of his district - they're his priority. Politics can often feel removed from everyday life, but Adem is out there connecting with his community members every day. He's ready to take their flights to Washington."
D'Arrigo, meanwhile, faces Rep. Suozzi, who has only held his Long Island seat since 2017. Empire State Indivisible criticized Suozzi's decision to join the so-called Problem Solvers Caucus, a bipartisan group of representatives that, according to ESI, resembles the IDC.
"Largely backed by corporate interests and dark-money groups like No Labels, the Problem Solvers Caucus has continually acted as a roadblock for progressive policy and a limiting force on the House's ability to hold the President accountable," Empire State Indivisible's announcement reads.
In a statement accompanying the announcement, D'Arrigo echoed that critique. "Our campaign is about restoring Democratic values to a safe blue seat occupied by a corporate politician who caves to the GOP and ignores our district's priorities," she said.
Silver framed the fight in stark terms. "The Democratic Party is going through a crisis in some ways where simply standing for progressive values isn't sufficient in the age of Trump," he said. "Voting records and co-sponsorships of bills, for example, used to be the way that elected democrats across the state...validate their progressive chops and we believe that the time calls for something greater than that....When we look around at New York's elected leadership at all levels, we still see a lot of bluster in terms of the things that electeds say they support but very little action. And so we're looking to continue our efforts to elect Democrats that are not just there to speak, but they're there to fight."