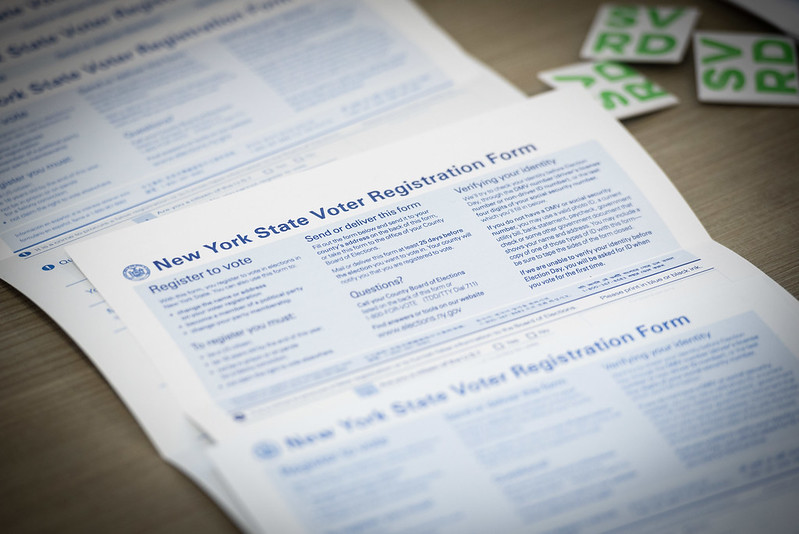 (photo: Michael Appleton/Mayoral Photography Office)
---
New York State voters who wish to cast their ballots in the upcoming April presidential primary and combined June congressional and state primary elections have until February 14 to enroll in the party of their choice.
New York holds closed primaries, where only voters registered with a party affiliation can vote for their party's nominee to the general election. This system is designed to prevent so-called "party raiding," where members of one party vote in another party's primary elections to skew its results. But that also means that unaffiliated, sometimes called independent, voters without a party membership cannot vote in the primaries.
Many New Yorkers found that out the hard way in April 2016 when party-unaffiliated voters seeking to cast a ballot for Vermont Senator Bernie Sanders' presidential campaign complained of being turned away from the polls on primary day.
There were as many as 2.8 million independent registered voters in the state as of November 1, 2019, according to the latest State Board of Elections data; there were 6.5 million Democrats and 2.83 million Republicans statewide at the time as well.
Up until recently, New York also had one of the longest deadlines for changing party affiliation before being eligible to participate in the next party primary. Previously, registered voters without a party affiliation (or in a party they wanted to leave for another) who wanted to vote in the April 28, 2020 presidential primary would have had to file an application to change their enrollment by October 11, 2019. If they missed that deadline, their enrollment change would not have gone into effect till after the November 2020 general election, effectively shutting them out of the primary. But that was shifted to the February deadline, much to advocates' approval.
Last year, the state Legislature under full Democratic control for the first time in a decade, took steps to correct the party-change deadline problem. A bill, signed by Governor Andrew Cuomo in September, changed the enrollment deadline to February 14. Any enrollment changes and new enrollments filed before and on that day will take effect immediately, allowing people to vote in the April 28 presidential and June 23 congressional and state primaries.
This could allow many more New Yorkers a say in the competitive Democratic presidential primary, where the state's April vote may or may not be important to crowning a victor in the crowded field. New York doesn't vote until after many other states. But the changed deadline also gives more time for voters seeking to participate in what will be a long list of competitive Democratic or Republican legislative primaries come June.
"While the federal administration continues to look for new ways to disenfranchise voters across the country, in New York we are making monumental changes to break down more barriers to the ballot box and encourage more people to exercise this fundamental right," Cuomo said in a statement when he signed the bill. "This measure will make it easier for New Yorkers to have their voices heard in presidential, congressional and state primaries, which builds upon the many reforms we've made to strengthen New York's election system and increase voter access once and for all."
Subsequent party enrollment changes, filed between February 15 and June 30, will take effect on June 30, roughly a week after the congressional and state primary election.
New York voters can find relevant deadlines, forms, and processes at the State Board of Elections website registration page, and can check their current registration status, including party enrollment, via the BOE here.
Eligible New York voters who are not registered at all have until April 3 to register in order to participate in the April 28 presidential primary, and until May 29 to register to participate in the June 23 primaries.