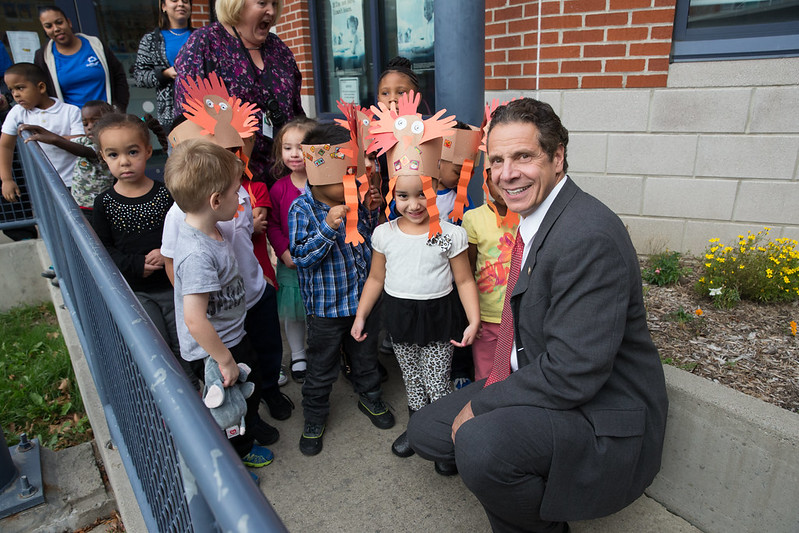 Gov. Cuomo (photo: Governor's Office)
---
In his 2020 State of the State address, delivered January 8 in Albany, Governor Andrew Cuomo mentioned expanding the state's child care tax credit as one of his policy priorities for the year, something he reiterated on January 21 when he outlined his budget proposal, which had to take into account the cost.
But that expansion of an existing policy is only one part of what is supposed to become a signature Cuomo initiative: an expansive child care agenda to benefit families across New York. A panel convened by Cuomo a little more than a year ago is working throughout this year to deliver proposals to the governor to act on in 2021, which will be the Democrat's eleventh year in office.
After announcing that he was going to establish a task force in January 2018 as part of his Women's Agenda that year, Cuomo in December 2018 launched the Child Care Availability Task Force, co-chaired by Lieutenant Governor Kathy Hochul and two relevant agency commissioners, and including the governor's top aide, Melissa DeRosa. It is, according to the announcement, a team of "experts focused on developing innovative solutions that will improve access to quality, affordable child care in New York."
The members include child care providers, advocates, representatives of the business community and relevant labor unions, as well as from state and local governments. Along with Hochul, the co-chairs are Sheila Poole, commissioner at the Office of Children and Family Services, and Roberta Reardon, commissioner at the Department of Labor.
According to the announcement, the task force will be examining "access to affordable child care, the availability of child care for parents with non-traditional work hours, statutory and regulatory changes that could promote or enhance access to child care, business incentives to increase child care access, and the impact on tax credits and deductions relating to child care."
Since its launch, the child care task force has been quiet publicly, but according to the initial announcement, final recommendations are due to the governor by the end of this year and Hochul told Gotham Gazette that the panel is headed toward meeting that deadline. It has been meeting regularly since its inception to discuss different potential models to present to the governor at the end of 2020, she said.
"It's not just a family's problem, but this is an economic problem for the state of New York," the lieutenant governor told Gotham Gazette during a recent interview at her Manhattan office. A Democrat now in her second term, Hochul has talked about the need to implement policy statewide that increases access to child care for all New Yorkers but that working with the 10 Regional Economic Development Councils (REDCs) is key to ensuring policy is specific to each region's individual challenges.
Over 60% of New Yorkers live in a child care desert, meaning more than 50 children under age five with no child care providers or so few options that there are more than three times as many children as licensed child care spots, according to a Hochul letter written last May and addressed to the REDCs, urging them to invest in child care. The REDCs were created by Cuomo to design and help implement economic development programming across the state, using billions of dollars of state funds, and are a key part of Hochul's portfolio.
In that letter, Hochul asked "each Council to consider the child care needs of your region and the unique barriers families face in your decision making. The Council can address the issues that impact businesses including chronic absence, productivity reductions, and turnover due to inadequate options for child care."
Round nine of the REDC initiative listed "working with local businesses and communities to identify childcare needs and develop potential solutions." During this round, which was awarded in December 2019, just under $8.8 million was given to 16 projects statewide for direct childcare projects, and almost $7.4 million was awarded to an additional four projects that have a child care component, according to the 2019 awards. The projects are mainly infrastructure based, including expansion of a Tompkins County facility that will "accommodate increased child care" and renovating a Syracuse property "into a light manufacturing facility and day care center," among other projects.
In terms of next steps, Hochul said the task force will be holding public gatherings to glean more information about effective programming.
"I want to go into areas where we have identified through our diverse group of partners who are on our commission, let me get into a community that are doing something innovative," Hochul said. "Let them come to us and tell us what they're doing, what it takes to scale it up, what other assistance they would need from the state, and whether it makes sense for the governor to be considering it in his next set of policy recommendations."
The task force last met in person on December 16 and 17 at the New York State Office of Children and Family Services Human Services Training Center in Rensselaer. At the meeting they discussed "access and affordability of child care, along with how child care ties into economic developments and the workforce," a representative from the lieutenant governor's office said in an email. The next meeting, originally eyed for this week, will likely be scheduled for late February.
"New York has a child care system in crisis," said Larry Marx, CEO of The Children's Agenda and member of the state's Child Care Availability Task Force, in an interview. "Hundreds of thousands of New York's working families often have to choose between dropping out of the workforce and losing income or taking care of their kids at home."
With challenges around availability, cost, and more, child care has become an increasingly central topic of focus in public policy discussions over the last few years. Data released recently from the New York Association of Training and Employment Professionals (NYATEP) in the State of the Workforce Report shows that for the first time, the cost of child care exceeds housing as the single greatest expense for families. The report shows that "infant care for one child would consume 22.1% of a median family's income." This number increases to 66.7% for low-wage workers.
While crafting the report, NYATEP Executive Director and Co-Founder of Invest in Skills NY, Melinda Mack, said that as they "went across the state and looked at employers and employees and one of the things that continued to come up was the lack of child care." This was the impetus for looking at child care more closely.
As an expert on workforce development, she said one of the main things that employers can do, and that she hopes comes from the recommendations of the governor's task force, is for creative solutions beyond subsidies.
One policy that could go a long way is flexibility in traditional shift hours, allowing for employees to drop off or pick up their children as needed. According to Hochul, this type of proposal is part of what the task force is considering as part of its recommendations.
Andrea Anthony, the executive director of the Day Care Council of New York, said that women "should not have to choose between going to work and staying home and if they do elect to work that it doesn't take so much of their take home pay."
Anthony also emphasized that it is not only beneficial to women, but to New York's families and children.
"My sincere hope is that the governor actually makes it one of his priorities while he is in office and he actually says very clearly child care is a priority because we are helping our youngest citizens get educated and prepared for employment," Anthony said.
The problem, and the task force's goals, go beyond investing in child care spaces. Hochul emphasized the importance of looking at the issue from other angles, including investing in child care workers.
"Let's have more respect for the people in this field. Let's encourage more people to go in, let's use our economic development programs like workforce development and encourage more people to get the training they need to give really high quality child care," Hochul said.
Mack also highlighted the importance of investing in the recruitment and retention of child care workers. The State of the Workforce report also cites that 70% of child care workers report having to work a second job to make ends meet.
As the task force moves ahead with its 2020 work, Cuomo has continued to move pieces of an agenda forward. In December he pledged $20 million to expand the Child Care Assistance Program, which will "reduce or eliminate wait lists for subsidized child care" or to expand available spots.
Last June, Cuomo signed legislation that allows local candidates running for office to use campaign funds to pay for child care expenses. The goal of this is to remove barriers for parents, especially women, to run for local office, and came after Long Island congressional candidate Liuba Grechen Shirley successfully petitioned the Federal Elections Commission to allow federal candidates to use campaign funds for child care.
There are other efforts at different levels of government to push for affordable and quality child care for New Yorkers. For example, U.S. Senator Kirsten Gillibrand announced in a press release earlier this month that she is introducing "legislation that would help expand access to high-quality child care services at no cost to student parents enrolled in community colleges and minority-serving institutions."
Gillibrand's Preparing and Resourcing Our Student Parents and Early Childhood Teachers Act (PROSPECT Act) would provide "$9 billion in new grant programs to provide high-quality infant and toddler care at no cost to low-income parents attending community colleges and minority-serving institutions," according to the January 14 announcement.
New York City Comptroller Scott Stringer announced a child care plan called "NYC Under Three" last May. His plan lays out three recommendations. The first is lowering families' child care costs, with contributions based on a "sliding scale, and families would pay up to a set portion of their income." The second is to offer start-up and expansion grants to child care providers to increase accessibility and the number of seats available for infants and children. The third is increasing payments to child care providers and expanding access to training and professional development to improve the retention of workers.
"A family's child care bill can be one of their biggest expenses, if not the biggest," Stringer's plan says. "A space in a child care center for an infant in New York City costs over $21,000 per year—more than three times as much as in-state tuition at The City University of New York and exceeding median rent in every borough."
The comptroller's plan would allow for families to pursue educational and job opportunities, access formal child care for the first time, and increase maternal employment, it says. The report estimates that newly employed parents will contribute about $540 million annually in earnings to the New York City economy. Stringer's focus on "under three" compliments the fact that Mayor Bill de Blasio has overseen, with help through state funding, the implementation of universal, free, full-day pre-kindergarten for four-year-olds and is now rolling out an extension to three-year-olds.
"I'm really starting to see a change in attitude, but again, this is not just your family's problem, it is society's problem, it is a problem for the State of New York as an entity that looks out for its people," Hochul said in the interview with Gotham Gazette. "But also we're leaving money on the table. There was a lot more in revenue that could be coming in and getting more women participating in the workforce."