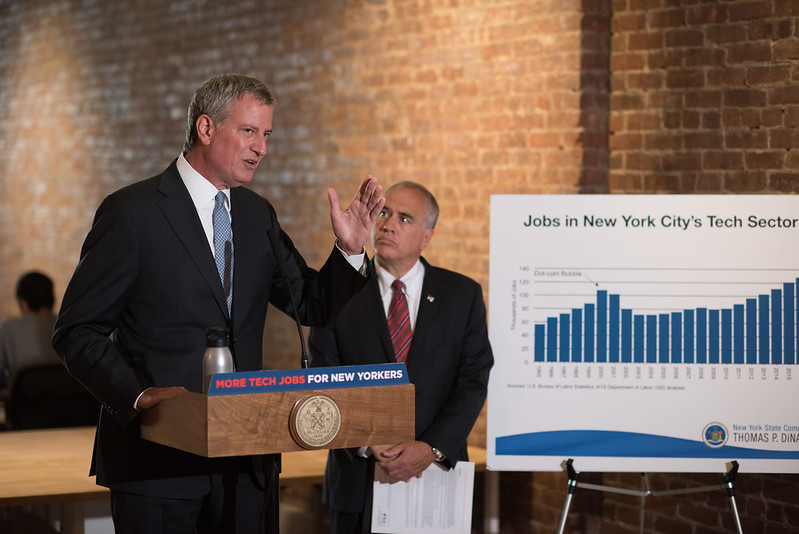 (photo: Michael Appleton/Mayoral Photography Office)
---
New York City has experienced a remarkable and extended economic recovery since the devastation wrought by the global recession, with job growth continuing at levels higher than the state and the entire country, according to the latest report from State Comptroller Thomas DiNapoli. But the New York City Independent Budget Office, a fiscal watchdog agency, predicts that job growth in the city will sharply decline over the next two years across all private sector industries as the national economy begins to slow its pace of growth.
"New York City is benefiting from the longest and largest job expansion since the end of World War II," reads the new comptroller's report, released Wednesday. Between 2009-2019, the city added 907,600 jobs, a 24.3% growth rate, compared to the state's job growth of 14.5% and the country's rate of 15.3%.
The massive addition of jobs – including as many as 87,200 in 2019 – came despite broad expectations that job growth would slow last year, as experts and watchdogs say the current economic expansion is inevitably slated to end. In 2019, the city had 4.6 million jobs, a record high, with unemployment at a historic low of 4.1% (down from 9.3% in 2009). The trend beats the previous record period of job growth between 1992 and 2000, according to the report.
Following the recession, the city's workforce and employment landscape has also diversified, with greater addition of jobs outside the financial and banking sector on which the city has been so dependent for employment and tax revenue. About 35,300, or 40%, of the jobs added in 2019 were in the health care sector (which, along with the state's new $15 minimum wage, has ironically been one of the factors contributing to a $4 billion budget gap in Medicaid spending that the state faces). Business services (accountants, lawyers, programmers) and social assistance jobs came in second and third after health care in 2019 city job growth.
There were a few sectors of the economy that saw slower growth – for instance, construction – and even some that experienced moderate job losses, including full-service restaurants in the leisure and hospitality sector, and the securities industry in the financial sector. But the comptroller's report predicts that jobs will continue to solidly grow in 2020.
The Independent Budget Office, however, predicts that job growth will slow significantly in 2020 and 2021. "Ours is forward looking, and that's retrospective," said IBO Director Ronnie Lowenstein, of the two reports, in a phone interview, acknowledging that job growth has been "spectacular" in the last few years. "But we're anticipating that it's going to fall sharply."
IBO's forecast is based on the Federal Reserve's larger national analysis, which sees growth falling to roughly 1.9% in 2020 compared to 2.3% for 2019, Lowenstein noted. "So the first thing that's feeding into our more pessimistic forecast here is the fact that we're expecting U.S. growth to slow, which is very much the mainstream forecast," she said. It is remarkable to some that not only is the country, and the city, ten years into the recovery with sustained growth, but that the forward-looking discussion is about slower growth, not recession.
Specifically referring to the boom in health care jobs and business services, Lowenstein said that IBO's outlook was a bit more wary. "Certainly we're not anticipating that they're going to be shedding jobs, but we firmly expect the rate of growth in these positions to kind of slow," she said. "We're anticipating that we're going to stop adding so many of these jobs and that's going to really show up as a major dent in the numbers we've been enjoying."
If these jobs contract, however, it may not have a significant impact on the city's revenue, she said. New York City relies heavily on property taxes for revenue, and jobs in these sectors tend to be either part-time or lower pay than other industries. "All jobs are good but not each job contributes equally to the local economy," she said, citing, for instance, jobs in the tech sector that carry much higher pay and therefore have a larger footprint on personal income tax revenue.
There are few signs of worry, Lowenstein said, as IBO projects that revenues will continue to be "reasonably robust" and will exceed projected city expenditure. Though the city budget has grown enormously under his tenure, Mayor Bill de Blasio has been cautious in increasing spending in his $95.3 billion preliminary budget proposal this year. "As part of the Administration's strong fiscal management we make cautious tax revenue estimates, remain focused on savings, and maintain substantial budget reserves," said mayoral spokesperson Laura Feyer, in an email. "Slowing job creation, noted by both the IBO and Comptroller, is factored into our current tax revenue forecasts."
But, Lowenstein did note that IBO's revenue forecast this year is "nearly identical" to the city's Office of Management and Budget's numbers, "which doesn't happen very often." OMB has, in the past, been more conservative in its revenue predictions, allowing more mayoral administration flexibility if more spending is required down the line.
"It's interesting that we're not seeing a lot of new revenues for the current fiscal year at this point," she said. "Is that a warning flag? Yeah, I guess so. Either that or we're really accurate this time around."
Note - This article has been updated.