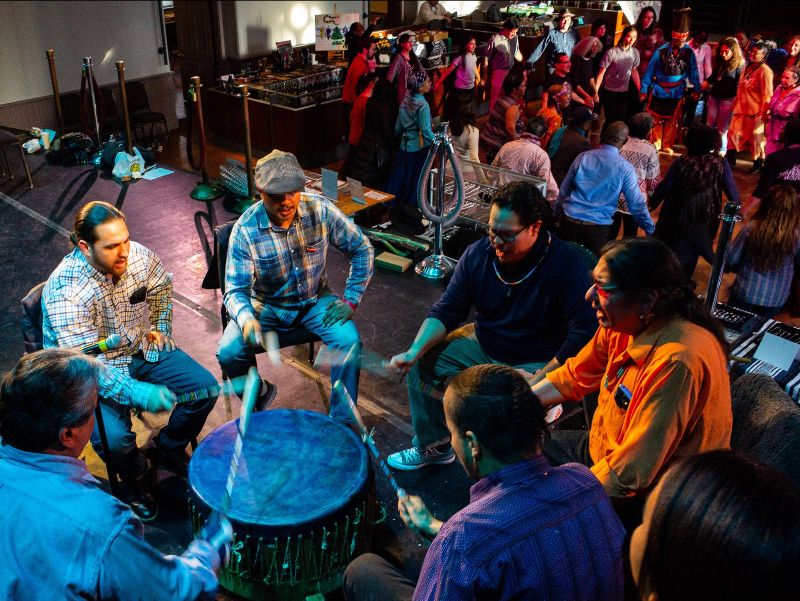 American Indian Community House is working on the 2020 Census (photo: @AICHNYC)
---
The decennial Census is an exercise in counting every single resident of the United States of America, but the tragic irony of the process is that it routinely undercounts the very people who first called this continent their home. Native Americans, who now make up about 1% of New York State's population, worry that it may happen again this year, perpetuating the official apathy to their people that they have come to expect from the federal government.
About 194,000 New Yorkers identify as American Indian or Alaska Native, according to U.S. Census population estimates as of July 1, 2019, though that number could very well be low given undercounting issues. More than half of that state population lives in New York City, comprising one of, if not the largest urban Native American populations across the country.
As with many other segments of the population, Native Americans are considered "hard-to-count" – a term used for those groups of people where the rate of initial self-response to the Census was below 73% in the 2010 Census. That status stems from various factors including income levels, geographical distribution, language diversity, and of course, their complicated relationship with the federal government.
The 2020 count, which begins Thursday, March 12, will be additionally complicated by its heavy reliance on a digital questionnaire, which requires internet infrastructure that is not as readily available in rural parts of the state and on reservations. There are ten American Indian territories in New York.
There's much at stake if there's an undercount. Census data determines the redrawing of federal, state, and local electoral districts and the number of seats New York is allocated in the House of Representatives, and it forms the basis for the distributions of many billions of dollars in federal aid for everything from infrastructure projects to education and healthcare services. Inaccurate data could mean underfunding of programs for the most underserved populations, including food stamps and housing vouchers.
In 2010, nationwide, American Indians and Alaska Natives living on reservations were undercounted by 4.9%; for those living outside of reservations, the statistical error was close to zero, according to U.S. Census Bureau estimates from 2012. But that overall undercount was far higher than for other populations. There was a 2.1% undercount of the black population and 1.5% for Hispanics, while non-Hispanic whites were overcounted by 0.8%, according to the Census Bureau.
The Census Bureau has acknowledged the challenges of reaching Native Americans and has been working to ensure an accurate count. "With the Native American community, that's something we work on throughout the decade," said Jeff Behler, director for the U.S. Census Bureau's New York Regional Office.
Behler laid out the procedures necessary for better counting Native Americans, particularly those who live on tribal lands and reservations. "We always follow the protocol as defined by the tribe itself," he said. Coordinating with tribal leadership, the Bureau could choose several ways of conducting the Census including hand-delivering census questionnaires or sending an enumerator to go door-to-door, instead of mailing out questionnaires.
The Bureau also typically hires people who live on tribal land to act as enumerators that can personally reach and count the residents of the land. The Bureau has also partnered with 1,500 specialists across the country who are direct representatives to communities, which includes tribal partnership specialists.
As with efforts at the state and city level, the U.S. Census Bureau is focused on encouraging Native Americans to self-respond, which yields the most accurate data. For that, Behler said, the most important step has been educating and enlisting tribal leaders who can then spread the message to their people about the importance of filling out the Census and press tribal resources into that effort. For instance, the Saint Regis Mohawk Tribe, located in Akwesasne by the border with Canada, will use a community center to help their members fill out the Census online, he said.
"We have this saying that the Census is a national event, but in order to be successful, it has to be conducted at the local level," Behler said. "We have to make this their Census and we certainly understand we need their input in order to do that."
"When it's coming from that trusted voice, it penetrates so much deeper," he added. "We certainly understand that the message can be the same but it's the messenger that sometimes is the most important thing. The Census Bureau knows we are not necessarily the best messenger."
Tribal members seem to agree. "There has been, and there still is some apprehension amongst our own community members to participate in any type of processes that are external in nature, specifically those that come from the federal government, given our history and our relationship," said Brendan White, communications director for the Saint Regis Mohawk Tribe and a member of its Census-focused Tribal Complete Count Committee, in an interview. The committee has been disseminating information about the Census through radio and print ads, signs, newsletters, and even distributing tote bags (after the state's recent plastic bag ban went into effect) to try to drive home the message that filling out the Census is in the best interest of tribal members.
"We are trying to dispel any myths that people have and to assure them that the information that's being collected by the Census Bureau is solely to count the population in the households that exist to ensure that we receive the federal funding that we need to meet the growing needs of our community," he said. "One thing that is helping us in getting that message across is that we are ensuring that the federal government fulfills its fiduciary responsibility to Indian country...because we drive on these roads, we utilize healthcare services, we have kids who are going to college that need scholarships. And just like any other community, we have our
own natural events that require an emergency response and a lot of our services are dependent on federal funding."
Much of the effort is driven by the tribe itself, with assistance from the Native American Rights Fund and the National Congress of American Indians, which launched its own "Indian Country Counts" nationwide initiative.
New York State has yet to take any specific measures to conduct outreach among Native Americans. Governor Andrew Cuomo has announced a $70 million effort that includes $20 million in direct funding for community-based organizations and advocates that can reach hard-to-count populations. But while the state has been soliciting applications for that $20 million, it has yet to be released and it's unclear if any groups that directly serve Native American populations will receive any funding.
A spokesperson for the Department of State simply referred Gotham Gazette to Behler's office for comment, while emphasizing that the state's effort is directed at all New Yorkers that live in hard-to-count communities. Most of New York's Indian territories are located in the western part of the state, with other territories in central and northern regions.
New York City on the other hand has already awarded $19 million to community-based organizations conducting Census outreach, as part of a $40 million city effort to increase the count. Among those organizations is American Indian Community House, which received a $50,000 grant to do its work.
Melissa Oakes, executive director of AICH, was disappointed though. AICH has partnered with two other organizations to create a "consortium," she said, to count Native Americans. The funding they received was half of what they sought. "That says a lot about how important our data matters, but that's the reality of what we have to deal with," she said.
Oakes, who is Mohawk, said the U.S. Census Bureau seems to have a particular blind spot when it comes to Native Americans living in urban centers like New York City, where the population is spread out across the five boroughs. "We're the most underrepresented and underfunded and it's almost like an erasure of urban Natives," she said. "It's like, unless you're on the reservation, they don't want to deal with us. And I think it's irresponsible and neglectful."
AICH, which based in downtown Manhattan and represents members of 72 different tribes, is taking various steps to reach the city's Native American population, adding a Census outreach element to cultural events. Through June, they are hosting bi-weekly "maker sessions," workshops to draw New Yorkers with a native background to train them and others in producing native art. Attendees will be asked to fill out pledge cards saying they will fill out the Census, or will be aided in completing the Census once it launches.
AICH also hosts various trainings on social justice and civil rights issues. Those will involve a Census component as well. They plan to organize monthly brunches for tribal elders, with a focus on the Census. AICH will also have a weeks-long art installation at Governor's Island on the Native American community, with several related programs that will emphasize the importance of the Census. And they'll also dedicate staff to help people fill out the Census at various street fairs over the spring and summer.
One of the issues AICH faces, Oakes said, is a massive loss of funding from the federal government, which has left the organization struggling to keep a permanent home while looking for more physical locations to conduct Census operations. She is hoping the city can offer a vacant space to create a community center.
"They do it for a lot of other communities and I don't understand why the original people of the territory of the land are being ignored," she said. "It's almost like they need to unlearn how to treat us...It's like a conditioning. They're conditioned to just ignore us or erase us or shove us under the carpet like we don't exist."
The city has been focused on increasing the initial self-response rate to the Census, which for the five boroughs was 62% in 2010, compared to the national average of 76%; the Census Bureau projects New York's self-response rate to fall as low as 58% this year due to several factors that broadly apply to the Census process including "apathy, privacy concerns, fear of repercussions, and general distrust of government." City officials say organizations like AICH are the best messengers to prevent that.
"Funding an organization like American Indian Community House is very, very important to us because we know that American Indian Community House has a unique blend of cultural programming, linguistic competence, and also direct social service provision that enables them to really potentially be very effective in ensuring that the Native population is participating in the Census," said Amit Bagga, Deputy Director of NYC Census 2020, a city-government office set up by Mayor Bill de Blasio.
Bagga added, "This is the first and only time in New York City's history that the city has ever constructed a program such as this. There have never been any public dollars that have been put into this type of community engagement and civic engagement, particularly for Native communities."