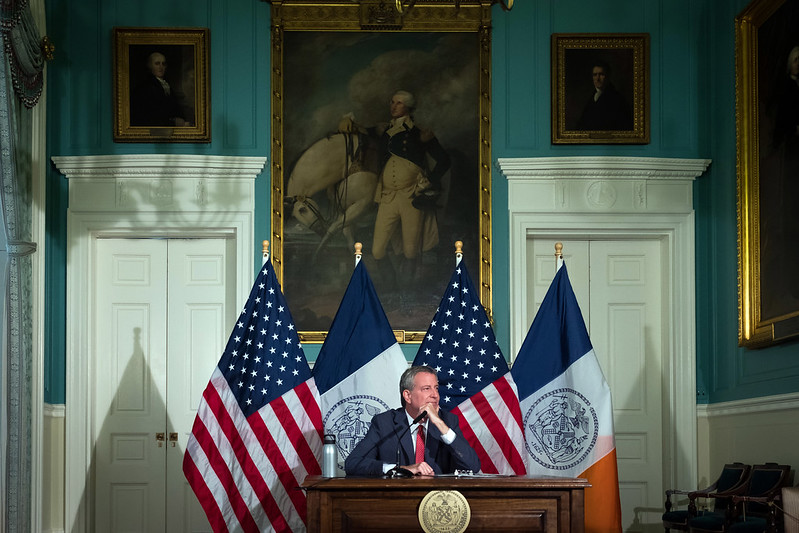 Wrestling with government during a pandemic (photo: Ed Reed/Mayor's Office)
---
Governor Andrew Cuomo suspended aspects of the state's Open Meetings Law with an executive order Friday, as officials grapple with how to keep government running during a pandemic without jeopardizing public health or sacrificing accountability.
As state and city officials continue to prepare for the long haul of coronavirus (COVID-19) management, and as most public events are postponed to limit the virus' reach, one emerging question is how government agencies will continue to hold meetings in full public view, as is required by the Open Meetings Law, while maintaining recommended social distancing.
Cuomo's executive order, one of several he's issued in recent days, permits government bodies to move in-person meetings to a remote form of conferencing, "provided that the public has the ability to view or listen to such proceeding and that such meetings are recorded and later transcribed." Transparency watchdogs say the move goes much further than provisions in his March 7 emergency declaration, when he authorized just two public health bodies to meet and take action without quorum or in-person public access, as long as the meetings were webcast and provided a "means for effective public comment."
"The Executive Order signed by Governor Cuomo today is less in the spirit of the Open Meetings Law than the order from last week," said John Kaehny, executive director of Reinvent Albany, a good government group with a focus on transparency, on Friday.
New York State law requires most meetings in which government officials convene to "conduct public business" or "[perform] a governmental function" to be open to the public, meaning they are held in accessible locations, broadcast whenever possible, and occur with advanced notice to the news media and public bulletins. According to the Open Meetings Law, which outlines these requirements, doing so "is essential to the maintenance of a democratic society" and "is the only climate under which the commonweal will prosper and enable the governmental process to operate for the benefit of those who created it."
Under normal circumstances, this means most government hearings and meetings, and many instances of official decision-making, are held in public locations where people can attend in person, often with an opportunity to testify before officials. But as the coronavirus outbreak shuts down many aspects of typical daily life, essential government actions that cannot be postponed are being moved out of the settings where they are generally known and away from public view.
"There are concerns," said Kristin O'Neill, assistant director of the Committee on Open Government, a state agency responsible for interpreting and providing advisory opinions on the Open Meetings Law, during an interview with Gotham Gazette. "We have received inquiries from municipalities about having open meetings and having large gatherings of individuals in a confined space."
Some public meetings have been cancelled or postponed, and others moved online. The news has been trickling in piecemeal, leaving a dearth of information about where New Yorkers should be going to remain enfranchised and civically engaged, and how government will remain transparent and accountable to the public.
Cuomo's Friday executive order came just after Senator Brad Hoylman, a Manhattan Democrat, proposed a similar legislative solution to in-person meetings, which has more safeguards from abuse but lacks a companion bill in the Assembly and could take time to pass.
Like the executive order, the proposal would allow public meetings to be held remotely during a state of emergency. But it would require the public to be notified about the alternative platform for viewing or participating in it, and would require the body, like a commission or council, to justify why the emergency precautions must be taken. The bill is more in line with what transparency watchdogs, like Reinvent Albany, wish to see.
State and city officials have been moving to curtail "community spread" of coronavirus by reducing the density of people in public spaces. On Thursday, Cuomo announced regulations on large crowds, banning gatherings of over 500 people and requiring any smaller ones to cut their capacities by half (that closed Broadway theaters, but left exceptions for public places like schools, hospitals, grocery stores, and mass transit, though all will likely see changes in operation because of the outbreak).
Mayor Bill de Blasio declared a state of emergency in New York City on Thursday, further encouraging businesses to institute work-from-home policies, and setting his own example with 10 percent of the city workforce set to be given work-from-home orders in the coming days. On Sunday, de Blasio announced the closure of city schools through at least April 20.
But some public meetings simply cannot be cancelled if the city and state are to maintain a functioning government. In New York City, community boards are raising alarms about how they will hold their City Charter-mandated monthly meetings, while avoiding undue risk to their attendees, who skew older and are thus more susceptible to coronavirus.
The New York City Council continued to hold budget oversight hearings at City Hall, which draw crowds like the one Friday on the city's parks department budget that prompted one Council member to call for the Open Meetings Law to be suspended.
"The Council has an obligation under the charter to hold public budget hearings," said a Council spokesperson in response to a Gotham Gazette inquiry. "Under State law, the mayor may proclaim an emergency and suspend local laws such as this requirement. Guidelines on all public events are evolving rapidly but we will alert the public to any changes on hearings as soon as possible. We are taking measures to allow social distancing and we encourage the public to watch online and submit written testimony when possible."
"We are looking into this and will have more to say soon," a spokesperson for the mayor wrote in response to a Gotham Gazette inquiry.
And it appears that what's more is that the mayor will on Monday sign an executive order "temporarily suspending the deadlines for council budget hearings, ULURP related votes and the requirement for the Council to hold two stated meetings each month. Therefore hearings and the Stated Meeting next week will not be held," according to a letter from City Council Speaker Corey Johnson to Council colleages that was shared with Gotham Gazette on Saturday night (just after the Daily News first reported the Council decision).
"The City Council's offices at 250 Broadway and in City Hall are also closing," the letter continues. "Council Staff are not to report to 250 Broadway and City Hall unless asked to as part of our effort to move Council staff to a work-from-home posture. The aforementioned offices will be otherwise closed until further notice."
News also broke on Saturday night that two members of the New York State Assembly, Helene Weinstein and Charles Barron, both Brooklyn Democrats, have tested positive for COVID-19. Assembly Speaker Carl Heastie and Governor Cuomo announced the cases and said the state Capitol and legislative office building will undergo a major cleaning and the Capitol will be closed to visitors immediately.
"We are working hand in glove to contain and mitigate the impacts of COVID-19 in New York but we will continue to act aggressively to protect the public health," the governor and speaker concluded. State legislators are due back in the capital this week for legislative session days, with a new state budget due by April 1.
The State Legislature's 'interest and intent' in a state of emergency
"The question is, can open meeting laws be applied during a period when public meetings processes are being suspended because of public health concerns. The answer is no," said Kaehny.
Both Cuomo's executive order and Hoylman's bill get at the ability to flex the existing rules to more easily facilitate remote access to public meetings. But unlike the executive order, which effectively suspercedes aspects of the Open Meetings Law, Hoylman's bill works within its framework. It sets up more protocols for and restrictions on its usage and maintains the existing law's enforcement mechanism, which subjects abuse to challenge in the courts.
Hoylman's bill was drafted in consultation with the executive director of the Committee on Open Government, Shoshanah Bewlay, according to a press release issued by Holman's office.
"One of the reasons we support it is because it provides a sensible framework instead of just leaving a vacuum where local officials and state officials have to try to make do in impossible circumstances," Kaehny said of Hoylman's bill.
Kaehny believes it is important for the state Legislature to fully exercise its powers and duties, and passing Hoylman's legislation would help establish norms during an emergency. That concern is heightened, he said, because of the sweeping powers the Legislature recently granted Cuomo as part of an emergency response to the coronavirus outbreak.
Along with an emergency $40 million appropriation, the Legislature expanded the governor's emergency powers to suspend laws in times of impending danger, not only after disaster strikes, as well as to require quarantines, and more. Lawmakers on both sides of the aisle criticized the move as a power grab but it still passed the two houses with wide margins.
"FOIL [the Freedom of Information Law] and open meeting laws are essentially legislative mandates on the executive branch and this re-enforces the Legislature's interest and intent here," he said, of a legislative solution to shortcomings in the Open Meetings Law. "If anything the Legislature should be more energetic and assertive during an emergency about clearly establishing norms so that they are not establishing a temporary dictatorship."
Those new powers, the governor "hasn't abused yet but the potential for abuse is huge and everyone should be keeping a careful eye on it," Kaehny told Gotham Gazette, shortly before Friday's executive order was made public.
Note: this story has been updated with news of the City Council's temporarily suspension of business, with news of the positive COVID-19 tests of two state Assembly members from Brooklyn and related fallout, and news of the city's closure of public schools.