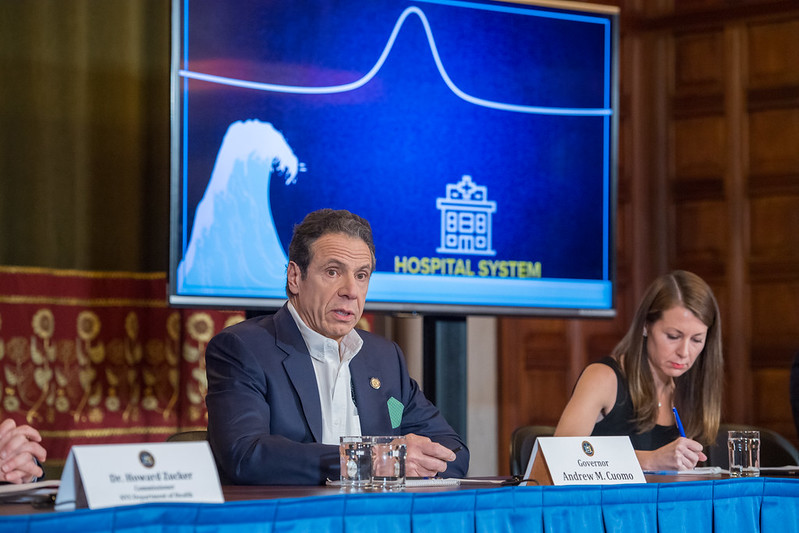 Gov. Cuomo gives dire warnings about hospital capacity (photo: Darren McGee/Governor's Office)
---
City and state officials have been saying for over a week that as the spread of coronavirus continues New York's hospitals will not be able to provide life-saving treatment for everyone who needs it. One of the most immediate needs is ventilators, which are required to save the most critical COVID-19 patients and are already in short supply in New York City hospitals. With the note of alarm reaching a fever pitch in recent days, public health officials have not made available an official policy regarding ventilator triage, and have not said that any exist.
The pace of urgent developments and the overwhelming set of challenges posed by the unprecedented coronavirus crisis have left the state's highest officials themselves triaging the most pressing life-or-death matters. Governor Andrew Cuomo and Mayor Bill de Blasio have been calling on the federal government to provide more medical supplies -- most importantly ventilators -- while also pursuing them themselves.
Saying on Sunday that he had actually been able to secure an additional 6,000 ventilators, Cuomo said, "Ventilators are the most important piece of equipment and the piece of equipment that is most scarce."
De Blasio is now saying New York City will need more ventilators very soon to avoid additional loss of life. The mayor said on CNN Monday morning that on Sunday evening he told President Trump and Vice President Pence, "if we don't get a supply of ventilators quickly, our public hospital system, literally after about a week or so, we will not have enough ventilators to keep people alive who could live through this crisis and could be saved."
As of Monday afternoon, 1,500 of the city's 3,500 ventilators were in use, according to the mayor's office, and the administration is seeking 15,000 from the federal government by April. In the afternoon, the mayor announced the federal government was sending the city an initial 400 ventilators to help.
Calling ventilators "the number one precious commodity" during a Monday briefing from Albany, Cuomo said that there are 3,000 ICU beds across the state, but that "we may need between 18,000 to 37,000. That's my greatest concern because that's where we need ventilators to turn those ICU beds into beds for people suffering from the virus."
But as they predict dire situations and scramble to secure more ventilators, New York government and public health officials do not yet appear to be creating any ventilator allocation policies.
And the likely shortfall and short timeline are worrisome for medical ethicists who say any government policy that may ultimately dictate who lives and who dies should be thoroughly communicated and publicly vetted.
Asked about ventilator triage guidelines and policy-making, a spokesperson for the city's Department of Health and Mental Hygiene told Gotham Gazette that such guidelines fall into the state Department of Health's jurisdiction.
In response to a Gotham Gazette inquiry about how difficult decisions will be made by doctors when there are not enough ventilators to save every patient, a spokesperson for the state Department of Health (DOH) wrote: "Under Governor Cuomo's direction, hospitals in New York State continue to rapidly modify their current operating function to accommodate increasing support for patients with COVID-19 as well as the rest of the hospital population. Specific tactics include stopping elective procedures, reducing current inpatient population and expanding bed capacity. Commissioner of Health Dr. Howard Zucker has discussed this with senior hospital leadership from throughout New York State, and this is being enacted throughout the state."
A council led by Ken Raske, president of the Greater New York Hospital Association, and Michael Dowling, president of Northwell Health, has been tasked by the governor with developing hospital surge capacity. That body would be responsible for making decisions about ventilator allocation, according to another DOH spokesperson.
At this point in the state's response, the council is discussing every aspect of managing hospital surge, that spokesperson said, with the focus now on ensuring that the required equipment and processes are in place. Cuomo has already made several announcements about how the state is increasing hospital capacity, including with federal help.
In 2015, the DOH's New York State Task Force on Life and the Law developed guidelines for ventilators in a influenza pandemic, which Zucker described as "a foreseeable threat" in the report's introduction. While the task force's guidelines were designed with a "severe pandemic" in mind, the DOH spokesperson said that it is not a binding policy document steering the state's response, though it has been well circulated and read recently within the Department.
Notably, an FAQ accompanying the report specifically mentioned that the state would not be able to stockpile enough ventilators for such a scenario. The stated question was, "Can the State stockpile as many ventilators as would be needed in a severe pandemic?" The answer reads, "Even if New York State purchases additional ventilators, the demand would quickly outpace supply in a severe pandemic. No matter how many ventilators are available, in a severe pandemic there will be shortages because so many people will be sick at the same time. In addition, even with enough ventilators, a sufficient number of trained staff may not be available to operate them, particularly because health care workers will be among the ill."
The guidelines are broken into three different categories for triaging ventilators (adult, pediatric, and neonatal guidelines) and consider a set of exclusion criteria and mortality risk with treatment. Exclusion criteria include medical conditions connected with "immediate or near-immediate mortality even with aggressive therapy," according to a fact sheet accompanying the document.
Advanced age, disability, "social worth," are not exclusion criteria under the guidelines. Healthcare providers assessing adult mortality risk use a scoring system called SOFA (Sequential Organ Failure Assessment). For pediatric and neonatal, determinations should be made through "physician clinical judgment, a structured decision-making process that carefully considers only specific clinical factors based on available medical evidence," the sheet said.
Ethicists have been thinking about this at least since the SARS outbreak in 2003, according to Dr. Alison Bateman-House, assistant professor in the Division of Medical Ethics at NYU School of Medicine attached to NYU Langone Health. "When we saw the SARS epidemic and there were more people critically ill than we had the machines to provide for, people actually did the hard work of sitting down and saying, 'Well, if we're going to have to make difficult choices, how do we make them?'"
"Obviously no one was planning per se for COVID-19, because it is new and novel, but the basic principles were there of, there is some sort of respiratory disease that is widely infectious and we don't have enough equipment, how do we prioritize?" she said of the 2015 task force guidelines.
The task force estimated that in a severe pandemic the state could see a shortfall of as many as 15,783 ventilators. President Trump, citing claims made in an op-ed published by former New York State Lieutenant Governor Betsy McCaughey, said Tuesday that New York's current projected shortfall is Cuomo's failure for not purchasing more ventilators in 2015.
The report briefly addresses the idea of stockpiling ventilators and illuminates the state's thinking in 2015. "The State's current approach to stockpiling a limited number of ventilators balances the need to prepare for a potential pandemic against the need to maintain adequate funding for current and ongoing health care expenses," the report reads. At the time, the state had 1,750 ventilators in reserve.
A footnote later states: "There are significant financial burdens associated with obtaining, storing, and maintaining equipment and supplies. In addition, stockpiling results in significant opportunity costs when choosing stockpiling over another priority."
In terms of hospital capacity, Governor Cuomo has been focused on three things: reducing the rate of the outbreak's spread to help distribute the burden on hospitals over a longer period of time; building new hospital space with the help of the U.S. Army Corp of Engineers, the Federal Emergency Management Agency (FEMA), and local stakeholders; and securing necessary medical equipment, from masks to gowns to ventilators. The state DOH says there are also plans to redistribute resources from hospitals in areas that have not been hit hardest.
With more than 60% of the confirmed coronavirus cases statewide, New York City's hospitals may experience the most imminent shortages. As of 6 p.m. Sunday, the Mayor's Office reported 10,764 positive cases of COVID-19 and 99 related fatalities, with at least 1,800 people hospitalized due to the virus, and of those individuals, at least 450 in the ICU, where ventilators are typically used.
"I made clear to them what I need right now is action, not words, and every day counts because we're literally in that very tight window now that if we don't get the ventilators in particular we will actually start to lose lives who could have been saved," de Blasio said on CNN Monday of his conversation with Trump and Pence.
The mayor is imploring the federal government to deliver ventilators, surgical masks, gloves and gowns using its emergency production powers, which have in previous times of crisis been used to mandate factories produce necessary supplies. Even as he also asks Trump to produce more ventilators and other essential supplies and deliver them to New York, Cuomo has been purchasing and otherwise securing such equipment. The governor made the Sunday announcement that the state has purchased an additional 6,000 ventilators and is redistributing existing ones to the areas with the highest needs throughout the state, he said.
As with the state, the city's public health officials have not formalized a plan for ventilator allocation and in some ways appear to be ignoring the issue.
A spokesperson for New York City Health + Hospitals, the city's system of 16 public hospitals and other health care facilities, told Gotham Gazette by email Friday that there were no plans to implement ventilator triage and that every patient who needs a ventilator would receive one. The spokesperson noted that Health + Hospitals is a single health system that could shift resources from one facility to another as needed, and that it is coordinating closely with city, state, and federal agencies to ensure the most clinically appropriate care is provided.
In response to an inquiry Friday seeking clarity on the apparently contradictory information coming from the Mayor and Health + Hospitals, a spokesperson wrote, "We expect to meet our patient's [sic] needs."
In terms of the city's private hospitals and coordination with City Hall and the public system, mayoral spokesperson Freddi Goldstein said that "There is a daily call" among Deputy Mayor for Health and Human Services Dr. Raul Perea-Henze, Health + Hospitals CEO Dr. Mitchell Katz, and Ken Raske, the president and CEO of the Greater New York Hospital Association, which represents 250 not-for-profit hospitals in New York, New Jersey, Connecticut, and Rhode Island.
During an appearance this past week on the New York Times podcast The Daily, host Michael Barbaro asked Governor Cuomo about how the apparently imminent choices of which critical patients get ventilators and which do not will be made. "Well, I pray we don't get there," Cuomo said. "But if we get there, it should be a medical decision. Unless God intervenes and God makes the determination first."
Note: This article has been updated with the latest ventilator information from the mayor's office on Monday afternoon and Cuomo's Monday comments about ventilators and ICU beds, as well as additional information on ventilator stockpiles from the 2015 DOH Task Force report.