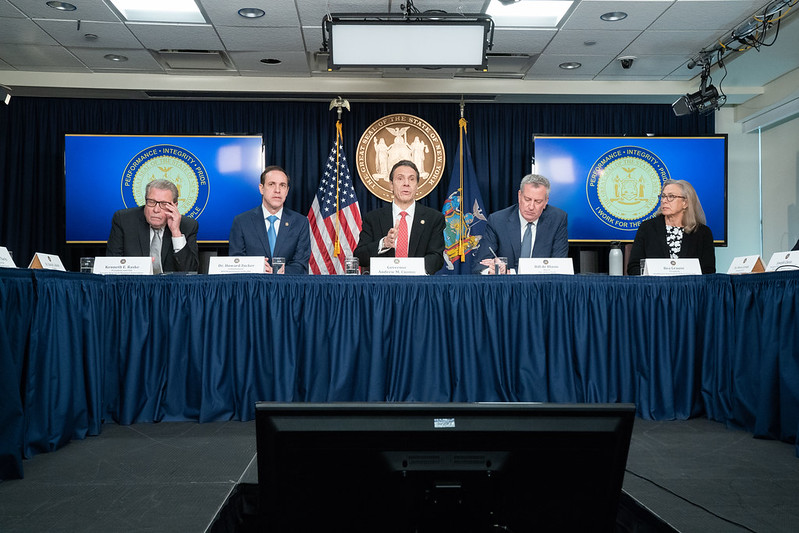 (photo: Don Pollard/Office of Governor Andrew M. Cuomo)
---
As New Yorkers find themselves at the country's epicenter of the coronavirus pandemic, a majority of them are worried that they do not have the financial resources to survive if the current situation lasts more than a few months, according to a new poll. And in this time of uncertainty and anxiety, the poll found that more New Yorkers are looking to Governor Andrew Cuomo to shepherd them out of the crisis than Mayor Bill de Blasio.
The poll, of 807 registered New York City voters, was conducted online between March 20-22 by Change Research and was commissioned by Arena, a national progressive organization formed by former campaign staffers to Hillary Clinton and Barack Obama, which trains Democratic candidates and campaign staff.
After a somewhat slow start, Governor Cuomo's leadership during the outbreak has been broadly praised. His daily briefings are now being carried by cable and broadcast networks, and he has been commended for providing a semblance of calm and stability during a particularly unpredictable time, while also pushing for what New York needs to combat the crisis. In the new poll, Cuomo received an overwhelming 73% approval rating from those surveyed. And 47% of those polled said the governor is doing an "excellent" job of handling the coronavirus outbreak; another 30% said he is doing a "good' job, and 15% said he is doing a "fair" job. Only 7% of voters polled said he is doing a "poor" job.
De Blasio fared far worse, with a 40% approval rating. More than a third of voters, 31%, said he is doing a poor job of handling the crisis; while 14% gave him an excellent rating; 28% said he is doing a good job; and 26% said he is doing a fair job of it.
The ratings aren't all that surprising for the mayor, who has seen his favorability on the slide in his second term, well before the coronavirus outbreak. For the governor, however, the numbers reflected a significant bounce from other recent polling. As recently as February, Cuomo saw his favorability rating fall to 44 in a Siena College Research Institute poll, compared to 50% of respondents who gave him an unfavorable rating. As the poll noted at the time, the governor's ratings have "been on a seesaw" for the last year.
But political leadership aside, what worries New Yorkers more is how they will be able to weather the financial impact of the coronavirus, which has already led to many layoffs across several major industries and the suspension of non-essential businesses.
"New Yorkers have lost faith in the Mayor and are increasingly looking towards the Governor to lead us out of this nightmare," said Ravi Gupta, co-founder and managing partner of Arena, in a statement. "Most importantly, New Yorkers are financially strained and feeling the walls closing in. If relief doesn't come fast, we'll see suffering throughout the city at levels we haven't seen in decades."
The poll found that just over half, 51%, feel secure in their current jobs; 24% worry they may lose employment, while 14% said they had already lost their jobs because of the coronavirus. The rest had been unemployed before the outbreak began.
Only 42% said they would have enough money to meet their basic needs if the shutdown situation across the city lasts through the end of April; 36% were sure they wouldn't have enough, while 22% just remained uncertain.
If the shutdown lasts through July, the numbers look worse. Only 30% of New Yorkers surveyed said they were confident they could meet their needs over that timeline, while 47% were not. Governor Cuomo has warned that the pandemic could very well last for months beyond that, perhaps even through the end of the year, while New York City Health Commissioner Dr. Oxiris Barbot has often pegged September as a hopeful return to normal city business.
Part of people's relative confidence may stem from the fact that a large number of voters surveyed, 42%, believed that social isolations and business closings would end within two months while another 28% thought it would take three to four months. Only 16% believe it could take longer.
Despite the widespread anxiety, however, New Yorkers were broadly supportive of the measures that officials have taken to stem the tide: 93% agreed with the decision to close the city's public schools and only 5% disagreed. In total, 80% also strongly support or somewhat support a "shelter-in-place" order, while 17% strongly or somewhat opposed it.