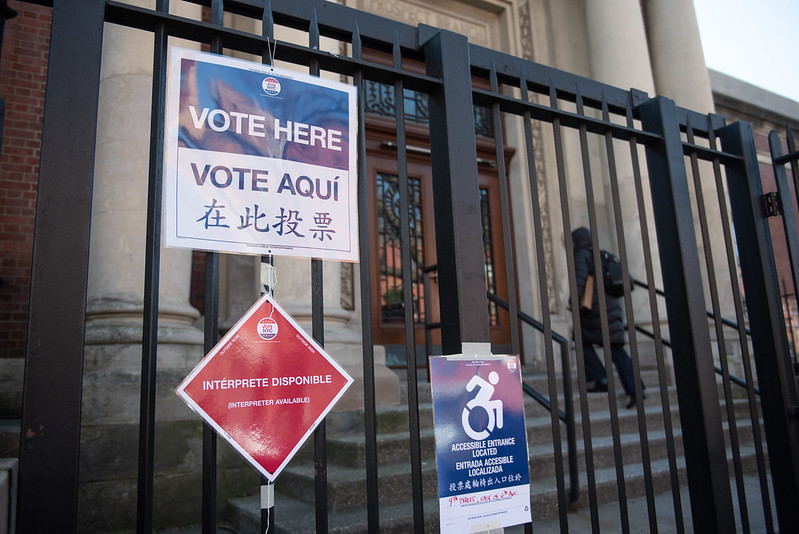 Coronavirus complicates voter registration efforts & voting itself (photo: Michael Appleton/Mayor's Office)
---
A bill before the state Legislature expanding online voter registration in New York City has taken on particular urgency amid the coronavirus pandemic, its sponsors say, as in-person voter registration drives become impossible and New Yorkers are told to avoid leaving their homes but for essentials and emergencies.
The New York City Board of Elections currently only allows an individual to register to vote online through the Department of Motor Vehicles website. But any potential voter must first have a DMV-approved identification. In New York City, at the end of 2018, 3.8 million people had driver's licenses in the city, which has a population of over 8.5 million, though many are under voting age of course. Driver's licensing rates tend to be higher in rural and suburban counties, compared to the city's dense and transit-rich boroughs.
The New York City Council attempted to open up the voter registration process through legislation under which the city's Campaign Finance Board created an online voter registration portal that was ready last year. But the Board of Elections imposed additional burdens on the process, making it even more onerous than registering by mail, amid contradictory opinions about whether the city had the authority to create such a portal.
A bill sponsored in the State Legislature by Senator Zellnor Myrie of Brooklyn and Assemblymember Michael Blake of the Bronx, both Democrats, would give the Campaign Finance Board the express permission to launch that portal. It has passed the Senate's election committee, which Myrie chairs, but has not yet moved to a full chamber vote or anywhere in the Assembly. Both legislators say it is particularly important that it be approved as the coronavirus crisis brings the state to a virtual standstill.
"We need to find every possible way to make sure democracy stays intact," said Blake, in a phone interview. "We need to make sure that people are able to exercise their democratic rights. And just because someone is unable to go outside and live their lives should not mean that democracy should stop."
The pandemic has already led to upheaval in the state's democratic processes. Two special elections in New York City, for a Brooklyn City Council seat and Queens Borough President, as well as the statewide presidential primary were all postponed to June 23 to coincide with the congressional and state legislative primaries. Governor Andrew Cuomo suspended ballot petitioning and reduced the threshold for getting on the ballot.
Along the lines of the online voter registration push, there are calls for expanding automatic absentee and mail-in voting.
"Moments such as this, the crisis and challenge should lead to us having creativity," Blake said. He said he has been raising his bill as well as expanded voting measures with leaders in his chamber. "We don't know when this will end. So what we should be doing is doing everything possible to make sure people are part of the process. You're using your phone to get news updates, you're using your phones to check on your loved ones. You should be able to use your phones and laptops to be registered."
The registration deadline for new voters to participate on June 23 is May 29, and the deadline for the November 3 general election is October 9.
In a statement, Senator Myrie said, "If there ever was a time to bring New York's democracy into the 21st century, it's now. While we know there are a lot of issues on the table right now, our commitment to this issue hasn't changed and we will continue to work with our colleagues to get it done."
The Legislature is doing modified, social-distance appropriate voting in Albany this week as legislators and Governor Cuomo attempt to finalize a state budget by the April 1 deadline of the new fiscal year. As usual, many policy issues are on the table as well as fiscal ones.
Myrie and Blake aren't the only ones pushing for their bill to become law. Jessica Rosario, a 21-year-old junior at John Jay College of Criminal Justice, CUNY, has launched an online petition calling on the governor and Legislature to approve the bill and is working with other youth activists to organize a virtual day of action. "We're supposed to be socially distant but I think that we could still be socially aware at the same time," she said in a phone interview.
She noted that the only other means of registering if you don't have a DMV identification is if you print out and mail a form to the Board of Elections. "I don't know about anyone else but I'm in Queens, and I don't really feel like it's safe to go out if you don't have to for food or medical purposes," she said. "And not everyone has a printer. Not everyone has that access."
"I feel like it's never been more important than right now for things to move digitally. We have education moving digitally, people working remotely. Why not create a digital space for democracy?"
If the bill should pass, the Campaign Finance Board would be able to launch its portal almost immediately. The bill would then become redundant in 2021, when the state Board of Elections is meant to launch a statewide registration portal.
"We urge our state leadership to protect our democracy during this emergency by establishing an online voter registration system that all New Yorkers can access," said Amy Loprest, executive director of the New York City Campaign Finance Board, in a statement. "With in-person voter registration events shut down, we are concerned that young voters and naturalized citizens, in particular, will be disenfranchised during this critical election year."
"The NYC Campaign Finance Board's online registration system is a sensible, secure and timely alternative to paper applications and in-person registration efforts during this unprecedented public health crisis, " said Luis Feliz Leon, a spokesperson for DemocracyNYC, a de Blasio initiative aimed at improving voter participation in the city. "We hope the City Board of Elections will work with the CFB to accept voter registrations submitted this way."
Note - this article has been updated with comment from a spokesperson for DemocracyNYC.