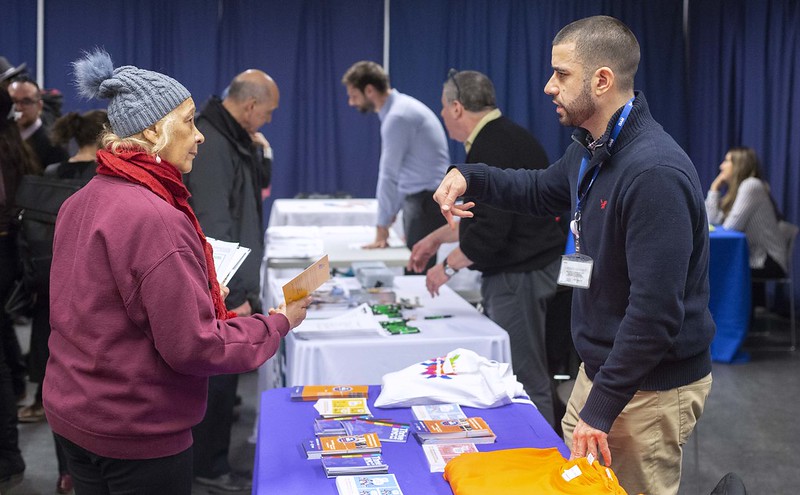 (photo: John McCarten/City Council)
---
As the coronavirus outbreak causes more and more health, social, and economic damage, many New Yorkers need help. Below is a guide to some available resources (please let us know if there's something we should add).
For updates from New York City about the pandemic, you can text the word "COVID" to 692-692, or "COVIDESP" to 692-692 for the same notifications in Spanish.
Unemployment Insurance
If you lost your job due to the coronavirus outbreak and its fallout, the state is waiving the seven-day waiting period to claim unemployment insurance benefits. But the state's Department of Labor has been overwhelmed with website traffic and calls, which the governor has said a large team is working to remedy. Visit the New York Department of Labor here.
Those filing for unemployment insurance should do so based on the first letter of your last name: A-F, file your claim on Monday; G-N, file your claim on Tuesday; O-Z, file your claim on Wednesday. (You may file Thursday, Friday, or Saturday if you missed your filing day.)
Last week, President Trump signed into law the Coronavirus Aid, Relief, and Economic Security (CARES) Act, a $2.1 trillion package that provides various aid programs during this crisis. For unemployment insurance, it provides "$1 billion emergency grants to states and 100 percent federal funding for extended benefits in states with an unemployment rate above 10 percent"; expands eligibility to include part-time workers, independent contractors, self-employed, and gig economy workers; $600 per week increase in unemployment insurance benefits for up to four months; allows for additional 13 weeks of unemployment insurance beyond what your state already provides; and "funds states with existing work-sharing programs, such as New York."
Jobs
While there are many jobs websites across the internet, New York state government offers the NY Hire Now portal of job listings, and the Department of Labor itself is hiring, while also offering a variety of tips and services related to job searches.
New York City's Workforce1 Centers are offering virtual help to individuals looking for work, and the city's Department of Small Business Services also runs a jobs listing.
Food Access
435 schools across New York City have been allowing students and families to pick up three meals per day. Mayor de Blasio announced Thursday that starting Friday, any adult who needs food could also access it at those locations. He said family hours are 7:30-11:30 a.m. and adult-only hours are 11:30 a.m.-1:30 p.m. People can find the location nearest them through this web portal run through the Department of Education website.
People can also text FOOD or COMIDA to 877-877 to get food access information from the city.
Many food pantries and soup kitchens across the city are open and available for people who need food assistance, though some have had to close and others may be on the brink, both due to the spread of the virus and challenges with supply lines. To find a nearby option, people can use this city website to find a food provider.
City-funded senior centers are closed but providing pick-up and delivery meals for seniors who may not have access to food services.
Many grocery stores are adjusting hours to accommodate more people and opening early for seniors to be able to shop without exposure to the rest of the population. People should check the websites and social media feeds of their grocers.
Under the CARES Act, $15.5 billion was approved to support participation in the Supplemental Nutrition Assistance Program (SNAP) and temporary ability to expand the program, and $450 million was allocated for food banks.
The Families First Coronavirus Response Act, passed earlier this month, "provided the WIC Program with $500 million to remain available through Sept. 30, 2021 for increases in program participation," according to the federal government's Food and Nutrition Services website.
The New York City Human Resources Administration (HRA) has moved its application process online, so New Yorkers can apply for SNAP benefits digitally, increasing access during this time of social distancing and when walk-in offices are closed.
For those with SNAP benefits, they can now be used online at three retailers for those who wish to protect themselves and avoid being around other people. SNAP benefits will be accepted online in New York at Amazon, Walmart, and ShopRite, as designated by USDA.
The Hunter College NYC Food Policy Center is in the process of creating a comprehensive rundown of food resources by neighborhood, across all five boroughs, called Coronavirus NYC Neighborhood Food Resource Guides.
Utilities/Mortgage/Evictions
Utility companies in New York have halted gas, electric, and water shut-offs until further notice.
All evictions have been halted by New York State Courts as of March 16, with Governor Cuomo ordering a 90-day moratorium on evictions. According to the NYC Coronavirus (COVID-19) and City Life website, this means people "will not need to apply for rent arrears (back rent) to stop an eviction until further notice," and that "you will be able to stay in your home during this health emergency."
For a period of 90 days, the Department of Financial Services (DFS) issued an order that requires "New York State regulated financial institutions provide residential mortgage forbearance on property located in New York. This will be for a period of 90 days and applies to any individual residing in New York who can demonstrate financial hardship as a result of the COVID-19 pandemic."
Health Care Coverage and Insurance
New York State of Health, the state-run marketplace for health insurance, reopened enrollment for health insurance for "uninsured individuals to ease coronavirus fears." The special enrollment period will remain open through April 15, allowing for many uninsured individuals to access health care.
In New York City, "NYC Care provides low-cost or free healthcare for all New Yorkers regardless of ability to pay or immigration status. This is not an insurance plan. Call the 24-hour NYC Care service at 646-NYC-CARE (646-692-3373) to enroll and make an appointment. Primary care, specialty, and emergency services (including hospital stays) are all available for NYC Care members. For help in other languages, visit https://www.nyccare.nyc/."
Mental Health
In response to the COVID-19 outbreak and its fallout, the New York City Department of Health and Mental Hygiene is providing tips and resources for how to manage the stressful situation, including limiting screen time, keeping connected with people, and maintaining daily routines. The city points people to federal CDC guidance around coronavirus "stress and coping.
Beyond tips, there are other resources available, including through NYC Well, a free, confidential service with counselors available 24 hours a day, who can "provide brief counseling and referrals to care in over 200 languages" for New Yorkers. People can call NYC Well's helpline at 888-NYC-WELL.
Seniors specifically can call the city's helpline at 212-AGING-NYC and military veterans can call 800-273-8255.
Governor Cuomo announced on March 29 that more than 12,000 mental health professionals have volunteered to help New York State provide free online services to those who need it during the crisis. This service can be accessed by calling 1-844-836-9314.
Domestic Violence Survivor Resources
There are widespread concerns that the coronavirus fallout will include increases in domestic violence.
"Domestic violence often escalates during and after a disaster," said Connie Neal, Executive Director of the New York State Coalition Against Domestic Violence in a press release from the office of Attorney General Letitia James. "Because survivors of domestic violence are often already isolated, with limited access to financial resources and social networks, it can feel even more challenging to find and receive the support they need. But help is available through a network of domestic violence advocacy services across the state of New York. Advocates can provide confidential assistance with safety planning, emotional support, shelter, and referrals for a range of other community services."
In an emergency, people should call 911.
The New York State Domestic and Sexual Violence 24-hour hotline is 1-800-942-6906.
The National Domestic Violence 24-hour hotline is 1-800-799-7233. The 24-hour live-operated bilingual (English/Spanish) hotline for the Violence Intervention Program is 1-800-664-5580.
The New York State Coalition Against Domestic Violence has a list of available programs, broken down by county.
Safe Horizon, a non-profit serving individuals in New York City, can be reached 24/7 at 1-800-621-4673. Safe Horizon also has a one-on-one online chat system.
The NYPD's Domestic Violence Unit has also put out some tips.
Small Businesses
Mayor de Blasio announced in early March that New York City will provide relief to small businesses impacted by the economic downturn brought on by coronavirus.
The NYC Employee Retention Grant Program offers small businesses with fewer than five employees a grant to cover 40% of payroll costs for two months in an effort to help the businesses retain employees through the crisis. To be eligible, those smallest small businesses must demonstrate that COVID-19 caused at least a 25% decrease in revenue, been in operation for at least six months, and have no outstanding tax liens or legal judgments.
For more information about the NYC Employee Retention Grant Program visit this website.
The city is also offering the NYC Small Business Continuity Loan Fund, which helps businesses with fewer than 100 employees that have seen a 25% or more revenue drop to apply for zero interest loans of up to $75,000.
For more information and to apply for the NYC Small Business Continuity Loan Fund visit this website.
Thanks to the recent $2.1 trillion federal stimulus package, the U.S. Small Business Administration (SBA) has a series of relief programs that can help small businesses nationwide survive through the pandemic.
The Paycheck Protection Program "prioritizes millions of Americans employed by small businesses by authorizing up to $349 billion toward job retention and certain other expenses." Eligible businesses can qualify for a loan of up to $10 million determined by 8 weeks of average payroll plus an additional 25%; loan payments will be deferred for 6 months; and if the business doesn't lay-off staff, SBA will forgive the portion of the loan used to cover two months of payroll.
The SBA is also providing the Economic Injury Disaster Loan program that can be accessed here.
The SBA will provide some debt relief for businesses. According to the SBA website, "SBA will pay the principal and interest of new 7(a) loans issued prior to September 27, 2020," and "the SBA will pay the principal and interest of current 7(a) loans for a period of six months."
Finally, SBA is providing the Express Bridge Loan Pilot Program that allows small businesses who already have a relationship with an SBA Express lender to access $25,000 with less paperwork and faster turnaround. "These loans can provide vital economic support to small businesses to help overcome the temporary loss of revenue they are experiencing and can be a term loans or used to bridge the gap while applying for a direct SBA Economic Injury Disaster loan," the SBA website says.