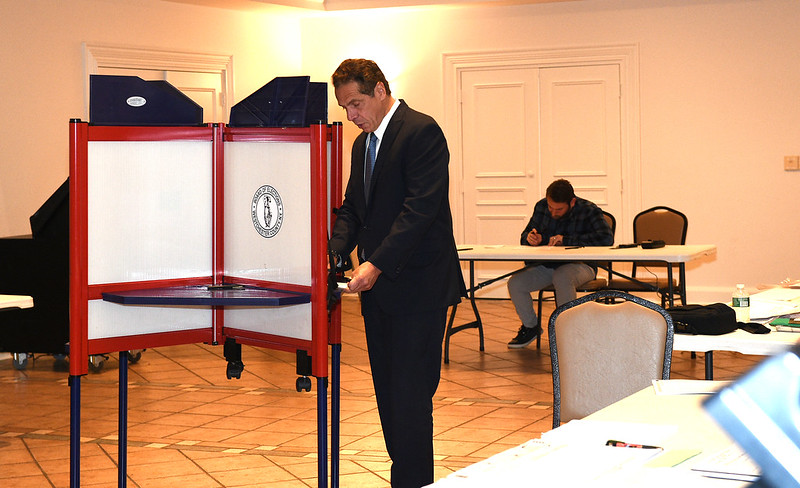 Gov. Cuomo votes, in person (photo: Kevin P. Coughlin/Governor's Office)
---
Governor Andrew Cuomo announced on Wednesday that he will use his executive authority to allow all New Yorkers to vote by absentee ballot for the June 23 elections, to prevent long lines at the polls that could put people at risk of being exposed to the coronavirus. Elections that day will include party primaries for many seats and special elections open to all voters within the relevant districts.
"I've seen lines of people on television voting in other states. This is totally nonsensical," Cuomo said at his daily coronavirus briefing on Wednesday, taking stock of presidential primary elections that have continued in other states. "God bless them for having such diligence for their civic duty that they would go stand on a line to vote. People shouldn't have to make that choice and, by executive order, all New Yorkers can vote absentee on the June 23 primaries coming up."
New York's presidential primary was originally scheduled for April 28 but the governor moved it to June 23, to coincide with the congressional and state primary elections. Two special elections in New York City, for a Brooklyn City Council seat and Queens Borough President, were also rescheduled for that date, as well as several special elections in other parts of the state.
There is no Republican primary for president after the party cancelled it since President Donald Trump is the only who made the ballot. There's also a possibility that the Democratic primary could be scrapped, according to a City & State report, since Vermont Senator Bernie Sanders suspended his campaign and former Vice President Joe Biden is now the presumptive nominee.
But, there are a variety of hotly-contested primaries still set to take place in June, as well as the aforementioned special elections.
The April 9 executive order from Cuomo suspends a portion of state election law and modifies it "to provide that due to the prevalence and community spread of COVID-19, an absentee ballot can be granted based on temporary illness and shall include the potential for contraction of the COVID-19 virus for any election held on or before June 23, 2020."
It also says that only for elections on or before June 23 of this year, election law is "modified to allow for electronic application, with no requirement for in-person signature or appearance to be able to access an absentee ballot."
Currently, state law only allows an absentee ballot for certain reasons: if a voter is expected to be absent from New York at the time of an election; if they're unable to vote because of a temporary or permanent illness or disability; if a voter is the primary caregiver for someone who is ill or disabled; if an individual is a resident or patient of a Veterans Health Administration Hospital; or if a voter is in jail waiting for a Grand Jury decision or in prison after being convicted of a non-felony offense.
Cuomo's order is set to open up the process, though it still relies on voters requesting an absentee ballot, falling short of the full vote-by-mail system that some want to eventually see whereby all voters are sent a ballot without having to take any action besides registering to vote and keeping their current address on file with the appropriate elections entity.
With New Yorkers being encouraged to stay at home short of an emergency and absolutely essential activities, there are ways to get an absentee ballot application without visiting a Board of Elections office.
Voters can obtain an absentee ballot application online from the state Board of Elections, in English and Spanish. The New York City Board of Elections also provides forms in Chinese, Korean, and Bengali.
Voters can also request an absentee ballot by mailing a letter to their local board of election, which must receive the request no earlier than 30 days and no later than seven days before the election. So, the earliest voters can request an absentee ballot for the June elections is May 24, which in part allows time for ballots to be finalized. And for this June's elections, the letter or an application must be postmarked by June 16 the latest.
New York City voters can also request an application by calling 1-866-VOTE-NYC (1-866-868-3692). The city BOE will then mail the voter a postage-paid application. All voters can designate someone else to pick up an application and absentee ballot if they have a valid reason for not being able to do so personally.
June 22 is the last day to file an absentee ballot application in person or postmark an absentee ballot by mail. If another individual is designated to file the ballot, they must do so by June 23. A mailed ballot must be received by June 30 in order to count.
With the change in election dates, voter registration deadlines have also changed. To vote in the primary, an individual must postmark a registration application by May 29 – it has to be received by the BOE by June 3. May 29 is also the last day to register in person at the BOE offices. A change of address will be processed if the BOE receives it by June 3.
Since New York holds closed primaries, only those voters who have designated a political party on their voter registration can cast a ballot in that party's primary. The deadline for changing party affiliation, however, was February 14.
It's also important to note that while election day for June is Tuesday the 23rd, there will be an early voting period from Saturday, June 13 through Sunday, June 21. No modifications to in-person voting have been announced at this point.
Note: this story has been updated with the language from Cuomo's relevant executive order.