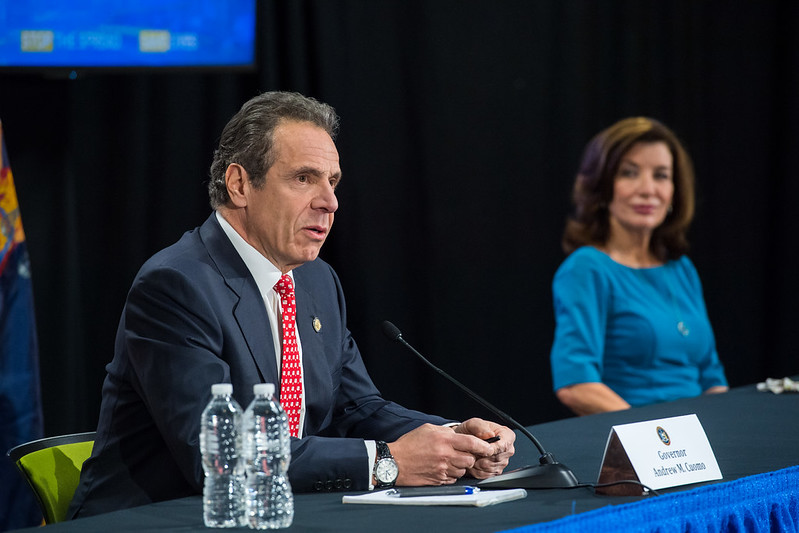 Gov. Cuomo and Lt. Gov. Hochul (photo: Darren McGee, Governor's Office)
---
As Governor Andrew Cuomo garnered national attention while leading briefings on New York's response to the novel coronavirus outbreak each day for well over a month, often from Albany and sometimes from Manhattan, one top state official was conspicuously absent: Lieutenant Governor Kathy Hochul.
Not only was the lieutenant governor not present for any of the governor's first 40-plus daily coronavirus briefings, she was curiously never mentioned as part of the Cuomo administration's emergency efforts, even as the governor brought several former top members of his team back into the fold to help out.
Though in recent weeks Hochul has been busily making the rounds on radio and television, giving updates on behalf of the Cuomo administration, she had not joined the governor and his top aides and confidants at one of the now-famous COVID-19 briefings until Tuesday, when Cuomo held one in Buffalo, not far from where Hochul resides.
As Hochul, one of just four statewide elected officials, has explained during some of her frequent media appearances and in an email exchange with Gotham Gazette, she has been designated to monitor conditions upstate, representing the administration in parts of New York far less impacted by the pandemic, which has hit New York City and its suburbs particularly hard. Hochul has been all over the airwaves -- mostly upstate but also at times downstate -- providing updates and getting out the administration's message, informing New Yorkers on state efforts to contain the outbreak, attempting to clear up misunderstandings and reassure New Yorkers.
On Tuesday from the Roswell Park Cancer Institute, Hochul was seated directly, though with several feet of distance, to Cuomo's left, and the governor heaped praise on his lieutenant, whom he called "my partner in state government," and explained that she was going to spearhead the planning to 'reopen' western New York, which will happen when public health officials believe it is appropriate and the governor gives the go-ahead.
"We'll ask her to take charge of western New York, monitor the public health issues, make sure if there's a problem in terms of public health, we're marshalling all the resources from across the state to help western New York and also to start to work on the reimagining and reopening plan for western New York," Cuomo said of Hochul, while also putting his first-term lieutenant governor, Robert Duffy, now the CEO of the Rochester Chamber of Commerce, in charge of the same for the Finger Lakes region. Over the course of Cuomo's initial 25-minute briefing, neither Hochul nor anyone else seated on the dais with the governor had a speaking role; and there were no questions directed at the lieutenant governor in the 12 minutes of media Q-and-A that followed.
On Tuesday in Buffalo, Cuomo and Hochul were joined by, among others, Jim Malatras, Cuomo's former director of state operations, who left the administration to become president of SUNY Empire State College, but has returned to work with Cuomo on the coronavirus crisis. Not there on Tuesday, but typically at Cuomo's briefings have been Secretary to the Governor Melissa DeRosa and Health Commissioner Dr. Howard Zucker. Several other aides and advisors, such as Gareth Rhodes, have been among those taking on new responsibilities and deeply involved in the state coronavirus response, and at times Cuomo's briefings. Typically, Cuomo is flanked by DeRosa, Malatras, and Zucker.
Last week, Gotham Gazette inquired about Hochul's role in the Cuomo administration's response to the pandemic, which has taken a greater toll in New York than anywhere else in the country.
"I'm Upstate between Buffalo and Albany focused on coronavirus efforts and response in close coordination with Governor Cuomo and his team," Hochul wrote by email. "As you know, the situation with the coronavirus continues to change day-by-day and transparency is a priority, so I'm focused on communicating the most accurate and complete information, whether it's keeping New Yorkers updated through local media interviews or offering mental health tips through newer social media avenues like Instagram Live. I'm regularly in touch with Commissioners, senior staff and have numerous daily briefing calls with emergency operations command centers, county executives and local elected officials throughout the day to keep communication channels open."
Hochul, a Democrat who briefly represented her home Erie County district in Congress, joined Cuomo's ticket for his initial reelection in 2014, then the duo won her second term and his third in 2018. The lieutenant governor's portfolio has previously included economic development and a variety of other issues, including a child care task force she's currently co-chairing.
As COVID-19 has been ravaging New York, largely downstate and in New York City especially, Hochul has been hunkered down at her upstate home, while Cuomo has lived out of the governor's mansion in Albany, holding briefings at the Capitol building and other locations around the state, such as several at the Javits Center in Manhattan, which has been home to a pop-up hospital created largely by the federal government at Cuomo's request. The governor has focused a great deal of attention on New York City, which has been the epicenter of the coronavirus outbreak in the United States.
Amid her frequent recent appearances, on April 15 Hochul went on 98PXY radio and said New York City has been so hard hit by coronavirus in part because of reliance on public transportation and the density of the downstate area, and it was to be expected.
"Everybody's on top of each other," she said. "Everyone wants to be in New York City, a lot of people want to be in New York City, it's a fascinating and fabulous place to live but it's also the most congested place in the country, and that's really why the numbers are so much higher there. We're not on top of each other, we're not in high rises with a thousand other people, We're not on public transportation to the degree they are in New York City, that's one of the reasons why we're not seeing the numbers upstate."
Hochul's uptick in media appearances, several dozen over the course of a few weeks, also coincided with controversy that erupted after Cuomo on April 3 announced plans to issue an executive order that would allow him to redirect medical resources, such as ventilators, to areas of the state that need them, at the governor's discretion. In essence, this meant from upstate to downstate, and sparked concern and criticism from some in various places across upstate, including western New York.
Many of Hochul's radio appearances have focused on clearing up the details of the order and ensuring residents of upstate areas that they are not being raided by the state to help New York City and left vulnerable to the outbreak.
"He simply said that he was looking at an executive order which would authorize him to be able to take an assessment of where all the ventilators are, the needs of the hospitals in those communities, and also be able to redeploy if necessary. So he was just simply reserving the right to do this," Hochul said on WBFO NPR Morning Edition with Jay Moran, on April 6. "No ventilators have left western York despite people trying to politicize this issue and trying to scare people. There's fear-mongering going on and people putting out all this information that there's been 50 confiscated in the middle of the night. All of that is false."
She likened the order to what would happen if a bad snowstorm were to hit upstate and snow plows are sent from the downstate region to help out.
"It reminds me of a snowstorm scenario where Buffalo gets smacked," Hochul said on A New Morning with Susan Rose and Brian Mazurowski on WBEN on April 6. "We could shut down for days, even weeks, people stranded...and boy are we glad when those utility trucks show up from Long Island and Westchester and New York City and people bring generators and national guard flowing into our communities to help us. And you know what? They don't say we need to stay downstate cause the snow might come here. It's not snowing yet...they come and help. And the governor shows up and I show up and that's what we're talking about. When there's a need, we'll be there to help because there is no way that we'll leave western New York unprotected."
The controversy subsided some when Cuomo's order was less dramatic than some had feared or made it out to be, and when the COVID-19 numbers started to look better than projected downstate, with hospitalizations and intubations somewhat stabilizing.
"We're monitoring the numbers literally by the hour and how many new cases, people testing positive, how many hospitalizations and certainly the number of people that have been discharged from the hospital as well," Hochul said on WBZA's The Morning Buzz on April 6. She went on to discuss coronavirus-related fatalities, stressing that "the vast majority of which were in New York City," and noted some positive trends in terms of the number of deaths dropping, albeit still at a high number, and "reduction in hospitalizations and the number of people in ICU. And so those are trends that we've been desperately looking for. And we finally started to see them. Actually to call it a trend may be premature, if we could see this go out over the next few days and be very positive."
Even with some positive signs, the numbers remain quite high, and Hochul has spent significant energy warning people to not let the relatively good news reduce their commitment to staying at home and social distancing.
"There's still a lot of lives being lost," she said while noting some "progress" and stressing that "the governor says this is all driven by science and data. We can't predict anything. But what also could be a scenario is you hit a plateau where you stay at this rate of still losing those high numbers. Even if they don't start getting higher, that's still a high number. But that could continue for a number of days. We don't know when it would start dropping. We can keep this centrally located downstate and deal with it there and that's where the need is the greatest and prevent it from spiking up and those numbers upstate. But this is where social responsibility is what's going to protect us."
Along with the public health crisis, an economic crisis has unfolded, with mass job loss and New Yorkers filing for unemployment insurance in huge numbers, facing problems with the state Department of Labor's website and being able to reach a representative on the phone.
Hochul has spent significant portions of her time on the airwaves reassuring New Yorkers that the state was very aware of the problem and taking steps to fix it. She says the bulk of the problem is capacity of the system, which has all of a sudden been experiencing millions of calls a day.
"We've hired Google to redo our websites and make it easier. We have people working from other agencies, hired over a thousand new people [at Department of Labor]. So I know there's frustration, which the governor said it's not acceptable and we're going to get this right," Hochul explained on News 12 Bronx and Brooklyn, in one of her handful of recent downstate appearances. "And I know it's been a long way and it's hard to be patient because we're all under tremendous stress. But in the end, at the end of it all, be aware that your benefits are going to be retroactive to the first day that you needed them, not the day that you connect with the state agency."
Hochul described the efforts to modernize the website as an area they've been "prioritizing more than ever" because it's how they "can directly help New York families."
With Cuomo extending his "New York on PAUSE" order to mid-May, protests have begun cropping up, in Albany and in Buffalo (and other places around the country), with protestors calling for a reopening of the economy. When asked about the protests on Spectrum News Buffalo, Hochul said she and the governor want to reopen the economy as much as everyone else, but it has to be done carefully and on a timetable.
"This is an opportunity for us to be unified, to stand together as Americans who are all having to encounter a global pandemic together at the same time. This isn't a time to be divisive and have political winds blowing here," Hochul said.
As she continues to have a focus on the economy given her past portfolio and is now taking on more of a focus regarding the idea of a western New York "reopening," Hochul said that she has begun talking with various chambers of commerce across the state as the administration develops plans.
Reopening has to be done in a "thoughtful and responsible way," she said.
Cuomo has also recently announced a coordinating council among seven northeastern states — New York, New Jersey, Connecticut, Pennsylvania, Delaware, Massachusetts, and Rhode Island — to work together to come up with a regional plan to reopen the states, though he then said New York would start planning its own region-by-region framework within the state, tasking Hochul with the western New York region.
"The coordinating group - comprised of one health expert, one economic development expert and the respective Chief of Staff from each state -- will work together to develop a fully integrated regional framework to gradually lift the states' stay at home orders while minimizing the risk of increased spread of the virus," a press release from Cuomo's office said.
Though she is not one of the three New York members on the regional council, Hochul said she is also focused on the effort as the chair of the state's Regional Economic Development Councils (REDC), a major Cuomo initiative that awards millions in local funding each year, and speaking with chambers across the State to add to the reopening plan for New York State.
"I'm already talking to our chambers and business leaders all across the state how we talked about a recovery 'cause we're anxious to get that economy started again. But it's how long that's going to take and when that'll start all depends on whether or not people practice what we've been talking about," Hochul said on WBEN. "Because every time you leave your house, you and your family and others are exposed to this and we're just asking for this level of sacrifice longer."
According to Hochul and Cuomo, the key to reopening will be testing capacity.
"Testing is going to be key," Cuomo said at his daily coronavirus briefing on April 13. "That's a new frontier for us, also. This state is probably the most aggressive state in the nation in actually getting the testing up. We test more than any other state. We test more than other countries. We test more than the other leading states combined in testing. But, that's still not enough. We have to do more."
Two days later, Hochul was getting the message out. "A lot of it is going to be based on testing. If we could have broad based testing, we'll know who already has this and those people, they would be able to get back to work and normal life. We want to start introducing those concepts and working with our neighboring states on a policy," the lieutenant governor said on 98PXY on April 15.
Hochul told Gotham Gazette that opening would also require help from the federal government. Governor Cuomo "is also asking the federal government, in a bipartisan effort, for $500 billion in aid to states to help with our economic recovery," Hochul said by email. "We need the federal government to step up and take action for the future of our economy. Much of the recovery will come with continued support for the Paycheck Protection Program, additional support for hospitals and healthcare. We will need significant investments to rebound from this unprecedented effort."
Hochul said on 98PXY that by the time we develop a vaccination, that's when we know for sure we can go back to normal life. So we don't want to backslide before that and work to begin reopening the economy.
Hochul was set to make another eight public appearances on Wednesday, including six on radio or TV, one at The Ivy Network's Wise Women Zoom Conference and one at the North Country Chamber of Commerce town hall.
Ben Max contributed to this article.