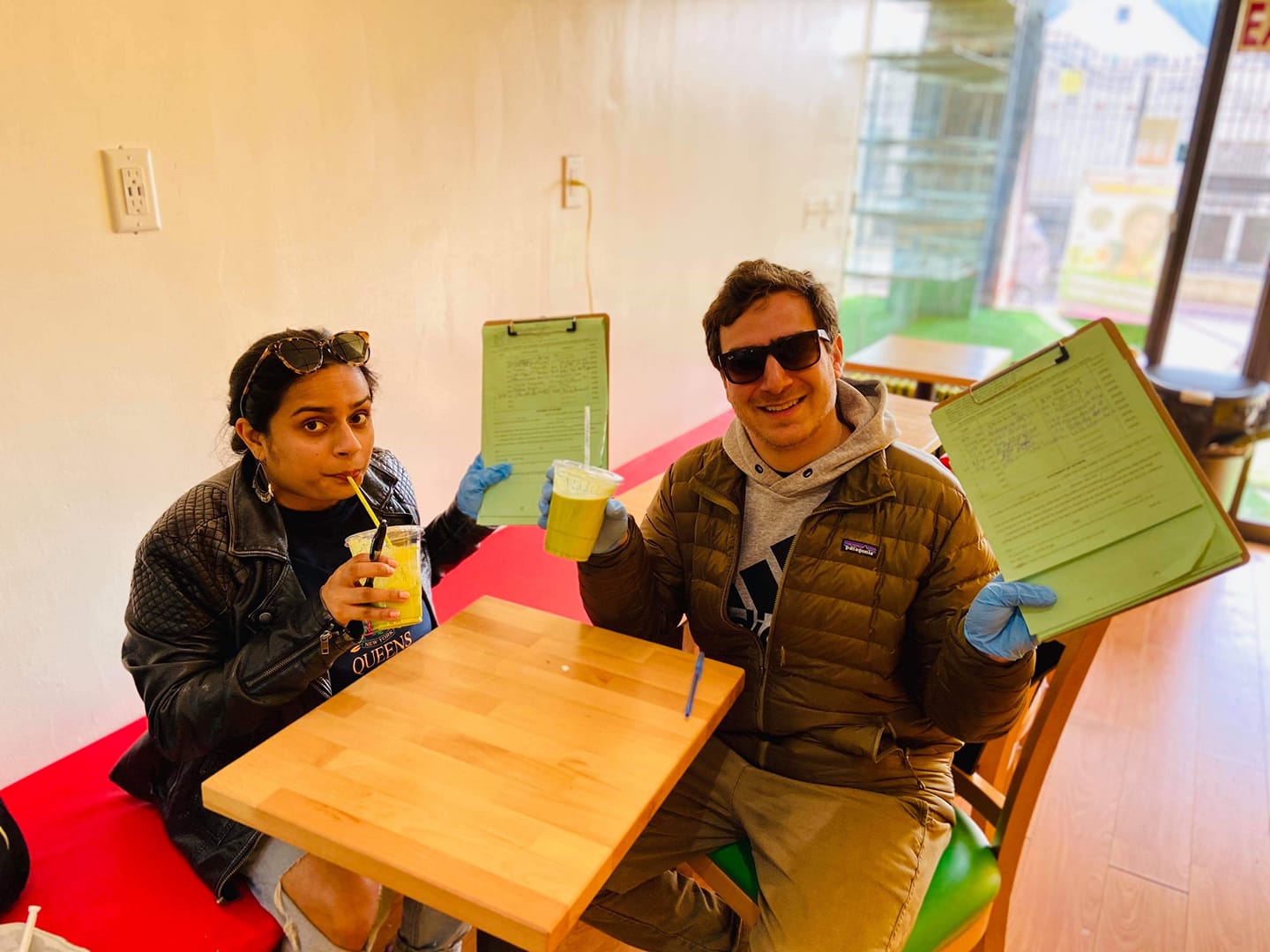 Christina Das and John Wasserman collecting petition signatures in March (Wasserman's Facebook)
---
Two Brooklyn candidates say their names were removed from the June ballot for party positions in retaliation for pushing back against local Democratic officials asking them to canvass during the pandemic as one of them experienced coronavirus-like symptoms.
John Wasserman and Christina Das — who were running for reelection as 42nd Assembly District Alternative Judicial Delegate and Judicial Delegate, respectively — believe they were kicked off the ballot by the Brooklyn Democratic Party after they pushed back against the signature total demands made by District Leader Josue "Josh" Pierre.
"I told Josh I was sick. I told Josh that I have coronavirus symptoms and was unable to collect any petition at that point in time," said Wasserman, former president of Brooklyn Young Democrats.
"[Josh] told me, 'Look, if you don't collect 250 signatures, I'm going to disassociate from you,'" Wasserman recalled of his conversation with Pierre, a City Council candidate who is a cousin of, and co-district leader with, Brooklyn Democratic Party leader Rodneyse Bichotte, who represents central Brooklyn's District 42 in the State Assembly.
Despite an executive order from Governor Andrew Cuomo on March 14 that lowered the petition threshold, Pierre told them on March 15 that "she," referring to Bichotte, still wanted 250 signatures from them, according to a text from Pierre.
Pierre did not respond to several requests for comment. A spokesperson for the Brooklyn Democratic Party, which Bichotte was elected to lead in January, declined to comment.
Wasserman, 27, said that on March 5 he came down with possible COVID-19 symptoms, including coughing and fatigue, which prompted him to stop petitioning out of concern for his health and that of others. He went to the doctor on March 10, when he took a flu test that came back negative, so he decided it was best to practice social distancing, he said.
Wasserman told Pierre about his symptoms and Pierre — who is running in the 2021 election to represent the 40th City Council District, which includes Prospect-Lefferts Gardens, Flatbush, and part of Midwood — asked about his signature count, according to text messages between the two.
Two days later, on March 13, Pierre encouraged Wasserman and Das, a 28-year-old CUNY law student and the current Brooklyn Young Democrats president, to go out to canvass that weekend.
The pair, who live together in Flatbush, say they obliged, and went to Newkirk Plaza to ask voters for signatures for ballot petitions including their names as well as those of other local candidates. They fell significantly short of the 250 signatures Pierre demanded, they said. That weekend, Wasserman collected 13 signatures and Das gathered 18 of them for the slate, they said.
Wasserman called and texted Pierre several times to express his concerns about petitioning during a pandemic — and while potentially being a vector for the virus — but received no response. Pierre repeatedly asked Wasserman and Das for updates on their signature count.
"You and Rodneyse want us to collect signatures during a national health crisis, that's concerning," he texted Pierre on Sunday March 15.
That day, Wasserman's and Das' petitions were delivered to the Board of Elections by Pierre, according to Wasserman.
Just over a month later, Wasserman received a letter, dated April 15, from the Board of Elections informing him that his judicial delegate candidacy had been terminated because he did not file a cover sheet with his petitions. Das later found out via the city ledger that her judicial delegate candidacy had also been terminated for the same reason. Das did not receive a letter, she said. (Both will appear on the June ballot to retain their county committee posts.)
"We collected petition signatures, and [Pierre] filed our petition signatures without a cover sheet, kicking us off the ballot," Wasserman said.
After his efforts to obtain it from Pierre were unsuccessful, Wasserman contacted the Board of Elections on April 18, he said, requesting a copy of the ballot petition cover sheet that was supposed to have included his name, along with fellow Democrats who had agreed to petition together for ballot spots. He said he received it via e-mail on April 20.
The sheet, reviewed by Gotham Gazette, showed Wasserman's and Das' names covered with what appears to be whiteout, while every other candidate's name remained legible on the sheet.
On April 20, when Wasserman received the cover sheet after contacting the BOE on Saturday because his efforts to get the from Pierre were unsuccessful, he found that his and Das' names had been covered with what appears to be whiteout. Every other candidate's name remained on the cover sheet.
Wasserman and Das believe it was a coordinated attack on their candidacy that was hatched by party officials, not a clerical error, because they were the only candidates from their petitions who were booted from the June ballot.
"There's really no way that this was incompetence," Das said. "Every single other member of the 42nd [Assembly District] are all filed with cover sheets other than two individuals who spoke out about petitioning during a pandemic."
The move was a deliberate act of retaliation, according to a Brooklyn elections lawyer, who said he had never seen a similar maneuver in his 40 years working in the borough's politics.
"Is it an illegal practice? I don't think so. Is it an immoral practice? Well, that's between those involved and their maker," said Howard Graubard, the lawyer, who is familiar with the situation but isn't involved in it in an official capacity. "Is it unseemly? Damn right it is."
"To go through the trouble of doing that is just astonishing," he added. "It's extraordinarily silly."
The sheet, which prominently displays Bichotte's name twice and Pierre's once, is signed by attorney Jonathan Harkavy.
While Wasserman and Das on Wednesday challenged the ruling at a video hearing held by the Board of Elections, the termination was upheld, and both candidates remain off the ballot. According to Wasserman, their only mode of recourse is now State Supreme Court — an avenue they are considering. Several other candidates kicked off the ballot are also considering a suit.
"Leading up to a really monumental election, this can't be how youth leadership and young people are treated," Das said in an interview. "We should be uplifted and have a transparent, open process for all constituents."
"This is not how district leaders and our county representatives should be treating constituents."
Asked why he continued to canvass while he could have been a vector of the potentially deadly coronavirus, Wassermann said he "felt pressure from [Pierre]."
"We didn't go door-to-door, and that's probably why we got less signatures," said Das. "I made sure to get gloves and masks. I wasn't exhibiting any symptoms."
"We felt pressured to go out," she said.
After under two hours of canvassing on Saturday March 14, the two realized they couldn't successfully or safely petition, they said, so they stopped.
Both candidates said they have heard from two other judicial delegate candidates who got on the ballot without collecting any signatures. They also heard from other candidates that they had not been asked to provide 250 signatures, meaning to them the number Pierre asked for was an arbitrary one.
Das and Wasserman are among a number of young candidates who have run into challenges of their candidacy amid the pandemic, which has thrown the petitioning process into disarray. Despite pressure from progressives and other Brooklyn lawmakers, Bichotte has refused to halt petition challenges filed by the party she leads.
"Candidates who failed to meet the lowered threshold should not take advantage of this health emergency to force their candidacy on the community," she wrote in a Daily News op-ed published on April 8.
Among the booted candidates are Sandy Nurse, a progressive running in the open City Council special election to replace Rafael Espinal in District 37, and all others in the race but the one candidate with the Party's backing. Nurse had been coalescing support among a number of groups and officials to take on the Brooklyn Democratic Party's chosen candidate, Darma Diaz, and, like Wasserman and Das, says she is considering going to court to secure her spot on the June ballot.
Note: this story has been corrected to remove erroneous mention of Samy Nemir-Olivares being kicked off the ballot and to clarify which positions Wasserman and Das were seeking.