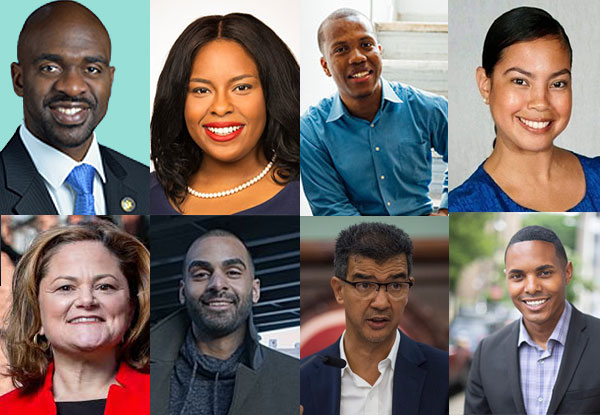 left to right: (top) Michael Blake, Chivona Newsome, Frangell Basora, Samelys Lopez
(bottom): Melissa Mark-Viverito, Tomas Ramos, Ydanis Rodriguez, Ritchie Torres
---
On Thursday, May 14, eight Democratic candidates vying to replace retiring Bronx Congressional Rep. José E. Serrano met for an online debate hosted by Gotham Gazette, City Limits, The Point CDC, and other partners.
The debate, watched by hundreds on Zoom and Facebook Live, with a Spanish translation phone line, can be viewed via the embedded video below.
Participating candidates were Frangell Basora; Michael Blake; Chivona Newsome; Samelys Lopez; Melissa Mark-Viverito; Tomas Ramos; Ydanis Rodriguez; and Ritchie Torres.
The debate was moderated by Gotham Gazette's Ben Max, with questions asked by Daniel Parra of City Limits, Sierra Straker of The Point, and Parker Quinlan of Hunts Point Express/Mott Haven Herald.
Serrano is retiring from Congress after 30 years due to health reasons, so his seat in New York's 15th Congressional District is effectively open and a crowded field has formed in the Democratic primary, set to be decided in June. Given it is one of the most Democratic districts in the country, the winner of the primary is all but certain to be the next member of the House of Representatives from the Bronx district home to some of the highest poverty rates in the country.
Voting is just around the corner: primary day is June 23, with early voting from June 13 through June 21, and all eligible voters will be mailed an absentee ballot given the coronavirus outbreak.
Ruben Diaz, Sr., also a candidate for the office, did not agreed to participate in the debate. (There will be other candidates on the ballot, but they have not mounted serious campaigns as indicated by a total lack of fundraising and were not invited to the dbeate: Mark Escoffery-Bey, Julio Pabon, Marlene Tapper.)
The 15th is the only Congressional district located entirely within the Bronx. It covers Mott Haven, Hunts Point, Melrose, High Bridge, Port Morris, Clason Point, Morrisania, Concourse Village, East Tremont, Tremont, Morris Heights, Castle Hill, University Heights, Bronx River, Belmont, Shorehaven, Claremont Village, Fordham, West Farms, Longwood, Mount Hope, Soundview and Harding Park.
Watch the candidates discuss their records and platforms and answer questions about the coronavirus response, housing, immigration, jobs, and more: