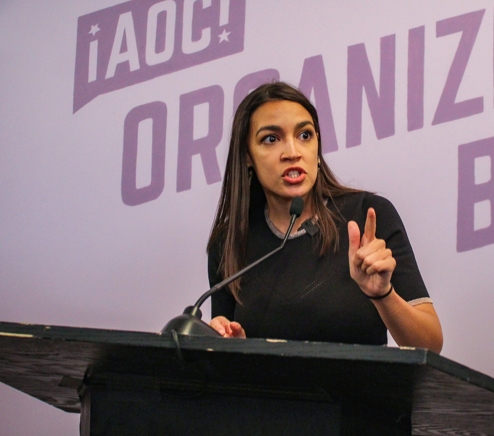 Rep. Alexandria Ocasio-Cortez (photo: ocasiocortez.com)
---
Representative Alexandria Ocasio-Cortez of Queens and the Bronx faced three Democratic primary opponents in a Monday evening debate hosted by BronxNet TV and the League of Women Voters of New York State. Ocasio-Cortez, running for reelection for the first time after stunning the world in 2018 by unseating Rep. Joe Crowley in New York's 14th Congressional District, debated opponents Michelle Caruso-Cabrera, Badrun N. Khan, and Samuel H. Sloan. The debate was moderated by BronxTalk host Gary Axelbank.
Ocasio-Cortez was repeatedly attacked by Caruso-Cabrera, who is running as a more moderate, pragmatic candidate to Ocasio-Cortez's democratic-socialist, progressive-firebrand status, while the incumbent fired right back by questioning Caruso-Cabrera's roots in and commitment to the district. The candidates discussed a wide range of substantive issues, from the federal coronavirus response to jobs and health care, while also debating Ocasio-Cortez's voting record.
The primary is open to all Democrats in the 14th Congressional District, and will take place in June, with early voting June 13-21 and primary day on June 23. In addition to in-person voting, all voters have been made eligible to vote via absentee ballot by gubernatorial order, which also required Boards of Elections to mail an absentee ballot application to each eligible voters. Voters in New York City can be even more sure they'll get an application by requeting one from the New York City Board of Elections, and in order to cast an absentee ballot, all voters must return the application, recieve the actual absentee ballot, fill it out, and send it back in.
Watch the NY-14 Democratic primary debate: