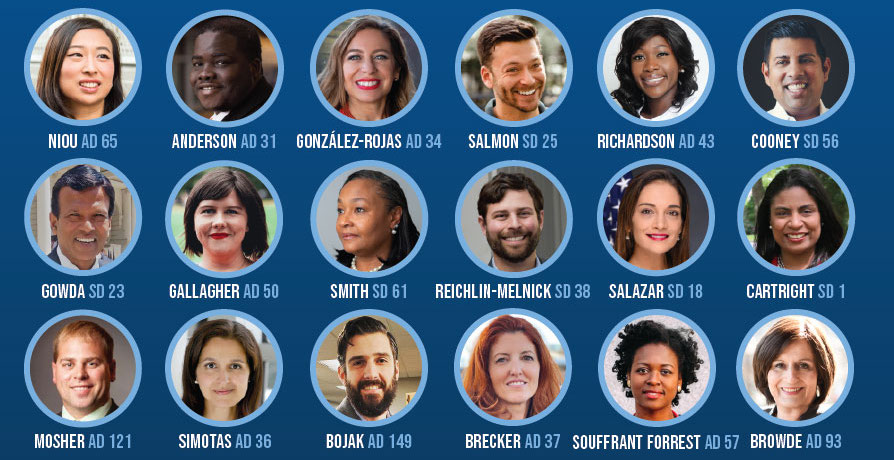 Endorsed candidates (image via True Blue NY)
---
A coalition of progressive activists from across the state, which formed as a response to Donald Trump's election and helped tip the balance of the state Legislature towards Democrats in 2018, is backing a slate of Democratic candidates in the June primary election to propel movement on issues of social, economic, and racial justice that they feel have been ignored by the current state government.
The True Blue NY coalition scored a progressive coup in the last state election cycle by helping elect several progressive Democrats to the State Senate, helping give the party power over the chamber for the first time in nearly a decade. In the primaries that year, they helped oust most members of the erstwhile Independent Democratic Conference, a rogue faction that shared power with Republicans and helped them hold the chamber, then helped flip seats in the 2018 general election to ensure the majority that ushered in a new era in Albany.
With Republicans in the Senate minority, and with Democrats having enjoyed an overwhelming majority in the Assembly for years and a third-term Democratic governor, Andrew Cuomo, the party was finally able to pass a slew of progressive bills that had languished session after session. This year, True Blue NY hopes it can carry that momentum forward by helping favored incumbents keep their seats, disfavored incumbents lose theirs, and upstarts fill "open" seats where no incumbent is running.
The coalition is endorsing 18 "Fighters for a True Blue Recovery," Democratic candidates from across the state who the coalition believes will push for the progressive legislation it sees as necessary for New York to ensure an equitable recovery from the coronavirus pandemic. The candidates include incumbents such as Assemblymember Yuh-line Niou and Senator Julia Salazar who are running for reelection; candidates seeking open seats such as Elijah Reichlin-Melnick, Jeremy Cooney, Kristen Browde and Kim Smith; and candidates such as Emily Gallagher and Jessica Gonzalez-Rojas who are challenging sitting Democratic legislators.
According to members of True Blue NY's steering committee, all the candidates expressed general support for progressive priorities including criminal justice reform, raising taxes on the wealthy, housing for all, healthcare for all (through the New York Health Act), and more.
"We're looking for social justice, for economic justice, for a recovery that isn't just for wealthy people," said Livvie Mann of Rise and Resist, a member group of True Blue NY, which also includes Empire State Indivisible, The Creative Resistance, Future Voters of America, and Code Blue, among 45 member groups.
As Mann pointed out, the state currently faces a dire financial situation and Cuomo, who has a well-known aversion to tax increases, has proposed severe cuts to health care and education funding if the federal government does not bail out the state.
"The austerity budgeting policies over the years have kind of put us in this situation where the pandemic is really hurting New York State," Mann said. "Now we're looking at major cuts at a time when we absolutely can't afford cuts to Medicaid and education even though the playing field could be leveled by raising taxes by a few percent on people who can afford it."
Mann emphasized that despite Democrats having control of the entire state Legislature and the governor's office, progressive bills still often fall to the wayside. It's why they are supporting challengers against sitting Democrats. "The motto used to be, 'Any blue will do.' But that just doesn't work, and we discovered that in the last budget," she said. "We need a solid, energized, passionate, progressive group to be able to make policies that are working for the people of New York."
The pandemic has also underscored the need for the True Blue coalition to activate the network of organizations under its banner to organize around each candidate, boosting them through all available forms of media and grassroots advocacy. Candidates and their boosters cannot conduct much if any in-person campaigning and canvassing, which is forcing them to get creative to get their message out, including through video-conferencing calls and virtual town halls and forums.
"I think that all of our candidates face an incredibly unusual election cycle," said Judith Hertzberg, a True Blue NY steering committee member. "We're exploring virtually every kind of medium that is high-visibility, high-touch, without physical contact."
Hertzberg said the coalition's organizing activities are particularly necessary at a time when the entire voting process is under attack, noting that President Trump has repeatedly and without evidence said that measures to expand voting by mail will lead to widespread voter fraud. New York is among the states that has allowed all voters to request an absentee ballot because of the coronavirus. Each vote counts more than ever, Hertzberg said, "because the barriers to voting are higher than ever. And I think every single candidate is grappling with that."
And in a state with an overwhelming Democratic majority, it is often the primary that decides the victor of a race. "The primary will set the stage for November in so many ways," Hertzberg said.

The full list of 18 endorsements includes:
Incumbents
– Assemblymember Yuh-line Niou, who represents Assembly District 65 in Lower Manhattan. Niou faces a competitive, well-funded challenger in Grace Lee, a local businessperson.
– Assemblymember Diana Richardson, who represents Assembly District 43 in Central Brooklyn. Richardson is being challenged by former state Senator Jesse Hamilton, who was a member of the IDC and lost his seat in 2018.
– Assemblymember Aravella Simotas, who represents Assembly District 36 in Western Queens. Simotas is being challenged by Zohran Mamdani, a housing counselor.
– Senator Julia Salazar, who represents Senate District 18 in Brooklyn. Salazar is being challenged by Andy Marte, a former political aide.
Challenging an incumbent
– Emily Gallagher, who is running for Assembly District 50 in Brooklyn. Gallagher is an activist and community board member who is challenging Assemblymember Joe Lentol, who has been in office since 1973.
– Jessica Gonzalez-Rojas, who is running for Assembly District 34 in Queens. Rojas is former executive director of the National Latina Institute for Reproductive Health. She is one of four candidates challenging Assemblymember Michael DenDekker, a six-term incumbent.
– Corey Mosher, who is running for Assembly District 121, which covers Madison County and parts of Otsego and Oneida counties. Mosher, a fourth-generation farmer, is going up against Dan Buttermann for the Democratic nomination to challenge Republican Assemblymember John Salka in the general election.
– Danielle Brecker, who is running for Assembly District 37 in Queens. Brecker is a community activist and was a co-lead organizer for Empire State Indivisible, one of the many progressive grassroots groups that make up True Blue NY. Brecker and another candidate, Mary Jobaida, are challenging Assemblymember Cathy Nolan, who has held her seat for 34 years.
– Phara Souffrant Forrest, who is running for Assembly District 57 in Brooklyn. Forrest is a nurse employed with NYC Health + Hospitals and a tenant activist. She is challenging Assemblymember Walter Moseley.
– Rajiv Gowda, who is running for Senate District 23 in Staten Island. Gowda is a labor advocate who has served as a community board member, a community education council member, and as a Democratic county committee member. He is challenging Senator Diane Savino, one of the two former members of the IDC who is still in office.
Running for an open seat
– Elijah Reichlin-Melnick, running for Senate District 38, which covers most of Rockland and parts of Westchester counties. The seat is currently held by Senator David Carlucci, who was a member of the IDC before it dissolved prior to the 2018 election. Carlucci is currently running for New York's 17th Congressional District, leaving his seat up for grabs. Reichlin-Melnick is currently legislative Director for State Senator James Skoufis. He is running against two other candidates, Eudson Francois and Justin Sweet, for the nomination.
– Kristen Browde, who is running for Assembly District 93 in White Plains. Browde is one of several candidates seeking to replace Assemblymember David Buchwald, who is running for an open seat in New York's 17th Congressional District. If she wins, Browde would be the state's first openly transgender elected official.
– Adam Bojak, who is running for Assembly District 149 in Buffalo. A tenant rights attorney, Bojak is running for the nomination against two other candidates, Robert Quintana and Jonathan Rivera. The current incumbent, Democrat Sean Ryan, is running for state Senate in District 60.
– Jeremy Cooney, who is running for Senate District 56 in Rochester. Cooney is one of three Democrats, along with Hilda Rosario Escher and Sherita Traywick, who are seeking the nomination for the seat and hoping to replace Republican Senator Joe Robach, who is not seeking reelection.
– Kim Smith, who is running for Senate District 61, which covers Genesee county and parts of Erie and Monroe counties. Smith is an organizer with VOCAL-NY, a progressive advocacy group, and previously worked for the Monroe County Department of Public Health for 25 years. She faces two other Democratic candidates, Jacqualine Berger and Joan Elizabeth Seamans. Republican Senator Michael Ranzenhofer, the incumbent, is retiring at the end of current term.
– Valerie Cartright, who is running for Senate District 1 in Suffolk county. A Brookhaven Town Council Member, Cartright is one of five Democrats – including Laura Ahearn, Tommy John Sciavoni, Nora Higgins and Skyler Johnson – trying to win the nomination for the seat. The district is currently represented by Republican Senator Kenneth LaValle, a 44-year incumbent who is stepping down.
– Jason Salmon, who is running for Senate District 25 in Brooklyn. Salmon is facing two Democrats, Assemblymember Tremaine Wright and Jabari Brisport, for the nomination to replace Democratic Senator Velmanette Montgomery, who is retiring. Salmon was previously a community liaison for Montgomery.
– Khaleel Anderson, who is running for Assembly District 31 in Queens. Anderson is a community activist and faces a crowded field of Democrats seeking the party's nomination in the primary. His opponents include Richard David, Tavia Blakley, Derrick DeFlorimonte, Lisa George and Shea Uzoigwe. The seat has been open since Assemblymember Michele Titus was elected as a civil court judge last year.
Note - this article has been updated.