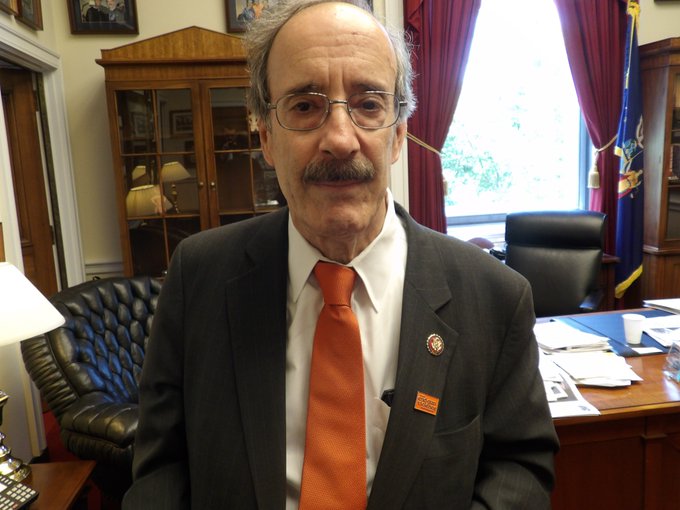 Rep. Eliot Engel (photo: @RepEliotEngel)
---
Representative Eliot Engel of the Bronx and Westchester faced three Democratic primary opponents in a Tuesday evening debate hosted by BronxNet TV and the League of Women Voters of New York State, among other partners. Engel, who has held the seat since 1989, is running for reelection and debated opponents Jamaal Bowman, Sammy Ravelo, and Chris Fink. The debate was moderated by BronxTalk host Gary Axelbank.
Engel was repeatedly attacked by Bowman, a school principal who is running as a progressive alternative with more of an on-the-ground commitment to the district, while the incumbent fired right back by touting his record, including his current leadership of the Foreign Affairs committee and ability to bring resources home. The candidates discussed a wide range of substantive issue, including he federal coronavirus response. The debate occurred just hours after a clip of Engel went viral, wherein he was heard by a NY1 reporter over a hot mic saying at a press conference that he wouldn't care about speaking if not for being engaged in a primary election. Engel's presence in the district, or lack thereof, has been a theme of the race and was again central to Bowman's attacks during the debate. Engel stressed the importance of his work in Washington, D.C., which he said is in his constituents' best interest.
The primary is open to all Democrats in the 16th Congressional District, and will take place this month, with early voting June 13-21 and primary day on June 23. In addition to in-person voting, all voters have been made eligible to vote via absentee ballot by gubernatorial order, which required Boards of Elections to mail an absentee ballot application to each eligible voters. Voters must return the filled-out application, receive the absentee ballot, then fill that out and return it.
Watch the NY-16 Democratic primary debate: