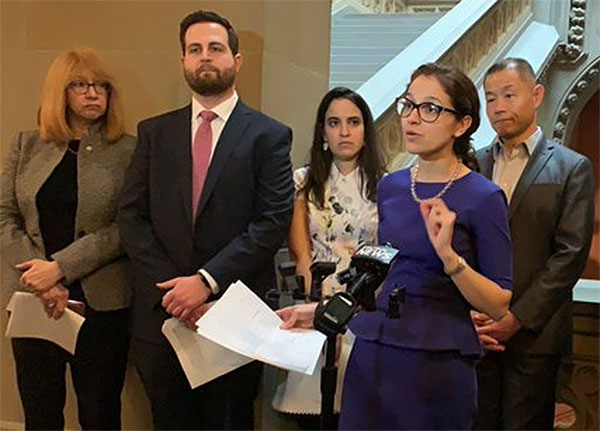 Assemblymember Simotas, right (photo: @AravellaSimotas)
---
Since Representative Alexandria Ocasio-Cortez's historic campaign to win her 2018 primary against incumbent Democrat Joe Crowley, many progressive challengers have tried to use her playbook: a grassroots campaign with an uber-progressive platform where a candidate makes up for what they lack in political experience with robust canvassing and a promise of change.
And in Queens' 36th Assembly District, which includes most of Astoria and all of Ditmars Steinway and overlaps somewhat with Ocasio-Cortez's 14th Congressional District, housing counselor Zohran Mamdani hopes to pull off an upset against incumbent Aravella Simotas in this month's Democratic primary. But while Mamdani has some momentum, Simotas has key differences from Crowley: her many progressive bonafides and reputation as a present and engaged representative. Yet Mamdani, who is running with the support of the New York City branch of the Democratic Socialists of America (NYC DSA), says Simotas simply hasn't been active enough to protect her constituents, especially with regard to housing and education.
For example, Mamdani has criticized Simotas' vote in favor of a 2015 state budget package that tied teacher evaluations to state test scores. However, Simotas also co-sponsored legislation in 2019 to remove that very requirement. Simotas has similarly supported and sponsored other progressive legislation in line with Mamdani's own platform, though he continues to argue the district needs a more aggressively progressive representative to push the envelope further on issues like housing costs and school segregation.
Simotas has appeared to take note of the challenge from her left, and has gotten more vocal on topics like 'canceling rent' amid the coronavirus crisis that has ravaged New York. She's also touting her record from well before her challenger emerged.
"I'm proud that I introduced and passed in one year a bill to expand and strengthen worker rights and protect against harassment and discrimination in the workplace," Simotas said in an interview of legislation from 2019. "And it's unheard of to do such a monumental bill where there were vast business interests against in one year."
Now in her fifth two-year term, Simotas has co-sponsored legislation like the Green Light Bill, which allowed undocumented New Yorkers to obtain a driver's license, and the Reproductive Health Act, which codified Roe v. Wade abortion protections into state law. She also supports the legalization of recreational marijuana and single-payer health-care in New York, two pieces of progressive legislation that have been held up despite Democratic control of both state legislative houses and the governor's office.
Simotas has been endorsed by many state officials, including Queens State Senator John Liu and Queens Assemblymember Catalina Cruz, as well as a large number of unions and clubs, such as a local chapter of the United Food and Commercial Workers union, the United Federation of Teachers, the New York Nurses Association, and a local transportation workers union, among others. Notably, a number of Simotas' legislative colleagues from Queens, such as State Senators Michael Gianaris and Jessica Ramos, have not announced support for her campaign.
Mamdani, a 29-year-old Indian American who came to New York at the age of seven from Uganda, has been endorsed by former public defender and candidate for Queens District Attorney Tiffany Cabán, actor and former gubernatorial candidate Cynthia Nixon, and State Senator Julia Salazar of Brooklyn, all three of whom have been backed by the NYC DSA in recent election cycles. He also has the backing of the Muslim Democratic Club of New York, New York Communities for Change, and other groups.
Mamdani argues Simotas has underperformed, specifically, he says the incumbent hasn't done enough for renters and homeowners in the district, which has rapidly gentrified in recent years. The area has continued to see major development and rising housing costs.
"Seeing my work in foreclosure prevention, I've seen how so many people, so many working-class New Yorkers...are having their homes and the ownership of their homes or their residency put in question by their landlords or big banks or servicers," Mamdani said in an interview. "The reason that I'm running is in my work and in my life, I have seen how the State has abdicated its role in ensuring that every single New Yorker can not only feel at home in this state, but can also have a home."
Nearly 40% of households in the district are rent-burdened, a high number that is still slightly lower than Queens and New York City averages. Demographically, the district is about 47% white, 27% Hispanic, 16% Asian, and 7% black, according to Department of City Planning data on Queens Community District 1, which largely overlaps with Assembly District 36. According to NYU's Furman Center, Astoria has been among the city's most gentrified neighborhoods of this century.
Mamdani, who is Muslim, has done outreach to Muslim communities within the district through a mutual aid initiative that provided over 12,750 meals during Ramadan, according to his campaign. Simotas, meanwhile, has a large amount of support from the Greek community, reflective of her ancestry — her parents immigrated from Greece.
Doug Forand, a political consultant who runs Red Horse Strategies, which is working on other races this cycle, said Mamdani would need support from younger, newer residents of the neighborhood if he were to pull off an upset. But those residents, Forand said, seem to be just as likely to support Simotas.
"I don't think [Simotas'] opponent has made a strong case for why she should not be in office," Forand said. "That's another district where you've seen a fair amount of gentrification and economic turnover, but at the same time I think it's one of those places where the local legislators have sort-of recognized that the nature of their constituency is changing and they have responded appropriately."
Even longer-time residents of the district, some who might consider themselves "victims of gentrification," as Forand put it, elected Simotas in the first place and don't appear ready to abandon "electeds they know and have worked with for years."
Still, Mamdani has tried to make the argument that Simotas has not done enough to fight gentrification and overdevelopment in the area. Real estate interests and their influence in politics through campaign donations exacerbate these issues, Mamdani said, while pointing to Simotas' coffers. He cited donations she's received such as roughly $10,000 from George Tsunis, a developer and head of Chartwell Hotels, and his wife. Mamdani also cited an additional $1,000 donation from Irene Feggoudakis, whose family owns over a dozen residential buildings, all of which are in neighboring Queens districts. Both Tsunis and Feggoudakis are of Greek heritage like Simotas, who has organized in the Greek community.
Overall, Simotas has raised about $220,000 during the two-year election cycle through about 260 donations, including more than $64,000 from labor union political action committees and other PACs (facing pressure amid recent scrutiny of police brutality, she recently said she would give away donations from law enforcement unions). Mamdani has raised about $120,000 through over 3,500 individual transactions, a very large number for an Assembly campaign, according to State Board of Elections records.
"I certainly raised small amounts of money from homeowners who rent out an apartment in their house in order to afford Astoria and I will do my best to help them, just like I fight as hard as I can to help tenants," Simotas said, before going on to restate then qualify her pledge about real estate donations. "I pledged not to take real estate money and I have kept that pledge. I have not raised a single cent from developers or landlords who are building luxury housing and make the city unlivable for so many."
In a statement, Mamdani argued the donations mean Simotas broke her Homes Guarantee pledge to reject developer and real estate money.
"Assemblymember Simotas signed a pledge to 'reject any developer and real estate contributions,'" Mamdani said in the statement. "Now, she claims that commercial real estate developers don't count — and neither do residential real estate developers if she knows them personally. This is exactly the type of double-talk that makes ordinary people hate politicians."
Simotas does have a history of supporting pro-tenant legislation and policy. She supported the sweeping tenant protection laws passed last year dealing with roughly 1 million rent stabilized apartments. She also was against the Amazon 'HQ2' deal, which would have brought a massive new Amazon campus and thousands of jobs to Long Island City (just outside her district), but several groups opposed due to fears of rising prices and more long-time residents being pushed out of the nearby communities.
More recently, Simotas said she fought to "cancel rent" in recent legislative conference discussions as many New Yorkers who are newly unemployed, facing medical bills, or otherwise struggling financially, have had a hard time paying rent due to the coronavirus pandemic and its fallout. The legislation would apply to renters impacted by the financial impact of the coronavirus recession, and also provide for landlords who would lose rental income.
"Affordable housing was what allowed my family to claw their way up to the middle-class, so I am very sensitive to people who are now concerned about paying rent," said Simotas, who said she grew up in the living room of her parents' rent-stabilized apartment. "I'm fighting very hard, as hard as I can, to cancel rent."
But the Legislature has not passed the rent cancellation bill, the charge for which has been led in the State Senate by Gianaris. Instead a bill was approved that would provide $100 million in relief to renters through vouchers. To qualify for a voucher, a person will have to be at a certain income level, rent-burdened, and be able to prove loss of income since March 7. Simotas voted against the bill.
"I'm very passionate about making sure that renters in my community, and throughout the state, don't have to deal with additional anxiety, we're already dealing with a massive, unprecedented in our lifetime, health crisis. People shouldn't have to worry about paying rent, so I was disappointed," Simotas said. "I didn't think we went far enough."
Like other policy areas, Mamdani's views seem to be in line with Simotas'.
"This legislation isn't about protecting tenants, it's about bailing out landlords. It locks millions of tenants out of real relief with a preposterous means-testing formula, putting New Yorkers across the state at risk of eviction," Mamdani said in a statement. "New Yorkers need a universal rent and mortgage holiday for the duration of the COVID-19 crisis, with no back payments due later."
But, Mamdani still sees Simotas as complicit in legislation passed by Albany, like the rent voucher bill, which he says are failures. Simotas, meanwhile, believes she's done what her constituents sent her to Albany to do.
"I've worked very hard in Albany to write and pass progressive legislation that makes a difference in people's lives," Simotas said. "That's who I am."
Note: this article has been updated to note that Simotas has not been endorsed by Senators Gianaris and Ramos.