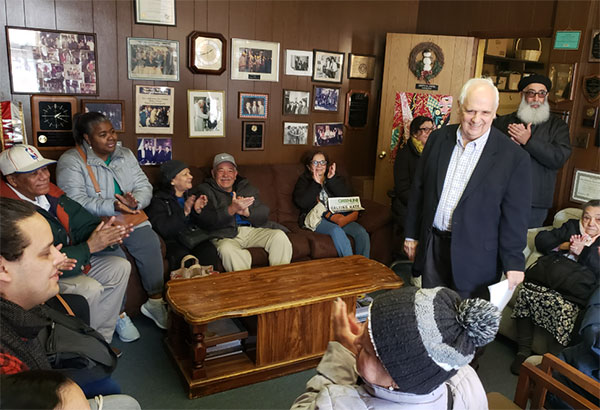 Assemblymember Joe Lentol (photo: @assemblymanjoe)
---
Emily Gallagher, a local community board member, is the first person in a decade to challenge New York State Assemblymember Joe Lentol, who has represented North Brooklyn's 50th Assembly District for 48 years. Her rallying cry has been less to change the policy priorities of the district's representative, and more to inject new blood into the Assembly, despite Lentol's progressive track record.
While Gallagher has been amassing more support than is often typical of a primary challenger to a well-liked incumbent, Lentol is not prepared to cede his post.
The Democratic primary between the two will be decided this month, with early voting June 13-21, primary day June 23, and absentee balloting allowed for all eligible voters due to the governor's coronavirus-inspired order.
Lentol, who has been influential in passing criminal justice legislation such as raising the age of adult responsibility, has also done much to provide green space for his district, which includes neighborhoods such as Greenpoint, Williamsburg, and part of Clinton Hill. The district, predominantly home to white residents, contains a mix of manufacturing and residential buildings as well as a lot of waterfront property, making it an attractive place for parks.
Lentol helped to pass the bill that created the East River Park, advocated for the buying of MTA-owned land to contribute to the building of Bushwick Inlet Park, and says he has spoken with the governor about including $7 million in the state budget to build the Kosciuszko Bridge Park.
Gallagher, who has lived in the district for 13 years and founded the Greenpoint Sexual Assault Task Force, said Lentol has not been active enough in pushing for significant, progressive change.
"We can't have a democracy if it's on autopilot," Gallagher said in an interview. "Even if we're comfortable with someone, if they're nice, if they're doing an OK job, we need to be having a conversation about what's going on and what the future looks like. It is my view that we need a lot of grassroots energy, a lot of progressive energy and new fresh ideas and perspectives."
Lentol pushed-back on the idea that he doesn't pack a punch, or has slowed down in recent years, and said his efforts to advance progressive causes are both significant and current.
"I've probably passed more legislation, progressive legislation...Than may have ever been passed in the history of the State of New York," Lentol said in an interview. "I did that in the last three years."
Lentol was one of four lead sponsors of the 2019 New York State Climate Leadership and Community Protection Act, which requires the state to cut its greenhouse emission levels 85% by 2050 and is one of the most ambitious climate plans in the world.
The incumbent also highlighted some of his recent work during the coronavirus pandemic, including legislation to suspend the euthanizing of cats and dogs, create an emergency pandemic plan for nursing homes, and start a compassionate companion program that would have those who may be immune to COVID-19 care for elderly patients infected with the virus who may otherwise have to die alone.
He also cosponsored legislation to support renters impacted by the pandemic that, while creating a $100 million relief fund, was hailed as too little by many state legislators (including plenty who voted for it), and by his opponent. The voucher program requires that to qualify for the money a person has to be rent-burdened, able to prove loss of income since March 7, and make 80% or less of an area's median income.
"A means-tested, federal-funded rent-voucher system...that's going to leave so many people out, and it's going to leave out actually the most vulnerable populations," said Gallagher, who has made housing one of the two top issues of her campaign, with a focus on renters, along with climate change.
Lentol said it was a practical way of providing support to those in need.
"You can't 'cancel rent' and expect landlords to be able to upkeep their buildings, especially in a district like mine that doesn't have a lot of large buildings, has a lot of small homeowners," Lentol said. "What [Gallagher]'s only saying is I haven't advocated for a free rent program that's never going to pass, and that's probably correct. I haven't advocated strongly for that because I'm smart enough to know that if the people who are sponsoring it aren't advocating for it, who is?"
Lentol said nonprofits, including ones in Brooklyn that advocate for tenants' rights such as St. Nicks and Los Sures, also need money they get as landlords so "the tenants that they help can survive and so they can survive."
Gallagher was formerly a co-chair of a nonprofit herself, called Neighbors Allied for Good Growth, which fought to create new parkland, protect Greenpoint's waterfront, and preserve rent stabilized housing. In 2016, she ran for District Leader in the 50th Assembly District, but narrowly lost. She had been approached to run by members of the New Kings Democrats, who are currently endorsing her along with political clubs and groups Our Progressive Future, Brooklyn Young Democrats, True Blue New York, Citizens Union, and NY Communities For Change.
She also received an endorsement on Monday from prominent progressive Zephyr Teachout, a law professor and former candidate for governor, Congress, and attorney general.
"I support Emily because I support gig workers, renters, police reform and transformational change in Albany," Teachout said in a press release. "Joe Lentol isn't going to shake up Albany after 48 years there, and he's told us so — he refused to support the call for sexual harassment hearings when victims asked for it. Lyft is spending money to re-elect him for a reason — he's not going to fight for gig worker rights. And Emily is brainy, fearless, and awesome."
Teachout was referring to Lentol's support from New Yorkers For Independent Work, a political action committee set up by Lyft to spend $1.1 million on New York State Elections.
Gallagher, like Teachout, has criticized Lentol's fundraising habits. While she has only raised $60,000 during the election cycle as of the most recent filing period, it has been through 600 individual transactions. Lentol had raised over $410,000, with most of what was raised during this election cycle coming from political action committees of labor unions and entities.
"The money is coming from very different sources," Gallagher said. "It says a lot about who your audience is."
Lentol maintains that he did not actively fundraise due to the fact that he had money leftover from past campaigns.
"I've raised some money before this primary that a lot of it came from different sized donors, that's true. But I can honestly tell you that there haven't been huge contributions," Lentol said. "I have not focused on raising, especially during a pandemic, from people who can't afford to give me money...I could raise money from people who know me, I've got a lot of friends in my district that would be willing to give to my campaign, but I haven't asked them for money."
Lentol has his own key progressive endorsement from the Working Families Party. He's also been endorsed by Assemblymembers Jo Anne Simon and Dan Quart, and City Council Member Stephen Levin, who represents Greenpoint and Williamsburg. He's also union-backed, and has received endorsements from the New York State and City teachers' unions, the state nurses union, the 32BJ chapter of the Service Employees International Union, the Laborer's International Union of North America, and many more.
Lentol's support in his district and his past legislative successes make some question why Gallagher is running against him from the left. Lupe Todd-Medina, who consults on other Assembly races this cycle, believes Gallagher doesn't have a strong justification for running and thinking she can win.
"Nobody's criticizing the work that Joe Lentol did, they just are saying 'it's time to bring in younger blood,' that's what they really want to say. I don't know if that's valid, I don't know if that's a good enough answer," Todd-Medina said in an interview. "This is someone who has fought, fought for rights, fought for all, fought to get us to where we are now. Now that we're here, is it fair to now tell him 'Go,'?"