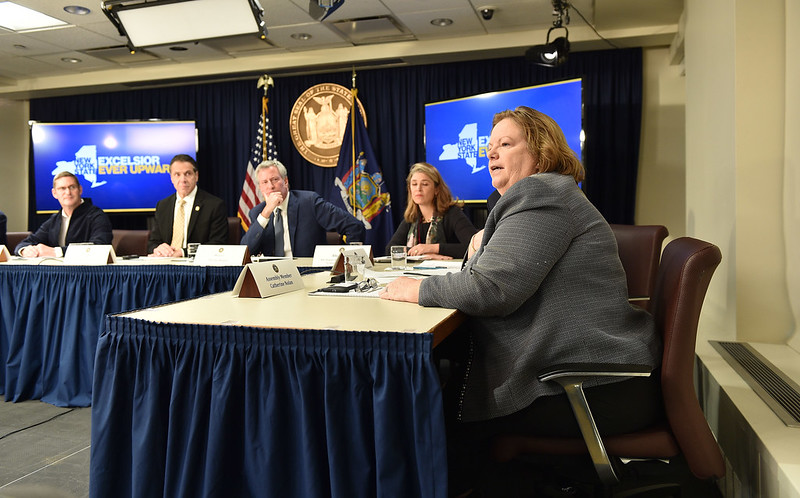 Assemblymember Cathy Nolan at the Amazon 'HQ2' announcement (photo: Kevin P. Coughlin/Governor's Office)
---
Long-time Queens Assemblymember Catherine Nolan faces two challengers in this month's Democratic primary in her first reelection campaign since coming out in support of the controversial deal that would have brought a massive Amazon campus to Long Island City.
Nolan has represented the 37th Assembly District, which includes Long Island City and parts of Astoria, Sunnyside, Maspeth, and Ridgewood, since 1985. The district is 39% white, 36% Hispanic, 15% Asian, and 7% black, according to Census data.
Long Island City is the fastest growing neighborhood in the country, and new development resulted in a $3,450 median asking monthly rent in 2019, up 11% from the year prior, according to a StreetEasy market report.
The issues of rising rent and displacement are central to the campaigns of both of Nolan's challengers, activists Mary Jobaida and Danielle Brecker. Brecker said the incumbent could have shown her opposition to both trends if she had opposed Amazon, and her failure to do so is part of what made Brecker lose faith in Nolan and run against her.
"Assemblymember Nolan had at one time proposed a moratorium on development," Brecker said. "So when she supported Amazon it was surprising to me as a constituent and felt like a missed opportunity on her part to lead us not only against Amazon but also on stopping luxury real estate development in LIC and the full district."
Jobaida and Brecker have similar far-left, progressive platforms and a similar message: even if Nolan supports progressive causes, she has not done enough to get them passed.
"I'm running for office because of my dissatisfaction with how New York State has been operating, especially in Assembly District 37," Jobaida said in an interview. "My interest to run for office comes from my dissatisfaction living in this district, being a mother, being a commuter."
Jobaida, who moved to Queens in 2001 from Bangladesh, said the district has been a difficult place to live for those like her: low-income people, commuters, and parents of children who attend often crowded public schools. And she's learned that firsthand, whether when commuting to her work at a healthcare center in the Bronx in crowded, delayed subways or when, despite applying right after admissions opened, her second child ended up 59th on the waitlist for the local pre-kindergarten program due to the overwhelming number of applicants.
"All of a sudden because of overgentrification and overdevelopment, unplanned development, all of a sudden we saw a surge of people coming to this district but resources were not expanded," Jobaida said. "The living cost is beyond bearable now, and is displacing the people who have been living here and also making the district totally not liveable."
Jobaida's platform includes single-payer healthcare, a Green New Deal for New York, tuition free public college, removing income requirements for affordable housing, and criminal justice reform such as ending cash bail, decriminalizing sex work, and legalizing adult-use marijuana.
Her opponent and fellow challenger to Nolan, Brecker, is running on a similar platform, and for a similar reason.
"I never, ever thought I would run for office but then I was co-leader of Empire State Indivisible, we defeated the IDC, and then we sort of discovered that the Assembly was still a problem," Brecker, said in an interview. "I discovered that my Assemblymember was a little bit complacent, maybe didn't fight as hard as I and her constituents needed her to and was probably a little more moderate than, say, I am. And so I decided to step up."
Brecker was an advertising executive for more than two decades before joining organizing and activist efforts following the election of Donald Trump. She said Nolan has simply not done enough to stop overdevelopment. Despite calling for a moratorium on new construction in 2018, Nolan supported the ill-fated Amazon 'HQ2' deal. The Assembly member spoke at the announcement press conference with Governor Andrew Cuomo, Mayor Bill de Blasio, Amazon representatives, and others to celebrate the deal, which promised tens of thousands of jobs. But the deal, which was abandoned by the mega-corporation just a few months after it was announced due to significant local backlash, also represented to many a threat of accelerating rising costs of living and displacement.
"Over the course of my career I've been very involved in many, many progressive things," Nolan said in an interview, defending her record. "I supported tenants' rights, supported paid family leave, supported the cause of women's entry into the political system, helped mentor a lot of women and was kind of a trailblazer, was the first woman to chair the labor committee in the history of New York State."
Nolan said she's championed progressive legislation for her career and cited recent sponsorship of a bill to provide all New Yorkers with sick leave and wage replacement during the COVID-19 pandemic if they are unable to work due to quarantine requirements.
She also referenced endorsements she has received from a variety of labor unions, political clubs, and others, including 32BJ and 1199 SEIU, New York League of Conservation Voters, Transport Workers Union, The Civil Service Employees Union Metropolitan Region 2, the New York Hotel Trades Council, Progressive Voices United, Eleanor's Legacy, and the Stonewall Democrats LGBTQ Club (a full list of endorsements was not provided to Gotham Gazette after multiple attempts to reach Nolan's office, and she has no campaign website where such lists are typically offered, though some have been posted to her Facebook page).
Nolan's labor support, which includes a variety of law enforcement unions, has helped her raise money for her campaign: about $120,000 of her $170,000 total haul has come from political action committees (PACs), many representing unions. She's received donations from chapter 338 of the Retail Wholesale and Department Store Union, the International Brotherhood of Electrical Workers, the New York State United Teachers, the Sergeants Benevolent Association, and many others.
She's also received a few donations from real estate interests: $500 from the Real Estate Board of New York (REBNY), $500 from Triad Management LLC, which manages rental properties in Long Island City, and $100 from Gotham Realty. She's also received several campaign donations from other elected officials and $20,000 from the Democratic Assembly Campaign Committee, which seeks to protect incumbents and flip Republican seats to Democrats.
Brecker, who was recently endorsed by well-known progressive Zephyr Teachout, has said she's knocked on over 5,000 doors in her efforts to flip the New York State Senate with Empire Indivisible. She also worked to urge U.S. Senators to vote no on Trump's initial cabinet appointments and in early 2017 captained a bus to the first Women's March in Washington D.C.
"I just want that action," said Brecker, who has also been endorsed by True Blue NY, Empire State Indivisible, and New York Indivisible, of getting more progressive legislation across the finish line. "I just want a leader who's going to be a little bit more of an activist in her office and less kind of complacent and letting it go and letting it be politics as usual."
Nolan, though, has largely painted her opponents and their supporters as part of an online progressive movement that is not representative of the district. The Assembly member said she'd only discovered Twitter two years ago, and wants nothing to do with it. She has a Facebook, but she doesn't have a Twitter account or a campaign website, unlike her opponents, and said she thinks much of the criticisms thrown at her online is more likely from out-of-district millennials who aren't aware of what she has done for her community.
"One of the problems for like Twitter and Facebook and all this stuff is that people get to say 'this is who I am,' but sometimes it's a little more complex than that," Nolan said. She added that while her two opponents live in the district, "Many of their supporters do not. So the people hurling these charges don't seem to know what my record is, and they don't seem to care about the things we mentioned that we achieved, whether it's tenant's rights or environmental issues."
Lupé Todd-Medina, a political consultant working on other campaigns this cycle, voiced a similar sentiment in her assessment of the race.
"Cathy Nolan is another one who's been very effective," Todd-Medina said. "Unfortunately, we are now living in a time where people, younger generations especially, are just not reading the newspaper. They're online and they're reading stuff. If they're not reading the newspaper and you're not putting it on Twitter they don't know what you've done. Cathy is very effective."
It's younger, newer residents' votes that Brecker and Jobaida should hope to win if they have a shot at unseating Nolan, according to Doug Forand, who runs Red Horse Strategies, a political consultancy.
"This is one of those districts where you have seen a shift in the population, increased gentrification and economic turnover, and a lot of new residents coming in," Forand said. "That's a district where I would not be comfortable with an incumbent, in that district, if I was not very very in touch with the newer residents."
Forand said most challengers, especially in races without major policy differences and well-enough-liked incumbents, would have to draw on newer, gentrifying residents who want change and associate with further left, progressive politics. Without the ability to canvas, Brecker and Jobaida have attempted to reach such an audience on Twitter, where they both have around 1,000 followers.
But any success they've had in gaining larger online followings than Nolan does not seem to have translated into their fundraising as both challengers have struggled to gain financial backing. Brecker has only raised $9,000, solely from individuals, and has put another $13,000 of her own money into the campaign, as of as of the recent 11-day pre-primary filings.
After a promising start where Jobaida received 326 donations for more than $34,000 by January 17, she has only received another $7,500 or so since, likely a result of how the world has shifted due to the coronavirus outbreak. Jobaida has found support in endorsements by Our Progressive Future, Amplify Her, Jim Owles Liberal Democratic Club, Muslim Democratic Club of New York, Bangladeshi American Advocacy Group, New American Leaders Action Fund, and Ozone Park East New York Democratic Club.
Neither Jobaida nor Brecker have received any corporate or PAC money, and both said their fundraising struggles stem from the pandemic, which has left many New Yorkers facing financial hardship and many candidates more reluctant to ask for donations.
"I call this pandemic a capitalist problem," Jobaida said. "This pandemic is hurting the poor and low-income people and our grassroots campaign is no different."