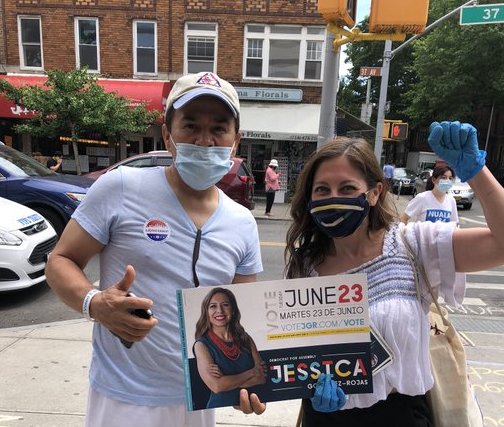 Jessica Gonzalez-Rojas campaigns in bid to unseat Assemblymember Michael DenDekker (photo: @votejgr)
---
The coronavirus pandemic has exacerbated existing inequalities, a trend that may extend to party primary elections happening this month, where already-disadvantaged challengers to incumbents could face even more daunting odds, experts say.
Primaries for seats in both houses of the state Legislature, the U.S. House of Representatives, and more, including Queens Borough President, are being voted on this month, and many races feature incumbents trying to hold onto their offices in elections upended by the COVID-19 outbreak and its fallout.
Incumbents often already enjoy war chests — leftover money from past fundraising efforts and campaigns — and the ability to more easily fund-raise from monied interests, in addition to support from fellow elected officials and organizations often considered part of the political establishment, such as their political party apparatus and labor unions.
For incumbent State Assembly Democrats, for example, one way these advantages manifest is in the form of access to the Democratic Assembly Campaign Committee, which provides campaign services, money, and other resources to incumbents up for reelection. And more relevant now than ever may be sitting officeholders' ability to send government mailings to constituents, newsletters that are paid for through public money. With campaigns unable to canvass and do other typical in-person activities due to the pandemic, snail mail has become one of the few strategies remaining for candidates to connect with voters.
For these and other reasons, Dr. Jeanne Zaino, a political scientist at Iona College, believes this year may be one of the hardest for insurgent campaigns.
"In our system, our incumbents enjoy enormous benefits and enormous advantages, and so you couple that with a pandemic and try to imagine a challenger taking on somebody who's got a built-in network, who has mailing privileges, who has a soap-box on which to stand and speak with authority about issues," Zaino said in an interview. "It's so hard for a challenger under the best of circumstances to make inroads there. In this circumstance, how do you raise money from people already suffering? Thirty million people out of work. How do you campaign and talk about the things you plan to talk about at a time when people are trying to make sure they stay alive?"
Campaigns Redefined
According to housing counselor Zohran Mamdani, who is running against incumbent Aravella Simotas in Queens' 36th Assembly District, the pandemic-forced adjustment has been challenging. Mamdani said his grassroots campaign was able to knock on a lot of doors before the coronavirus outbreak made doing so unsafe, but suspended canvassing on March 13.
"We've made up the ground, but there's no question that the coronavirus pandemic has been an obstacle unlike any that an insurgent campaign has faced thus far," Mamdani said. "It is a different world than that which we prepared for, and it is not as friendly to an insurgent campaign."
Mamdani, like many others, has shifted his focus to social media, snail mail, and text and phone banking in replacement of canvassing. For him, mailing a single set of literature can cost $7,500 — a significant chunk of campaign funds, and for some candidates, too much of an expense.
Mamdani, who is endorsed by the New York City chapter of the Democratic Socialists of America, has called Simotas part of the Queens Democratic political machine, though their platforms are not far apart. Simotas has appeared to move leftward given her progressive challenger, and Mamdani believes his platform will appeal to those hit hardest by the pandemic.
With 900,000 unemployed New Yorkers as of May 5, according to Comptroller Scott Stringer, many people have lost their health insurance, are struggling to put food on the table or pay rent, and the scale of the need is staggering.
"If you were on the fence about the need for single-payer healthcare, if you were on the fence about the need for universal rent control, if you were on the fence about the need for public power or ending cash bail, this pandemic is a very convincing argument as to the necessity for those things," Mamdani said.
Along with the question of whether he's right, Mamdani also faces the immense challenge of getting that message in front of enough voters, and making sure that those impressed by it actually cast ballots.
Dr. Christina Greer, a political science professor at Fordham University, thinks Mamdani and others in his category are in trouble. Greer said that, similar to how Governor Andrew Cuomo has seen a rise in approval ratings, local elected officials may see a boost in support by constituents who see them as a more reliable and safe option due to the pandemic.
"Oftentimes in a time of crisis, as we've seen, people don't like to change in the middle of the crisis," Greer said. "I think that bodes well for [incumbents]."
Challengers have tried to make the argument that incumbents are not actually the source of reliability some might think, and that new blood with the right philosophy or experience, is the way to go for the aftermath of the coronavirus crisis. Grace Lee, a small business owner and parent activist running against incumbent Assemblymember Yuh-Line Niou in Lower Manhattan's 65th Assembly District, has been trying to make the case that she is better positioned to represent the district under the current circumstances.
"I was a senior at Columbia when 9/11 happened, I was working in New York City leading up to the 2008 financial crisis, and I was a small business owner with a nine-month-old baby, living in Zone A during Superstorm Sandy," Lee said. "I have the lived experiences of living in New York City during huge crises in the city and those are experiences my opponent does not have."
Money Problems
Another perpetual challenge for those seeking to unseat incumbents is fundraising. If a candidate is a political newcomer and doesn't have the right connections, it can be difficult to even begin to compete with incumbents' financial advantages. With many insurgents running grassroots campaigns that depend on smaller individual donations, it can be even harder. In the midst of a global pandemic, it can seem almost insurmountable, candidates said.
"Many of our supporters are working people, to know that so many of them lost work or didn't have income any more, we had to figure out new ways of meeting new people who did still have income available," said community board member Emily Gallagher, who's challenging long-time incumbent Joe Lentol in Brooklyn's 50th Assembly District.
As of June 12, Gallagher had about $15,000 on hand. Lentol had about ten times that, with nearly $150,000 available to spend. The majority of Lentol's donations raised during this cycle were from political action committees, including a $20,000 donation from the Democratic Assembly Campaign Committee. Lentol told Gotham Gazette he is not actively looking to fund-raise due to his already substantial war chest and because he does not wish to ask for money while many are struggling financially due to the pandemic. The latter point was something incumbents and challengers have cited over and over again, even as some do continue to solicit donations, acknowledging the reality of a primary campaign season that continues toward its climax.
Other challengers face similar fundraising deficits. Organizer Danielle Brecker, who joins activist Mary Jobaida in running to unseat Queens Assemblymember Catherine Nolan, said she simply doesn't feel right fundraising at this time.
"Asking for money is never fun, asking for money during a pandemic is really not OK," said Brecker, who had $5,000 in her campaign account as of June 12.
No-Movement Movements
Brecker was especially disappointed to have to stay at home, as she put it: "knocking doors is my thing." The co-lead organizer for Empire State Indivisible, an anti-Trump activist group looking to elect more progressive Democrats across the board, Brecker said she had knocked on over 5,000 doors for other causes. The pandemic made doing so for her own campaign unsafe.
Jobaida expressed a similar sentiment. Being unable to hold rallies and in-person events, in addition to door-knocking, takes away from the enthusiasm and personal connection she relies on as a political newcomer, she said.
"Our strength mostly was people," Jobaida said. "Every time I went to a community gathering and talked to people, in that moment I could see a flood of support and so much enthusiasm in people and in that moment the scenario would change. That moment I am missing."
Greer said this type of voter interaction is often how challengers have been successful in the past, despite incumbents' advantages.
Pointing to successful recent insurgents like Alexandria Ocasio-Cortez and Zellnor Myrie who in 2018 beat entrenched incumbents, Greer said, "you can look at their shoes and tell they walk the district. You know?" Greer said. "They knock on doors. Part of the appeal is that the constituents know them. And so they were successful knocking off a very solid incumbent in both cases. It's because voters in the district said, 'Oh, I met them, and I heard what they had to say, and I liked them, I liked what they were saying, I liked their ideas.'"
There is a long list of upstart candidates challenging incumbents across the Assembly, State Senate, and House. Among those getting the most attention, overcoming some of the aforementioned challenges, and being talked about as this year's Ocasio-Cortez, is Jamaal Bowman, who is challenging Rep. Eliot Engel for his Bronx and Westchester 16th Congressional District seat. Congressional challengers like Adem Bunkeddeko -- in Brooklyn's 9th Congressional District, home to Rep. Yvette Clarke -- and Suraj Patel -- in the 12th Congressional District that spans parts of Manhattan, Brooklyn, and Queens and is represented by Rep. Carolyn Maloney -- are both attempting to unseat incumbents for the second straight cycle after strong showings two years ago, so they come into this campaign with certain advantages that others don't have. But, both Bunkeddeko and Patel are still facing obstacles brought on by the pandemic as well as others: additional candidates in both races after one-on-one contests last time.
Other congressional incumbents across the city are also facing challengers, as are quite a few senators and Assembly members, who launched pre-coronavirus campaigns with a great deal of hope and game plans that have been immensely impacted. They largely faced extremely daunting chances even before the pandemic.
Rep. Ocasio-Cortez's successful bid to unseat long-time incumbent Joe Crowley has been the impetus for many progressive, grassroots primary challenges since. But odds remain against those insurgents.
According to Zaino, this should not be surprising.
"That's what's a little bit frustrating about the amount of attention — and I'm guilty of this, too — that everybody in the media gives to Alexandria Ocasio-Cortez," Zaino said. "On the one hand, that was a remarkable feat to defeat a sitting Congressman. On the other hand, the amount of attention we give it I think gives people a false sense that it's possible. And it is possible, but it's highly unlikely."