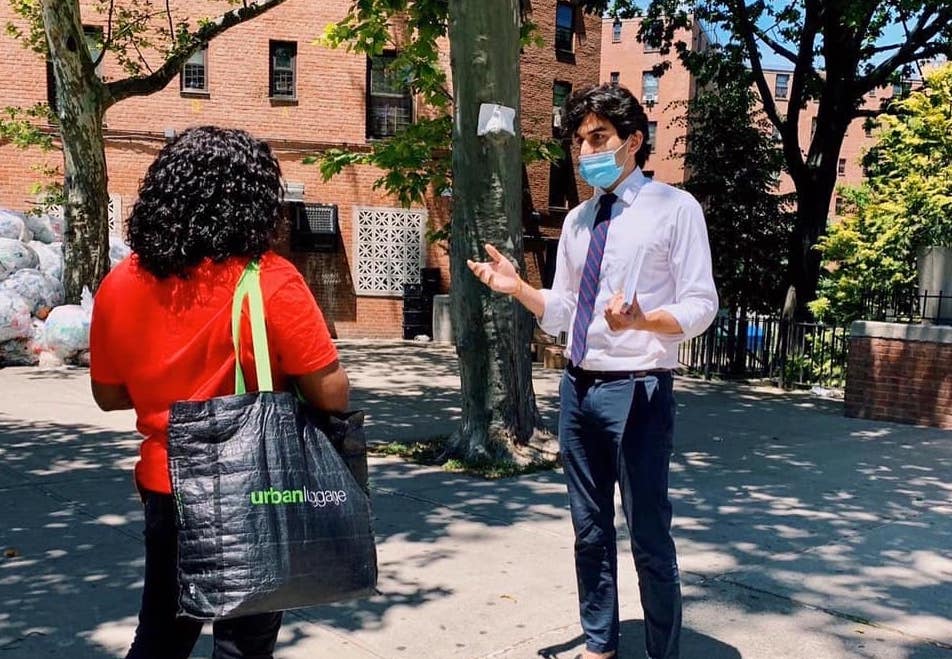 Suraj Patel campaigning (photo: Facebook)
---
Wealthy Manhattanites, more than others, fled New York City when the coronavirus pandemic erupted here, according to New York Times data reporting. Now, it's unclear how that exodus might affect voting behavior in party primary elections happening this month, like in New York's 12th Congressional District, where much of incumbent Representative Carolyn Maloney's support has historically been in parts of Manhattan home to many of this year's departures.
In Maloney's last Democratic primary, in 2018, Suraj Patel was her only opponent for the tri-borough seat made up of parts of the East Side of Manhattan, north Brooklyn, and western Queens, and he won a somewhat surprising portion of the vote — 41.2%, compared to Maloney's 58.8%.
Maloney dominated the race in Manhattan. Patel won some areas of that borough, but performed far better in both Queens and Brooklyn, winning a majority of the votes cast in Brooklyn and losing Queens by less than 100 votes. Patel is running against Maloney again this year, and there are two more candidates bidding for the nomination, Lauren Ashcraft and Peter Harrison.
While having additional challengers likely works to Maloney's favor, the equation is complicated by whether a significant number of her potential voters may be out of town and not voting, though all eligible voters can cast an absentee ballot this month due to a gubernatorial order based on the COVID-19 pandemic. That process is complicated, though, requiring voters to access then fill out first a ballot application then the ballot. In-person early voting is ongoing through June 21, and primary day is Tuesday, June 23.
With parts of Manhattan, including large swathes of the East Side, seeing significant drops in population, the possibility of Maloney, among other similarly-situated candidates, seeing a drop in base support is one of the outstanding questions as voting occurs.
"With Maloney's district, I think what makes it unique is she has a lot of her constituents who have left," said Dr. Christina Greer, a political science professor at Fordham University. "However, based on class and past voting records, they are probably more likely to go through the cumbersome process to get an absentee ballot. But for those who aren't, they're in Montauk and they're not thinking about the election, she's definitely lost some of her faith."
Maloney's campaign said it is continuing to make efforts to connect with voters who are not currently residing in district lines, though a spokesperson declined to comment on how voters leaving the city, especially Manhattan, may affect the race.
"NY-12 is a big district, and we're reaching out to connect with voters no matter where they may be located right now," a campaign spokesperson said in a statement. "The Congresswoman's stellar record and close ties to her constituents mean that now more than ever they are motivated to vote and keep her in office, getting results and delivering for our district and city."
Besides the wealthy, Greer added that young people, especially students, have also left the city as the high rents and crowded apartments may seem less worth it during a time of lockdown and quarantine. Areas of Brooklyn where Patel did well in 2018, such as Greenpoint and Williamsburg, have seen drops in population, too, the Times analysis showed, although much less so than parts of Manhattan.
The big question, Greer said, is to what extent any newly out-of-city voters go through the absentee voting process. Another is how well each candidate is able to reach voters and encourage them to cast a ballot, in whatever form that may take.
"We've been spreading the word as much as we can that people do have a choice in this election," said Ashcraft. "The state originally wanted to cancel the presidential primary, which caused a lot of confusion. There's so much confusion around that because whenever people heard that an election was being canceled, they thought it was the entire thing, including down-ballot races. So, a lot of our time is unfortunately spent to clear up that confusion."
All three Maloney challengers mentioned that a large part of their outreach efforts to voters included telling them there was a primary at all, and educating them on how to request an absentee ballot (the governor ordered election boards to mail all eligible voters an absentee ballot application, but voters can also request one just to be sure).
"That New York Times report showed a really large chunk of this district, the Manhattan part of this district, leaving," Harrison said. "Are the people leaving more likely to be Carolyn Maloney voters or not? I don't know. Probably, you can sort of squint and say 'that's probably true,' but are they going to get the absentee ballots? Who knows."
Within the 12th congressional district, the areas of Manhattan, Queens, and Brooklyn have significantly different demographics. An analysis of 2017 IRS tax data, which includes data from most but not all zip codes in the district, shows filings from the Queens parts of the district had an average gross annual income of about $55,000; Brooklyn areas about $80,000; and Manhattan areas almost $300,000. As of 2018, NY-12 was the third most unequal district by income in the country, according to Forbes, a fact that Maloney's challengers regularly raise in campaigning.
While Manhattan parts of the district are almost 75% white, that number is 58% for areas of Brooklyn within the district, and 31% for those in Queens, based on data from the American Community Survey. The Hispanic population in the Queens and Brooklyn parts of the district is much larger than in the Manhattan section of the district.
Patel said he believes his platform, which includes the Green New Deal, Medicare for All, public housing investments, and tuition-free community college, and more recently defunding the police, better appeal to voters in Queens and Brooklyn.
"This district, which does represent three boroughs, was sort-of gerrymandered this way, in a way that kept Representative Maloney in power by adding folks that she doesn't really represent," Patel said. "And so, it's no wonder we did well in Queens or Brooklyn because they've never seen her, or heard from her. Her priorities don't align with folks of low-income, diverse folks, young folks."
How the pandemic may affect voting behavior is still just a guessing game, though, according to Greer. She said that although it is possible those who left the city won't be focused on voting absentee, it's also quite possible those who remain won't vote because they are dealing with the financial, emotional, and health struggles the pandemic has caused.
"That part of Queens that Maloney represents, those are people who might be more on the essential workers side of things," Greer said, "and possibly a little preoccupied with the day-to-day business of survival, and might not be as tuned into the election as they would have been if we weren't in the middle of a pandemic."