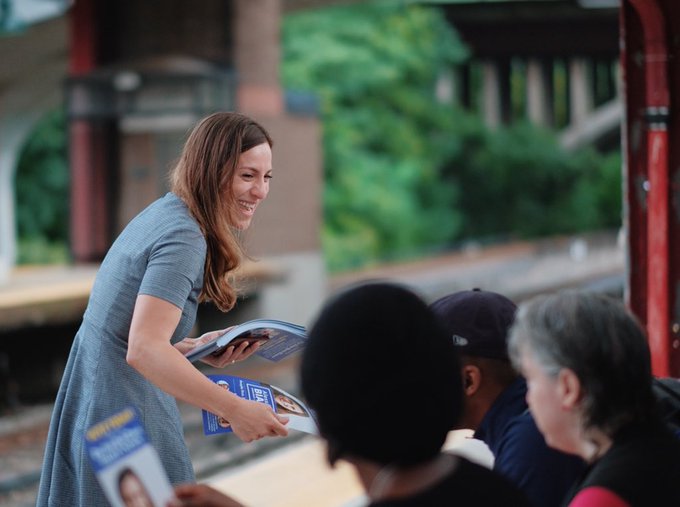 Alessandra Biaggi on the 2018 campaign trail (photo: @Biaggi4NY)
---
This story, and the series it is a part of, has been supported by the Solutions Journalism Network, a nonprofit organization dedicated to rigorous and compelling reporting about responses to social problems.
**********
On the night of September 13, 2018, a wave crashed through New York state politics.
For years, pressure had been mounting on the members of the Independent Democratic Conference, or the IDC, a small group of high-profile and controversial Democrats who caucused with Republicans in the New York State Senate. At times, the IDC effectively barred the mainline Democratic conference from holding a majority in the chamber, hobbling party-backed legislation and affording its members major leverage in Albany.
The presence of the IDC also appeared to hamper Democratic efforts every two-year cycle to swing certain State Senate districts from Republican to Democratic hands, meaning a split Legislature with Democrats in control of the Assembly. After the election of President Donald Trump in November of 2016, significant additional pressure grew on the members of the IDC and their Democratic allies, which included Governor Andrew Cuomo.
By April of 2018 and facing his own reelection campaign with a primary challenge from his left, Cuomo brokered a deal with the IDC to dissolve and rejoin the mainstream Democrats, with an eye toward capturing the majority together as Cuomo sought to quell a progressive uprising and secure a third term. But the damage was already done, at least for IDC members who provoked such backlash in their districts that activists were set on removing them from office.
A group of largely young, progressive challengers rose up in the districts, recruited and bolstered by the Working Families Party, grassroots groups, community activists, and a smattering of elected officials. By the end of primary night in September 2018, six of the eight former IDC members had been knocked out (while Cuomo secured victory by a wide margin).
Those Senate challengers would go on to win their general elections and, along with newly elected colleagues that gave Democrats the majority, become massive forces in Albany, championing landmark rent, criminal justice, gun control, environmental, and voting reforms — among others — that were centerpieces of a historic 2019 legislative session.
Though some of the most striking images of that September 2018 primary election night come from the victors — pictures of the Bronx's Alessandra Biaggi with her fist raised in the air, or Queens' Jessica Ramos surrounded by cheering supporters — images only tell part of this story.
The other part isn't as flashy, but speaks to something more powerful: voter turnout. Voters across New York went to the polls in record numbers for the 2018 state primary elections — the gubernatorial primary more than doubled the votes cast four years prior, and some districts surpassed turnout during the 2016 presidential primary. Still, New York City voter turnout numbers have a long way to go, never in recent years hitting 40 percent in a primary other than when there is a presidential election, a trend that helped lead to the sweeping electoral and voting reforms, like early voting, passed in 2019.
The map below shows where turnout increased the most and the least in the 2018 Democratic gubernatorial primary compared to the 2014 primary.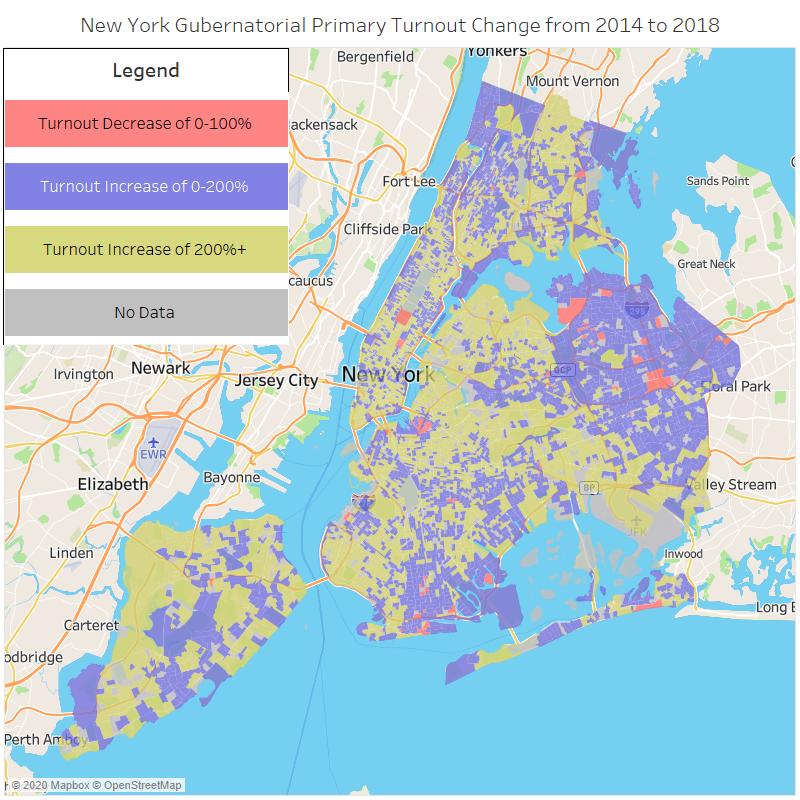 Overall, the Senate districts represented by IDC members saw voter turnout spikes in line with the overall trend, but within those districts, much of the increases came in geographic areas where the challengers did especially well, a new Gotham Gazette analysis shows.
The reasons for the voter spike are far more complex than a single night, or even the months of anger among Democrats who finally learned about their rogue state senators. And while in 2018 many New York Democrats were still reeling from Donald Trump's election as president, it wasn't that simple either — individual campaigns, newly-formed grassroots groups, and long-standing labor unions and other organizations all played a role in bringing many more voters to the polls. Some relied on tried and true tactics, while others got more creative.
The groups that rose or grew in 2018, and the tactics they developed that year, were ready for a big 2020 — until the pandemic hit. But many of the same activists are again doing all they can, albeit under very different circumstances, to see their favored candidates win in this month's primaries for congressional and state legislative races. Even as New York City could see a major drop in voter participation, those 2018 successes are still reverberating throughout the state as lawmakers pass bills dealing with public health and police accountability.
'Trump Democrats'
Donald Trump's divisive presidential victory in 2016 sparked a wave of renewed political activism across the United States. Huge demonstrations marked the early days of Trump's administration, such as the 2017 Women's March or the protests over a travel ban on countries in the Middle East and Africa.
In New York, grassroots organizations began to coalesce around electing progressives to local and state political positions. Though over half of eligible voters had turned out for the November general election in 2016, the state primary turnout rate that September was abysmal: only 10 percent of voters had come out.
For many, the Independent Democratic Conference (IDC) of the State Senate was the first on their list for change.
"People were angry," said Mia Pearlman, a co-founder of True Blue NY. The idea for True Blue was born soon after Trump's election, at a Park Slope meeting where people were gathering to politically organize.
"A lot of people who were at the meeting lived in [State Senator] Jesse Hamilton's district at the time and were really upset to find out the morning after Election Day that not only was Donald Trump president, but that their own Democratic state senator was empowering Republicans," she said of Hamilton, an IDC member.
True Blue began on the idea that even though New York was seen as a Democratic bastion by others around the country, on the state government level, it struggled to pass meaningful progressive legislation. This was in part due to the IDC, and how complacent so many Democrats were about its presence and a Republican-controlled State Senate. In the months after Trump's election, grassroots groups like True Blue and a network of Indivisible groups sprung up and tapped into the outrage people felt to get them more involved in local politics.
In part, they pointed people angry over Trump's election to the State Senate, with its Republican control bolstered by rogue Democrats.
True Blue began to reach out to other grassroots groups in districts represented by IDC members, building a coalition of over 45 organizations. The main strategy was voter education — whether that meant protests, phone-banking, tabling at events, handing out informational palm cards, and sending handwritten postcards to voters to convince them to turn out against the IDC.
"The biggest issue with the IDC was that most people didn't know that their own state senator was in the IDC, or they didn't know what that was," Pearlman said. The groups utilized one of their biggest assets — time — to educate voters in the months between early 2017 and the September 2018 primary election.
This initial campaign against the IDC began before the districts even had candidates to put up against IDC members, which was key, according to Pearlman.
"By the time we started to recruit candidates, along with No IDC New York and other groups, we sort of created an opening for them to have the opportunity to win," she said.
"The way that the 2018 election went was that it really started 18 months prior, with the notion of, 'We need to go out and do constituent and voter outreach and engagement on the issues," said Ricky Silver, the co-lead organizer with Empire State Indivisible, a grassroots political activist group formed following the 2016 presidential election and part of the True Blue NY coalition.
Silver said that the races against IDC members were powered largely by enthusiastic volunteers. Empire State Indivisible was able to draw volunteers in by hosting forums across the city about particular issues, like education funding or the climate crisis, and educating residents about how the IDC slowed progress on those issues, the importance of electing "real Democrats" and of flipping control of the State Senate (the November elections, with a focus on one Republican-held Brooklyn State Senate seat and others in the city's suburbs, were always on activists' minds, even as they focused on the primaries first).
"People showed up because they cared about the issues, and then we were able to get them involved because they understood the pathway to a new vision was electoral. And that's how we were able to grow the movement," he said.
Meanwhile, a slate of statewide races was about to rocket progressive politics, the debate over what it means to be a "real Democrat" (AKA "True Blue"), and the need to control the State Senate, to the forefront of New York political consciousness.
Backed by the Working Families Party and other progressives, actor and activist Cynthia Nixon ran for governor against Cuomo. The WFP bet big on Nixon, despite upsetting some longtime political allies, and endangering its financial support from labor unions afraid of incurring Cuomo's wrath. Nixon's race was accompanied by competitive primary campaigns for lieutenant governor, between incumbent Kathy Hochul and challenger Jumaane Williams, then a City Council member, as well as for the "open" state attorney general seat.
The WFP credited the threat Nixon and Williams posed to Cuomo as the reason the governor brokered the deal to dissolve the IDC, following long-standing accusations that Cuomo backed and benefited from the IDC-GOP arrangement, which Nixon made central to her campaign.
The WFP also took on the IDC, launching a campaign against what they called the "Trump Democrats" in May 2017. The campaign organized thousands of voters against the IDC, giving insurgent candidates a head start before even officially entering their races. WFP ran nightly texting and phone banking activities with over 1000 shifts, and by the end of the campaign, had identified 10,000 voters who would vote against their IDC member in the Senate.
Thanks to the shock of Trump's victory and these organizing efforts, well over a year before the September 2018 primaries, many New York Democrats were engaged in local politics for the first time.
Central Brooklyn
In Brooklyn, trouble was brewing for Jesse Hamilton, a two-term legislator who had joined the IDC shortly before the 2016 general election.
Despite the IDC's dissolution, many prominent borough Democrats continued to denounce Hamilton's actions as self-serving well into the primary season, though Hamilton continued to have the support of Borough President Eric Adams.
Members of the Brooklyn Congressional delegation, state legislators, and Mayor Bill de Blasio, chose to back Zellnor Myrie, a young lawyer trying to unseat Hamilton in Central Brooklyn's 20th State Senate District.
The campaign got a boost from the WFP, which provided Myrie with media training and campaign support, and from grassroots activists and local political clubs who wanted a bluer district.
"There was a lot of energy in the air for a real Democrat, and not a law and order Trump Democrat," according to Myrie's senior campaign advisor André Richardson.
Myrie's supporters took to the streets to drum up buzz for their candidate. For the Brooklyn Young Democrats, a club that endorsed Myrie that spring, that meant extensive canvassing, door-knocking, and days of action.
"We all went out there in a storm for him, not only because [he was] against the IDC, but because he was speaking to issues in the community," BYD President Christina Das said. Das estimates that the club knocked around 2,000 doors for Myrie, and held three or four days of actions either in conjunction with other organizations, or on its own.
A native Brooklynite, Myrie had strong roots in the district, which spans through parts of Sunset Park, Park Slope, Crown Heights, Prospect Lefferts Gardens, and Brownsville. The district is diverse, but predominantly black — of the nearly 310,000 people living in District 20 in 2018, 50 percent were black, 19 percent were white, and another 19 were Hispanic, according to the U.S. Census Bureau's American Community Survey.
One of Myrie's main focuses in his campaign was affordable housing and tenant protections, goals that spoke to a district that is home to an overwhelming majority of renters, who faced challenges with rising costs.
"It was a great race because everyone was kind of in it together in the neighborhood," BYD Executive Vice President Julia Elmaleh-Sachs said.
In 2014, the year Hamilton was first elected, there were roughly 129,000 active registered Democrats in the district, but only around 15,000 voted in the primary, which was quite competitive as Hamilton edged out Rubain Dorancy, who had backing from de Blasio, among others. Hamilton won with almost 10,000 of those votes. Then in 2016, Hamilton went through primary season uncontested. In the heavily-Democratic district the Democratic primary is tantamount to full electoral victory.
2018 was going to be a very different year as those frustrated by the IDC, including many educated and activated after Trump's election, went from not fielding a primary challenger to Hamilton to immense organizing behind Myrie.
On primary day in 2018, Myrie defeated Hamilton by almost 4,000 votes. Voter enrollment and participation in the district saw significant spikes, with 44,000 of the roughly 141,000 eligible Democrats casting a ballot. The increase from 15,000 votes in Hamilton's contested 2014 primary to the 44,000 votes in Myrie's victory over the incumbent made for almost a 300 percent increase in raw turnout, and the district was in line with the overall turnout jump seen in the gubernatorial race from 2014 to 2018.
Part of Myrie's success stemmed from his ability to garner support from different facets of Brooklyn's Democrats, from longtime black voters to newcomers and progressives, Richardson said.
"I think Zellnor's case was a very unique case because he was able to bridge that divide," Richardson said of longtime black voters, newcomers to the district, and white progressives. Myrie's campaign attracted hundreds of volunteers, Richardson added, attributing part of Myrie's success to his authenticity and speaking to the needs of the district across demographic and other divides.
Myrie nabbed the greatest share of votes in Gowanus, Park Slope, Prospect Heights, Prospect Lefferts Gardens and parts of Crown Heights and Sunset Park. In several of these areas, turnout jumped enormously from. The map below, from the CUNY Mapping Service at the Center for Urban Research, CUNY Graduate Center, shows where Myrie and Hamilton each did well: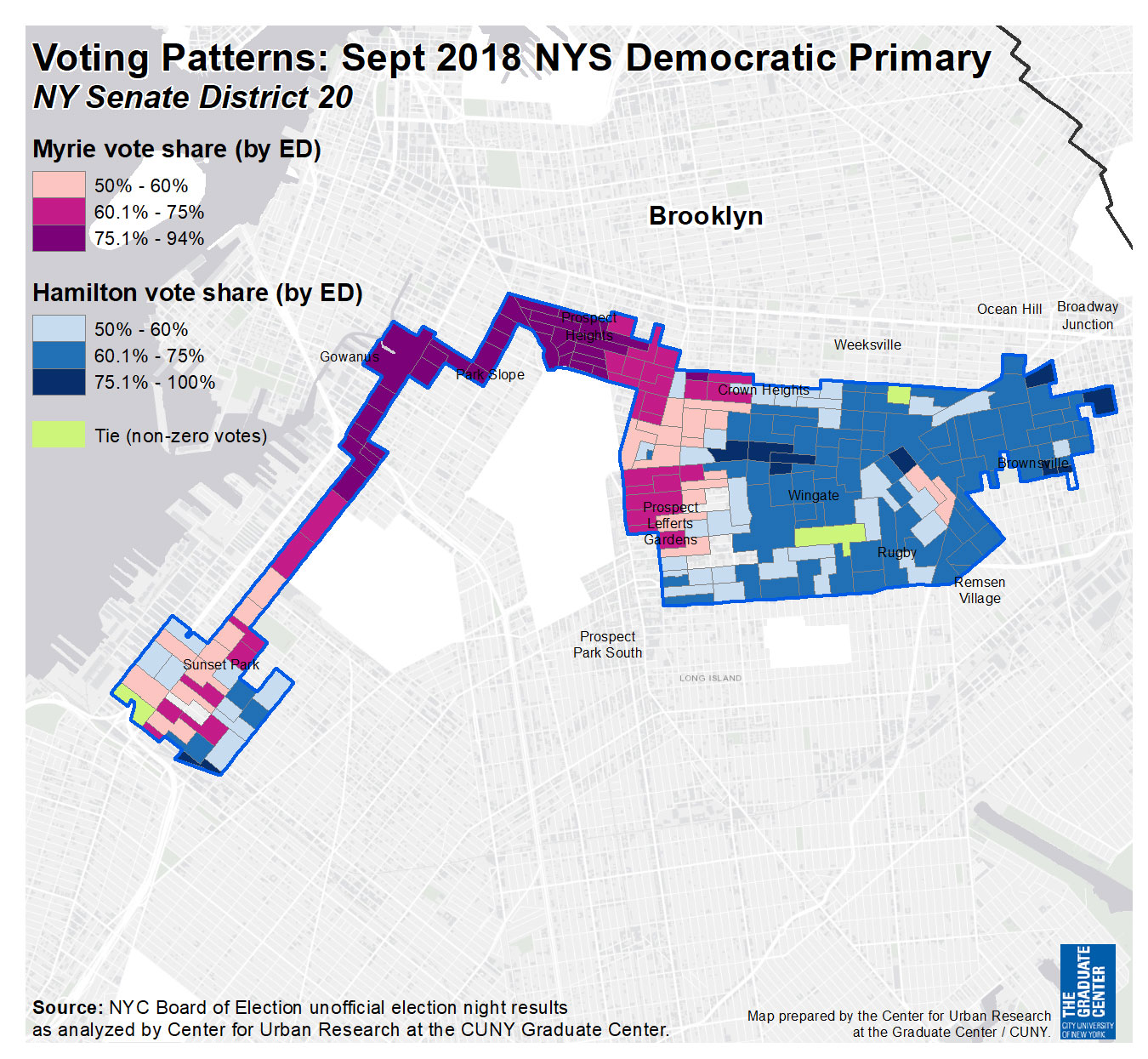 The Bronx and Westchester
When Alessandra Biaggi, a lawyer in the Cuomo administration and former staffer on Hillary Clinton's 2016 presidential campaign, began her campaign to unseat State Senator Jeff Klein — a founder and the leader of the IDC — from Senate District 34 in the Bronx and Westchester, she understood the stakes.
"I didn't go into it thinking to myself, 'I'm going to absolutely win,' Biaggi said in a recent interview. "I went in thinking to myself, 'We probably won't win. But what we will do is have a win in the loss.' Because we're going to raise awareness about an issue that is so devastating to the state. And people are finally going to be excited about their state government and want to fight for it."
As the head of the IDC, Klein held immense power in state government, and was a major target for progressives. With millions of dollars in Klein's war chest and his strong web of political connections made over decades, however, most pundits considered a challenge to Klein almost unwinnable.
In 2014, Klein faced a challenge from former New York Attorney General Oliver Koppell and kept his seat fairly easily, winning with over 9,000 votes compared to Koppell's roughly 5,000. According to voter enrollment data from that November, about 101,000 active Democrats were registered to vote in the district, which encompasses parts of the Bronx and southern Westchester County, including Riverdale, Hunts Point, Throggs Neck, Pelham Parkway, City Island, and Pelham.
In 2016, Klein was unopposed in the primary.
Biaggi's campaign was assisted by anti-IDC groups that started educating voters in the district about the IDC before Biaggi even started running, according to her 2018 campaign manager Luke Hayes.
The campaign tapped into community members in the district, generating support in key neighborhoods through word-of-mouth. Together with Biaggi and other organized forces, they started to knock on doors.
"It was a scrappy campaign. We knew we weren't going to outraise Klein," Hayes said of the assumed fundraising disadvantage. By the end of the race, Klein would spend more than $3 million on his campaign, an unusually high total for a state legislative race, and 10 times more than Biaggi spent.
Biaggi said that fundraising became less integral to her campaign than canvassing and meeting with voters.
"I was going to win this thing on the doors. I laced up my sneakers every single day and I was knocking on doors," she said. She and her supporters engaged with many thousands of voters up to and including primary election day.
She also credits young, politically active students, some high school-aged, with helping to activate the community around her campaign. About 324,000 people lived in the district in 2018. Of that number, 43 percent were Hispanic, 34 percent were white, 14 percent were black and 6 percent were Asian, according to American Community Survey data.
"When you have a dynamic candidate like Alessandra, when you can engage with a candidate one-on-one, that can counteract a lot of ads," Hayes said.
Support from groups and officials were also key.
"Endorsements are a big deal," Biaggi said. "If you are going to be endorsed by, for example, the Working Families Party, which was my first endorsement, it gives you legitimacy."
The powerful union 32BJ SEIU backed Biaggi in a big way, mobilizing thousands of members to conduct phone-banking and door-knocking from six weeks before the primary. The move surprised some in the state political scene, as 32BJ's president at the time, the late Hector Figueroa, had initially helped to kick off attempted IDC reunification with Democrats in 2017. In a 2018 interview with Gotham Gazette, Figueroa said that he thought that the IDC was not sincere in its efforts to fix Democratic unity and explained the 32BJ decision to buck the deal orchestrated by Cuomo.
Silver, of Empire State Indivisible, points to the cooperation of a litany of organizations, such as the WFP, unions like 32BJ, and grassroots organizations, as one of the keys to Biaggi's success in appealing to a diverse district.
"It was that sort of coalescing of organizations that made it powerful," he said.
City Comptroller Scott Stringer and City Council Speaker Corey Johnson voiced their support for Biaggi in June 2018, giving the campaign more legitimacy, adding media buzz, and bringing their networks of volunteers to campaign for her. The New York Times endorsed her later that summer.
When the results rolled in that September, it was a shocking upset: Biaggi had nabbed 19,000 votes to Klein's 16,000. There were a total of 107,000 Democrats eligible to vote in the district that November. The jump in voter turnout from Klein's last challenge in 2014 was significant, moving from around 14,000 voters to around 35,000 voters, or increasing by 250 percent. The parts of the district where Biaggi did best also saw the biggest jumps in voter turnout from 2014 to 2018.
The precincts Klein did best in had lower jumps in voter turnout compared to Biaggi's best precincts. In the Bronx, Biaggi had the greatest share of votes in Riverdale, Fieldston, Kingsbridge and City Island.
"For Senate District 34, the green precincts match up well with Klein's best precincts, especially around Castle Hill and the Throgs Neck area, while most of the orange precincts match up perfectly with Biaggi's best precincts, centered around Van Cortlandt Park," said Benjamin Rosenblatt, president of Tidal Wave Strategies, who performed data analysis and mapping for Gotham Gazette for this piece. The first map below, created by Rosenblatt, shows where turnout jumped the most and least in 2018, from 2014, for Senate District 34. The second map below, from the CUNY Mapping Service, shows where Biaggi and Klein each did well.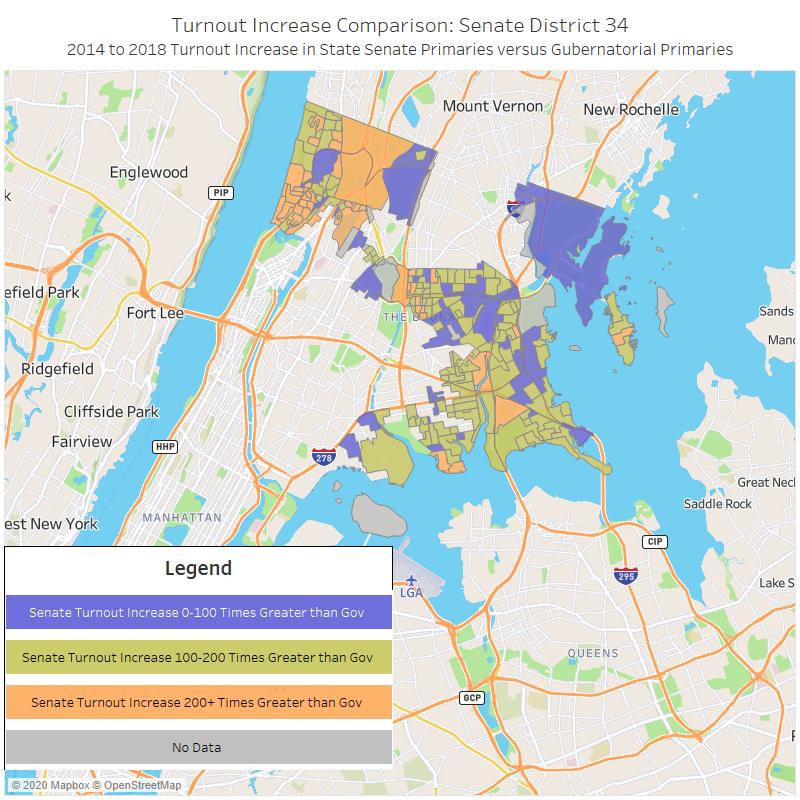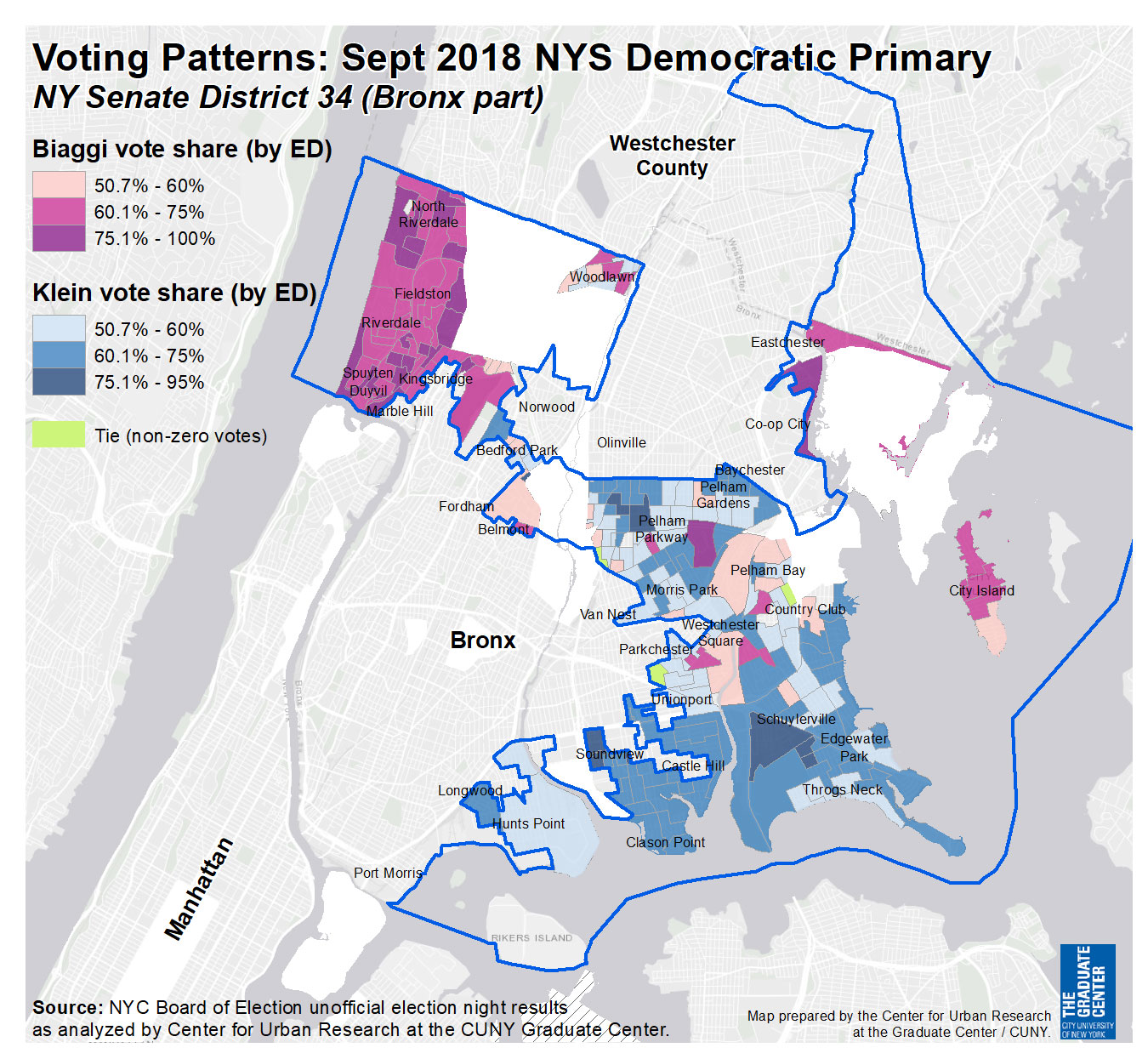 Western Queens
In Queens, Jessica Ramos, a former mayoral aide, was challenging State Senator Jose Peralta for his seat in Senate District 13.
Peralta joined the IDC in early 2017, claiming that it was a pragmatic choice to best serve the district during the new era of Trumpian policy. At a packed town hall soon after the decision was announced, some residents protested, calling Peralta a "traitor."
A legislator with almost two decades of experience, Peralta had no competition in the district's Democratic primary for the entire time he held the seat, running unopposed in the primary in 2010, 2012, 2014 and 2016.
The district's neighborhoods, including Jackson Heights, Corona, and East Elmhurst, are home to large immigrant communities. Of its population of 302,000 in 2018, over half were born outside of the United States, according to American Community Survey data. Of the district residents, 62 percent were Hispanic, 17 percent were Asian, 14 percent were white and 6 percent were black.
Trump's rhetoric and policies against immigrants, such as the 'public charge' rule or travel bans to certain countries, directly impact residents in those communities, and led many to question how Peralta could align himself with the IDC, which bolstered Republican leadership of the State Senate, preventing major immigrant-friendly legislation from passing. That included the Dream Act that Peralta championed and he apparently saw as possible to get passed with added leverage as part of the IDC.
Make the Road Action, a leading immigrant rights group that is very active in the district, endorsed Ramos for the Senate seat in July 2018, and set out to have thousands of its members phone-banking, canvassing, and engaging voters for Ramos.
Progressives in the district were energized by the stunning upset political unknown Alexandria Ocasio-Cortez had in June against then-U.S. Rep. Joseph Crowley, the Queens County Democratic Party boss and one of the highest ranking Democrats in Congress. New York's 14th Congressional District overlaps with Senate District 13. There was a renewed sense of what was possible after Ocasio-Cortez's win as Ramos and her supporters eyed the sprint from the June congressional primaries to the September state primaries (those primaries were merged to June starting this year).
"Most of all, I think her win has created a lot of enthusiasm for the small "d" democratic process in the district and that enthusiasm is what we're hoping to maintain our momentum," Ramos told City & State in the summer of 2018.
Other political powerhouses and grassroots organizations coalesced around Ramos. The WFP helped her hire key staff, consulted on her campaign, and identified thousands of voters for her. Stringer backed Ramos in March. In the summer after Crowley fell, de Blasio, for whom Ramos had previously worked, and Johnson backed her, and Ramos and gubernatorial candidate Nixon cross-endorsed each other.
On primary day, Ramos defeated Peralta by over 2,000 votes, with almost 23,000 votes cast in total. In November of that year, 90,000 Democrats were eligible to vote in the district. Ramos did far better in parts of the district like Steinway, Astoria Heights, and Jackson Heights. The map below, from the CUNY Mapping Service, shows where Ramos and Peralta each did well.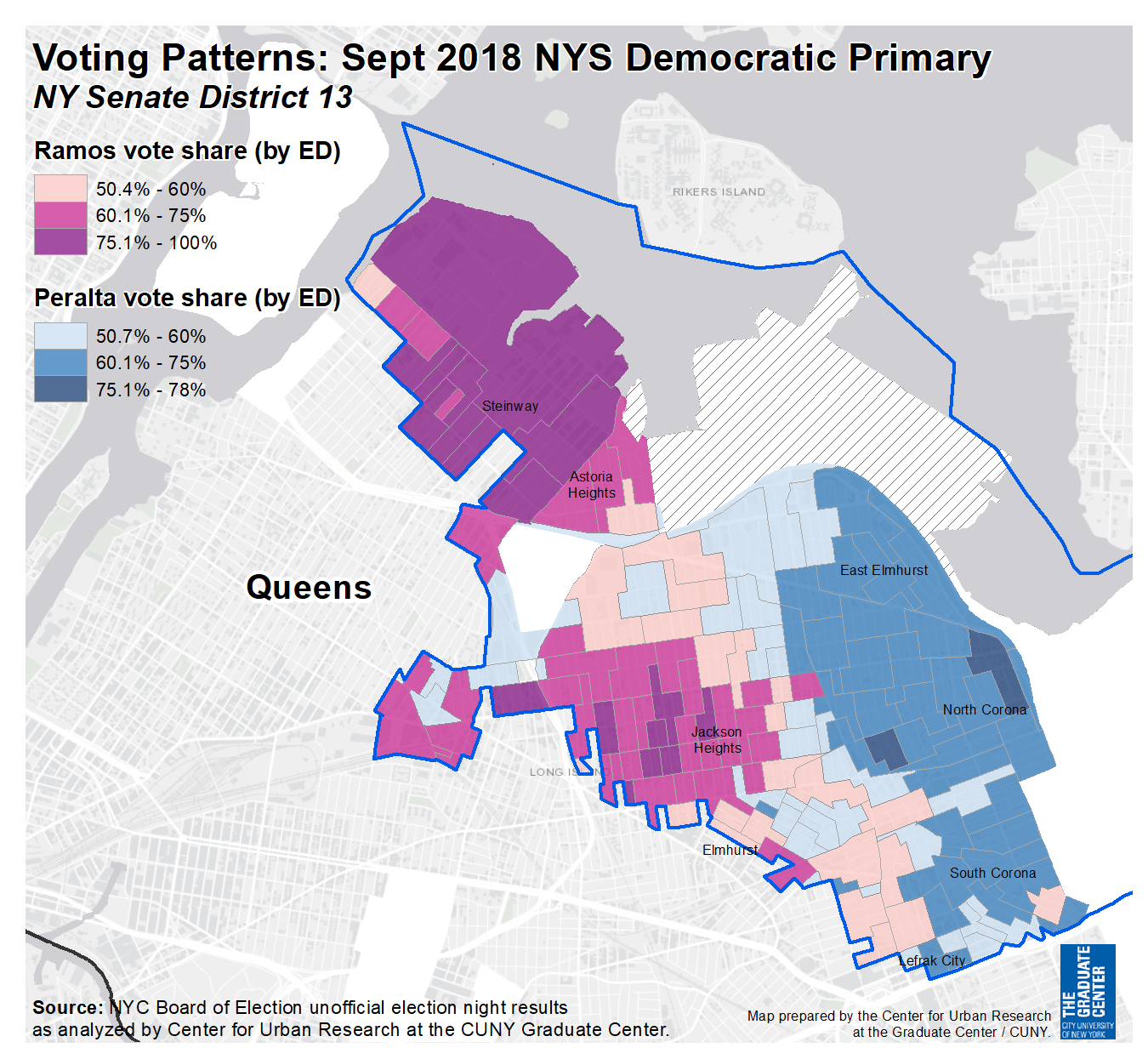 Other Races in Manhattan and Brooklyn
Other districts around the city saw increased voter turnout in the same neighborhoods where insurgent candidates nabbed the largest share of votes.
In Manhattan's Senate District 31, former City Council Member Robert Jackson emerged victorious on primary night over former IDC member and State Senator Marisol Alcantara. Jackson had run for the seat before in 2014 and 2016, losing narrowly to Alcantara in 2016 in a three-way race. Alcantara only served one term in office before Jackson overtook her in 2018.
The largest increases in voter turnout in the district from 2014 to 2018 were in the Upper West Side, Manhattanville, Washington Heights, and parts of Inwood, all where Jackson performed the best, indicating how well the insurgent's supporters did at turning out the vote. The map below, created by Rosenblatt, shows where turnout jumped most and least in 2018, compared to 2014, in Senate District 31.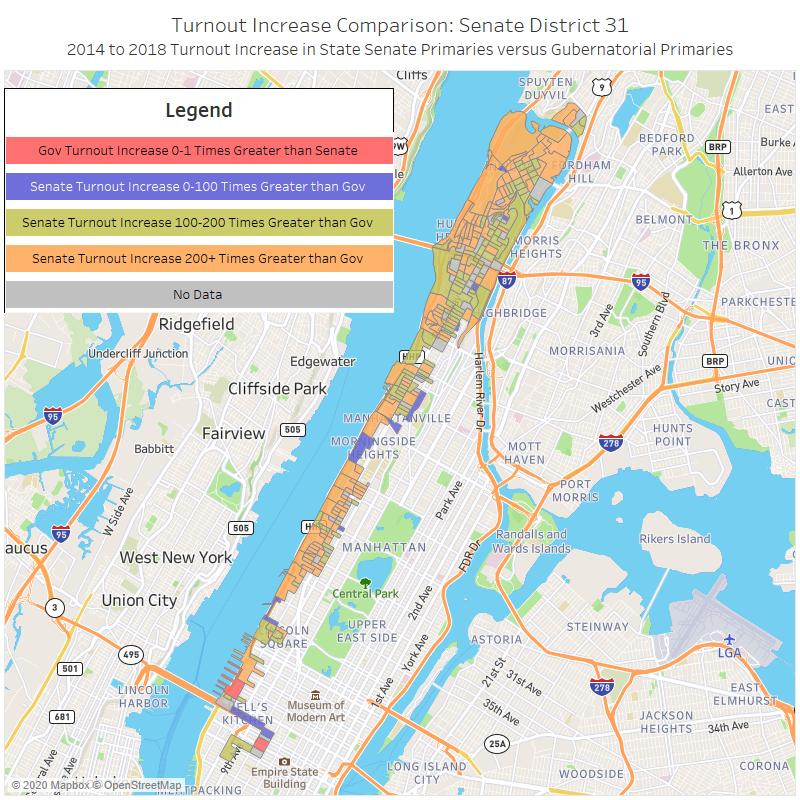 In Brooklyn's Senate District 18, progressive upstart Julia Salazar triumphed against Martin Malavé Dilan, who had represented Brooklyn in the State Senate since 2003. Dilan was not a member of the IDC, but the progressive push in 2018 helped fuel Salazar's campaign, including backing from the Working Families Party and the New York City branch of the Democratic Socialists of America.
Salazar picked up votes in neighborhoods with some of the highest changes in turnout from 2014 to 2018, including East Williamsburg, Bushwick and Greenpoint.
"While the Senate primaries saw dramatic increases in turnout throughout each district from 2014 to 2018, even compared to the gubernatorial primaries, the relative turnout increase was absolutely massive in the areas where progressive primary challengers did best," said Rosenblatt, of Tidal Wave Strategies, referring to his data and mapping analysis. The map below, created by Rosenblatt, shows where turnout increased the most and least in 2018, compared to 2014, in Senate District 18.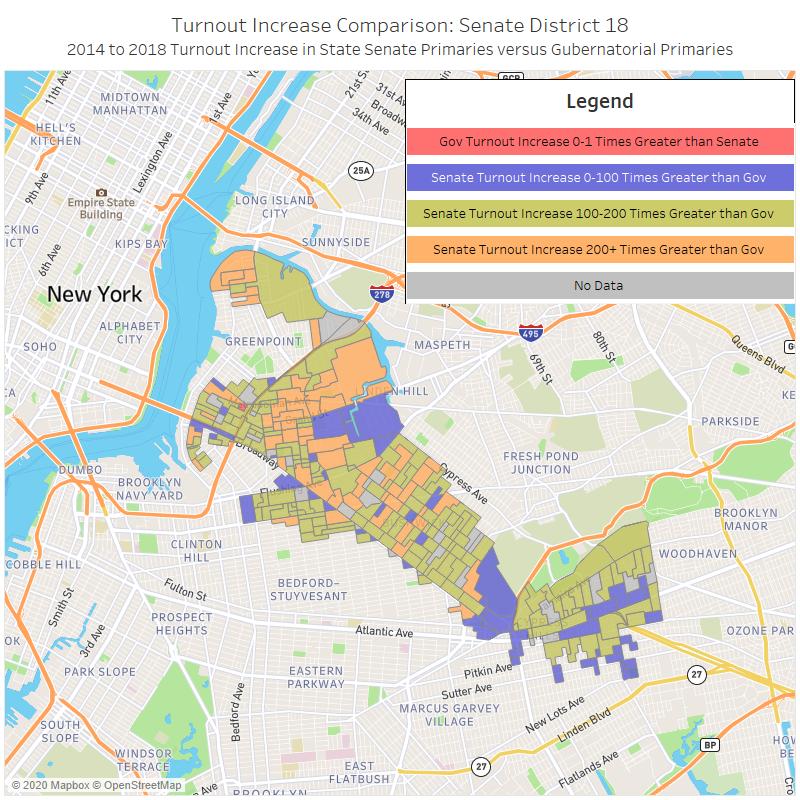 The fight continues
According to Doug Muzzio, a political science professor at Baruch College, campaigns need three things to succeed: money, organization, and message.
"The opponents of the IDC had more of the three than the members of the IDC," he said, looking back at 2018's primary upsets.
The odds piled up for dramatically increased voter turnout, and for a turnout against the IDC: the national Democratic movement in response to Trump and for a "blue wave" in the 2018 midterms, accelerated progressive conversations and efforts launched by grassroots organizers, strong upstart candidates, and a concerted plot to educate voters ahead of the election cycle.
"The wind was at the back of Democrats and progressives nationally. And certainly the state was part of that," Muzzio said. "[The IDC] were out of step with the zeitgeist of the time."
And while pundits and political analysts were surprised by the unprecedented spike in voter turnout in New York, that didn't mean that turnout in the 2018 primaries was overwhelming. Although turnout in races with former IDC members garnered more attention, the average turnout in those districts and other Senate districts was almost the same — around 29 percent — according to a report from the New York City Campaign Finance Board.
"This shows that the perceived competitiveness of an election does not necessarily lead to increased turnout in that district, and that in this high-profile election, voters turned out regardless of whether they were voting in a competitive election," the report reads.
But the key for the IDC challengers appears to have been where some of the increased turnout occurred, in areas of the districts they were running in that were most enthusiastic about their candidacies, and about defeating the incumbents.
To get there, activists as well as candidates and their campaigns, endorsers, and other supporters utilized a variety of tactics, including an unprecedented organizing and voter education effort done over an especially long period of time before any votes were cast. Dynamic and diverse candidates were recruited and backed, and they were just as willing as their volunteers and staff to knock doors and pass out flyers.
These strategies and others mixed with Democratic reaction to Trump's election, growing frustration with a lack of movement on progressive priorities in Albany, and a robust left-wing challenge to Cuomo, which both further galvanized progressives and pushed the governor to spend tens of millions of dollars getting out his vote.
The energy that led to defeat for six of the eight IDC members then helped flip several state Senate seats in November 2018, giving Democrats a solid, "True Blue" majority for the 2019 session to combine with the Assembly Democratic majority and third-term Democratic governor reelected by a wide margin on a slate of progressive promises.
With those 2018 electoral wins and the legislative victories that followed in 2019 and into this year, the WFP, True Blue NY, and other progressive organizations began preparing for a new slate of races in 2020, hoping to use a similar organizing playbook to net more wins. However, the coronavirus pandemic changed everything.
With campaigns scrambling to adjust to a world without rallies, door-knocking, or tabling, key questions loom. Can upstart campaigns and supporters reach voters to the same extent? Can they drive voter turnout in the 2020 primaries to anywhere near the same level of 2018?
This story, and the series it is a part of, has been supported by the Solutions Journalism Network, a nonprofit organization dedicated to rigorous and compelling reporting about responses to social problems.